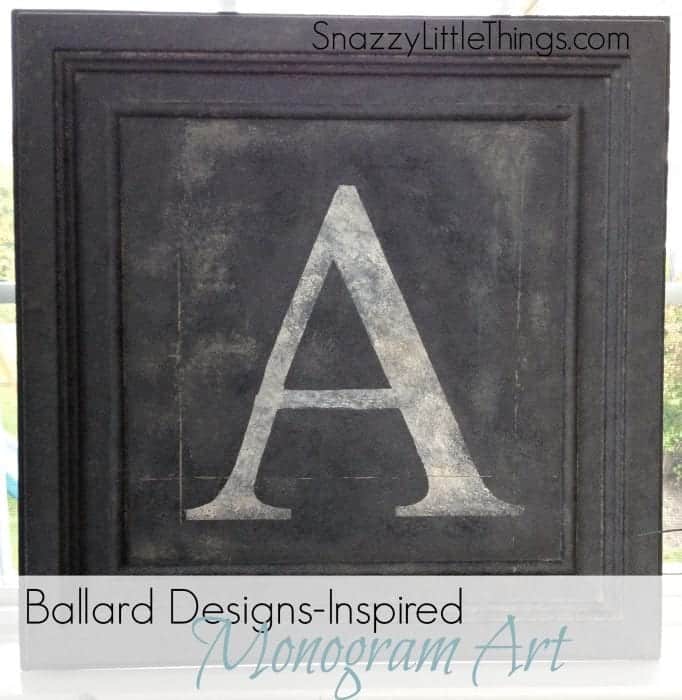 Above: My DIY version of Ballard Designs Monogram Art. $1.00 + I used extra paint supplies I already had at home. 
Below: Ballard Designs original = $169.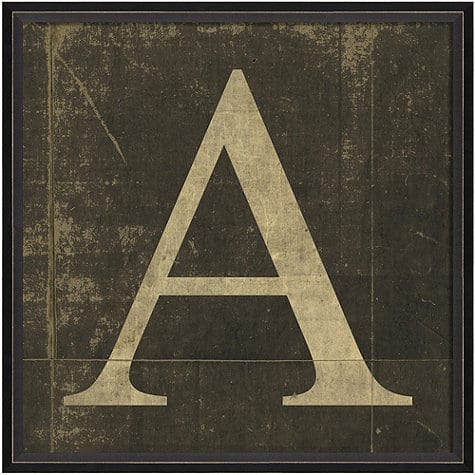 Found on the Ballard Designs website.
Do you ever stop and think to yourself, "My house doesn't have enough FONTS"???
Yeah, same here…in fact, I may be going slightly overboard with the whole "directional sign" thing in my house.  But I'm not ready to let go of the trend just yet.
Introducing…My Ballard Design-Inspired Monogram Art
My very first "Rock Your Knock Off" Project
Pictured below, my ORIGINAL inspiration behind my knock off project. I've been picturing these in the basement for quite some time. My husband said it could spell "BEER". We compromised. It will soon say "BAR". But right now, I've only completed the "B" and the "A". So more pictures to come.
Ballard Designs Monogram Art.  25" x 25″ specifications. Original price = $169.00 / each.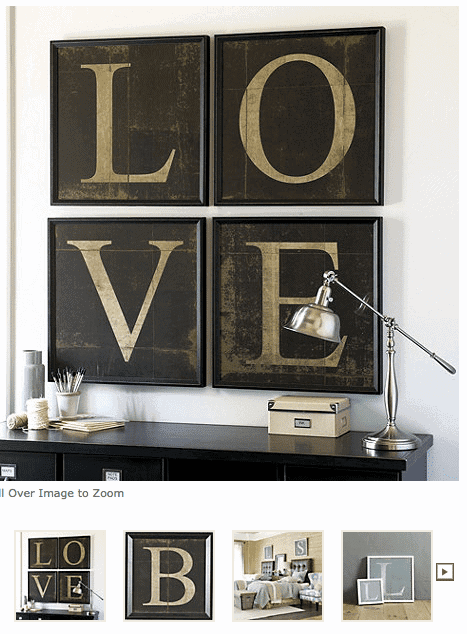 Images (above) courtesy of Ballard Designs. 
************************
Once upon a time (about a year earlier), I visited my local ReStore. I saw these tiles (25 of them). I had to ask someone what they were supposed to be used for. And they had no idea.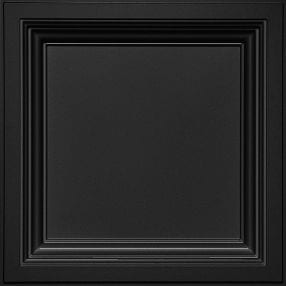 After some investigation, it turns out they were for coffered ceilings for only $1 EACH! Dimensions of each tile was 24″ x 24″.So I bought all 25 of them. This was my very subtle way of saying "I'd like a coffered ceiling in the basement, honey". So I waited. And they sat. They even got buried for a while because, well…you know.  Life happened.
I was patient. Really…I was.
But, it was a matter of time before this happened.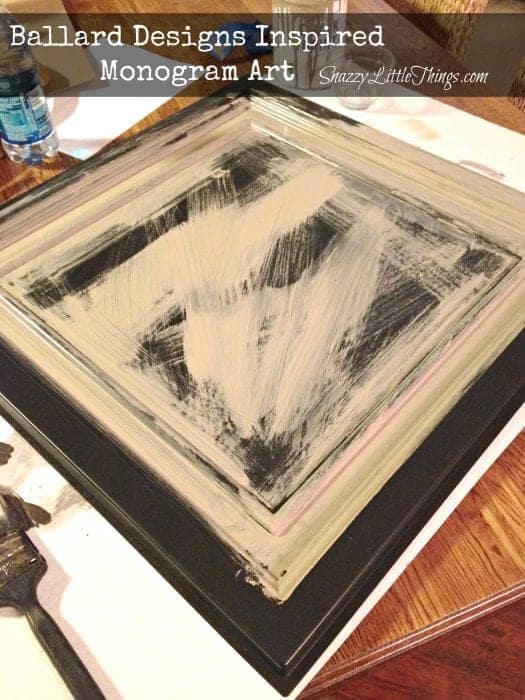 When life hands you unwanted coffered ceiling tiles–you make ART.
Before I spazzed out with the paintbrush, I had to figure out which font to use to reproduce these Ballard Design-inspired beauties. So I studied them. My assessment told me that Ballard Designs used "Times New Roman" fonts on the original art. So off I went…
Step 1:  Tile Print Your Monogram Letter
(If you're not sure how to tile print, I will teach this live during one of my online DIY classes).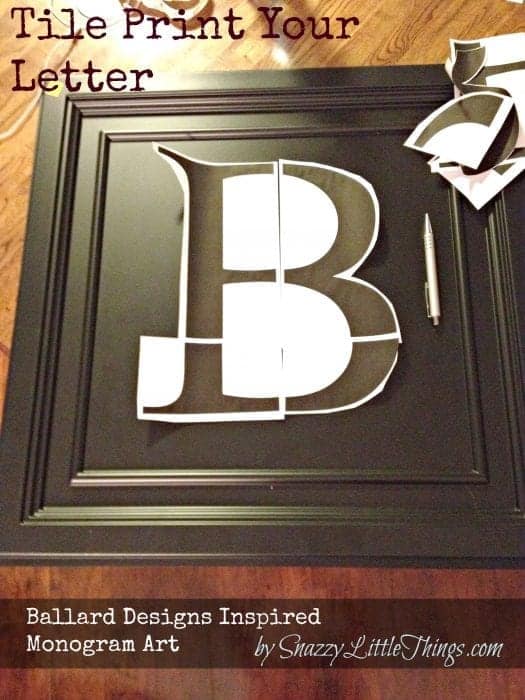 Or, you can visit my tile printing tutorial here.  If you would like topic covered in a live class, please leave a comment below.   
Let' s use the "A" from this point forward. The B was my prototye.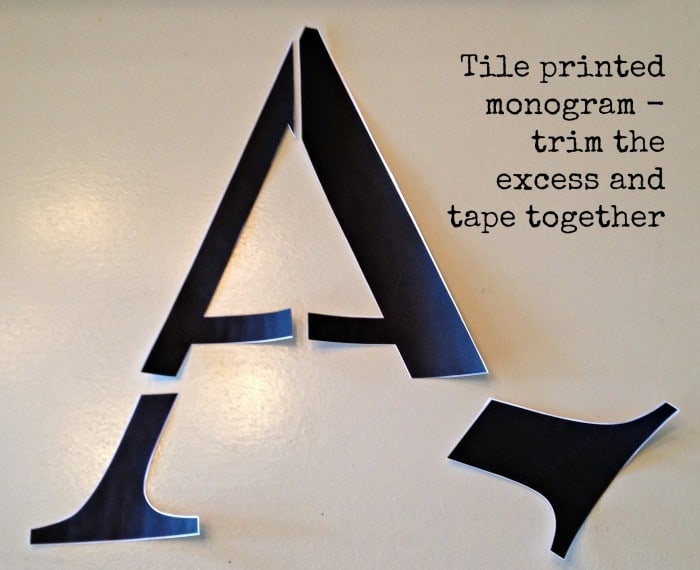 Step 2: Trim & Tape Your Monogram Letter
I taped my monogram letter together with Scotch tape. I trimmed the white parts off, any excess tape and made sure it was a clean stencil…then set aside.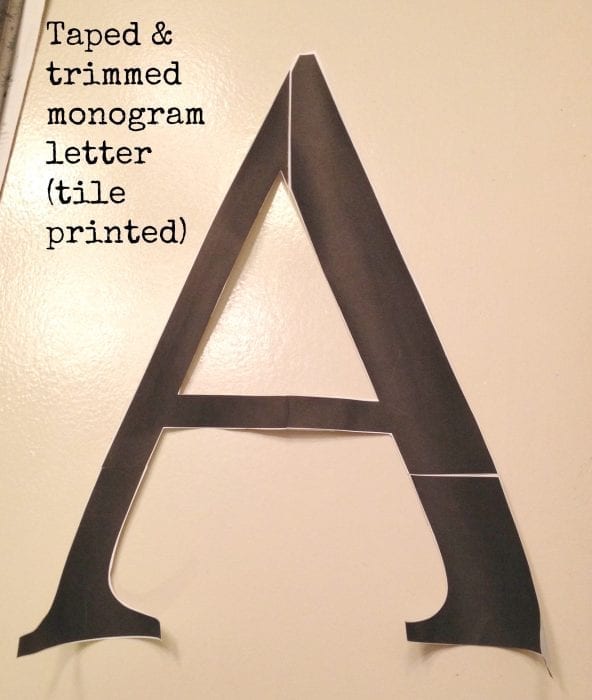 Step 3:  Prepare the Canvas
I always try to use paint from my existing inventory. I chose a combination of water based and chalk paints to layer onto the piece. I realized that my light base coat helped to add texture to the piece as I sponged a combination of darker layers on.  I kept adding darker layers until it was the hue that I wanted.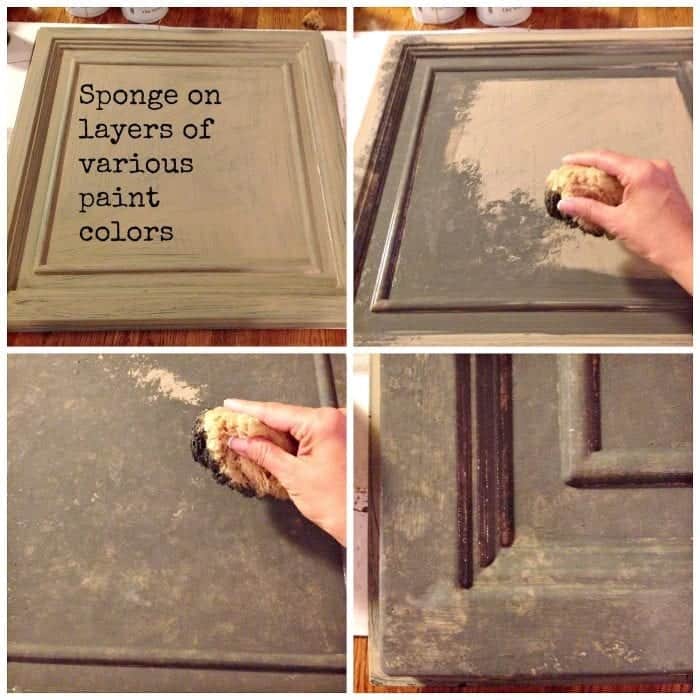 Panic Alert:
I thought I had messed up at this point. Because I asked myself "now…HOW do I make that letter WHITE?"  So what you see in the picture below was my answer.  My daughter thought this next step was hysterically funny.
Step 4: Sponge on the Monogram Background
Perfection is not required here. You want varied color on your own monogram.  But no one in my family understood my vision yet and thought this was a DIY "fail". I can see why 🙂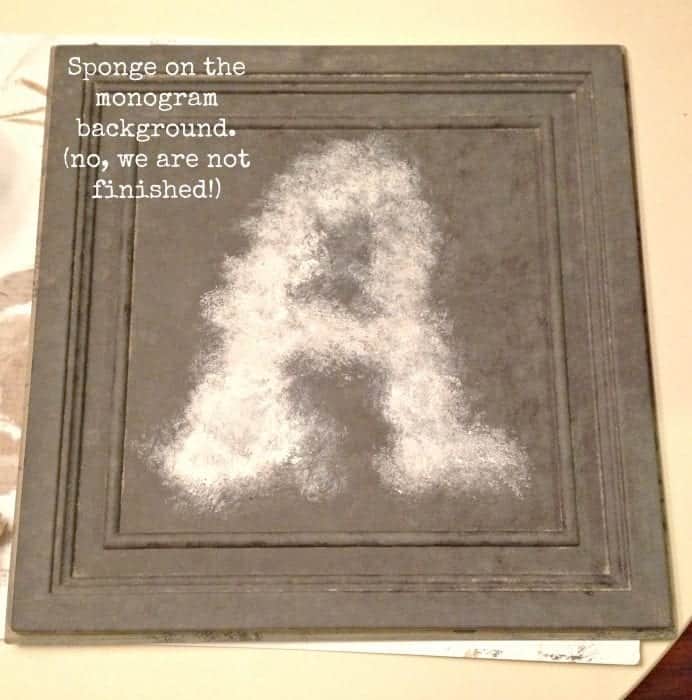 Step 5: Apply Monogram Stencil with spray adhesive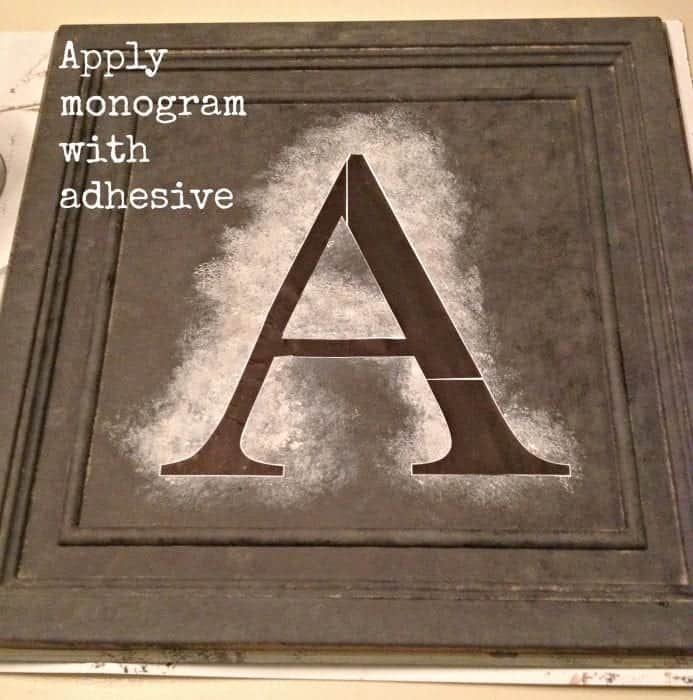 Step 6: Cover Monogram with Dark Paint / Cover White Completely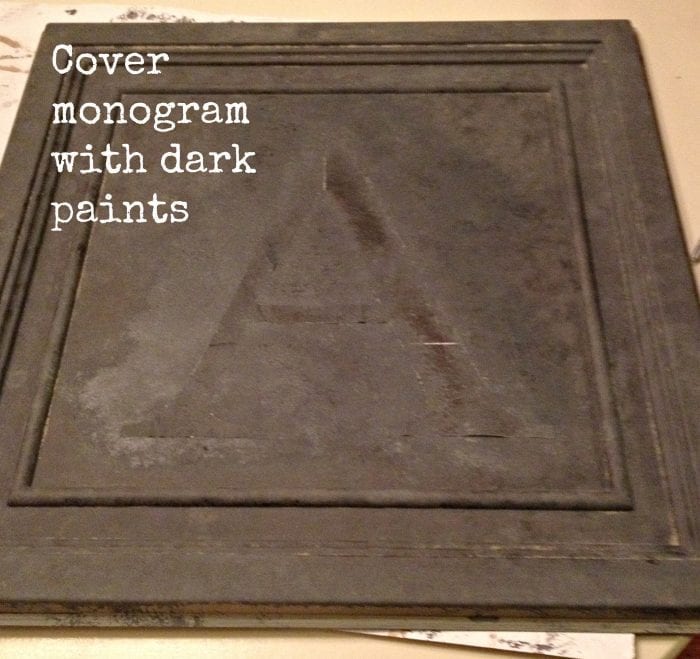 Step 7:  Peel Off Paper Monogram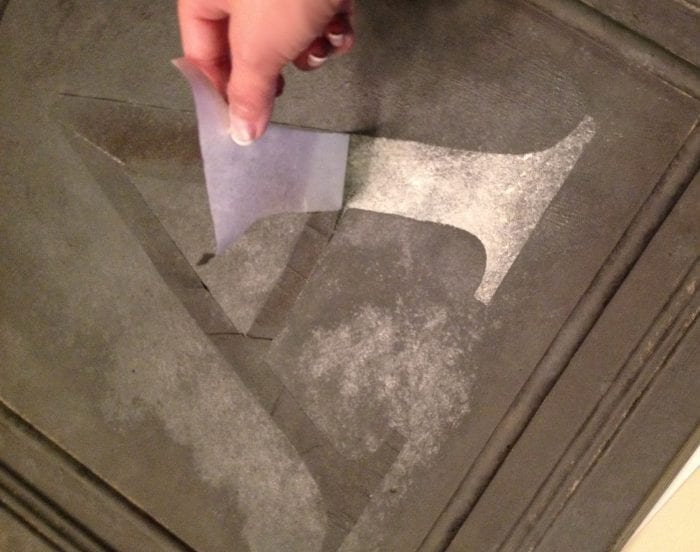 Step 8: Add Effects
This is where I made things up as I went along. The original art had "folds" in the images. So I dipped string in paint, and applied those as additional layers to keep the item looking like the original.  I just kept sponging on a combination of lighter paints like the original.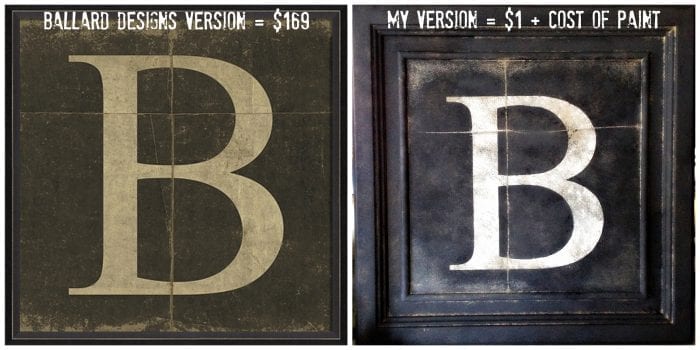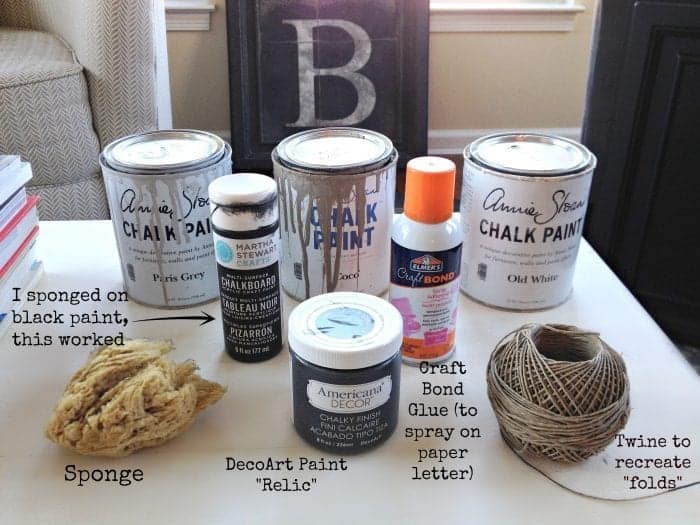 Be sure to tour all the other amazing bloggers that have been so inspiring this week with their "knock offs". I love doing blog tours with these ladies. Enjoy!