I'm sharing a quick kitchen island sneak peek because I am WAY too excited and don't want to wait for a full kitchen reveal (which feels like it will be months from now since we are doing this project on the nights and weekends!) I also realize that was a really long sentence, and I have no patience to edit tonight, either 😉
Our kitchen island is finally coming along and has been partially finished for longer than I care to admit. Part of the delay was that we questioned whether a beadboard island would be too casual against our classic style wainscot. We finally decided that mixing styles would be okay, and the beadboard would complement our modern farmhouse kitchen really well.
Here is the sneak peek, (a true "in progress" picture since I couldn't even wait for the patched holes to dry):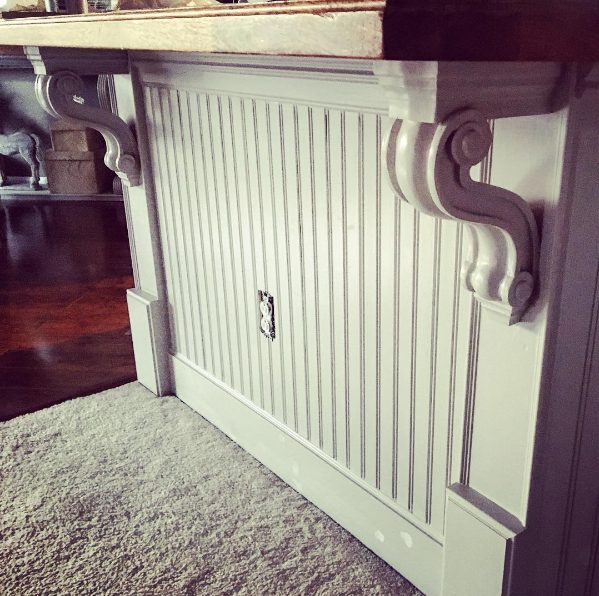 The paint? 
AMERICANA DECOR® SATIN ENAMELS™
(I chose Dove Beige for the island) 
Why I chose this paint for such an important project:
I've been talking to many of my professional painter friends, and the overwhelming majority encouraged using acrylic enamels (or enamel-like) paints for a hard finish. Oil based enamels are great for all colors EXCEPT for white (oil based paints will yellow over time). So that's another reason I chose acrylic enamel since we are using Pure White on some cabinets. To apply, they recommended thin coats for long lasting durability. This speciality paint line fits this criteria perfectly, and it's designed specifically for high-use furniture items (like cabinets).  There are a few more reasons:
Reason #1:  I love the paint colors they have to choose from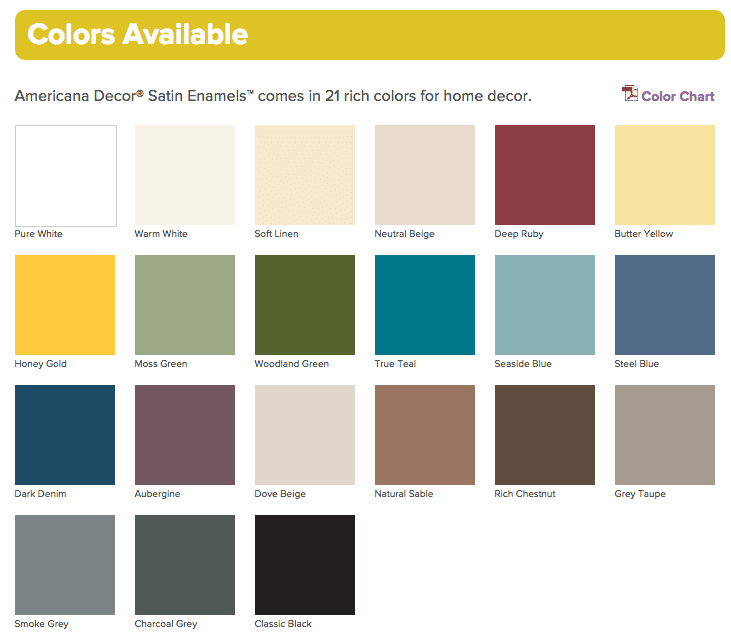 We chose Dove Beige for the island, and Pure White for the cabinets. 
Reason #2:  It provides a high-performance finish
This paint dries VERY HARD.  This is enamel, remember? Normally when latex paint drips on our hardwood (it happens!), it could be easily scraped off with my fingernail. Not this stuff! I had to actually get a scraper from the woodshop to carefully remove my paint splatters.  This is a GREAT sign that this paint is more durable, even better than the high-performance latex paints available.
Reason #3:  It's self-leveling and leaves minimal brush strokes
If you do have brush strokes, you can dip your brush in water (it's an acrylic enamel which is water based) to ensure the paint stays thin enough to level out. You can also lightly sand between coats.  The trick to a long-lasting finish and durability is a thin application with multiple coats.  To give the paint some "tooth" or rough application, you can also roll it on as well.
Reason #4:  The brushes!
The brushes are thin and easy to use, and they get in all the nooks and crannies (especially in the beadboard). This style of brush also promotes a thin application. Very important if you want a long-lasting, durable finish.
Reason #5:  No top coat needed
Woah. If you haven't painted cabinets before, this is huge. This will make touching up the cabinets SO simple. I've already been through a kitchen cabinet paint job once…additional layers of paint, including a top coat make touching up difficult (because you'd have to repeat the layers). With DecoArt, no additional steps needed, and you can keep your cabinets looking fresh by keeping the paint on-hand for any mishaps.  (And let's face it, paint is paint…and chipping can happen).
Here are more progression photos of the kitchen and the island over the years…
Quick Summary of the island makeover:
Step 1:  Demo the old island and rewired the electrical
Demolished the two-level "coffee bar" portion of the island down to a single level. We moved the electrical outlets which are now behind the "faux" drawers on the side (you know, the drawers that are typically nailed shut and are just for looks?  They now serve a purpose.
Step 2:  Widened the surface with 2 x Ikea Butcher Blocks
Following this tutorial, we purchased two Ikea Numerar Butcher Block countertops and spliced them together. This was a big job, but the results are amazing!
Step 3:  Added trim, corbels & beadboard.
We took our time here. But eventually determined to add a tongue and groove beadboard facing.  Added corbels underneath the island.  And then used trim and wood to "build up" a faux column underneath the corbels to make them look like one unit.
Step 4:  Clean & prep the wood
After cleaning with TSP and letting it dry, I filled holes with caulk & applied primer (2 coats). I keep caulk on-hand to fill in any missed spots that become more visible during the remaining steps.
Step 5:  Applied DecoArt Stain Blocker and Sealer
This step seals the wood and prevent tannins from seeping through. After about a week, if tannins do seep, you'll start seeing it then (especially important with oak). If you do see discoloration, scrub with TSP, resand then repeat Step 4 & 5.  In my case, I had no tannins so I proceeded to Step 6.
Step 6:  Applied two coats of paint.
After a light sanding, I wiped down the island. Using Decoart brushes, I applied thin, even coats of AMERICANA DECOR® SATIN ENAMELS™ onto the primed and sealed wood.  Between coats, another quick and very light sanding would help the paint adhere perfectly. Wipe down, then apply a second coat. Two thin coats seemed to be enough, but you could apply three thin coats for extremely high traffic areas.
Lots more posts to come as we move to the kitchen cabinets and apply Pure White + new hardware. If you'd like to see more posts about our budget kitchen transformation, be sure to visit these links:
Ikea Butcher Block Counter Tops
I am a DecoArt Blogger, and this post was sponsored by DecoArt who sent me free paint to use for this project.