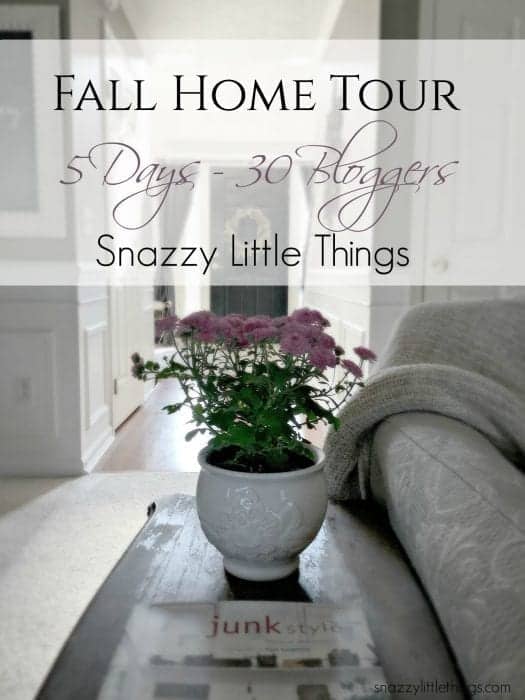 Happy Labor Day! First off, one of my favorite bloggers precedes me on this tour, so I'd like to thank Sarah from Life on Virginia Street – she's a sweet gal and I actually got to meet her in person at the Haven bloggers' conference in Atlanta.  If this is your first time here, welcome! I'm so excited to have you here and I'd also like to thank Marty from A Stroll Thru Life who once again, invited me to join her blogger home tour series! Be sure to stop by all week to visit all 30 of us, our full tour schedule is listed at the bottom of this page.
***
I'm going through storage little by little and pulling out my mercury glass, painted pumpkins and gourds. I gravitate towards simple, classic vignettes that fit any season, and I layer in a few touches as the weather changes. Then I remove layers if I'm ready to simplify for a cleaner look. You'll see me change a wreath here, or a pillow there. But I prefer to live in a space for awhile so that I can decide exactly how I can optimize its form and function. If we can't find the perfect piece or furniture (or art), we upcycle or make it ourselves. So…
***
Entryway & Office
It's back-to-school season, too. So here is my never-before-seen kids' homework station. Pens, pencils, paper…all inside this credenza. My house is definitely kid-friendly in terms of organization, but training them to become organized is a different story. 😉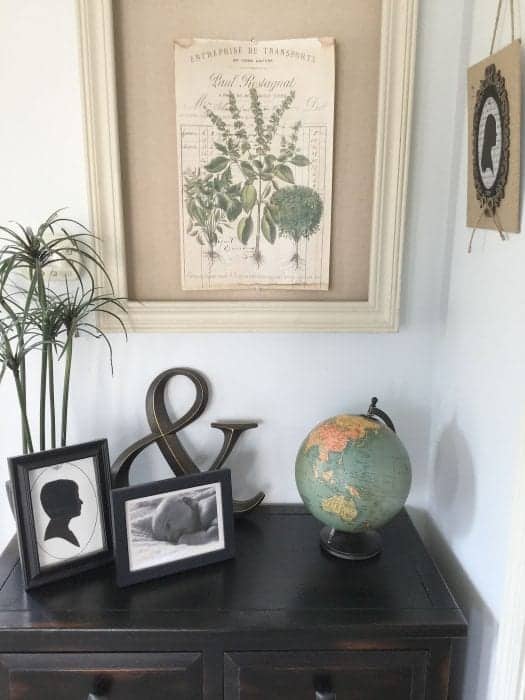 Above: Homework Station. Wall color is a very pale blue. All the colors in my house lean towards a cooler palette. 
We upgraded our interior from builders grade to a more classic style, with industrial accents mixed in. We installed wainscot throughout the house. A family photo wall is definitely going to be added to my DIY to-do list this year.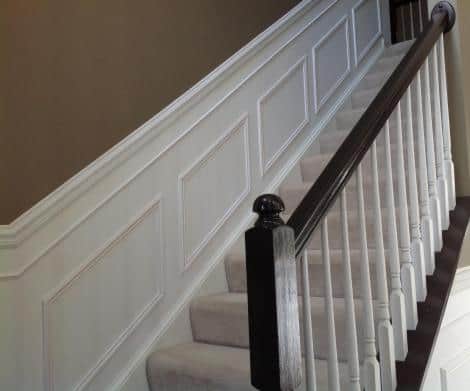 Foyer / entryway
A painted, decoupage pumpkin greets you at the front door. This is my favorite fall DIY.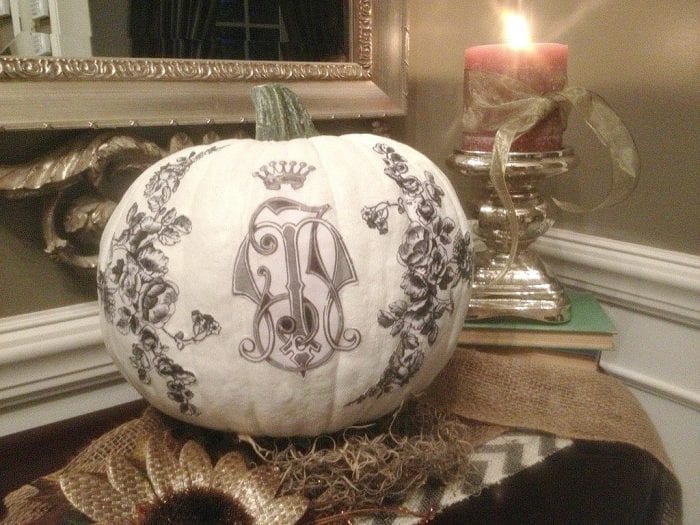 How to make your own decoupage pumpkin.
The office is where you'll find me most days. I'm a software sales executive by day, DIY blogger by night. These branches are up year-round.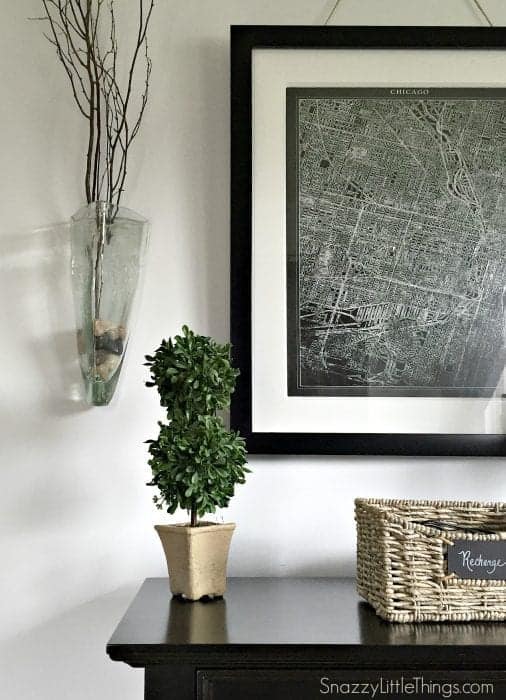 Vintage postcards serve as DIY art. I collect cards representing places I've visited.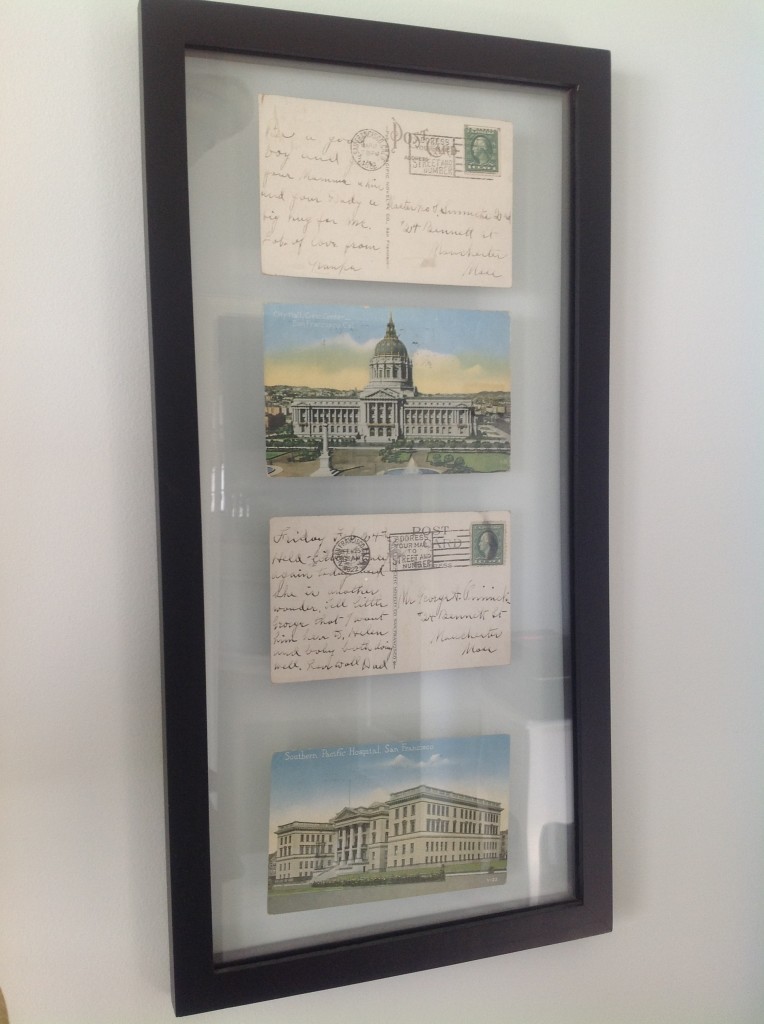 Enter the Family Room 
…which is really just one, big room.
Large, open spaces are beautiful, but I've learned they can be a challenge to decorate. Here you'll find our "one room cabine" including the family room, kitchen, dining room and sunroom. Since I lack wall space, I have to get creative with what I have. This time of year I bring in more blues, greens and purples. But my husband challenged me to add red, (and I did try–see if you can spot my feeble attempts). I shot the picture below in the morning sunlight. According to Feng Shui, our black door facing east should strengthen the energy in our home. Let's just say on a good day…that's great…but…. 😉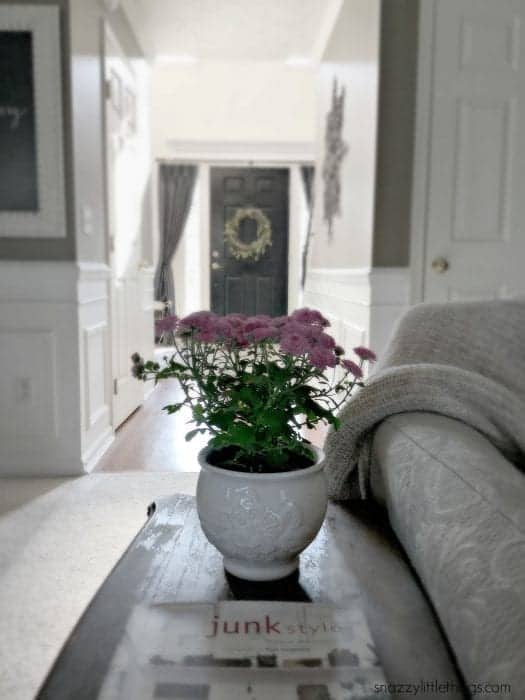 My chalkboard. I disguise this as a convenience for my kids…but in reality — I just love chalkboards. Having one gives me the chance to practice calligraphy and you can see that I need the practice 🙂  I'd love to hone that skill someday. (In the lower left, my son's hashtags for how many lawns he's mowed).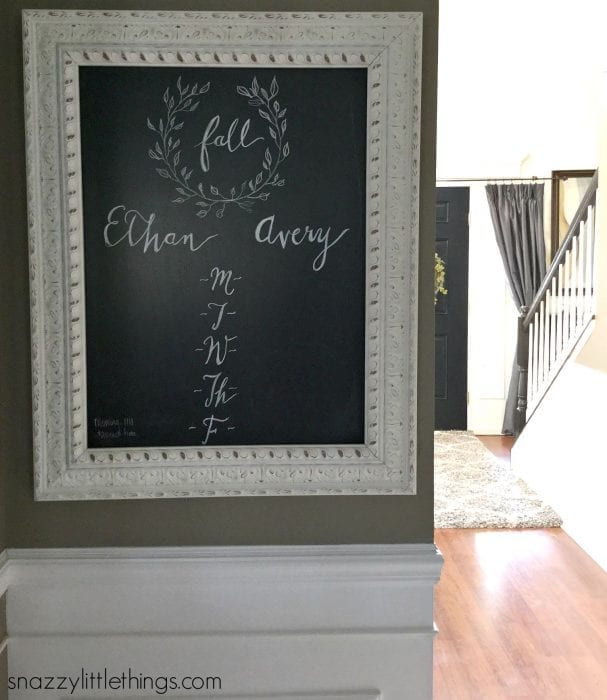 Chalkboard used for kids' schedules
Our family room, with salvaged branches from my tree that we recently cut down. I love the height that it added to the wall space, plus we get to honor our beloved tree that we planted 10 years ago. This room was inspired by my love for Restoration Hardware, but also Chip & JoAnna from "Fixer Upper". I kept asking myself as we designed this space..what would THEY do?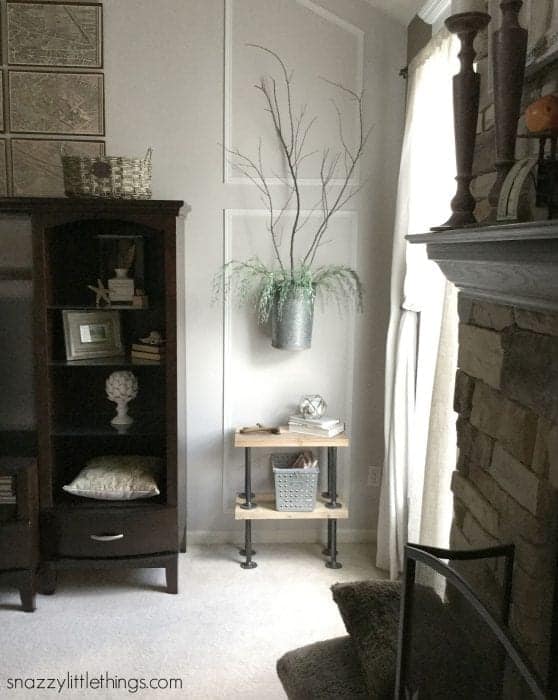 You can read about all of the projects that make up our family room refresh here:
DIY Industrial Tables | Family Room Refresh | Restoration Hardware Knock Off Art

Free "Autumn" Printable
I'd love to invite you to become a subscriber, once you do, you'll have instant access to free printables, like the "Autumn" printable above.
Another look. The horse came from zGallerie and I touched him up with a little paint. His original color was almost the exact color of the wall, so now he stands out a bit more.
Our fall mantel…with repurposed art that I found at a garage sale (I loved the frame). Here is the DIY tutorial "3 Easy Steps to Repurposing Wall Art".  Here you can see the "before" picture, too. I made the wreath from greenery found at Walmart.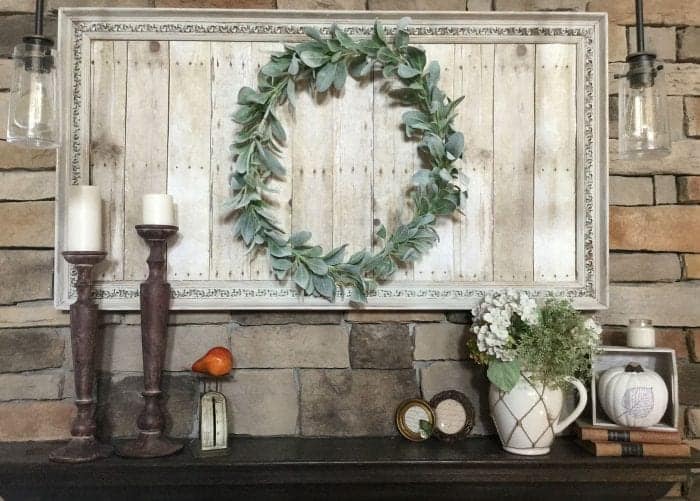 Fall mantel source list (Affiliate links included)
Wreath, handmade from Walmart  |  White pitcher from Walmart  | Candlesticks from Homegoods  |  Faux wood paper on Amazon  | Pumpkin is a DIY
Another view: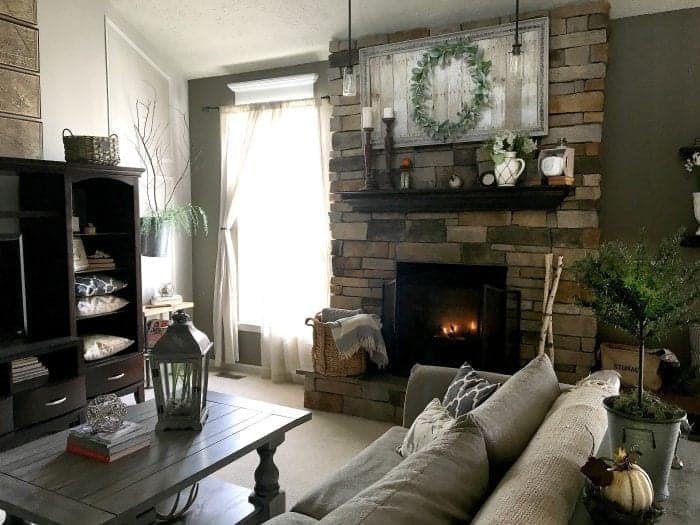 Dining area, all open design
I always lean a little more towards farmhouse styling in the fall. Most of the decor is found on Amazon and can be found in my "shop".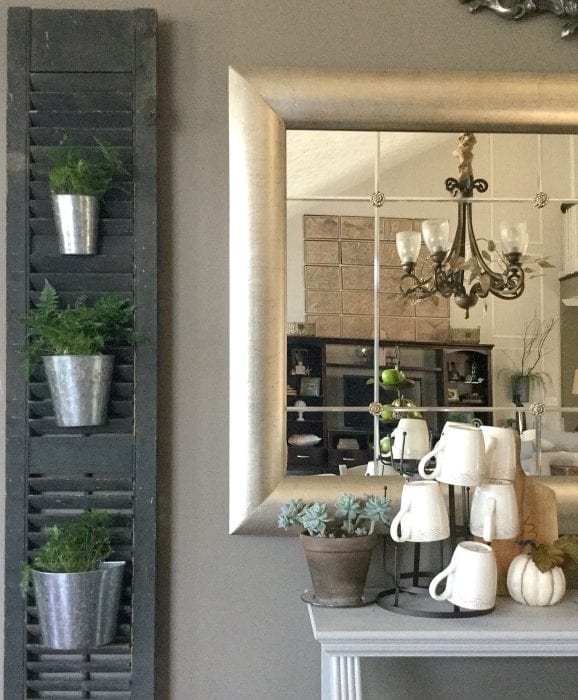 Above, salvaged shutters with galvanized metal planters.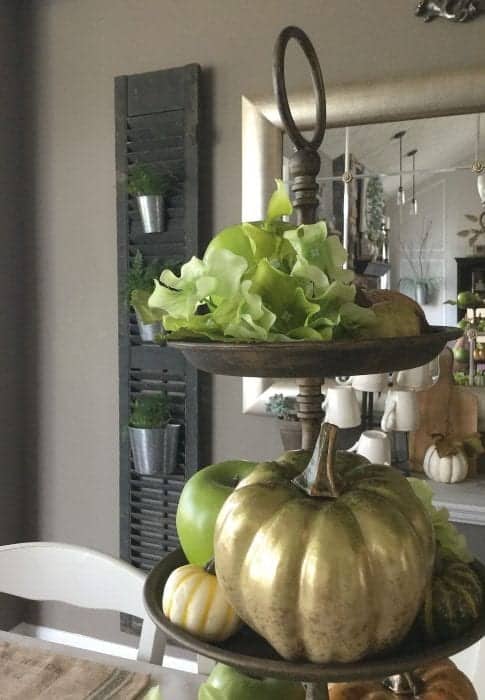 A tiered tray as a centerpiece (that I found for only $4.99!) with some warm fall colors mixed in.
I'm a DIY blog-evolving into a decorating blog. Yesterday we hung these wood beams in our sunroom, DIY tutorial is coming soon (with video on how to make them look authentically "old'). More farmhouse additions…but the goal was to solve a structural problem in our house = drywall tape was falling off the ceiling. We repaired it several times before we decided this was our best solution. We found out that there were no studs where the drywall met at the peaks. So adding the beams gave it a more solid foundation.  Now we're shopping for new wall paint (maybe even planking the ceiling) and a new light fixture.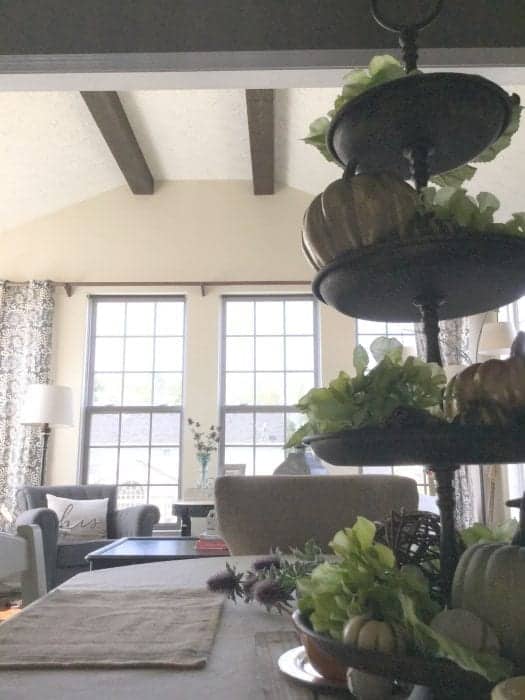 Above: Wood Beams hung in our sunroom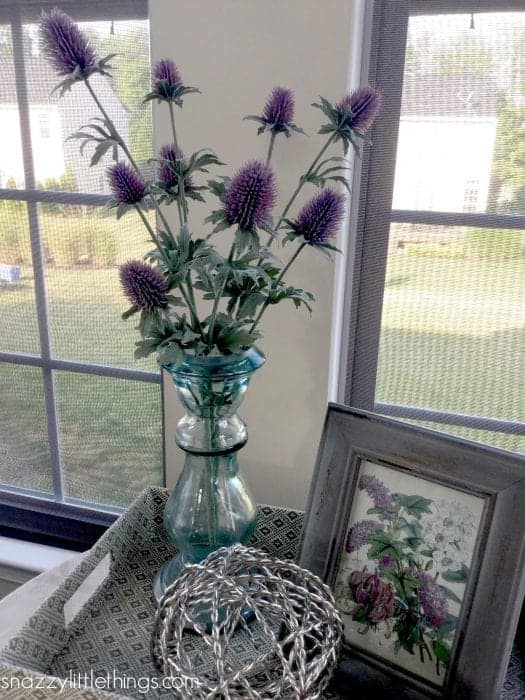 Sunroom vignette: Thistle from Walmart. Glass candle holder repurposed as a vase from World Market.
Let's move outdoors…
Our deck has been a major DIY  for us this summer…here is a glance. See the full before & after here. Warm weather lingers a bit until the end of September, so we plan to soak up the sun for a few more weeks before the snow flies.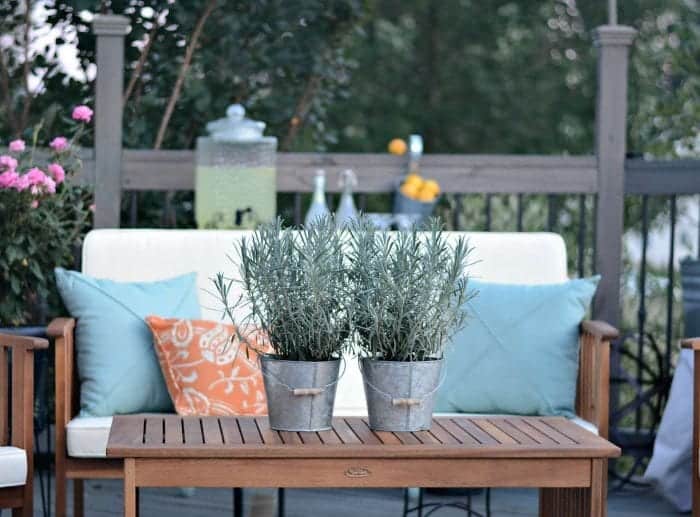 My Craigslist salvaged table below with a driftwood finish. You can read more about this pretty table here.  See what treatment I gave to it to survive the elements outdoors.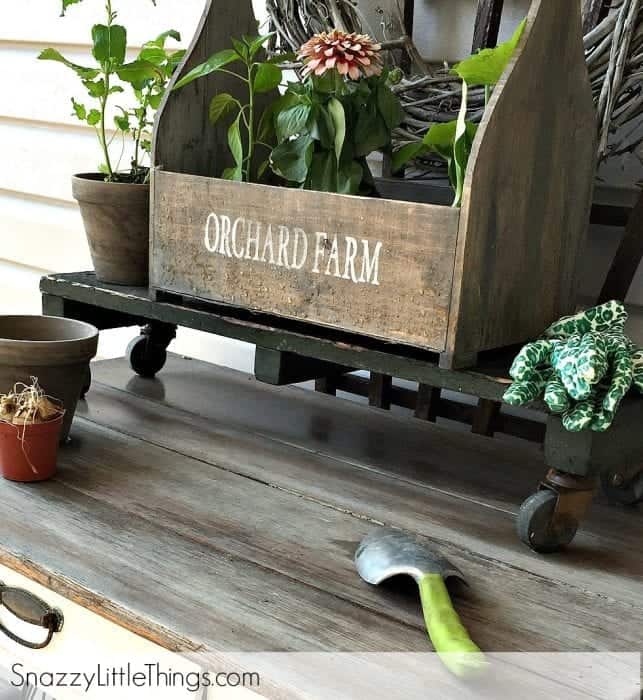 Our potting bench filled this empty space on our deck nicely – my talented husband built it this summer.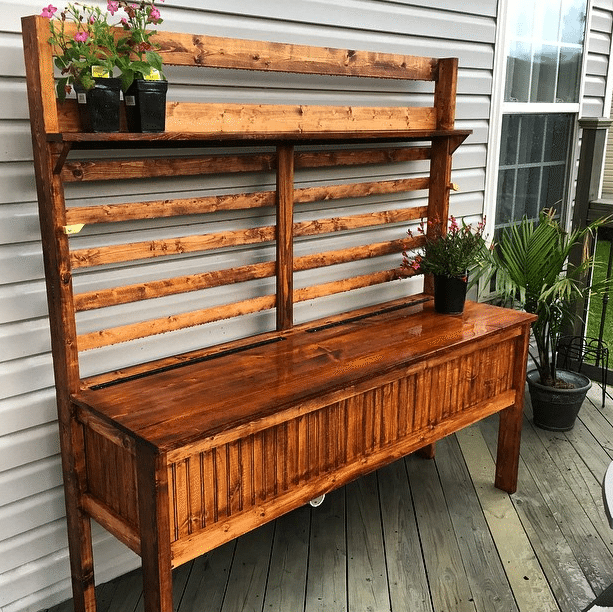 Potting bench plans & tutorial
Thanks so much for coming to visit.  The next stop is 21 Rosemary Lane, and be sure to visit each of these bloggers and their beautiful home tours this week!
"2015 Fall Home Tour Line Up"
Thurs – Sept 10th
A Thoughtful Place
Rain On A Tin Roof
Style Your Senses
Hi Sugarplum
Remodelando La Casa
Dimples & Tangles
Fri – Sept 11th
Simple Details
No Minimalist Here
Design Post Interiors
Designing On The Side
Life Love Larson
Tidbits & Twine
---