---
---
How To Create Your Own Chalkboard Art & Furniture Transfers
---
---
Do you want to make beautiful chalkboard art but you're not quite sure how? How about painting a pretty image onto furniture? This is a great post for you–today bloggers are sharing their secrets along with 60+ examples of their own image transfer projects. You will be an expert with this DIY by the time you finish reading.
Did you know–there is ONE common technique that most bloggers use in our image transfer projects? By following this tutorial, I will share this secret and hopefully remove the guesswork out of tackling this DIY. A video tutorial was also recorded November 16, 2014. (Available for subscribers).   
Find beautiful royalty free images for your image transfer projects at Graphicstock (Get your 7-Day Free Trial by clicking the image below)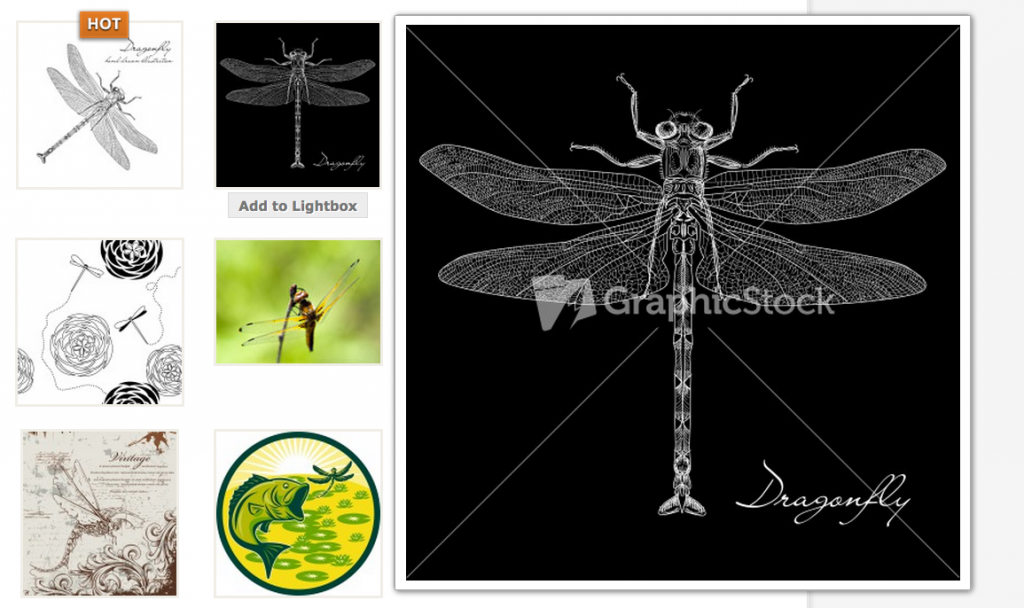 Above: Get your Free Images at Graphicstock
---
---
60+ Image Transfer Projects (Onto Chalkboards and Furniture)
Secret #1: We Create Our Own Transfer Paper (No Special Equipment Needed)
My Recommendation for Beginners? –>
Create Transfer Paper (Using Chalk, Pencil or Oil Pastels)
MULTIPLE projects that I've featured in this round up use this transfer method. Why? Because you don't need any special equipment. It works well for creating chalkboard art as well as furniture transfers. It works on multiple surfaces (fabric, glass, and wood in addition to chalkboards). You can also create beautiful lettering on surfaces as well. 
Step One:
Print an image. Then flip your page over to the blank side. Hold your chalk (or oil pastel) as seen in the picture. Cover the backside of your image with your transfer medium.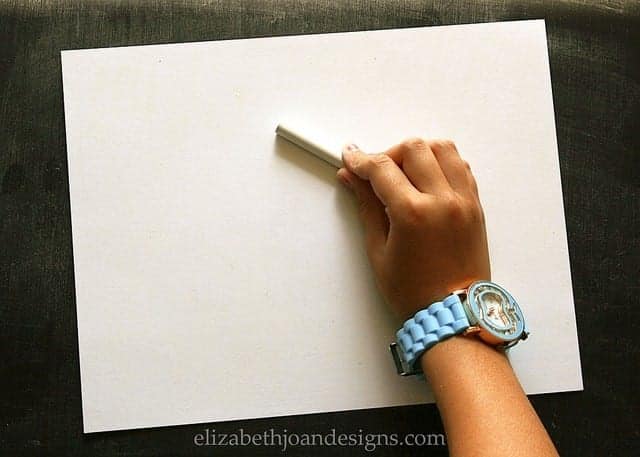 Above: The chalk transfer method (with a printed image on the front). This image is courtesy of post #42 below, from Elizabeth Jones Designs.  Please visit her beautiful blog to see the outcome of this project. You will LOVE it. 
Step Two: Transfer the Image. After you've covered the back, flip the image over, face up. Secure it to your surface with tape. Trace your image with a colored pen or sharp pencil. Check your progress by peeking underneath to ensure that you don't skip any portion of the image. Be careful to not move your image and lose your alignment.
Above: Tracing image with pencil, courtesy of Christy from Confessions of a Serial DIYer – see project #47 below
Step 3: Fill in the Transfer. With paint (or chalk on a chalkboard). I love using chalk pens on chalkboard, but you can also sharpen real chalk in a pencil sharpener.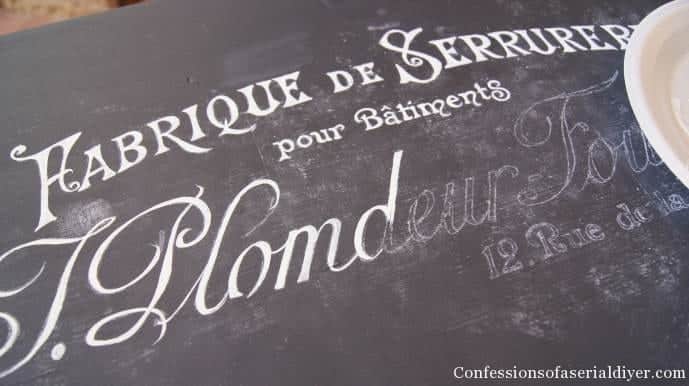 Above: More from project #47 – Confessions of a Serial DIYer. She's simply filling in her transfer. 

Secret #2:  For Furniture, Use Oil Pastels to Create Transfer Paper
Not sure what I mean by using oil pastels? It's the same method as the chalk transfer, except you use pastels instead. Here is a great example below. See the transfer in the background? Rub the back of the paper with the pastel, flip it, then rub the surface of your page with a spoon or pencil.  This is what you get…then you fill in with a paint of your choice.
Another pastel transfer project. Larissa is creating her transfer paper using oil pastels in the picture below. She then flips it over and traces the image to push the oil pastel onto the surface.
*******
More Secrets Revealed, Tips and Common Questions: 
Printing your image:  Print your image that you intend to trace in "greyscale". This way it is easier to see your traced lines. (See "Beyond the Picket Fence" for an example). 
Source for Images:   I often visit The Graphics Fairy, and now I started creating my own free printables that I can transfer as well. At home, you can choose a favorite font on a Word document, or a free image from the web.  
How to Enlarge Images:  You can tile print images from your own computer at home! If you're intimidated by this process, send an image to your local print shop where they can enlarge it per your specifications. (We will cover this topic in more depth in Part II of our Image Transfer series).
Do I need to reverse print the image?  Not for this method.  
Chalk Pens vs Chalk:  If you don't love chalk because it's messy, I like to use chalk pens instead. Another option? Sharpen real chalk in a pencil sharpener. 
Other Uses For Chalk:  Use a chalk-paint combination. Chalk can be used for the transfer-rubbing portion of your project. Then, fill in using a permanent paint of your choice.  Wipe the chalk clean once your project dries.
Dark vs. Light Surfaces: Sometimes it's hard to see the image once it's transferred. You can improve visibility of your traced images by paying special attention to the surface color. For example, if your finished piece has a dark surface, then use a white chalk, or a lighter colored oil pastel for the transfer (so that it shows up against the dark surface). If your surface is white, then pick a slightly darker color that won't smudge and ruin your surface. 
Can You Distress the Image?  Yes! Once you finish the image, you can rub overtop of the surface and distress the image as if it occurred naturally over time. 
Finish Coat:  Cover with a polyurethane for high traffic surfaces. 
 ***
Now, do you feel more confident? Ready to tackle this simple (and fun) DIY?  Then as a starting point, grab a small chalkboard from the store, or a scrap piece of wood….then print an image. AND PRACTICE! As you become more comfortable, you can print and experiment with more complex images and graphics over time.
Maybe you have a project that is similar to one listed below. The projects that use this carbon-rubbed transfer method are:   #7, 9, 10, 11, 12, 13, 16, 21, 30, 32, 35, 36, 41 42 44, 47, 48, 49, 50, 52, 53, 55.