My new, Society6 online shop is officially open for business!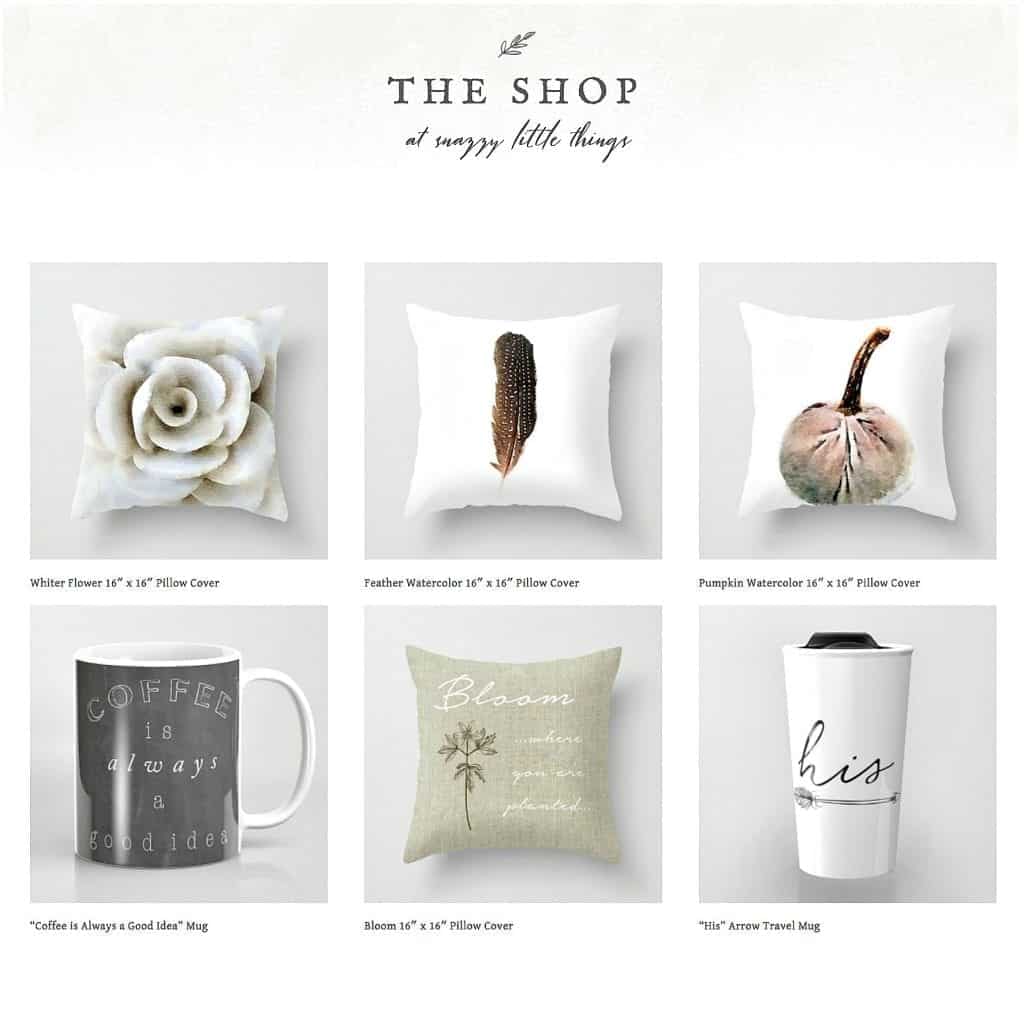 These are all designs personally created by me! So now, I can "decorate" your house, too! 😉
My husband has encouraged me for many years to open a shop filled with our own creations. We've been talking, and planning, and scrapping our plans…then starting over.   
All the while, I've been repurposing my way towards finishing our home and creating free printables to beautify our space. But then I thought…why not turn my printables into real home decor? I love quotes and photography, turning them into some fun graphics or pretty art is something I've really grown to love. And I hope you love it, too!
What's in the Shop?
At first the shop will be my free-printables-turned-home-decor. We are using the online shop at Society6 to handle all of the inventory, packaging, and shipping. Once you click through you will see hundreds of items on the site to choose from using my designs.
So now in addition to receiving a freebie download, that same freebie transforms into a variety of home decor. This might encourage me to make more printables, too.
I anticipate LOTS of pillows. Mugs. Geometric patterns. Wedding decor. More inspirational quotes or funny sayings. More COLOR, plus new chalkboard art for the holidays (I can't wait!)

Eventually, we will add our own handmade items. They'll either be created by us or we will sell items for other makers. Look for items from our woodshop, too.
Come Visit My Society6 Online Shop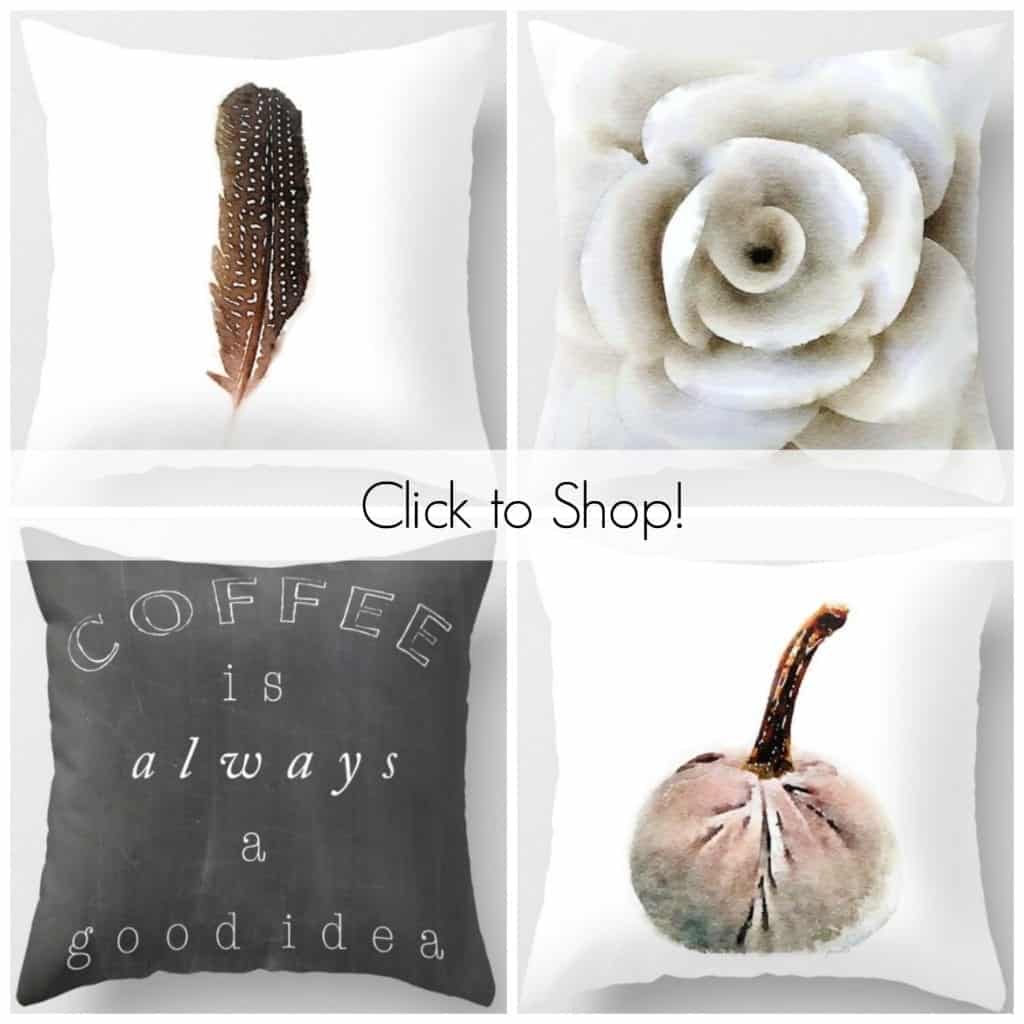 By entering my giveaway + leaving a comment below, you will be entered to WIN a FREE 16″ x 16″ PILLOW COVER from my shop (your choice). In the comments I'd love to know — what colors would you like represented in the shop? Which printable would you like to see?
What's in?
What's out?
I'd really love and appreciate your feedback!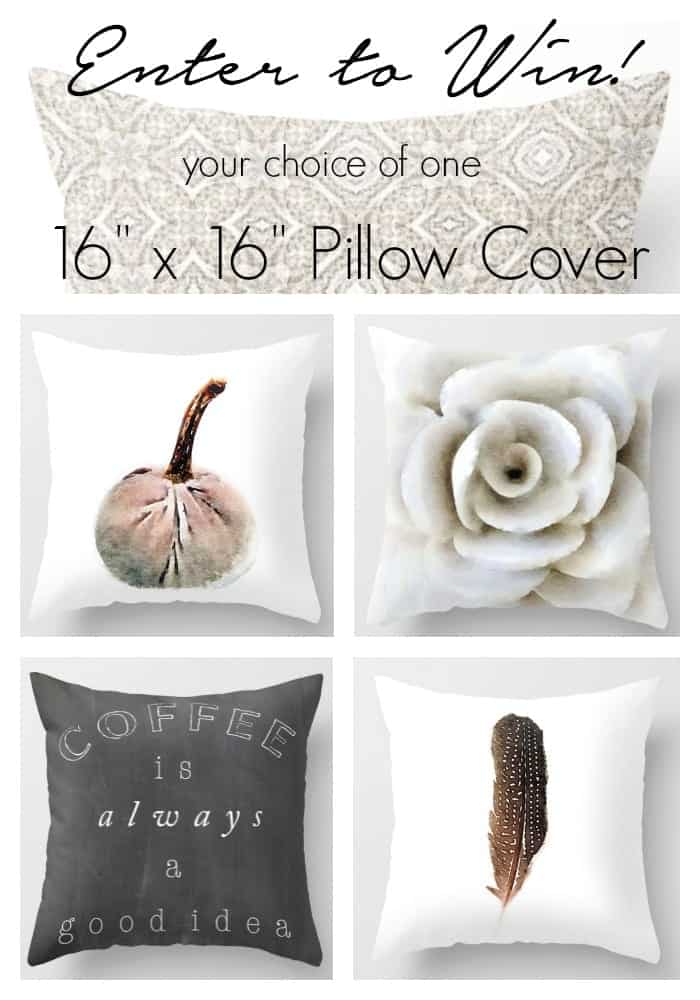 Stay tuned for updates, I still have more creations coming and I have a LOT to learn. But for this phase, I feel great knowing that Society6 is doing all of the hard stuff for us as we roll out new merchandise and I get my feet wet with being a shop owner.
If you're not signed up to receive my free printables, be sure to sign up below for instant access.
Thanks for all of your encouragement along the way…xo