18 Tips On Becoming More Productive — At Home
Welcome to Part I one of a two-part series on how I became more productive at home, written from the persecutive of a work at home Mom.  These first nine tips focus on my family life. Be sure to subscribe to follow along, this year.  

Read Part II which focuses on work at home strategies, apps for moms (and bloggers), how I manage my fitness routine, goal setting tips, and more! 
***
For the last five years, I worked full time as an IT security consultant in a home based office. During this span of my career, I was a single Mom of two kids. At work, I had a large client base as well as a quota. My workday required concentration, motivation, and a high degree of focus. Any distraction had an enormous impact on my productivity and my ability to meet deadlines (and of course, my quota). If things at school weren't going well for my kids, I sometimes would have to manage an inordinate number of calls from the school throughout the week, but still get back on task. My livelihood depended on my brutal efficiency, since for a long time, the only person I could lean on..was me!
My job is to identify inefficient or broken processes that hindered productivity. I focused on streamlining overly complex workflows, updated policies, or even helped them choose technologies that allowed their businesses to run more efficiently.  (Ironic, huh?)
Time is money.  We've all heard that. But what does that really mean?
Assigning A Dollar $ Value to Your Time: 
I often wonder–why aren't we more protective of our time as "managers" of our own households? Running a busy household isn't easy, and I'm certainly prone to becoming overwhelmed by life, feeling rushed, or getting overly stressed. So I'm constantly trying to find ways to improve our household's productivity.
Time — it isn't easy to quantify in terms of dollars and cents. In the business world, managers are paid to identify and improve inefficient processes. Yet at home, we often succumb to many routines that are often time wasters, or inefficient. It's a slippery slope. I know I am prone to skipping things on my to-do list. Sleeping too late, or forgetting to pay a bill.
But if you find yourself stuck in a monotonous pattern of catering to inefficient processes and never getting ahead, then already – you are working too hard. 
Bottom line: our time is valuable. In this article, I challenge you to weigh cost versus value. Find ways to shake the money tree and get some of your time back in return. Then ask yourself a few of the questions I have posed at the bottom of this post. 
***************
"18 Tips to Improve Productivity at Home" 
1) Purging the Excess: This may be an overly simplistic observation, but life was so much simpler when we had less. Over time, I've come to realize that the accumulation of "things" starts to negatively impact the overall quality of our lives. If you feel like your life is governed by large piles of stuff and you're constantly struggling to put things away…then maybe it's time for a purge. I found that having too much stuff stresses me out, as well as my whole family. Once I got engaged to my husband, we went through an extensive purge as we combined two households worth of unnecessary items — so I've learned that purging is freeing. If you'd like to join this month's challenge to get organized, join me!  Click the button below to get started:
2) Hiring a Cleaning Service:  Before you laugh out loud…consider this…

The Saturday before Christmas we cleaned from the time we woke up until 6pm. That was a full day of vacation…wasted. My kids wanted to rollerskate, I needed to shop for the holiday. But we cleaned. All. Day. Long. Why? As a family we had been sick for about two weeks prior to this. Every door handle and bathroom needed to be sanitized before company arrived. It took everything in my power to get this far. In addition, NO holiday shopping was finished, no baking was finished, and I heard that Santa was *ahem* light in the load. I worked full time. I have kids in many after school events. I have a dog that sheds something awful. And I simply couldn't keep up.
Ask yourself… "how much of my weekend quality time is spent cleaning?"  I know that hiring a cleaning lady may sound extravagant, it really doesn't cost any more than eating at a restaurant feeding a family of four twice per week. You spend an average of $40 (or more) at a restaurant to feed a family of four. In my area, $80 pays for 4 hours of cleaning service.  (And I only bring in cleaning help 2x per month). 
This is the cost vs. value analysis. Get your weekend time back! Skip a week at the restaurants, and hire a cleaning lady.
3) Grocery Delivery Service: Not only is this a great option to help you save time, but it's also extremely helpful if you do the shopping for an elderly family member. It's not as expensive as you might think. For my non-organic items, I hire Schwan's delivery service. With all the traffic that stands between me and the grocery store, this service has saved me so much time. I can't imagine going back to the way things were. You can download an app on iPad, and order right online. There is no contract and no obligation to continue the service. Delivery my area is every two weeks and the employees there are so incredibly friendly and helpful. I am not an affiliate nor do I receive a commission for this service, I simply feel it's a wonderful time saver when you can't make it to the grocery store.
Amazon now offers "Amazon Fresh" to select areas now in the U.S.  While my area doesn't qualify, I still order food online from them, especially gourmet food and dry goods. (My affiliate link is included at the button below).
4) Auto Bill Pay:  
I no longer worry about paying bills on time — everything is done automatically. At most companies, auto-bill pay is preferred and a free service. If this option is not available, I set up automatic checks through my bank to send hard copies to be mailed directly. The only exception is that I actually write physical checks for medical bills. And this is spoken from someone who works in security. Banks have many provisions available to you to prevent fraud, so sign up for this option whenever it's available for your own peace of mind.
5) The Power of "No": The art of saying no is not an easy one to teach when you're a pleaser. There was a period of time when my daughter would not say not to any parties or sleepovers. She was so worn out and tired over the summer that she was no good for anyone. (I have a good idea where she picked up this trait). I love downtime. My kids love downtime…so why do we sabotage our own downtime so often? Learn to say no and protect your free time like it's your bank account. You need to recharge every day.
6) Unplugging: Nowadays we all get completely bombarded with technology. Constant notifications and pop-ups on our phones is not the way were were meant to live. Unplug for a few days. Unsubscribe from spammy emails the minute they come to your inbox. There is a noticeable difference in my attitude (and my kids' attitudes) when I give my brain a rest. (Notice that I've been posting less lately?) Get outside. Play a board game. Time spent away from technology is always a good thing, for everyone.
7) Installing a Home Phone:  There has been a trend towards eliminating home phones. I was one of those households. But as my kids got older, I found that it was MY phone was constantly ringing to arrange a "hang out" with their friends (the term used when they outgrow "playdate"). Over time, I realized that my cell-phone only household was hindering their ability to reach out to friends and family. Having a good old fashioned landline offers your kids the freedom and opportunity to develop a valuable life skill–communication. I pay $9.99 per month through Vonage. A small price to pay for a simple convenience that your kids will appreciate. 
8) Having Commercial Free TV:  We cut cable last year, and we definitely don't miss it! Having over 260 must promoted mindless surfing…not to mention our bill was climbing up to $126/month, or $1512 per year with satellite TV! Does a family really need 260 channels to choose from, when realistically, you can only watch them if from DVR anyway? Given this conundrum, we made the decision to cut satellite TV. We now own a Roku which enables us to turn a TV into our house into a web TV.  We also subscribe to the libraries available on Netflix ($7.99/mo), Amazon Prime ($99/year) and Hulu ($7.99/mo).  This only costs $290 per year!  That's $1200 slashed from our annual satellite TV bill! We have more control over our programming, our TV watching is more purposeful and we sit down as a family to choose what shows we watch. And…it's virtually commercial-free. Our favorite shows are already recorded, too. If you're extremely diligent about having parental controls, you can always consult IMDB for the full rundown of a movie before you sit down as a family to watch it.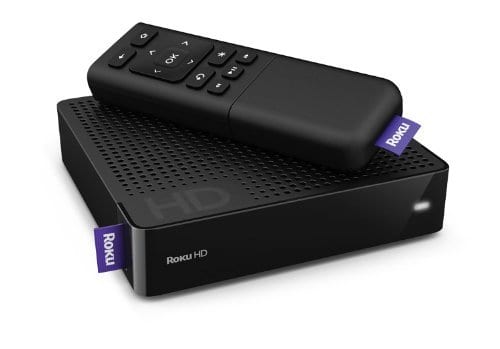 Above:  Roku HD Streaming is our choice for TV viewing
9) Parental Controls: Peeking over my kids shoulder to ensure their surfing experience is rated G is not my idea of a fun night. As a rule, I always enable pretty strict parental controls on any device my kids use. (On iPods especially…no YouTube, no internet access, and they can't download any apps without my permission). I also download K9 Web Protection (a free download) to protect your kids during their web surfing time.  Then you can concentrate on things like cooking dinner, and having a little more peace of mind. Does that already sound more freeing?
************
My Challenge to You as You Read This Article:
Consider a typical week. Think about the time that you spend doing routine, or repetitive tasks. Include the times spent behind the wheel of your car, in bad weather, shopping for a perfect gift, going to six stores, getting stuck in a traffic jam, picking dry goods at the grocery. Think of the things you do at home that are routine, such as cleaning, or paying bills.
If you implemented a few of my suggestions above, ask yourself: 
How much time would I get back?
What would I do with that extra time (or money)?
Would I have more time back to call a friend?
Would I be able to squeeze in a workout?
A nap?
Would my health improve?
My relationships?
What is the ONE thing that my child has been patiently waiting for me to do with him or her?
********************
Click here to read Part II "Work at Home Strategies" where I will share which apps I use (great for Moms and bloggers) goal setting strategies, and how I incorporate a fitness routine into my week.
Happy New Year! Here is to spending your time as efficiently as possible!