*****
Productivity Series: "Work at Home Strategies"
Welcome to Part II in my "18 Tips on Becoming More Productive" series. In this post, I'll focus on work at home strategies. In case you missed it, here is part 1 in the series, this is where I focus on the family. I include tips on cutting cable completely and automating everyday tasks.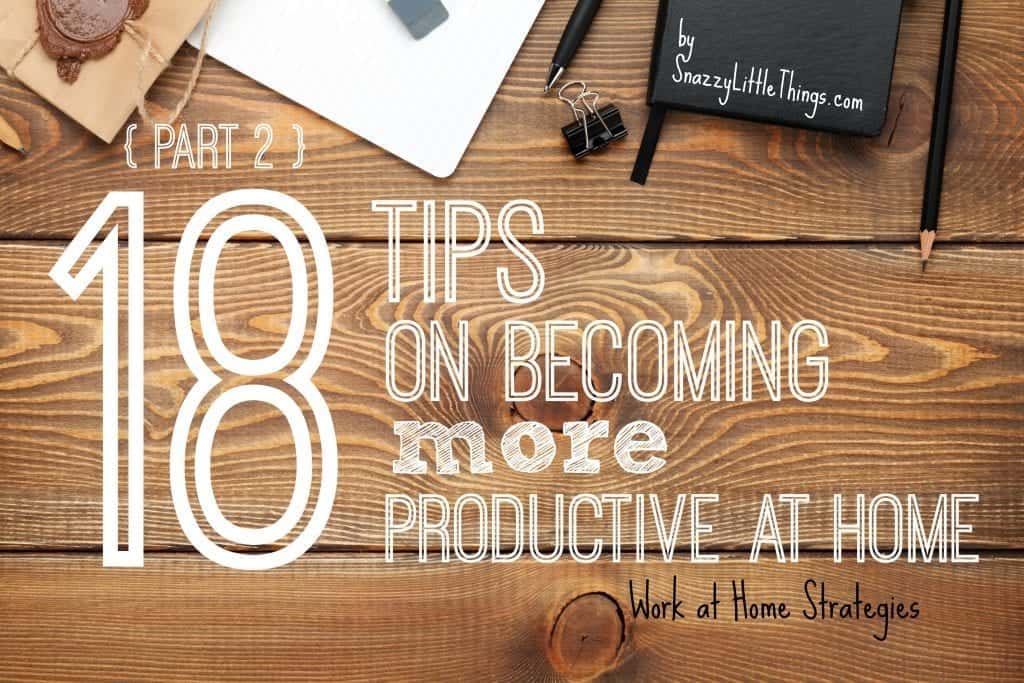 Be sure to read tips 1-9 here!
Work at Home Strategies
 10) Get Out of the House:  When you work at home it certainly can be difficult to stay productive. At home –your work is truly never done. There will always be laundry to do, bills piling up, a phone ringing, a dog barking or a neighbor knocking. Working among the chaos is common, having repeated interruptions can impact your ability to re-focus onto your work over time. I have found that changing venues (even working in crowded areas like Panera) makes me feel like I'm part of humanity again. Being in a home office for so many years definitely has it's perks. But when you're inside for long stretches of time simply getting out of the house for a change of scenery can make you much MORE productive and put a spring in your step!
11) Online Shopping:  Think about all the time have wasted driving all over town in search of a very specific tool, a unique craft product–only to find it online at a better price? The truth is…I hate to shop, even more so when I can't find what I'm looking for. So I have become extremely comfortable shopping online, namely on Amazon.com. For $99 annually, you receive two day shipping (on Prime items), have access to a nice library of web movies (which works out perfectly now that we've dropped cable). Did you know that Amazon also has an amazing assortment of food (including organic items), too? Free eBooks are available on Kindle apps and devices as well. And when Santa was falling behind…Amazon came to the rescue (affliliate link included). 
12) Turning off every notification on my iDevices: Every red notification bubble on your phone is not that important. We all form bad habits of looking at our smart phones all too often. Avoiding this behavior can be as hard as saying "no" to dessert when you're on a diet. Just say "no" to looking at your phone during family time. Look at text only when you're family isn't with you and you need to stay in touch. Leave the rest alone.
13) Syncing iCalendars:  I have a personal calendar on Google that syncs with all of our devices. My iCalendar also syncs with my kids' school's iCalendars. We are all in sync! If you're going to use this technology it does take some getting used to, but it has been extremely helpful trying to keep everyone on the same page with managing the monthly schedule. I'm constantly researching better ways to automate my day, so I will update this post often if I discover a new way of doing things.
14) Blogging Apps: I don't use these everyday, but they are very helpful for me when I need to stay on top of my work life while traveling.  (These apps may primarily be important if you are blogging, but I have also found these to be extremely helpful for someone who enjoys workplace mobility and automation).
My go-to phone apps:

*Evernote is  where I capture ideas/pictures/notes for blog posts.  It's also has capabilities far beyond time management, great way to sync up with family to arrange bill payments, manage lists, tasks and more. It syncs between my phone and my laptop, and anyone else you need to sync up with in the family. 
On the laptop: My go-to apps for reading and keeping up with my favorite blogs is Feedly. I share directly from Feedly by right-clicking and Buffering photos to Facebook, Twitter, Google+ and now Pinterest. To schedule my Pinterest to recirculate my own personal pins, I use Boardbooster (my affiliate link is included).  I try to automate and optimizing this process as much as possible to save time for other projects.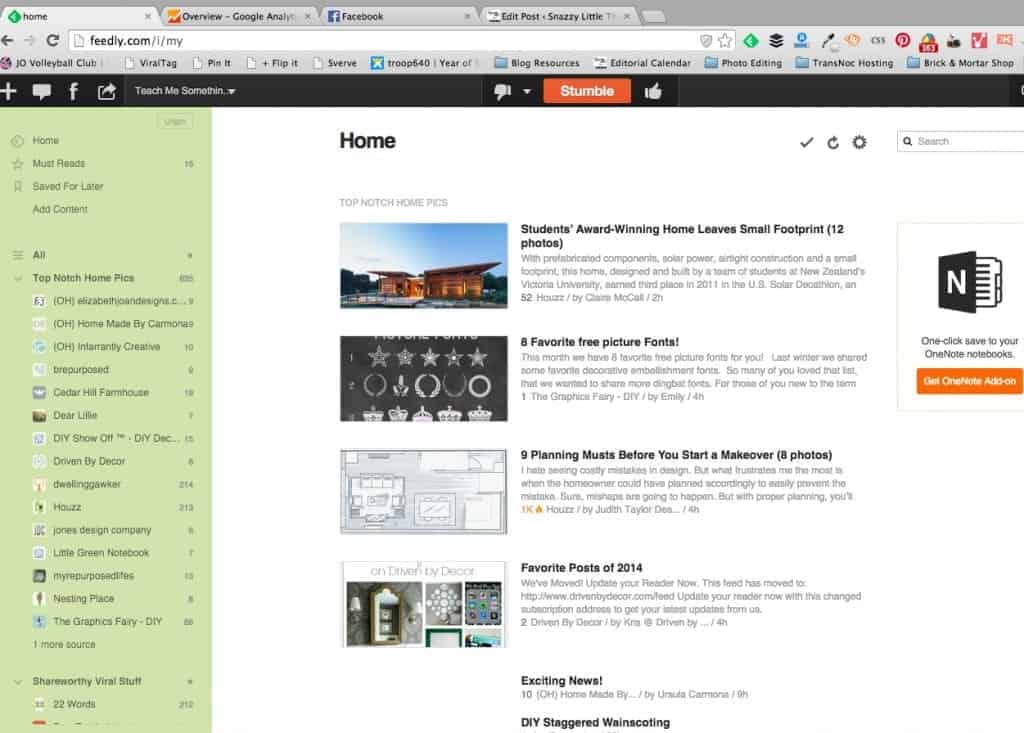 * WP Editorial Calendar:  Note at the top of my menu is my bookmarked toolbars. WP Editorial Calendar (plugin) has been a lifesaver since I implemented it last November. 
15) Goal Setting Tips & Task Lists: There is still value in putting a pen to paper. I personally enjoy the physical reward of crossing things off of my list!  My daily to-do list often looks something like this–>
A.M. Checklist (example):
MUST DO TASKS TODAY
TASKS THAT I DISLIKE (30 minutes of work followed by 5-10 minute breaks until the task is done)
All Outbound Emails Go Out In A.M.
Lunch: Workout (lunch hour) — eLearning podcasts play at this time. 
P.M. Checklist (example):
Anything missed from the morning
A task that pushes me towards a major business goal (outside of my comfort zone)
An enjoyable task
Answer emails
(The list varies, but I work in 20-30 minute increments. Then reward myself with a 5-10 minute break between tasks).
A Tip About Goal Setting:
I set ridiculously difficult goals sometimes, and I write them down so they are visible on my daily to-do list. Those "pie in the sky" tasks are disguised as a daily "to-do". The simple act of placing these items on my list convinces me that they need to be done. It becomes normal to do things that would normally fall outside of my comfort zone and allows me to meet my longer-term goals (like making quota). 🙂 
16) Fitness Tribes: The simple fact is, when I am stressed, I gain weight. What's even worse, I recently went through a series of tests and discovered that I have over 40 food sensitivities that are causing me all kinds of health issues (I will explain in a future post). But what I find even MORE difficult than squeezing in a workout? Accountability.  I believe that having a fitness "tribe" — even if you're long distance, has been the best way for me to stay accountable with my fitness routine. I log my daily workout, track my daily food intake and it helps me to stay motivated because there are many of us in the same boat. I feel motivated by my workout tribe, and we keep each other honest. 
And? A treadmill has been a lifesaver to get in cardio on lunch breaks, -50 degree days, or after the kids are in bed and I can't get out for a late-night job.
I embrace in-home fitness to save money.
Here is the math –> gym memberships (at a minimum) for me and my two kids are $99 / month.  So I quit the gym, and invested in a $200 used treadmill on Craigslist.  Also, by joining online fitness accountability groups last year, I lost 18″ and 12 pounds (and ONE whole dress size) by committing to 90 days worth of workouts before the wedding. 
17) Using Coupon Apps:  I am far from being an effective coupon queen, but I do enjoy checking out coupons when I'm out shopping. I struggle with the task and organization needed to clip coupons. So if you're like me, then downloading a few apps may be the answer. A few of my favorites are JoAnn Fabrics, Hobby Lobby, Michaels, Famous Footwear, Retail-Me-Not. Many of these offer significant savings on a single full priced item.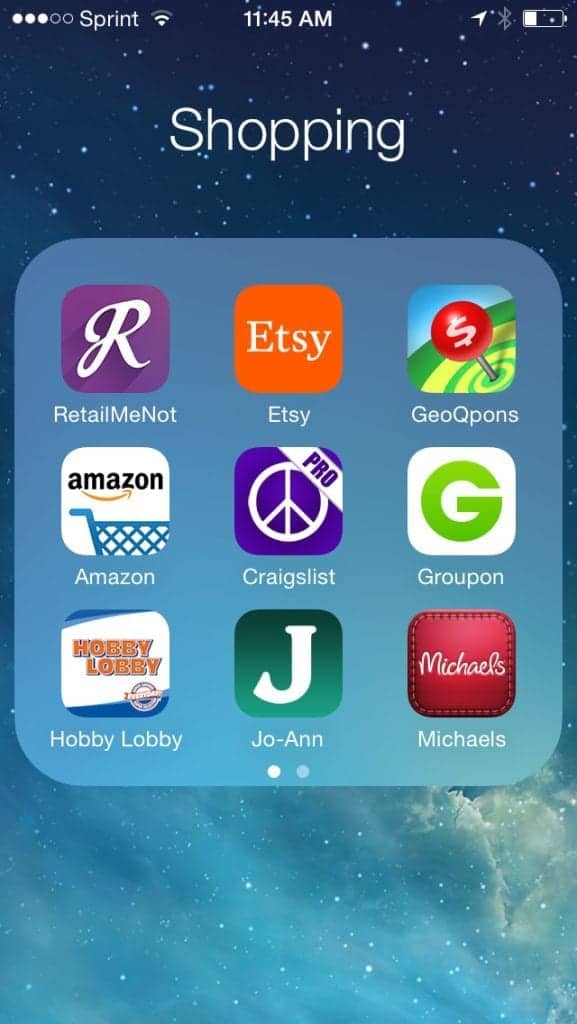 What retail apps do you use?  Please share!
18) Work-at-Home Accountability / Check-ins: Working from home is hard and getting distracted is very easy to do. I suggest sharing your daily goals to someone in the house. Report back to them. Another option is to have an online work buddy to check in with. It's a simple task, but it certainly makes me feel more accomplished at the end of the day.
****
If you implemented a few of my suggestions in either Part I or Part II of this series, ask yourself: 
How much time would I get back?
What would I do with that extra time (or money)?
Would I have more time back to call a friend?
Would I be able to squeeze in a workout?
A nap?
Would my health improve?
My relationships?
What is the ONE thing that my child has been patiently waiting for me to do with him or her?
********************
I hope this has given you some things to think about. Even one small change at a time can help you make 2015 the most productive year yet!