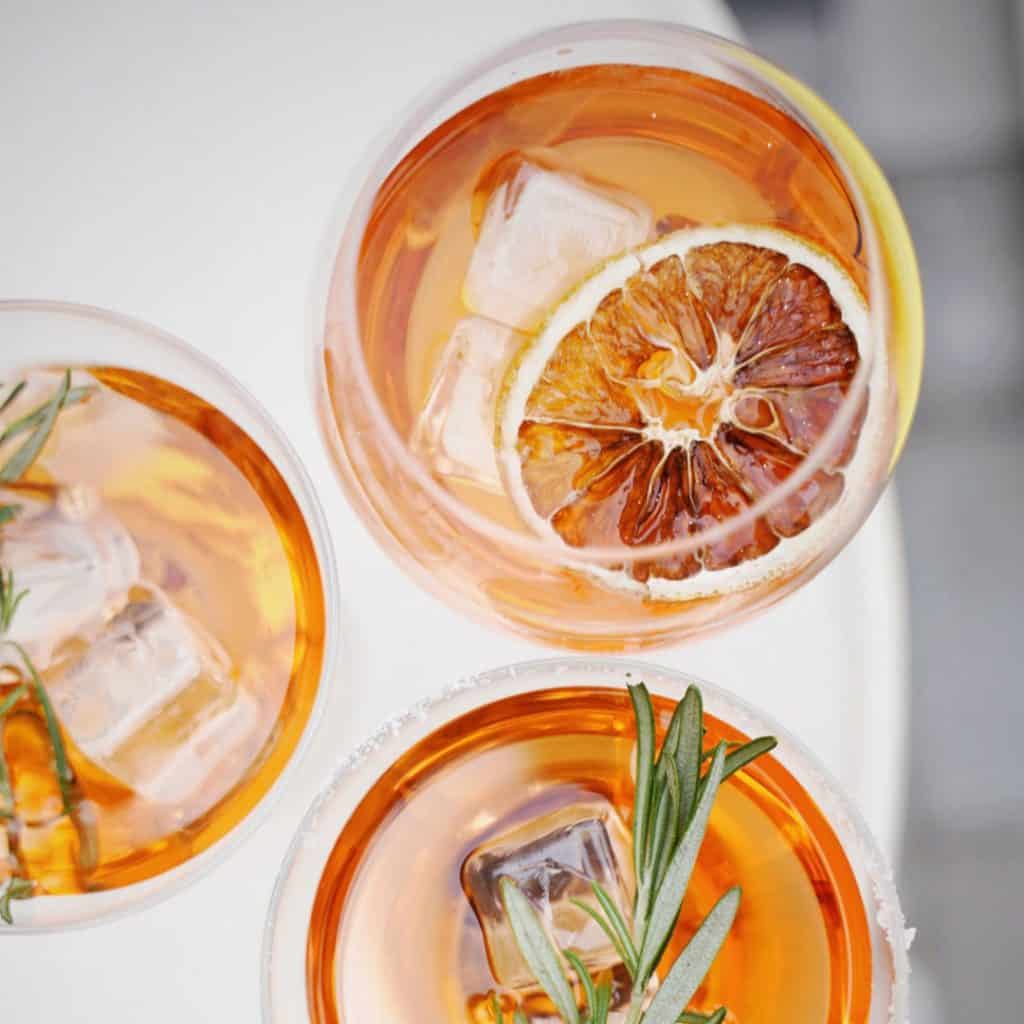 A season full of earthy flavors and cozy nights in, autumn is the perfect time to indulge in some adult beverages. Whether you're relaxing during a movie night with your loved ones or are planning an autumnal get-together at your home, it's well worth the effort to mix up a cocktail filled with your favorite fall flavors.
Not only do they taste good, but the smell that happens when you're creating some of the following beverages is divine. Even if you're among the one in 10 households that performed a kitchen remodel in the last year, the delicious scents that come from making mulled wine or hot buttered rum coffee might become your favorite kitchen feature. Let's dive into these tasty drinks that are the perfect partners for a chilly autumn night.
Hot Buttered Rum Coffee
There's nothing quite like a hot cocktail and there's nothing quite like a cup of coffee. While about 35% of coffee drinkers prefer their coffee black, we have a feeling they won't mind what comes in this cup of joe. This cocktail recipe starts with mouth-watering ingredients that look like they're for your favorite holiday dessert, but quickly turn into a delicious boozy beverage:
One cup of unsalted butter
One cup of dark brown sugar
Two teaspoons of cinnamon
One and a half teaspoons of cardamom
Half a teaspoon of nutmeg
One-fourth teaspoon of ground cloves
Pinch of salt
Black rum
Your favorite coffee
First, cream together the butter, sugar, cinnamon, cardamom, nutmeg, cloves, and salt in a stand mixer for about three minutes. Place two tablespoons of this spiced butter in a medium cup and pour two ounces of rum over it. You'll then pour in coffee to fill the rest of the cup and stir to incorporate the spiced butter. To make it sweeter, you can add a bit of cream or top it with whipped cream and a sprinkle of cinnamon.
Autumn Fizz
For those who prefer a cool, refreshing cocktail, the autumn fizz is the perfect drink. Start by pouring two ounces of gin in a shaker and then add one-fourth of an ounce of lemon juice and a touch of agave nectar. Shake all of this up and pour it into a high ball glass. You'll get the fizzy element of this cocktail from sparkling cider, which you'll use to fill the rest of the glass.
When it comes to garnishing this cocktail, nature offers the perfect toppings. Start by placing a sprig of fresh thyme on top of your fizzy creation. About 30% of all households buy at least one houseplant and choosing herbs as your little green friends can come in handy in moments like this. You can also garnish your cocktail with a lemon slice or change it up with an apple slice for a little hint of fall.
Caramel Apple Mule
The Moscow Mule is a perfect cocktail for all times of the year, but this caramel apple version gives the classic a lovely autumnal twist. Even better, this cocktail is very easy to make. Simply shake one and a half ounces of vodka, half an ounce of caramel syrup, and one ounce of apple cider with ice. Strain your well-shaken mix into a mug over ice and top it with ginger beer. Try garnishing it with an apple fan and it's to ready serve. A perfectly party-pleasing cocktail, it won't matter if your guest list is primarily filled with calmer partiers who are among the 20% of the U.S. population who will be over 65 by 2030 or with energetic 20-somethings who are ready to party all night long. The caramel apple mule will bring a smile to every guest's face.
Mulled Wine
One of the best parts of fall is mulled cider and mulled wine. These treats have a way of warming you to the bone with just a sip. Although red wine should usually be served between 50 and 60 degrees Fahrenheit, a cup of hot mulled wine just tastes like the holiday season. When making this soul-soothing drink, use one bottle of semi-dry red wine, such as cabernet. Combine it in a saucepan with the following ingredients:
Two cups of apple cider
One-third cup of maple syrup
One-third cup of whole cranberries
One orange, sliced
One apple, sliced
Four cinnamon sticks
Four star anise
One vanilla bean split in half
One tablespoon of whole cardamom pods
One teaspoon of whole cloves
Cook your concoction over medium-low heat for ten to fifteen minutes, until it is hot and slightly simmering. This toasty beverage may not keep you from visiting an urgent care center for cold symptoms like a simple mug of tea will, but it drinking it while it is nice and warm will make all of the autumnal spices shine and give you a little glow in your belly. Served your mulled wine in glasses garnished with cinnamon sticks and orange slices and enjoy.
Pear Sour
Another one for the fans of cold cocktails, this drink stars brandy and plenty of pear flavor. Begin by combining two ounces of pear brandy, two ounces of pear nectar or fresh pear juice, three-fourths of an ounce of fresh lemon juice, and half an ounce of simple syrup in a cocktail shaker with ice. If you like, you can also include an egg white in the mix as well. Shake and mix it all together well, especially if you added the egg white. Strain your cocktail into a martini or coupe glass and garnish it with a pear slice.
These are just a few of the endless options for autumnal cocktails. Whether you prefer them hot or cold, there are plenty out there to please your palette. If you want to try concocting one of your design, all you have to do is throw a classic fall flavor, such as apple, pear, maple, or hazelnut, into your favorite mixed drink. With a little experimenting and plenty of autumnal creativity, you can come up with an entire menu of fall cocktails for your next shindig. Happy mixing!