8 Baby Steps to Simplify Your Decor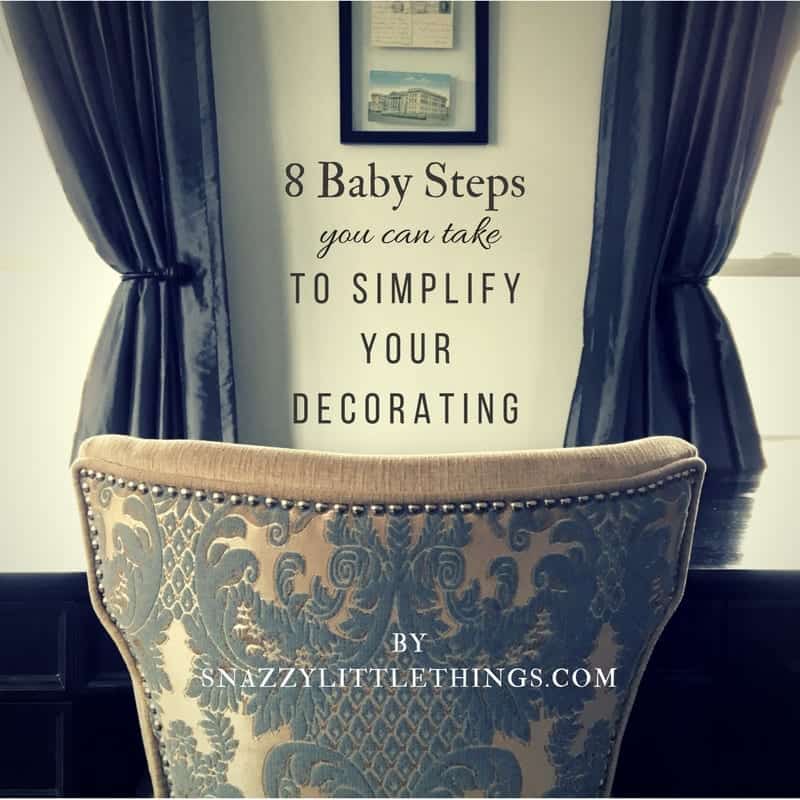 Last month I spent time diligently and dutifully decluttering my house. We aren't talking about one room. I'm talking the top-to-bottom act of giving away mountains of unwanted items to charity.
Even though some of this excess is normal (like the kids outgrowing older clothes) I admit to feeling incredible pangs of guilt.
Guilty because we had accumulated so much. Exhausted as I was constantly moving things around as a result of filling my home with excess (and…the flooring project). Regretful as I began recounting all the quality time I might have gained if we didn't have so much "stuff".
Then once I was finished…I felt free! 
8 Baby Steps To Simplify Your Home
This year my goals are simple. Smaller wardrobes. Purposeful decorating. A cleaner home. Creating a simpler lifestyle and improving the function and flow of each space. I also hope to save my kids from the notion they need to accumulate so much "stuff". I am loving the cleaner and less cluttered look, it makes life so much simpler. And I'm trying to prove to myself that minimalist decorating can work in any motif…even mine.
Budget DIY and decorating is no longer "budget-friendly" if you're continually encouraged to buy more cute things, even if they are found at a thrift store at a good price.
#1 – Figure Out Your Style:
Figuring out my decorating style early on would have saved me so much money. During the times we've loosened our purse strings, even as frugal as I try to be – if I saw something cute that was on sale, I'd probably buy it. But now I want a cleaner, simpler home. Had I figured out my style sooner, I wouldn't have spent so much money on items that no longer fit in my decor.
#2 – Stop Buying Things Just Because They're Cheap:
I believe that thrifting and salvage is a great way to furnish your home. That's exactly the route we took. But are you buying something that you want? Or do you truly need this item? Will it add value to your daily life? Make sure you are buying something that you are giddy about that satisfies a basic need for that space.
#3 – Until You Figure This Out – Learn to Live Without:
If you're not clear on your style, and you have more "wants" because your needs are already met…then learn to live without. By doing so you don't add to the clutter and you remove yourself from the vicious cycle of purging items every few months. I've had several rooms remain fairly empty for quite some time until my vision became clear and my budget was free to make the right purchases for that space.
#4 – Create Mood Boards and stick to your plan: 
Mood boards are another way to visualize your space before you start to buy. You can create practical shopping lists. You can work on individual rooms to "get the look for less".  I love Polyvore and Pinterest for creating mood boards with specific rooms in mind.
#5 – Window Shop without buying:
I don't window shop with intentions to buy.  Instead, I go with the intentions to be inspired. I do love to go antiquing, but I treat this more as an enjoyable day out with friends, much like visiting a museum. If I happen upon something that solves a problem, complements my decor and is a great price, then I pick it up.
#6 – Incorporate ONLY Timeless Pieces:
Learn to decorate timelessly. I'm mostly speaking about furniture and larger pieces, but every decor motif has its own classic pieces that will remain timeless. If there is a shred of doubt about its longevity, then I try to avoid buying it. Timeless pieces can stand alone beautifully and won't require a lot of embellishments. :)
#7 – Make Your Decor Interchangeable:
I like to buy pieces that are not only timeless but ones that I can imagine in multiple rooms. Sometimes furniture ends up on the landing, or in the basement. When this becomes easier and furniture is more interchangeable, then that means you're closer to achieving classic styling.
#8 – Go Easy On The Tchotchkes:
My goal this year is to create cleaner vignettes without a lot of tchotchkes. If a room has too much "stuff" then maybe I'm overcompensating for a room that needs some TLC. Maybe the wall color isn't right. Or the furniture doesn't fit. If a room looks tired and needs some work, then I create a "punch list" of to-do's to freshen it up. This could be adding brightening the trim, replacing the carpet, or even changing out the curtains or wall color. If you're buying fewer tchotchkes, you'll have money to do this!
On a side note…isn't tchotchke fun to say?
Maybe this isn't the perfect definition of minimalism….but we are getting further away from maximalism (as Kathy Lee Gifford calls it in "The Minimalists"–if you haven't watched it please do! It's free on Netflix!)
Our goal is to be unencumbered in our daily life and to decorate with intention. What steps are you taking to simplify your decorating style this year? I'd love to hear your ideas!
Here's to a simpler and uncluttered New Year!
Pin It!