If you're curious about all of this Amazon Prime Day hoopla, I admit, I was a skeptic for a long time.
I hate paying for memberships and I especially hate the concept of spending money to save money.
But to be totally up front, Amazon Prime was part of the solution that allowed us to drop TV cable and save $1200 annually. So right there it more than paid for itself.
I'm a total cheapskate. And I developed that skill as a matter of my own survival. Now it's just part of my DNA.
I love the mall atmosphere, but it's the worst trap for terrible deals. And my daughter is at that age when every mall sale looks like the deal of a lifetime.
"But MOOOMM….you get six-more hand sanitizers if you spend $25 instead of $20!!!!"  And she tries so hard to sell me on every single deal she's spotted.
No. Just no.
I don't believe most in-store deals are really a bargain. Just give me a good deal. No gimmicks. No hooks.
If you've never tried Amazon Prime before, today is the day try it out for 30 days for free by clicking the button below:
Here are just a few of my favorite Amazon purchases:
Painted French Kitchen
Outdoor string lights
Almost everything in my daughter's room
The faux wood background on this art
Two mattresses
Our bedding
Then removed the cover
A desk for my daughter's room
Round rug in the kitchen
Did you know that you can also purchase Miss Mustard Seed Milk Paint? And now you can shop Ikea on Amazon which is great for those of us that don't live near retailers!
Here are 8 reasons I love Amazon Prime
…and how I incorporate it into my daily life and keep the world honest.
I use it as a Price Checker:  The Amazon app on my phone is basically a price checker. When I'm in stores I can cross check the price on practically any item in any store. Purchasing on Amazon has saved me thousands and I avoid gimmicks.
Slash cable and stream with Prime TV:  I love Prime TV. In addition to the free shows included with Prime, they are expanding their offerings as well to include month-to-month subscriptions of HBO Now, Cinemax, The History Channel with no annual obligation. So if there is a show you want to watch, you can subscribe to these for a short time ($9.99 per month) then drop them once you finish your series. It's still better to pay in increments for your TV watching than it is a $100+ monthly cable bill!
Gift Wrapping: This has been so helpful for us since our family is spread across several states. We even have my father-in-law's favorite snacks delivered to him at his nursing home since we're 200+ miles away.
Free eBooks: I download several free Kindle downloads and I have the Kindle app on my iPad
Free Magazine Downloads:  During our trip last week to Pensacola, I was able to download the latest issue of Better Homes & Gardens, Travel, and Time Magazine. There are about 50 to choose from!
Two Day Free Shipping:  What an amazing deal, right? Knowing you can have any item in your home in two days without having to drive all over town looking for it.  And with Prime NOW, you can get items within an hour. Crazy!
It saves time:  Back in the day, Santa Claus needed some help in a pinch — and that's all I can say about that!  And if you just don't love the mess called Black Friday, Amazon offers special deals for those avoiding the stores over the holidays. The best part of all, you don't have to drive all over town looking for a specific item.
Farmhouse Style Items:  You an find most any farmhouse style decor as seen on HGTV.
Amazon Prime Free 30 day Trial
I don't want you to miss out so Amazon is having a sale (today) to promote Prime memberships. You're under no obligation to subscribe, and it's FREE FOR 30 DAYS! Be sure to sign up and take advantage of the deals. I'm sure you won't be disappointed!
PIN it for later: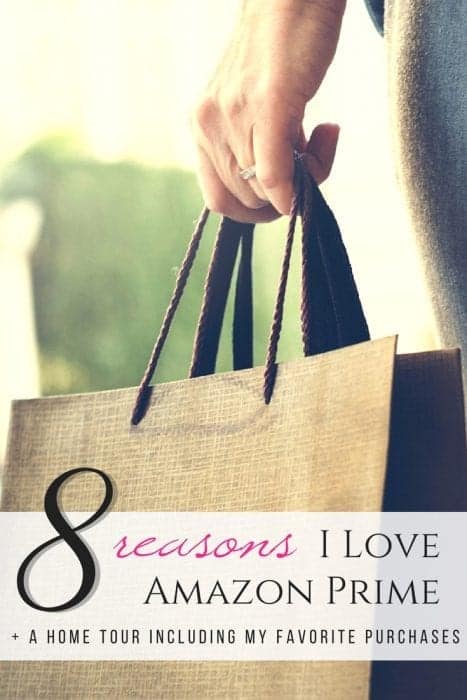 Are you an Amazon Prime Member? Share your experiences (good or bad), a great deal you found…or feel free to ask questions!