A few years ago I picked up this pretty, vintage marmalade jar. I loved the delicate crackle patina and of course, the old vintage fonts. Those of you that have followed me for a long time know that I'm a font-o-phile (yes, I just made that up). If I could write my entire blog using those fonts, I'd be happy.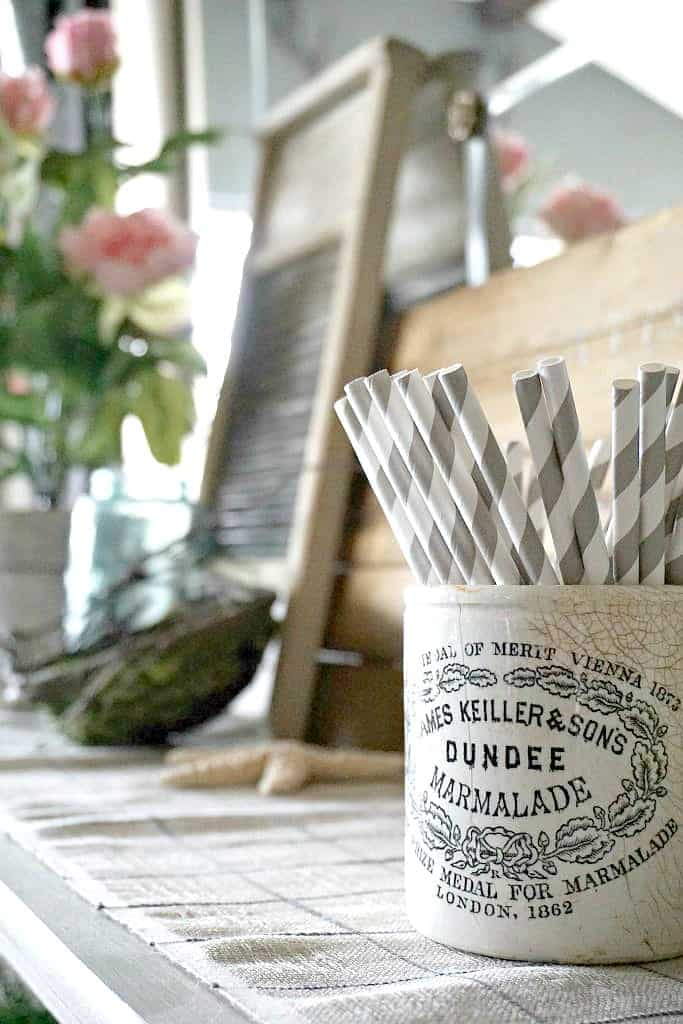 I exercise tremendous willpower when I shop for my own home, and while I don't collect antique crocks…I do covet them. And now I curate them for the store. It's smart to check the value of antique crocks as you find them, you may stumble upon a gold mine! But now that they are rising in popularity they can be quite expensive, so you may be able to find ways to DIY your own crock to make it look like an expensive antique.
Antique Crocks – 36 Decorating Ideas
If you're not following me on Pinterest, I've rounded up 36 old crock decorating ideas with some inspiration on how to mix them with more modern farmhouse decor. Click through each image to see more pretty rooms on the individual blogs where they were found.
Antique crocks have home in any style decor. I especially love white crocks as you can tell. Pops of white always look great against a dark backdrop, and since I have darker colors on my walls, I like high-contrast decorating so I choose white decor to stand out against a dark wall. Holding utensils, or used as a planter – vintage crocks are really an easy way to infuse vintage into your modern decor.