The creative process is truly meditative when you think about it, I really enjoyed creating this autumn chalkboard printable. I realize that quotes can be so cliche, but I'm so hooked on making them, so I hope you enjoy. I love including them in my Instagram feed too. I know they're a little corny, but oh, so fun!
Autumn Chalkboard Printable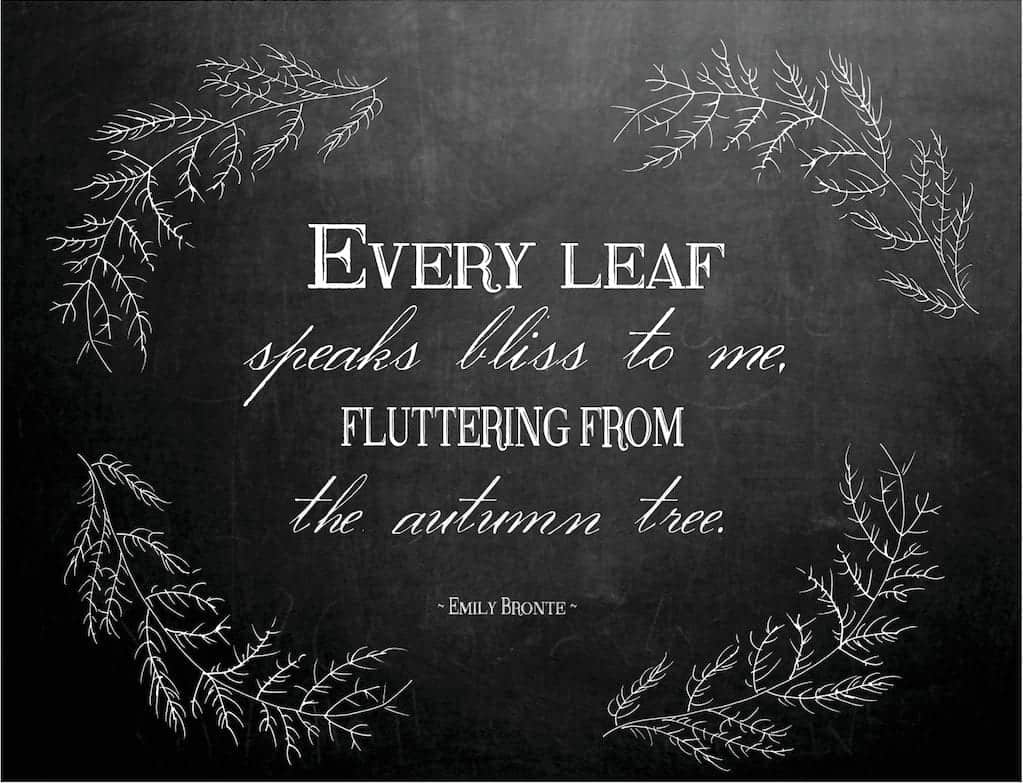 If you'd like to access this and all of my free printables, become a subscriber (then check your email for the password for instant access).   Also, if you'd like to purchase mugs, or wooden signs, check back soon in The Shop!
Thankful
And now I'd like to get a little personal on the blog…more than I probably ever have.
A very special thing that happened this week, and it's really been the bright light that I needed.
I received a very sweet, belated birthday text — but it was from an unknown number. After I sheepishly asked who it was, I discovered that it was a relative of mine –one I haven't seen for many, many years. It was so nice to catch up after all this time, and we are planning to spend more time together very soon.
***
What makes this phone call even more special? Now that my grandparents are gone, I am 100% estranged and completely ostracized from all of my remaining family. I have no siblings. Holiday gatherings very purposefully take place without me, and sometimes without my kids.
But sadly, this treatment isn't new. It's gone on for the better part of my adult life.
I have avoided discussing this topic on the blog because I innocently thought that "time would heal all wounds" and that people would evolve and change.
But not all relationships work that way, do they?
To be honest, I'm thankful. I am in a very good place. I've fought to provide a stable life for my kids who are well-integrated in their community. They have a great relationship with their dad (my ex) and so do I — proof that people really can change. My kids love Mark. And I'm in a blended family and with Mark's extended family, who have loved me as if I was their own.
Even my ex's family and I get along well and can enjoy each other's company.
And now, I have +1 family member to walk with me.
But, I do sometimes find myself questioning my path. Questioning God. I question why I couldn't thrive in the family I was born into.
But then, I stop myself.  Because with my estranged family I realize — I gave them all I have to give.
With most families, time does heal most wounds.
It just didn't heal mine.
Loving people really can be simple and uncomplicated. During my separation from my extended family, this is what I've learned.
And so,  that's what I'll get back to doing.