My 8 Biggest Decorating Mistakes
I've had a few cringe-worthy moments in my DIY and decorating "portfolio".
Today I'm highlighting only eight of them.
The rest I've deleted :)
But without these momentary lapses in judgement, I wouldn't have figured out my decorating style. I wouldn't know how to put together a pretty vignette. I wouldn't have a home that makes me happy! It's not uncommon to experience a trial and error process as we develop our individual decorating styles. It takes time and practice to learn these skills, especially if you're a self taught decorator like me. So here are a few tips and lessons learned – and I hope by sharing I can save you from similar pitfalls (and a little money, too!)
My Top DIY & Decorating Mistakes
and what I learned from them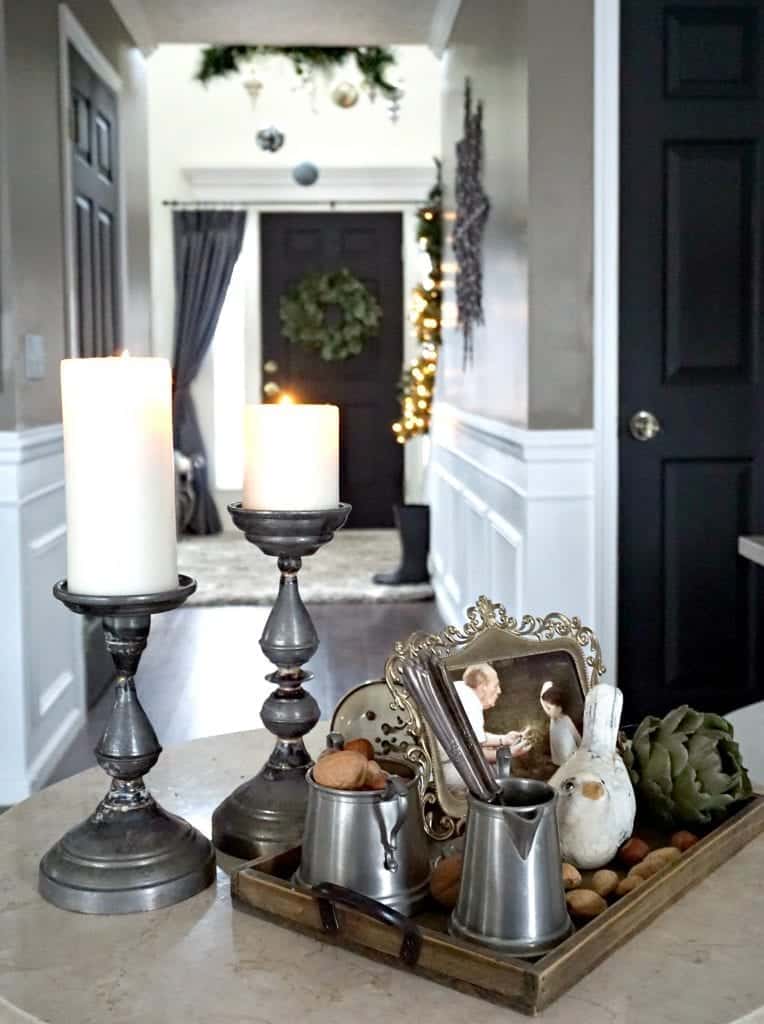 #1: Overly cute decor
I had a period where my decor was going down a "cute" route. At that time we were mostly in construction mode, sharing only DIY and demolition projects around our house. In those years, my actual decorating budget was non-existent and my decor was limited to crafts and repurposed furniture. And because I'm a real person and not a home decorating TV show, I found myself decorating with whatever I had on hand. I displayed cutesy things. Collections. Too many quotes. Random vintage. Random handmade items. Too many arrows. All sorts of styles. Deep down, I knew my decor really didn't work together.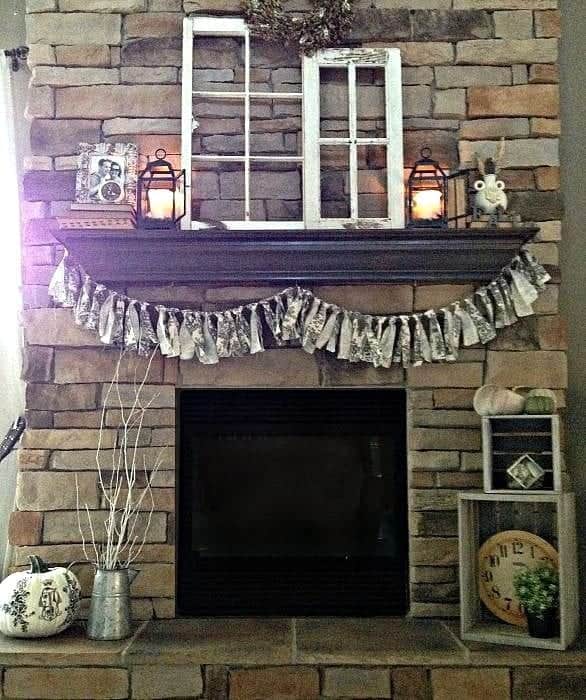 Truthfully, I don't do banners or buntings…the picture above was a 'what was I thinking?' moment. While I was proud of the home improvement we were doing on a large scale, my decorating skills were out of practice. When we'd have company come over, I would jump on board with all the trends at once instead of tuning into my own tastes. A few tweaks later, I was back on track.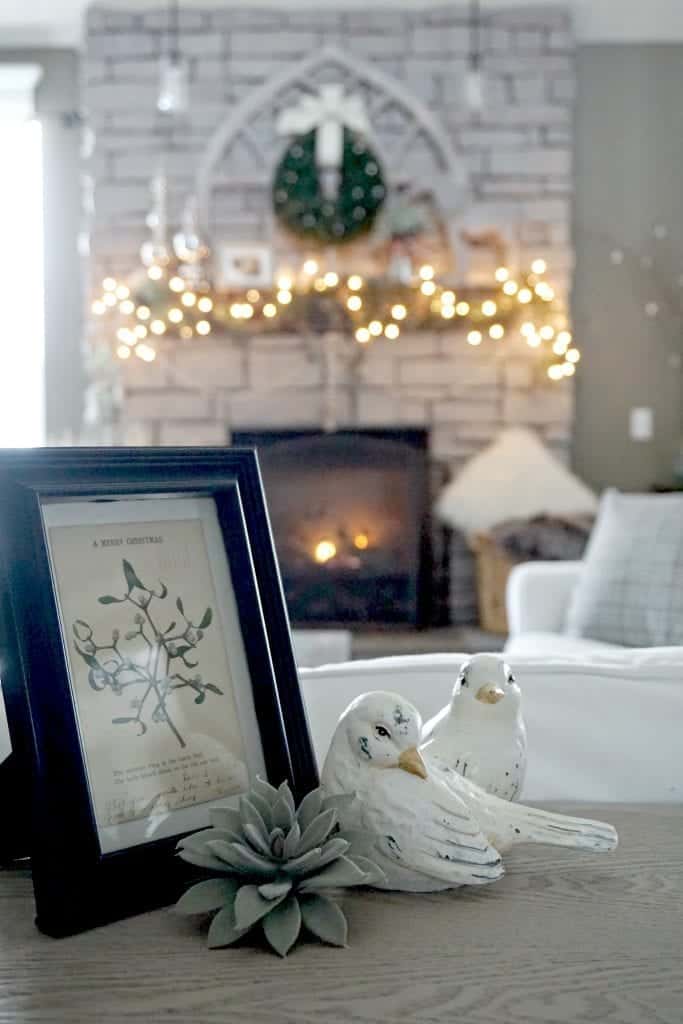 What I learned:
I started reading blogs that teach. I found blogs that talk about the process of decorating. Ones that aligned with my long-term vision and offered achievable outcomes. Not just blogs filled with pretty pictures. Next, I determined my decorating style. I imitated vignettes based on a photo. My advice? Practice. Simplify. Remove the clutter.  Don't saturate every flat surface with "things".  And lastly, if it doesn't feel right…don't do it. Banners and buntings? Nice for others, but so not me. 
#2: Up-sizing everything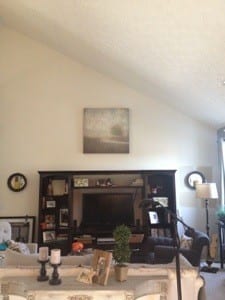 You definitely need to learn to "upsize" your wall decor when you move into a larger home. Case in point…my wall art in my family room. Increasing the size of the art made the room feel so much larger…and complete. I loved it so much I started to upsize everything.
Even though I love our map art and have no regrets (especially since we made it for just $40!) I soon learned that it's large presence demanded simpler wall decor everywhere else. So I toned down the adjacent walls (one being the fireplace and mantel wall) to give the eye a break. This was the inspiration behind my mantel makeover project. I also discovered that any art we placed over the mantel looked busy and competed with the large map. So we created the cathedral window frame. Once we did, everything felt more balanced.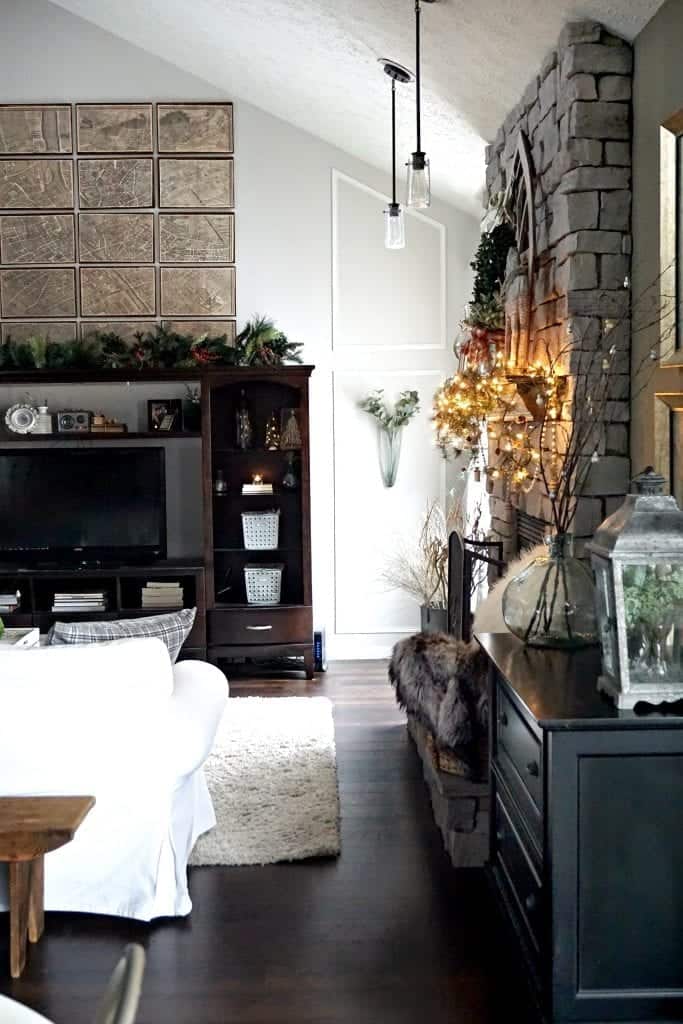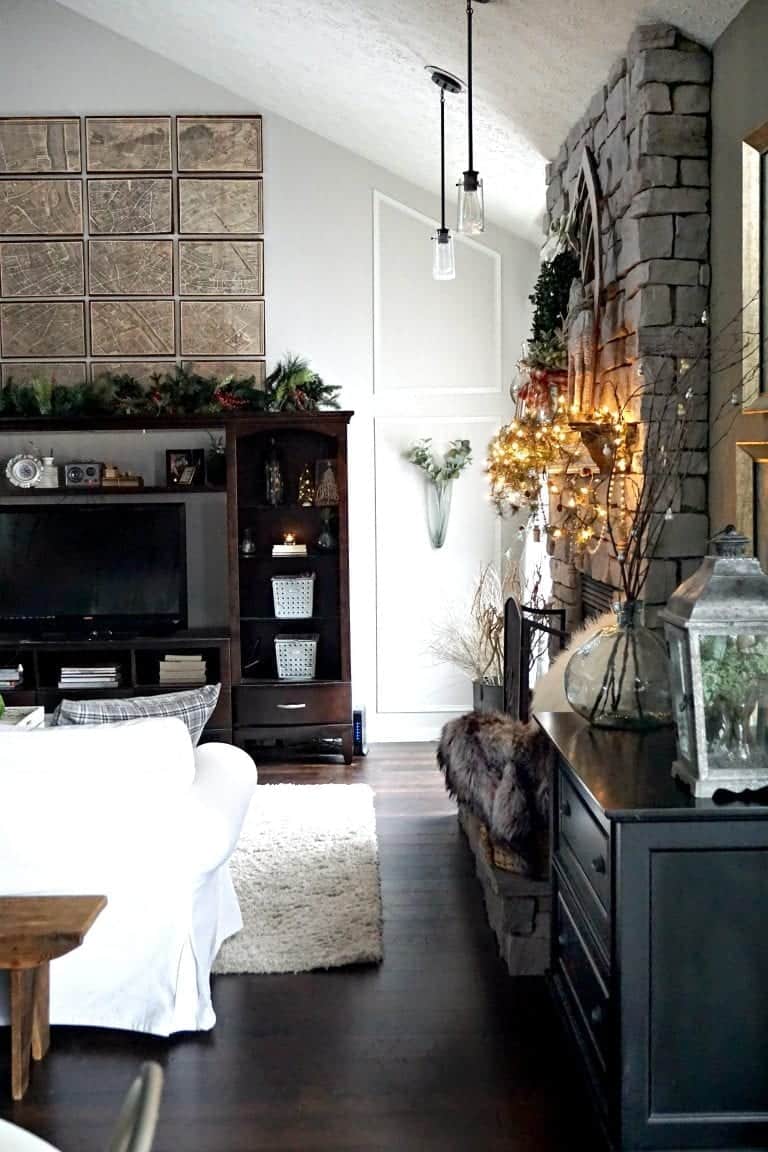 What I learned:
Be mindful of the feature wall's impact on the rest of the space. In my opinion, you can get away with one feature wall in a room. But the adjacent walls should be subtle or it can overwhelm the senses. Once again, simple is best. Feature walls can be a simple as painting it a slightly different complementary color. While the pros are saying that entertainment centers and feature walls are "out", we won't be changing these anytime soon. You're reading about our real life and our real budget. I choose home decor that works well for our family and lifestyle.  
#3: Skipping prep
Many times it seemed we had 18 simultaneous projects going on. So kits or mediums that promised a "no prep" approach to save time — I was all ears! For my initial kitchen paint project I purchased a kit. I followed the instructions on the paint kit perfectly. And I ignored that nagging little voice in my head that told me to think harder about only deglossing the cabinets. I felt like I should do more…but instead I went for it.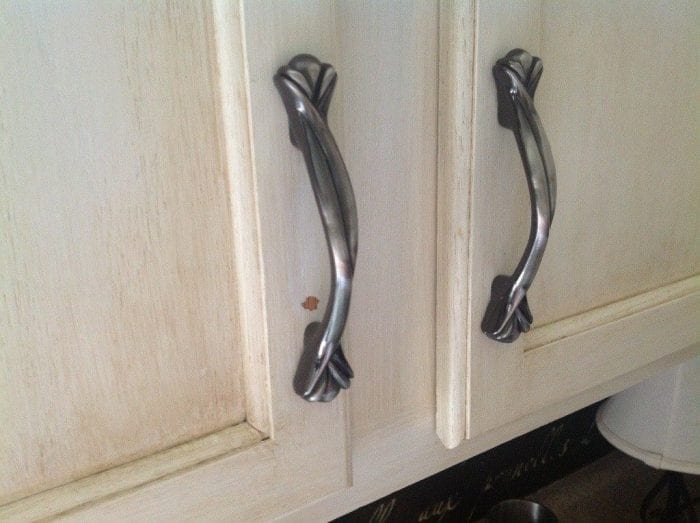 After about six months, the paint started to chip, and not in a good way. The deglosser "shortcut" wasn't powerful enough to cover a high gloss polyurethane that was underneath. Antiqued layers aren't an easy fix. You have to repeat those layers and you risk a spotty, obvious repair job. So I wrapped my mind around a second kitchen (re) paint project. This time I thoroughly researched kitchen paint and finally settled on redoing my cabinets the right way.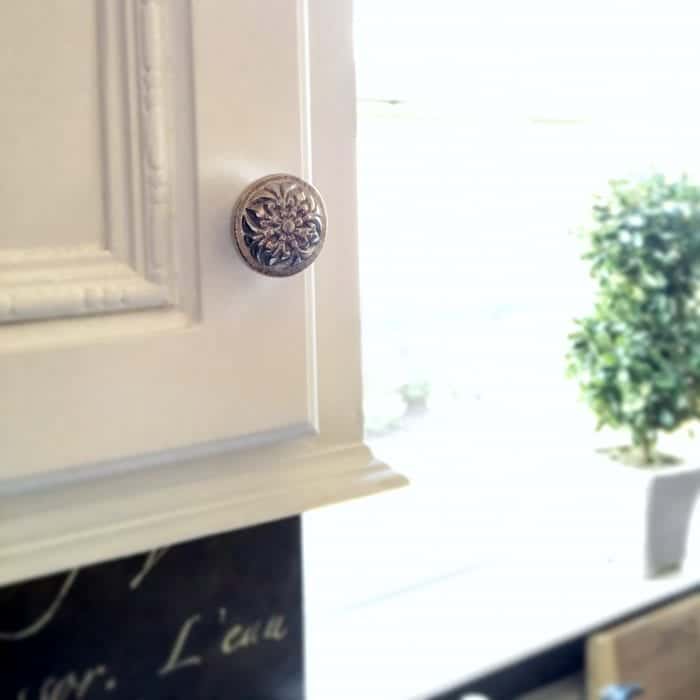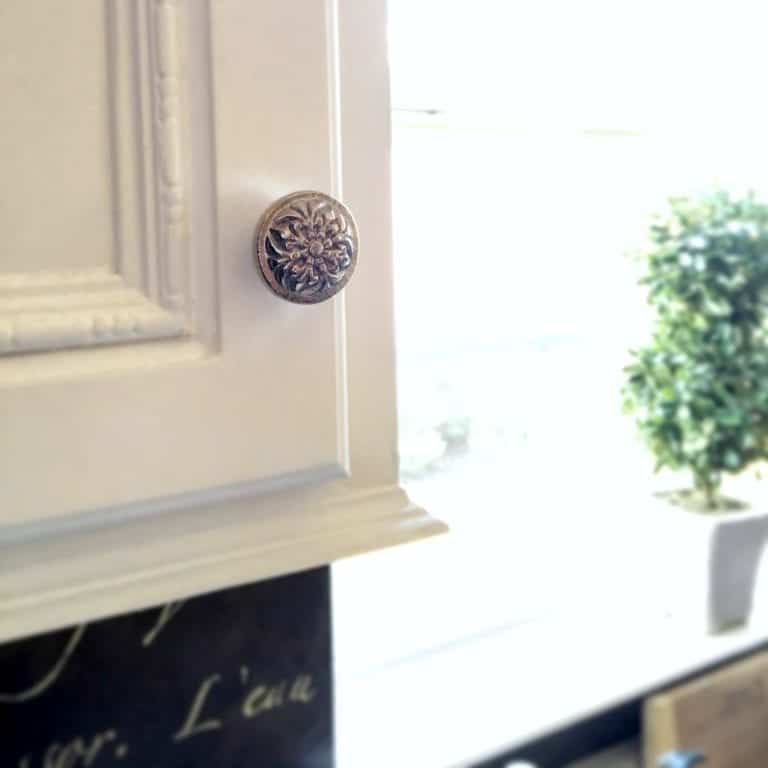 What I learned:
Proper prep is never the fun part. But, it guarantees success on your projects. I commit to the prep process whenever I'm painting wood. It starts with cleaning. Then sanding. I use a stain blocker to stop tannins and bleed through. I no longer trust deglossers, but I do prime. Caulk. Use wood filler.  I also learned what paint is best for what project. Educating myself has been my most effective tool that has helped me on all of my projects going forward. And I always test my materials before I go hog wild. Don't just trust the kit instructions…follow your gut! 
#4: Painting all the furniture…
I love painted furniture. Initially I was on board with that craze when I started decorating. Remember, I had no furniture (thanks to a pretty expensive divorce) so I started from scratch and only bought items to paint or repurpose. But soon, I felt like my home lacked an organic, natural look.
It was around the time I took this photo that I made this decision. Less painted furniture and more wood. I ended up selling this piece, even though I loved it I had too much painted furniture going on.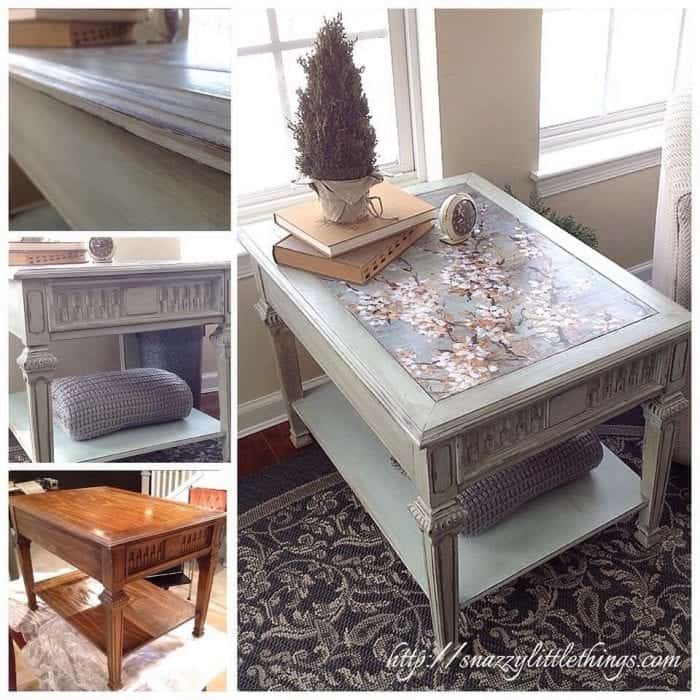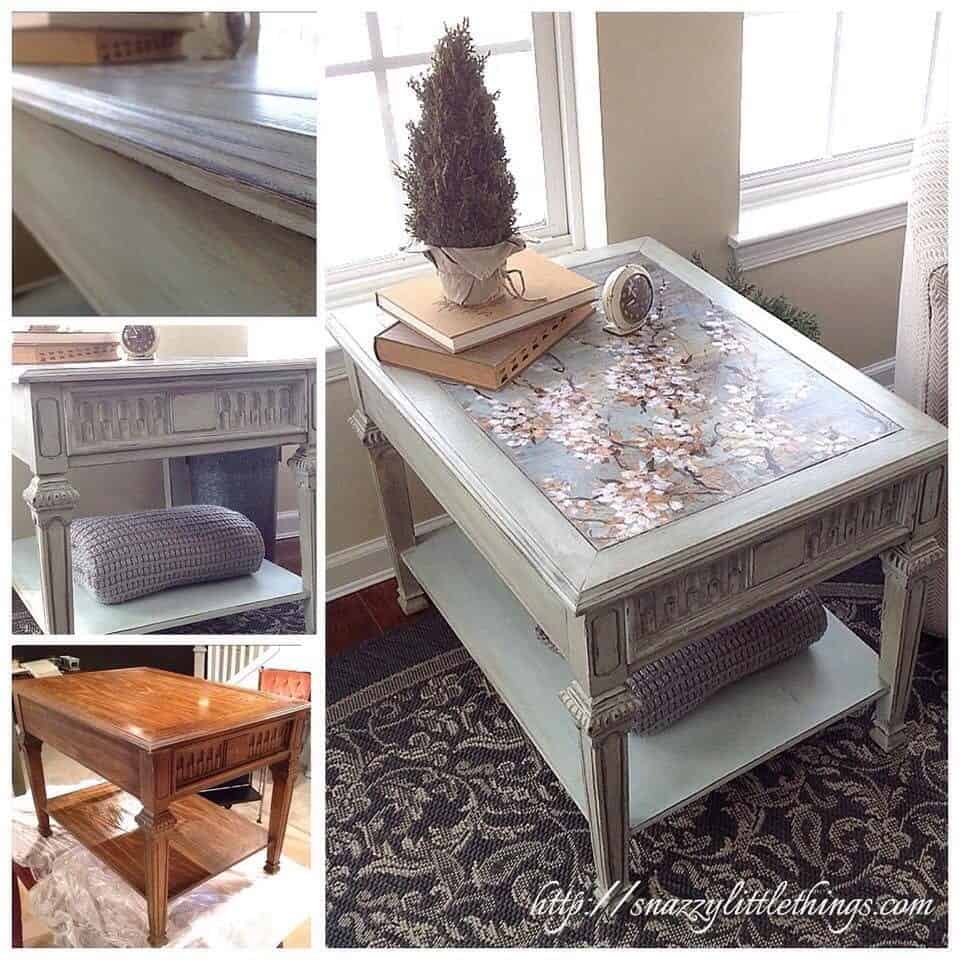 Painting all-the-things in your house looks great when you're going for a shabby chic look. But for me, I was leaning in a modern, rustic direction with industrial elements.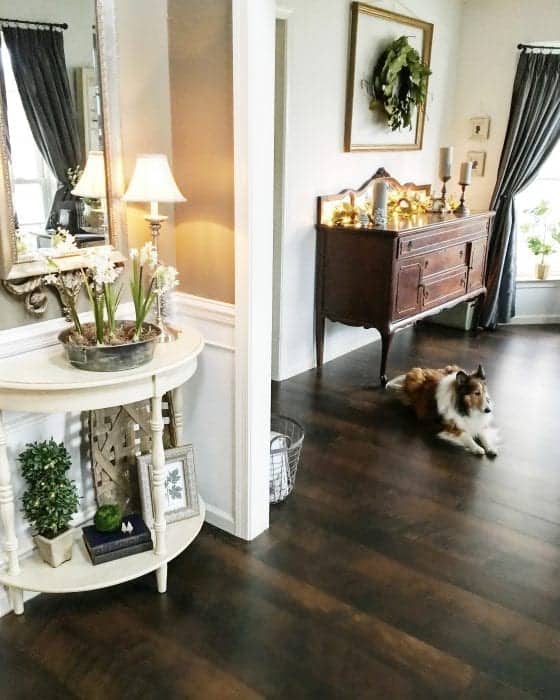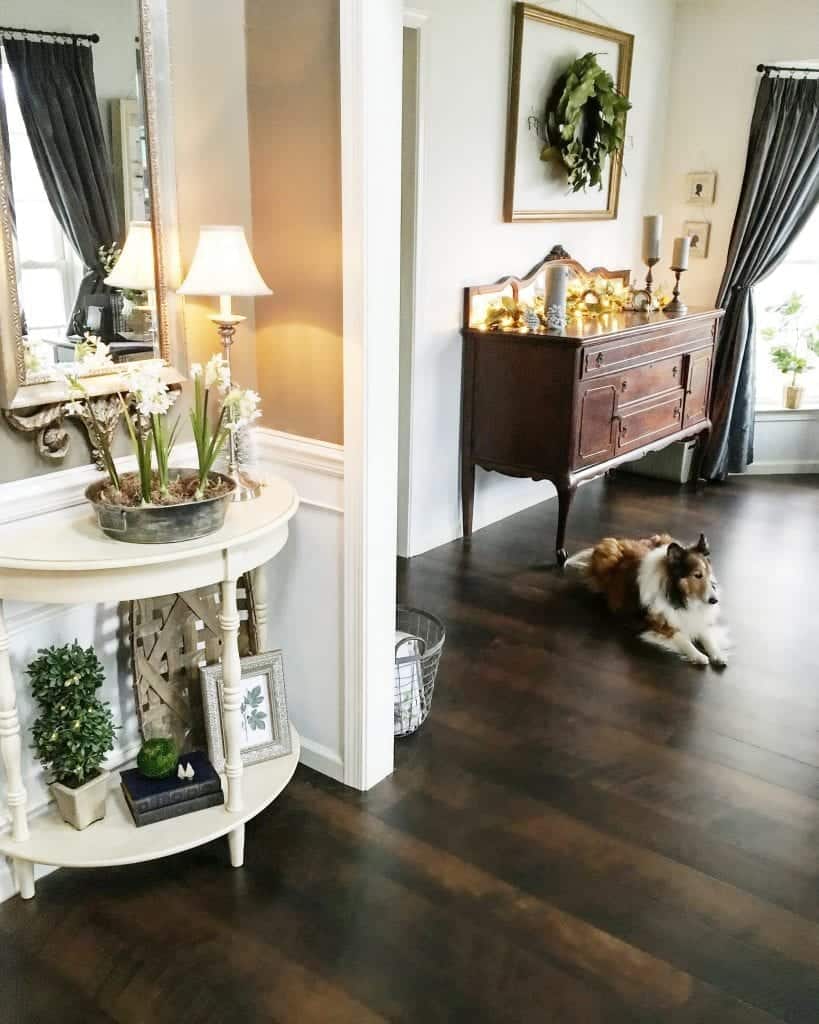 What I learned:
I co-mingle natural wood or organic elements with any painted piece. I do this to break up the aesthetic. Add baskets. Texture. Don't be tempted to paint every piece. And our new floor helps make our home more natural and less overly painted. And of course, adding rugs make a room cozy (let's just say Buddy the dog hates rugs, and mom hates cleaning them!)
#5: Being afraid to break the rules
The rules say that light walls "make a room feel larger" or "brighten a space". True. But the rules aren't always that simple. For example, take my sunroom. Here I'm dealing with a very sunny, west-facing room. Afternoon sun tends to cast warm, orangey tones. So I struggled mightily choosing a sunroom wall color. I didn't want to buy furniture until I had the wall paint right. So this is how it sat.  My orangey-yellow room.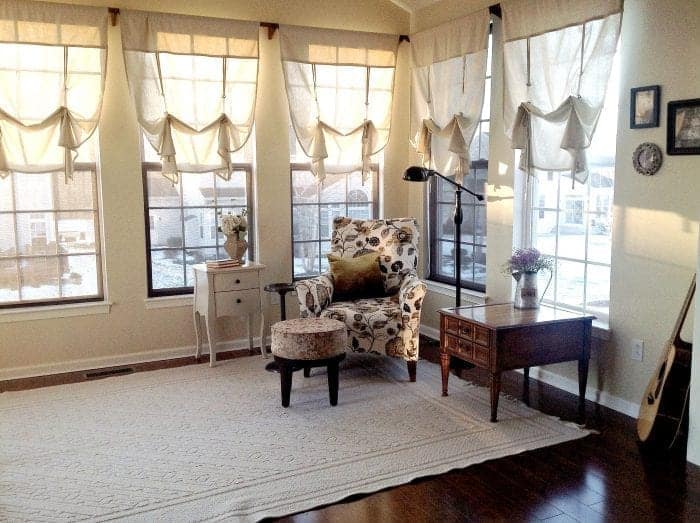 I ended up with a buttery yellow that didn't work with the cooler tones in the rest of my house. After much deliberation, I went for a color that totally neutralized the afternoon orange…and I love it.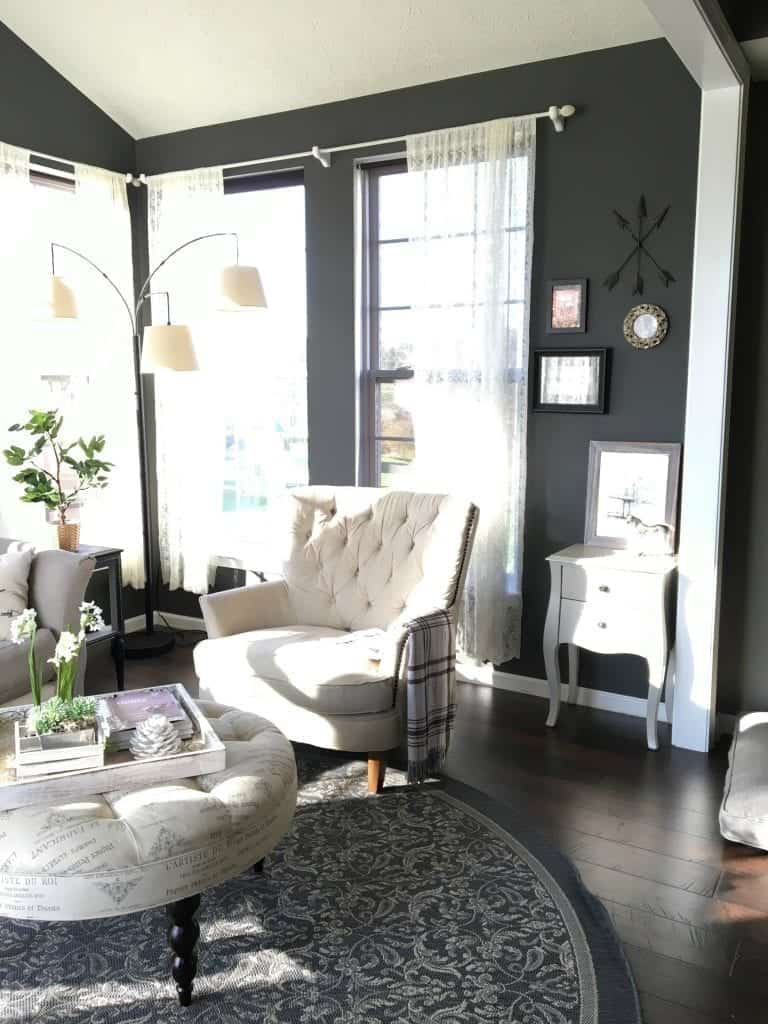 What I learned:
I learned that dark colors can definitely brighten a room! It seems counter-intuitive but it's true.  I should have taken into consideration the wall color and undertones in the rest of the house. Realizing my mistake, I broke the rules and went bolder, and (gasp) darker in my sunroom, it all pulled together nicely.
#6: Not catching the "dip" in our flooring
When we set out to install our Pergo floor ourselves, we wanted no thresholds (those little strips that divide rooms). We now realize those have a purpose. Evidently we have a dip in our subfloor between the kitchen and family room. It was totally undetectable. But now that we installed our new floor…we know it's there.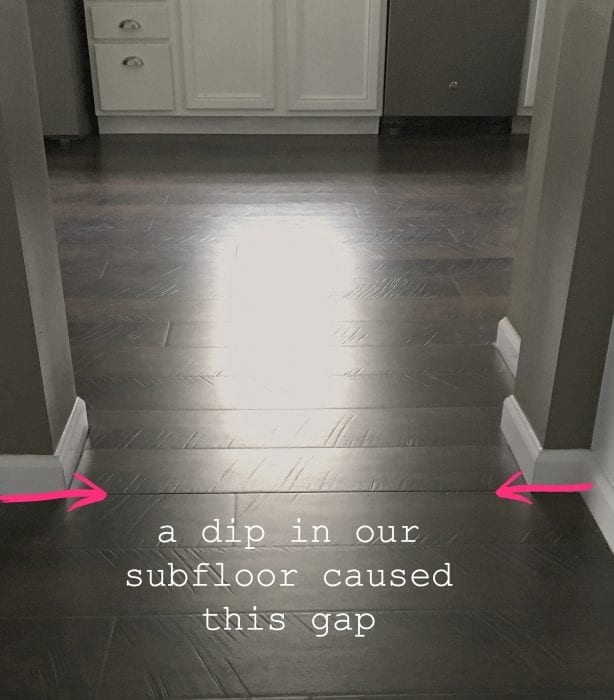 What we learned:
This really isn't a Pergo issue. It's just our house. No house is perfectly level. No wall is perfectly even. No floor is without dips. You should have some mechanism to detect floor dips before you install any flooring. A large level might work, but a long 2″x 4″ along the floor would reveal unevenness or dips in the floor. We could have built up that portion of the floor to prevent the split. We can putty this to fill it, but we haven't gotten around to it yet.  We still love our floor and are so glad we took the plunge.
#7: Not adding enough greenery
In the past if a room felt like it needed something, I'd buy furniture or a new decorative item. Now that my house is comfortably furnished, I realize that greenery might have been all that I needed. Greenery makes a room feel fresh, adds life, reduces dust. If my decorating budget is limited, buying a fresh plant is money well spent.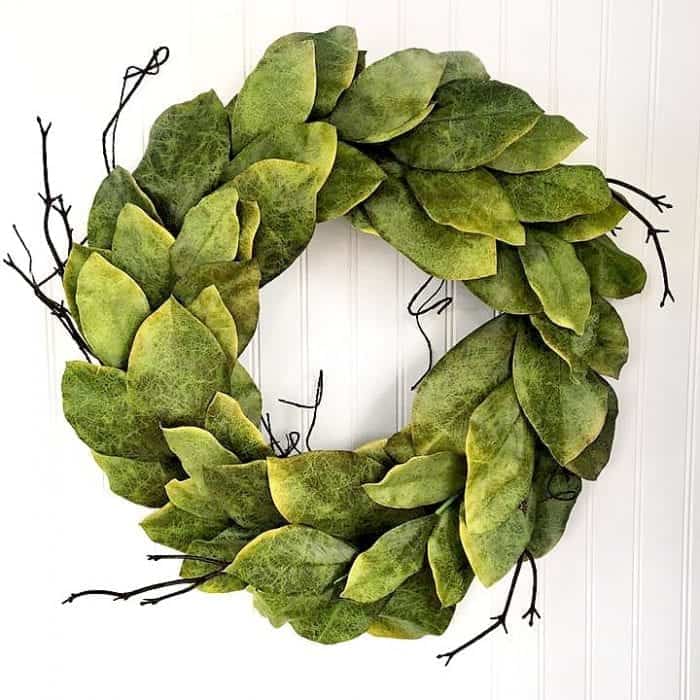 What I learned:
We are still deeply immersed in winter here in Ohio. But if I need to brighten up our interior and add organic elements, I plan to visit a flower shop or nursery to add a pop of green or some pretty florals. It's becoming my new favorite way to add color in my home.
#8: Not knowing my style
As I mentioned earlier, honing your style takes practice. Had I figured this out sooner, I wouldn't have spent as much time chasing trends or imitating designs that just didn't suit me. Our love for industrial decor is stronger than our love for farmhouse (although I do like farmhouse style, it doesn't work in our home). We like minimalism more so than busy vignettes. I like neutrals (and I love deep dark colors). I am who I am.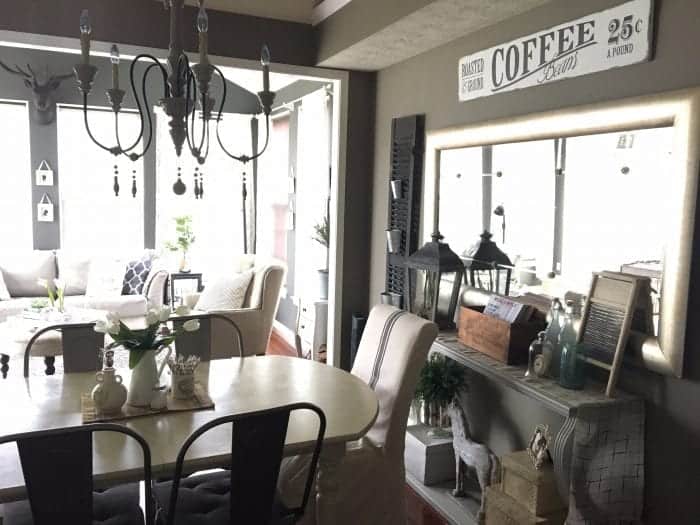 As much as I love quotes, they never seemed to work in our house. I kept the things that I love, and set aside the things that didn't work.  The more items I removed from vignettes, the more sense it all made. I began embracing timeless decor to give my spaces longevity.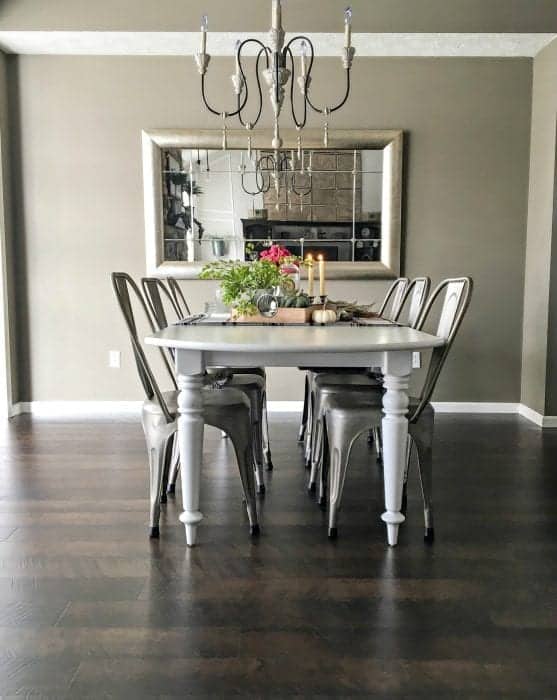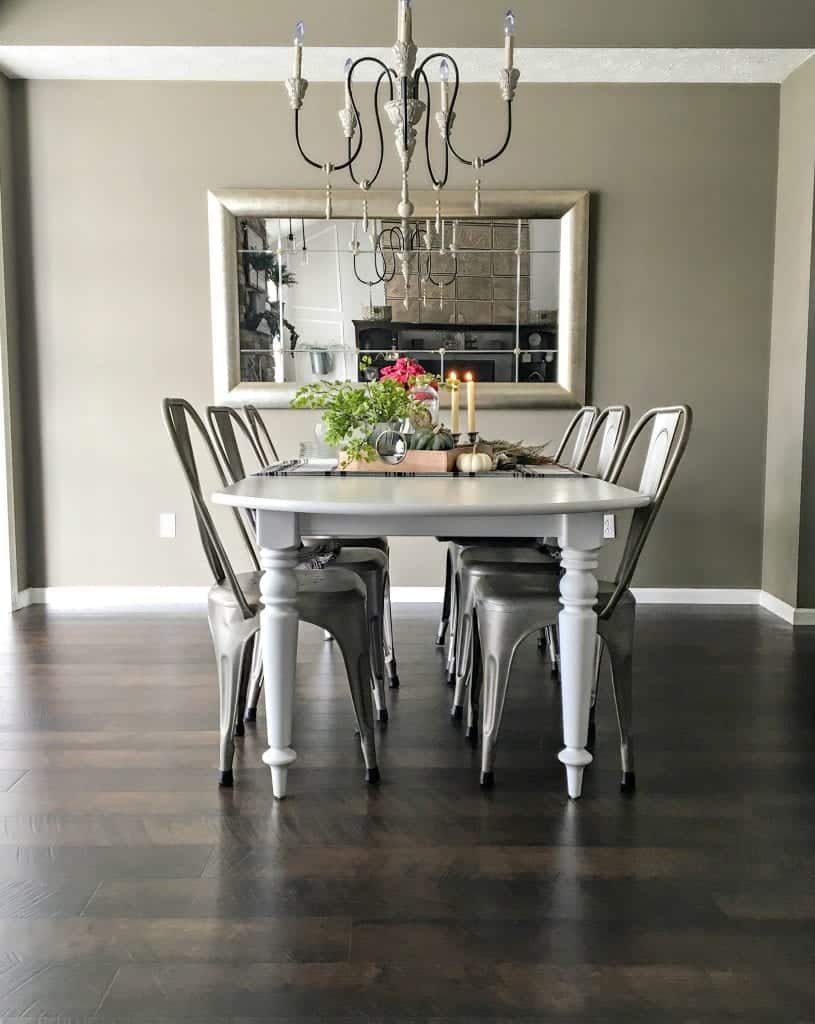 What I learned:
Sometimes a room speaks for itself and doesn't need a lot of embellishment to be beautiful. I'm content with our spaces.  For us, I now know that less is more, at least for us. Simpler is easier for us to manage.
I hope by sharing I can help you avoid some of the same pitfalls we encountered as we updated our home.
Happy decorating!