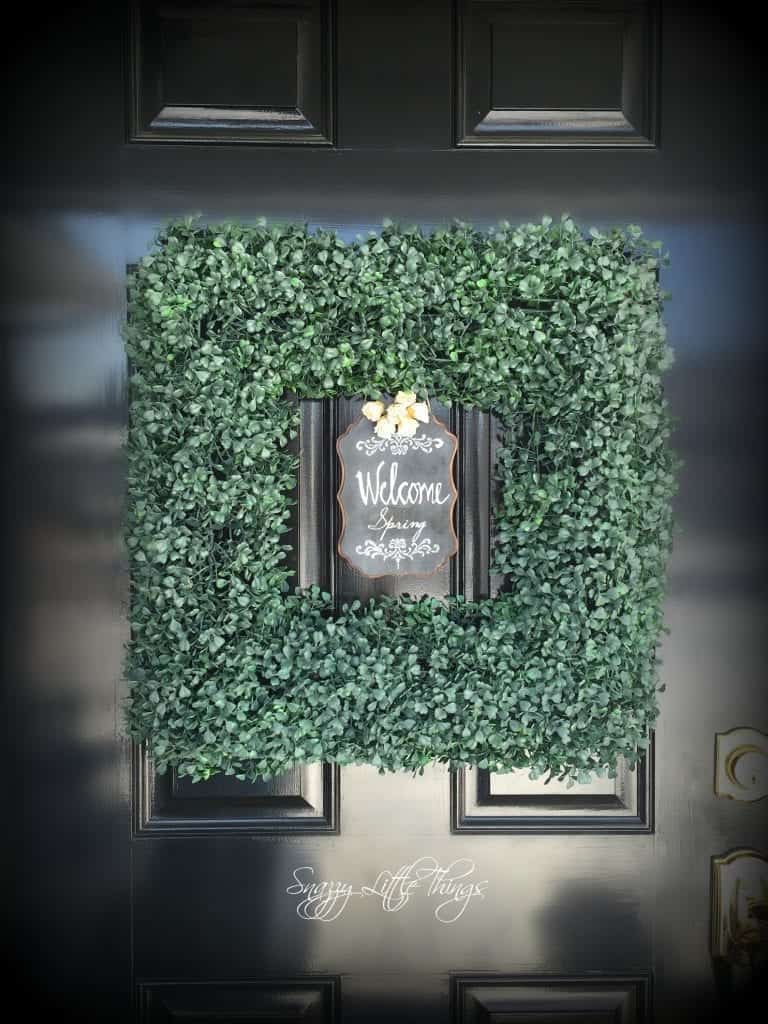 Meet the girl that doesn't like to change my wreath every season. So instead, I made a simple chalkboard add-on where I can greet the new season (with the same wreath). This is a super simple DIY where I added a homemade, erasable chalkboard greeting to welcome my guests, the next holiday…or the new season.  Did the bright white reflection in the door blind you? That would be the two feet of snow covering my front yard. So I'm stuck between seasons anxiously awaiting for the spring thaw.
Tip! To make your own chalkboard greeting above, you'll need the following (includes affiliate links)–>
Two coats of chalkboard paint over the top (a light sand in between coats)
A wooden stamp with an erasable chalk ink (comes in a pad)
Chalk pen to write your greeting
Hot Glue Gun
I tend to keep things simple. I still love my glossy black front door, it feels a lot like that "little black dress" in my closet. So for me, adding a classic spring wreath is a lot like adding a good piece of jewelry.  So head down to your storage bin, and pull out that grapevine or straw wreath, and strip it down to nothing. You can still update it and make it beautiful by adding a few simple embellishments without going overboard. It's also a budget-friendly approach in lieu of buying a new wreath every season.
 Some more inspiration….be sure to visit all of the ladies who created some beautiful upcycled wreaths this season!
Come on spring, I know you can do it! Get here, already!