"Why Pay More" Decorating Series
Elegant decor is attainable for all budgets when you teach yourself how (and where) to look for bargains. Today I'm kicking off a fun decorating series called "Why Pay More?" helping you achieve a designer-inspired look…for less! If you love knock offs projects like I do, you've come to the right place!
Do you have a pin on Pinterest or a photo that you would like me to "knock off?" Share it in the comments below!
Here is an example of designer version the Blue Heron Vintage Art: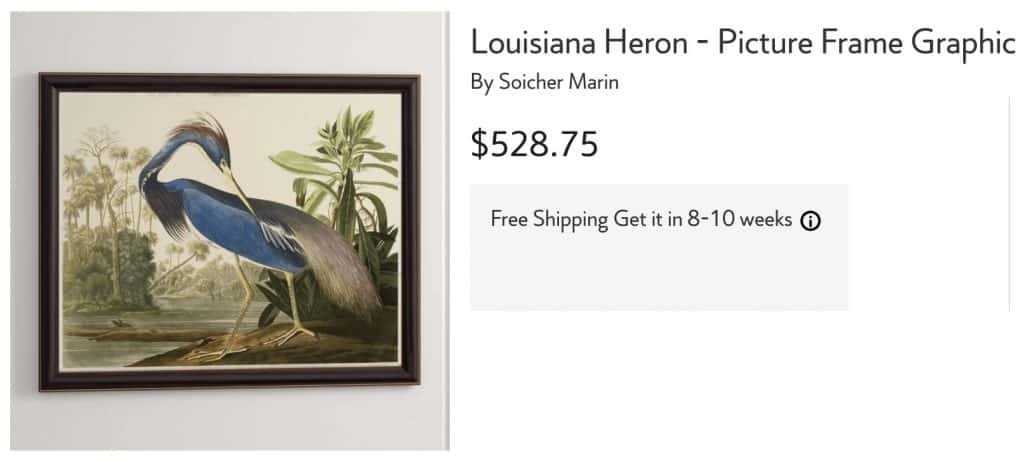 My DIY version can be found here along with all of my other knock off decor projects!
Nothing defines your style more than wall art. Downloadable and printable art is such a gratifying and inexpensive way to freshen up your space while anchoring a particular style (without breaking the bank). But sometimes you need to go BIG with art, and this DIY art project helped us do just that.
I always loved creating my own art and I am studying how to create digital watercolors based on an inspiration photo (take a peek at my recent project here).
This weekend, if you purchase my eBook, I will donate 100% of the proceeds to assist our friends in Texas whose homes have been devasted by this week's snowpocalyse.
I hope this series helps you develop an eye for bargains yet still gives your home a look that you love. I have a few tricks for shopping online that always work for me and I'll share these in a future post.
Coming soon:
The App that helps me save money EVERY time I shop
My Google Search hack to find decor
Facebook Marketplace shopping tips (I share my selling tips here).
Be sure to click around, almost every project on my blog started with an inspiration photo. What photos are inspiring YOU these days? Share in the comments below!