***
DIY Built In Shelving
This post is part of our master bathroom update. To see what we've done so far visit the following links, and visit all the links at the bottom of this post for more organizing ideas! 
Part 1 Bathroom Before  | Part 2 DIY Industrial Vanity Light | Part 3 Bathroom Progress Update

Thank you all for your kind feedback on my last post. It was very nice to see that you enjoyed it and it made my first foray into the world of blogging very pleasant indeed.
Built in beadboard shelving was actually the first project we did in our master bathroom. You'll notice in our "before" pictures we even painted it grey once, but our color scheme has since changed (which happens a lot around here).
Alas, the house came with no linen closet (see our floor plan), and the floor space is pretty limited in the master bath so we are trying to be selective on what portable pieces we bring into the room. The commode sits in a small alcove so above it was the perfect place to build in a shelf unit for towels, lotions and whatever other sundry stuff finds its way into the bathroom.
Since this was a built in there are a couple of techniques I will share that make things fit together nicely and provide a very solid and stable storage solution. Its kinda cool looking too.
Let's start with a materials list:
Two 8′ long Pine 1X12's
Two 8′ long pieces of 3/4″ moulding of whatever style you choose
One  3′ piece of Crown Moulding, again your choice of style
Four 1 1/2″ number 10 wood screws
Four 3′ wood screws, Number 10 or 12
One 36″ X36″ piece of Bead Board
Wood glue – I like Titebond III
Small finishing nails
Possibly shims
Tools needed:
Miter or table saw
Router
Rubber mallet
Level
Square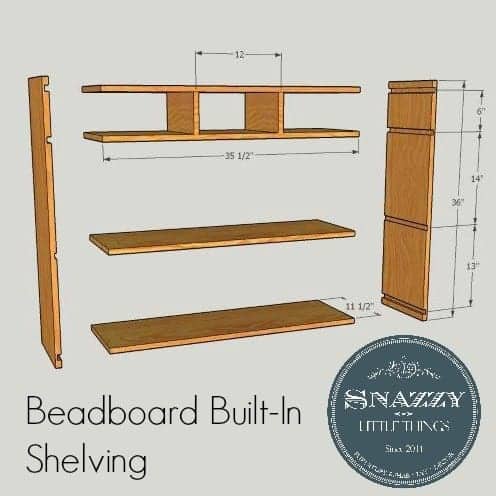 Step One:  Making your side pieces – determine how tall you want your unit to be and how many shelves you want. We chose to go with 36″ tall with two large shelves and a set of 3 cubbys at the top. We will use ours for the tutorial but you can adapt your to the space you have available and the look you want.
So first cut two 36″ pieces from one of your 8′ 1X12's. Mark the centerline of each of your shelf locations. I put a line 1 1/2″ in from the top and bottom, one at 6″ one at 13″ and another at 14″. Using a 3/4 in straight cut router bit, cut dadoes on your shelf markings. A trick to make sure your shelves are even is to line the boards up side by side and cut both boards in one pass. Use a straight edge to guide your router so your dado cuts are straight. I have a trick for making precision dado cuts that I will share in a later post. Very import here to make sure that your dadoes are perfectly square to the edge of the board.
Step Two:  Hanging your beadboard backing.  Hang your piece of beadboard on the back wall using the 1 1/2″ woodscrews. Make sure the board is level. Most houses are not square so you may have to trim your piece a bit on one side or have a small gap on another. As long as the top is level and you don't have an gap on the sides of more that 3/4″ then no one will ever see because the side of the shelf unit will hide any gaps.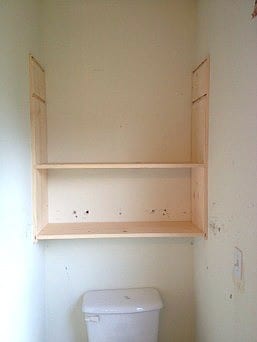 Disclaimer: I wrote this tutorial explaining the correct way to install a beadboard. However, our beadboard was an afterthought. Proof that it can still be done to existing, open shelving in your home if you so choose.
Step Three :  Hanging your side pieces. Line the first side piece up with the bead board at top and bottom. Being careful to snug the side piece up against the beadboard as well as you can. Use a square to make sure that the side is square to the beadboard, if not use your shims to adjust by putting them between the wall and the side piece. This step will make your life much easier in a few minutes. There are always studs in the corner, or nearly always, so if you get good long screws anchored into that stud the back wall the unit will be good and sturdy. Hang the other side, again making sure that it is square to the beadboard.
Step Four:  Measure shelf length. This is why it was so important to make sure your side pieces were square to the back. Our shelves will slide into the dadoes and if the sides are not square this can be a very aggravating process. You want the shelves to fit so that you half to lightly tap them to slide into place. There is a trick for measuring the exact length you need so the shelves fit perfectly, this trick applies to any measurement where you need exact precision and if you are like me and didn't get the measuring gene this is very important. You will want to use a story stick. (See our post about how and why we use these, which will save you a lot of time and frustration).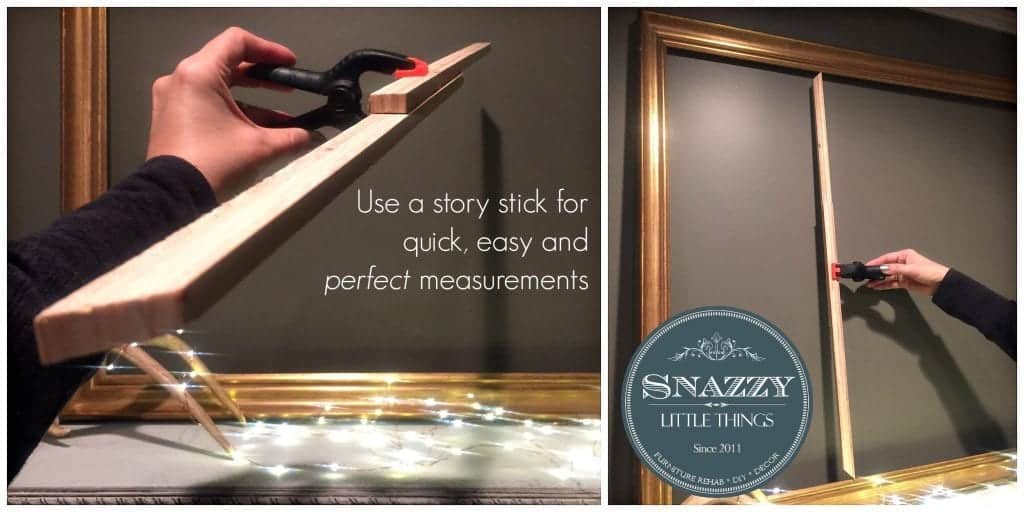 Once you have the exact length of your shelves, and I strongly suggest you measure each individually to allow for any imperfections in the wall surface, cut your four shelves to length.
Step Five:  Insert shelves. If you like you can add a bead of glue to the ends of the shelves before you slide them in but it really is not necessary. If you have measured correctly the shelves should need a little persuasion to slide in and will fit snugly enough that they will not go anywhere.
Step Six:  Make cubbies. Make a mark on the front of the top and bottom shelves at 12″ and at 24″,  measure the distance between the top two shelves. Again, another, smaller story sick is perfect for this. Cut your vertical pieces to size, center the on you pencil mark, use a square to make sure they are perpendicular to the front. Tack them in from the top and bottom and you are almost home.
Step Seven:  Trim it on out. Use your trusty story sick to measure the distance from wall to wall at each shelve, cut your 3/4″ trim of choice to length. Do the same with the chair rail and attache to top and bottom and you are done.
Step away so your amazing wife can paint it and stage it to look beautiful.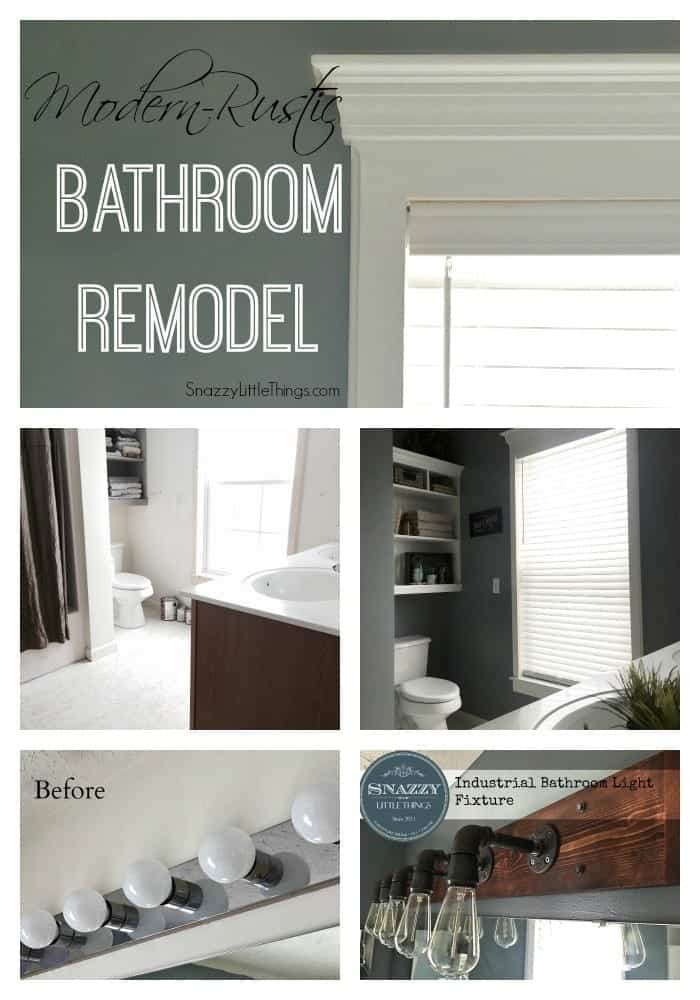 Enjoy!
– Mark