DIY Events – Vintage Style
(Creating an expensive-looking event on an extreme budget)
There has been so much going on lately. My mind is racing and full of blogging ideas, but with my new job and increased travel, my time has been a bit compromised. So. I should fill you in on a few things–not knowing exactly where I should start…let me tell you about a very sweet thing that happened to me recently…

Yep! I'm gettin' hitched! On April 5th, he got down on one knee and popped the question. After everything we've been through recently (including Mark's recent health scare), we're both very excited to focus on something positive and to move forward with our lives. Time for counting blessings, blending our two families permanently and creating anew.
Now for the honest part. Considering this is wedding #2 for me, I thought that by keeping it small would mean that it would cost a lot less. My first wedding I tried to please everyone (in 1998 it was about $17K, I even saved with lots of DIY, hosting 200 people, 20 of which were "no shows". Grrrr…) My recent whining manifested into two months of procrastination. I've learned that no matter how "simple" a simple wedding looks, sorry, it's just plain expensive. And planning a long distance wedding is even more complicated. Unless, of course, you elope or go to Vegas (which I enjoy thinking about. Often.)
So now, I'm fully embracing the role as DIY wedding planner. After all, nothing says "crafts and DIY" on an extreme budget like putting on your very own wedding.
(The best part? I'm getting married in less than two months!)
<Gulp>
Hey! Let's distract ourselves with pretty pictures of wedding ideas from Instagram and Pinterest. Shall we? Along the way I will pepper this post with some of my own lessons learned and how I've been able to cut corners on cost whenever possible.
Stock images of our (actual) venue is pictured below. We chose a vintage setting…an 1805 Colonial mansion on 275 acres. With a tent. And beer. Maybe some corn hole. And we plan to invite 40 of our closets friends and family.

Ideas for decorating the tent. Instead of accepting the tent "as is" why not embellish the four corners, and use the open space between to drape fabric? I love the creative use of picture frames to fill the open space. Other ideas: mismatched seating and centerpieces. Anything old and chippy. Using galvanized metal containers. Just like in your home decorating, nothing needs to match perfectly to create a beautiful, vintage vignette.
No guarantees mine will look this way. (No pressure, Pinterest) :-/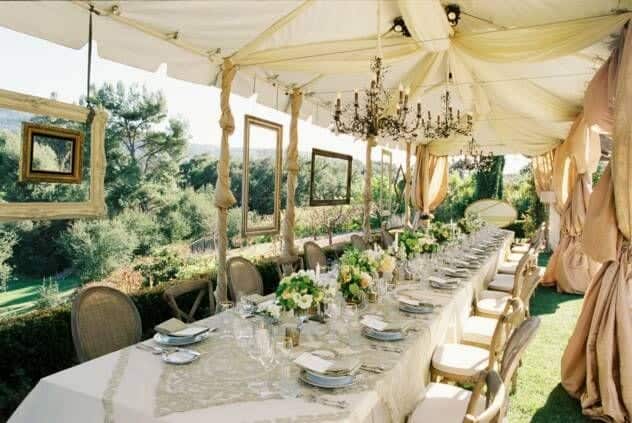 Courtesy: Archive Vintage Rentals
Setting up "stations" with simple vignettes like this are great conversation pieces. So simple, yet they add a nice touch throughout the venue. The simpler the better. Especially if you have a short window for planning. (See the old window in the background? The more the better, I say).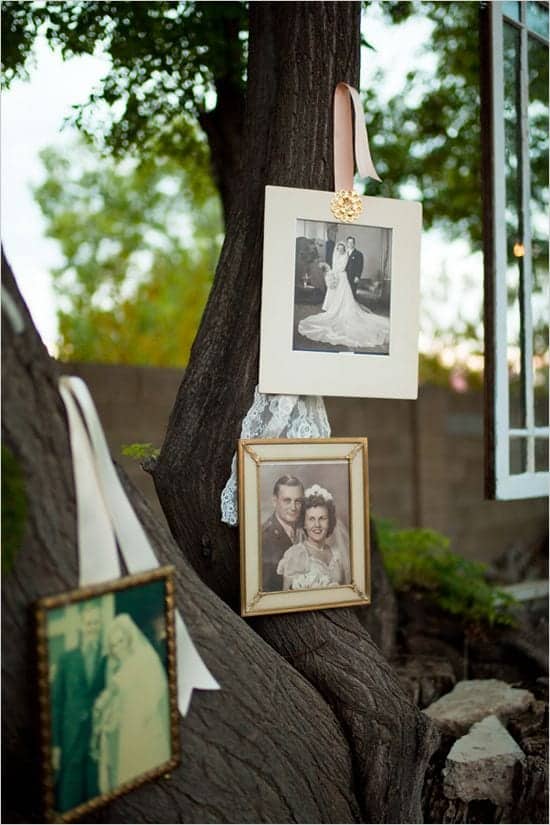 Courtesy Wedding Chicks
Vintage yet timeless. My wedding favor inspiration. I'm creating these for sure!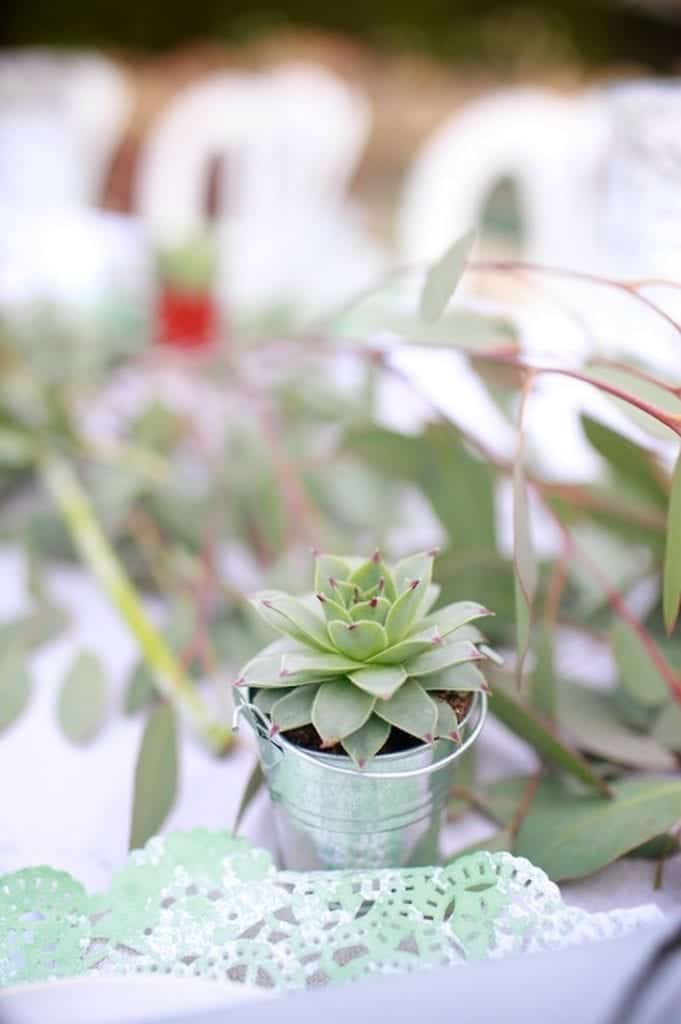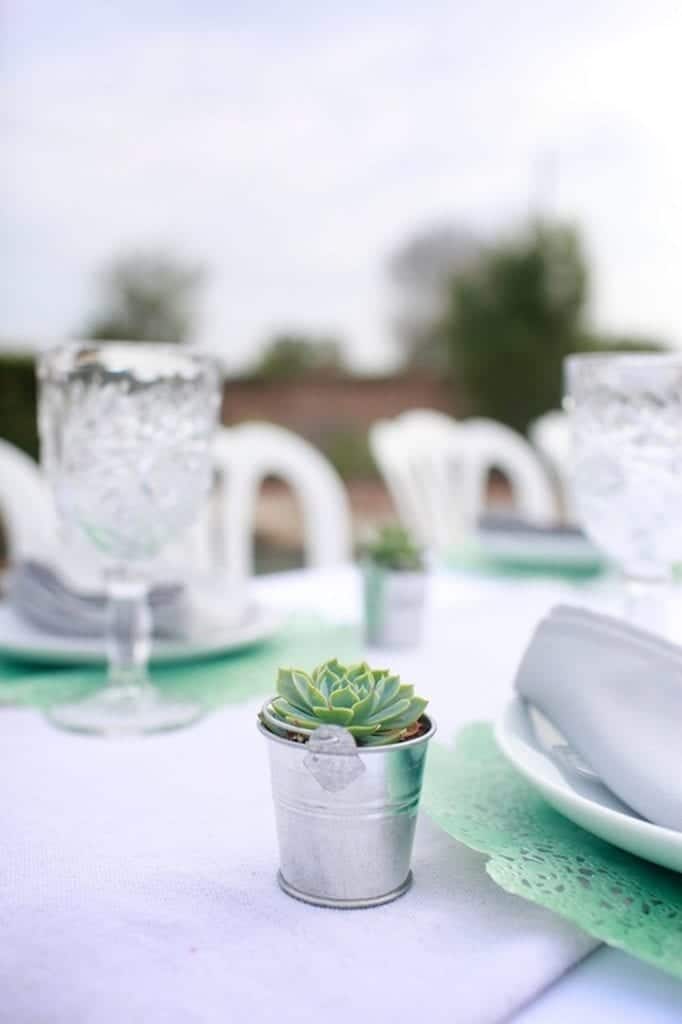 Photos Courtesy of Jenna Norman Photography
My kids are really, really into seeing us get married. My 14 year old son already started constructing a song playlist. I will be so touched and honored to have him walk me down the aisle that day. This moment will completely fill my heart. My 10 year old daughter is already asking what she can wear. My answer is "brightly colored shoes" which makes the day worth it already. She also asked Mark if he thinks of her as "his daughter" and how she fits in that day. She fits in and I'm sure will be offered a dance or two. It's all very sweet how accepting my kids are of him.
Some additional ideas….
I was careful to find a linen that was light and suited my vintage tastes. Below is the inspiration for my table runner. (Our colors are similar). I didn't want to go with straight burlap, but will definitely use baker's twine and possible burlap ribbons available for accent.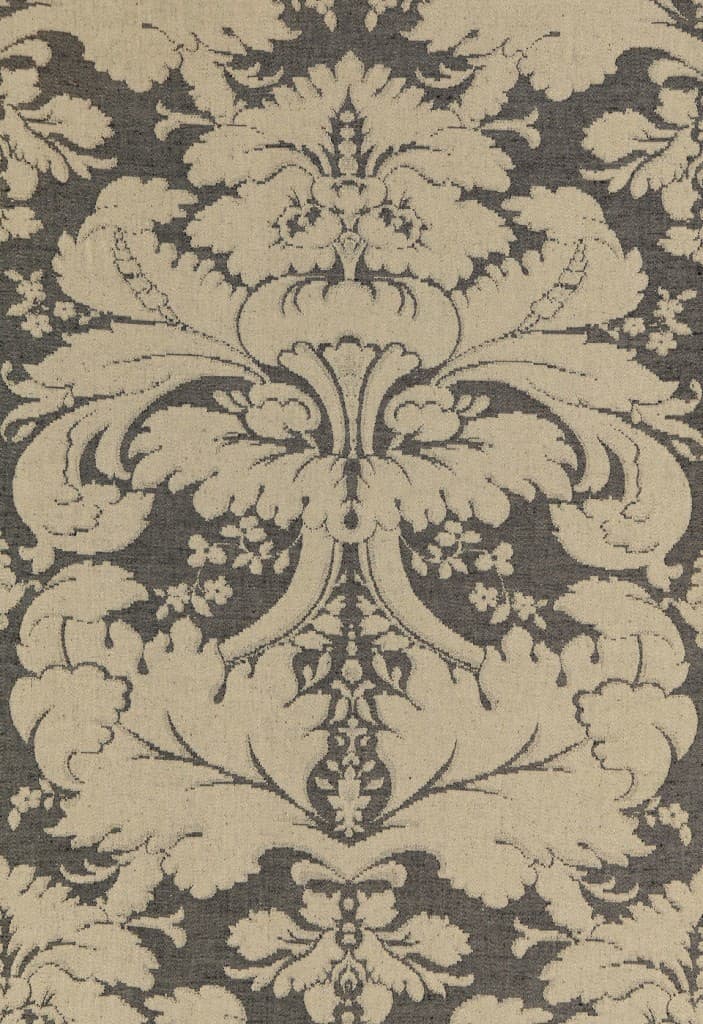 Courtesy Schumacher.com
More vintage inspiration…a lace table runner. Industrial lighting. Bamboo seating and lanterns as centerpieces.
Courtesy HeartLoveWeddings.com
And I hope that we can have a little photo booth fun with a vintage twist.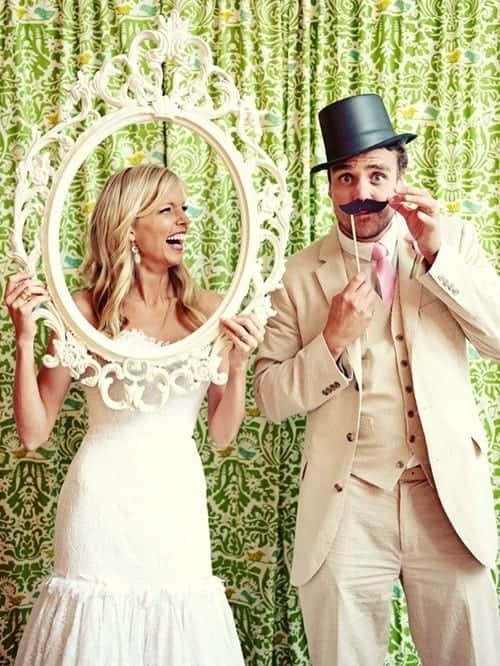 Courtesy Colin Cowie Weddings
Invitation inspiration. We are using industrial string lights to set the mood.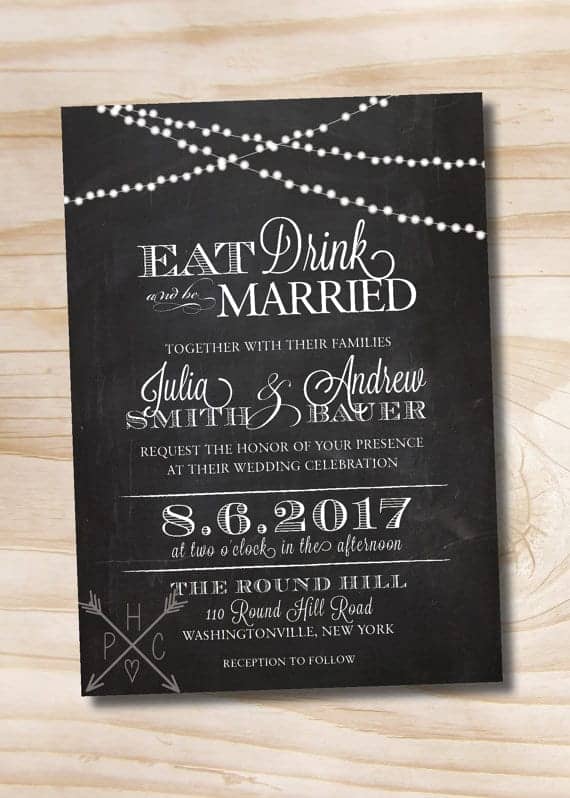 Other budget decorating ideas:
Search Terms: A search term I've used is "vintage furniture rental" for tufted couches, old windows and doors, and even vintage photo booths. These companies can also provide set up, staging, and tear down options for you as well (so that you don't have to). On Craigslist, search for rental items and "weddings". You'd be surprised how many people cancel events and are stuck with decor that they wish to unload.
Plants as decor: Larger palms are always a gorgeous accent, both inside and outside. For my venue, the house is completely empty. Palms or ferns will fill in the empty space and make it feel homey. After the event, it can be reused at home (or even given away to your guests).
Dollar store items: The quality of dollar store items has improved dramatically. Don't forget to stop in and do some reconaissance before you commit to renting items. I have found very pretty paper lace table settings, buntings, ribbon, floral and other accents that I you can use for less than renting.
On-premesis decor rental: If you're renting a venue that offers additional decor to rent, now is the time to be extravagant. Have them draft a FULL quote for inclusive everything. Think centerpieces, linens, table runners, and all the extras. Include all items that make up your "dream" wedding or event. Use this quote as your cost analysis / high-end budget. Before your final commitment, remove items from the list you can live without (based on cost) or identify those items that you can easily DIY and save money.
Lighting: Don't underestimate what pretty lighting can do. Before you buy a bunch of accessories to decorate, call a lighting specialist. Sometimes they can do amazing things to simply project specialty lighting (think uplighting, spotlighting, or mood lighting) into a corner or onto a wall.
Playlists (Music): You can now hire "Assistant DJ's" who will help you manage your self-created playlists (for less than a full DJ). Be sure to check on this option. If you don't have an iTunes account, this may be worth doing and saving you several hundred dollars. Plus, you own your own music when it's all said and done.
Bring items from home: There are many items that I can bring from my own living room to create a beautiful, personal and meaningful vignette. I have old shutters and windows that I am bringing with me as a backdrop for my coffee bar and cake table.
Amazon has been a tremendous resource for comparison shopping. I have the app installed on my phone so I can scan and compare an item when I'm out shopping in a store (so I won't impulse shop and overpay).
I have such a short window for planning (2 months from this blog post)….I will need to pull off a miracle.
Wish me luck! I'll check in to let you know how I'm progressing….
Hopefully we can keep it simple, and find ways to hire out the professionals in addition to DIY.
Thanks for checking in…more to come.
Related articles