DIY Art: Faux Shiplap Using a Dremel
Even though JoAnna Gaines herself has spoken and said shiplap is on its way out in favor of skinnylap, I'm kicking myself a bit. I absolutely adored this trend. It's not that we refused to do it…it's that time simply got away from us, and the winds of change prevailed.
But, see…when I love something SO much, I always find a way to work it into my decor no matter whether it's "in" or "out". You may have seen this botanical art in my home over the last few weeks…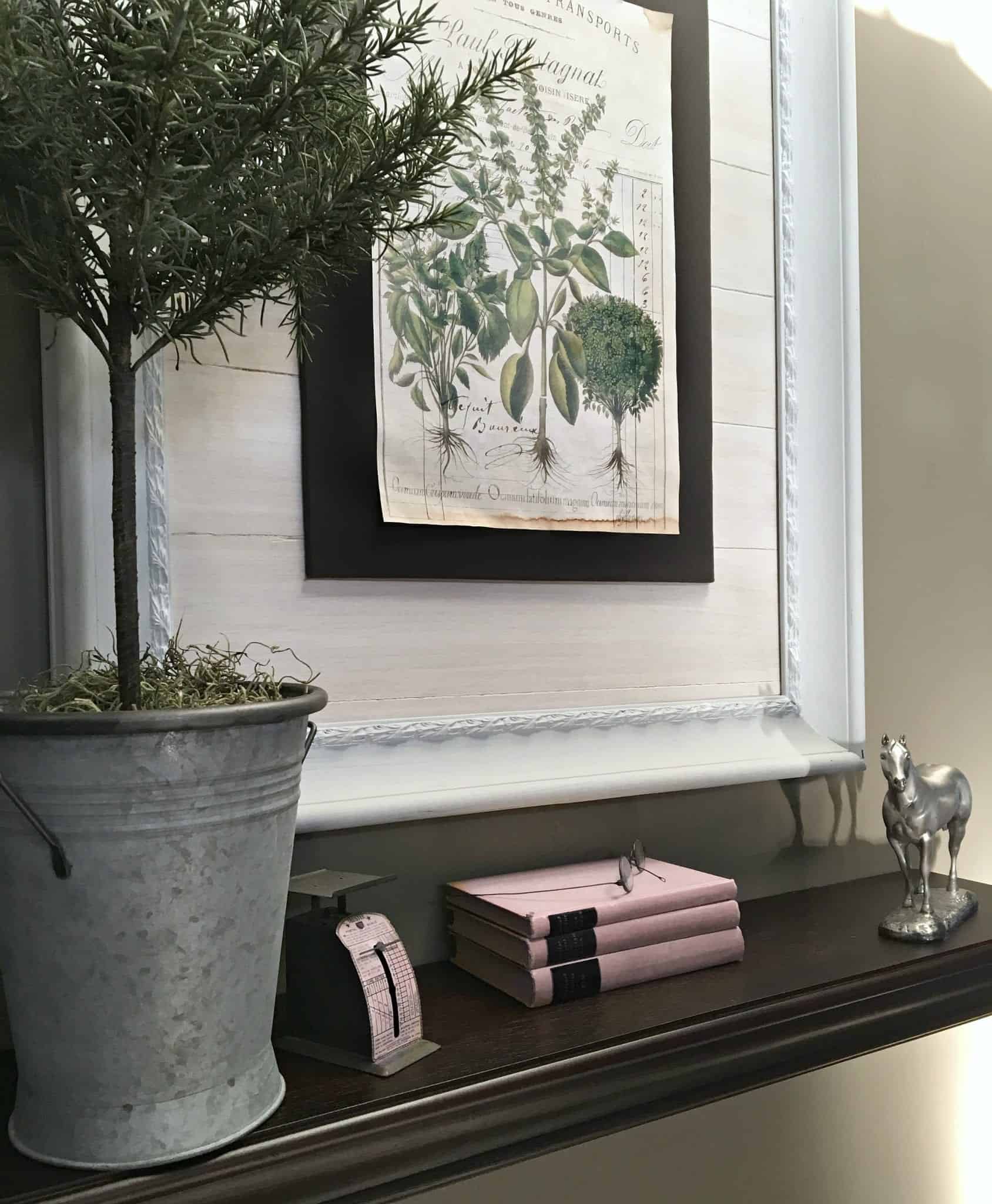 Remember when I said I'm working on whitening and brightening my space? This was yet another attempt to eradicate the abundance of brown in our house. It's amazing what a pop of white can do to make a room feel fresh.
If you've fallen in love with the farmhouse style but refuse to commit an entire room to shiplap, you can add simple touches of DIY shiplap in your home with a little creative know-how.  In this tutorial, I'll show you how to DIY faux shiplap artwork that you can create with inexpensive materials found at the craft store.Your Dremel will be the key ingredient for creating a "faux shiplap" matte for your art.  Once this is created, you can hang a variety of pretty art on this pretty shiplap backdrop.
DIY Faux Shiplap Art
To create your shiplap, you'll need:
Open back picture frame (in my project, I used a clearance frame from the craft store and painted it)
1/4″ craft plywood (to fit as the matte backing)

Dremel with tree or cone shaped bit

Straight edge (to draw straight lines)
Medium grit sanding block
Metal straight edge

Paint of your choice from the craft store + water for a whitewashed effect
Step 1:  Draw Your "Shiplap" Lines
Using a straight edge, draw evenly spaced lines horizontally across your plywood which will become your "matte" for your art.  (For my 24″ x 36″ frame, I spaced my lines about 4″ apart).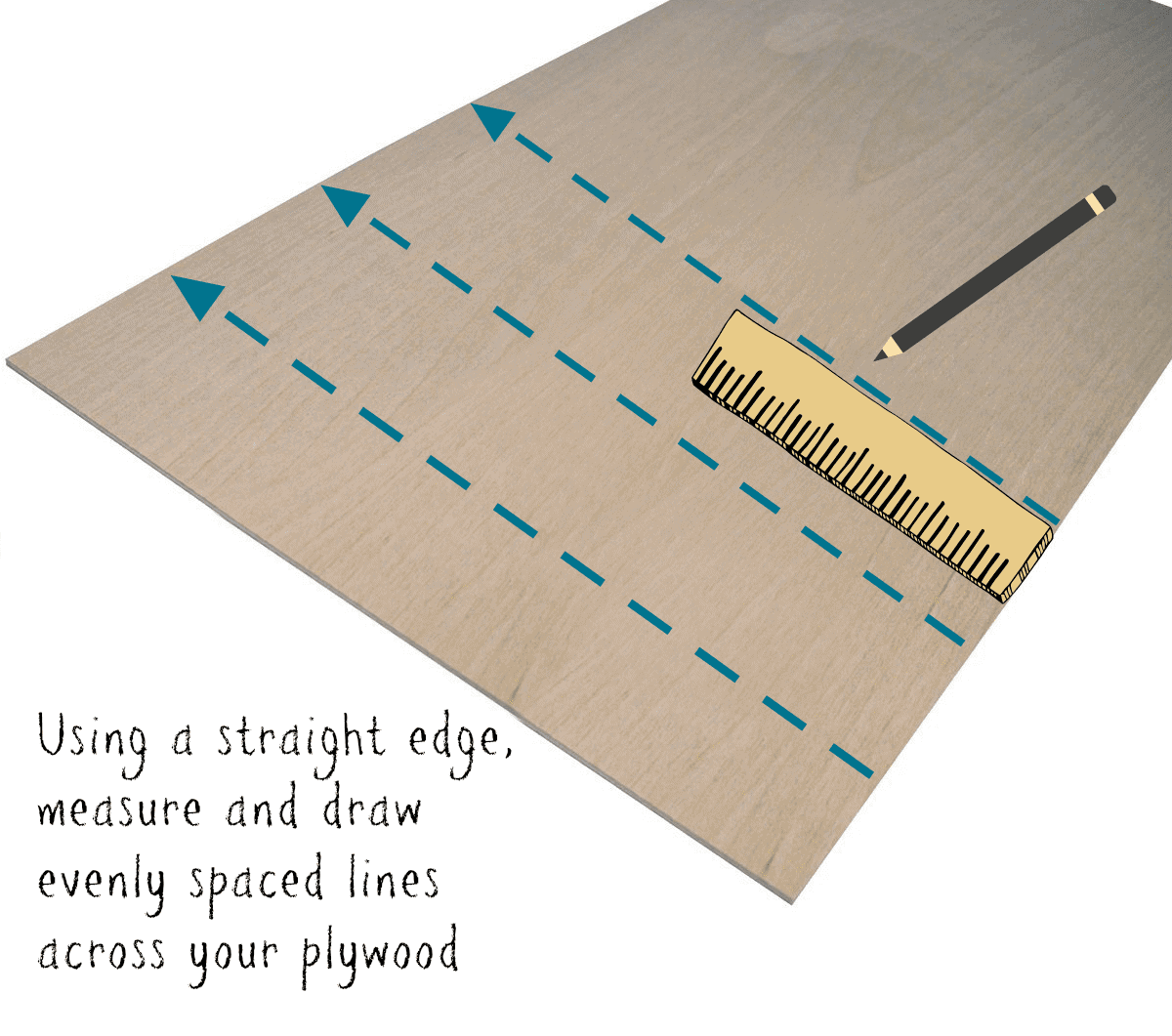 Step 2: Create your Faux-Shiplap "Grooves"
Next, line up a metal straight edge across the lines you drew. Make a groove in your wood by pressing the Dremel (with a cone shaped bit) firmly into the plywood. Pull it across the plywood following your lines, keeping the Dremel bit simultaneously pressed against the metal straight edge as well as pressed into the wood. Repeat if needed for a deeper cut. Rough lines are acceptable, considering you're going for a more rustic look.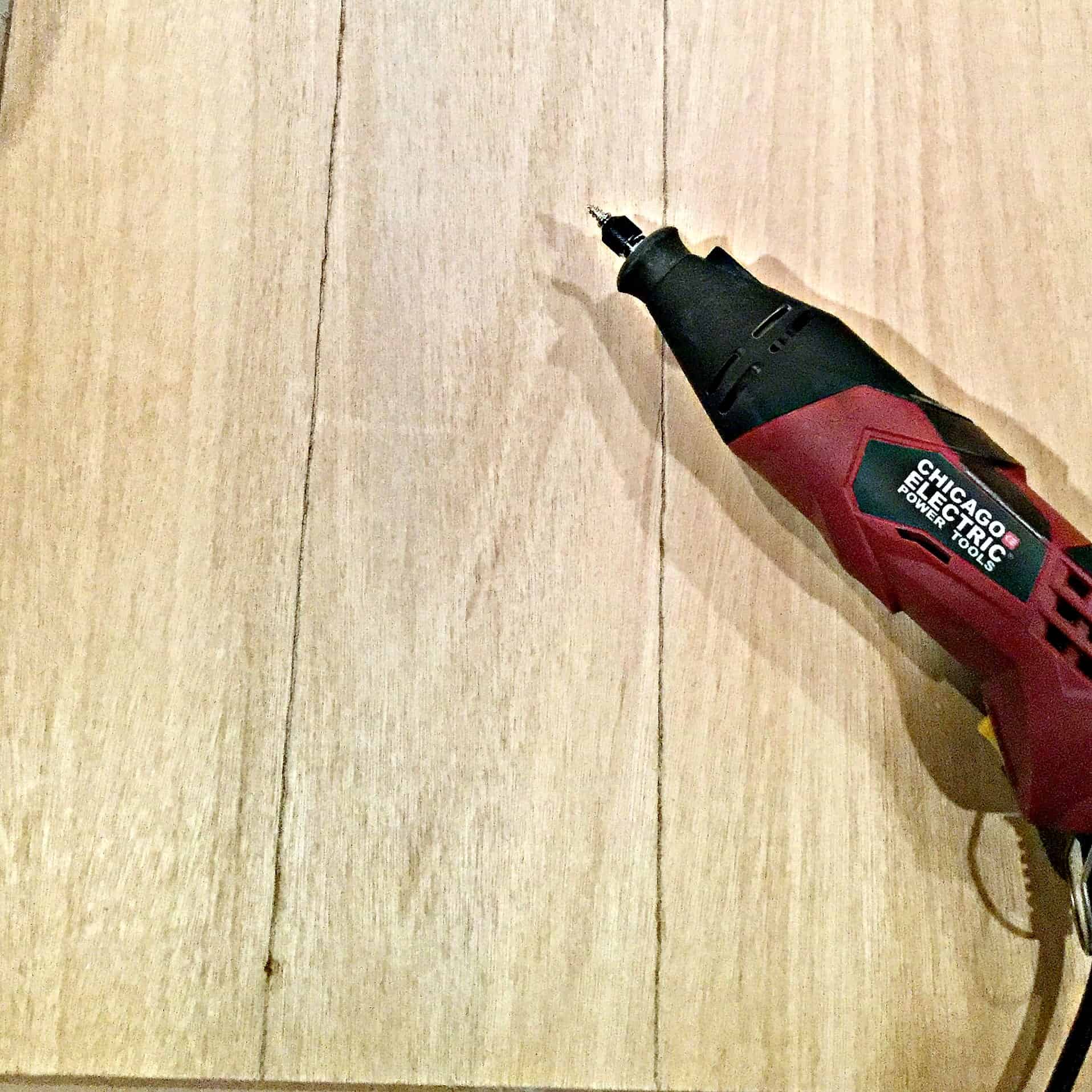 Step 3:  Sand the grooves and the surface
Get rid of splintering by sanding out your plywood (lightly). Also, be sure to place the edge of your sanding block in the groove to eliminate any rough spots or splinters that resulted from Step 2.
Step 4:  Paint your "shiplap"
I tend not to over-engineer specialty paint finishes. For a simple whitewash effect, I applied a light layer of paint with my nylon brush dipped in water. Then, lightly sand between coats. You can use chalky paints from the craft store in a color of your choice.  It's also ok to have some of the grain showing through.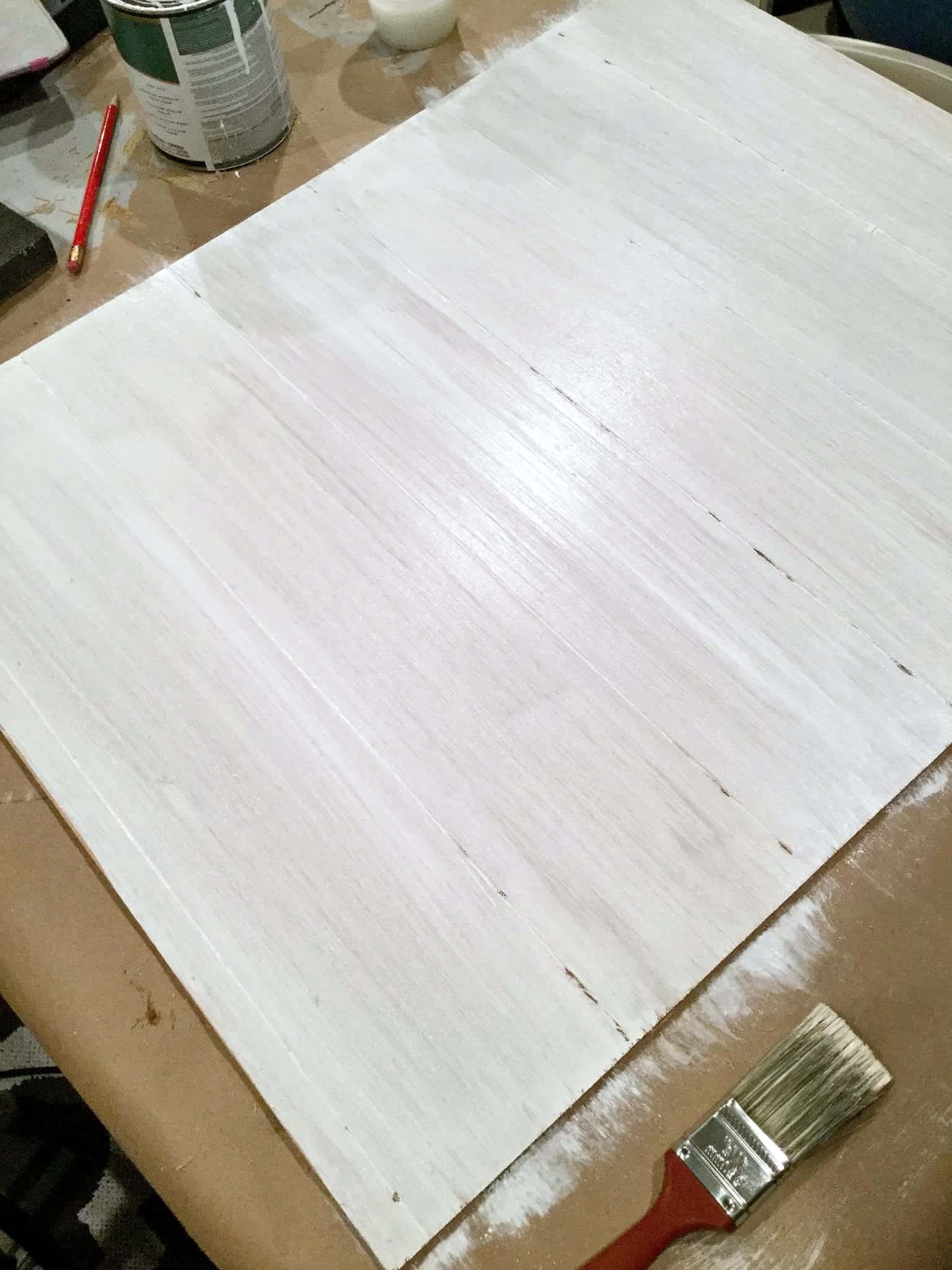 Step 5:  Assemble your frame + layer art on top of the "shiplap" matte
I had been searching for a way to display this pretty botanical art that I purchased from the Country Living Fair last summer. You can do the same by searching online for vintage botanical art, many of which are available to print (for free) online.  To emulate what I did here, here are the supplies and methods that I used:
Foam core
Art of your choice
Lightweight fabric (to cover the foam core)
Adhesive Spray
Hot Glue
Velcro strips (to affix to the "shiplap")
I sprayed the foam core with a light, even layer of adhesive spray and smoothed out the fabric overtop of it. I tucked each corner of the fabric under, applying a drop of hot glue at all four corners. Once the corners were cool and dry, I affixed my botanical art onto the front of newly covered foam core (by spraying the back of my art, then centering it onto the covered foam core).
On the back of the foam core, I applied double sided velcro adhesive.  Then stuck it directly onto the shiplap.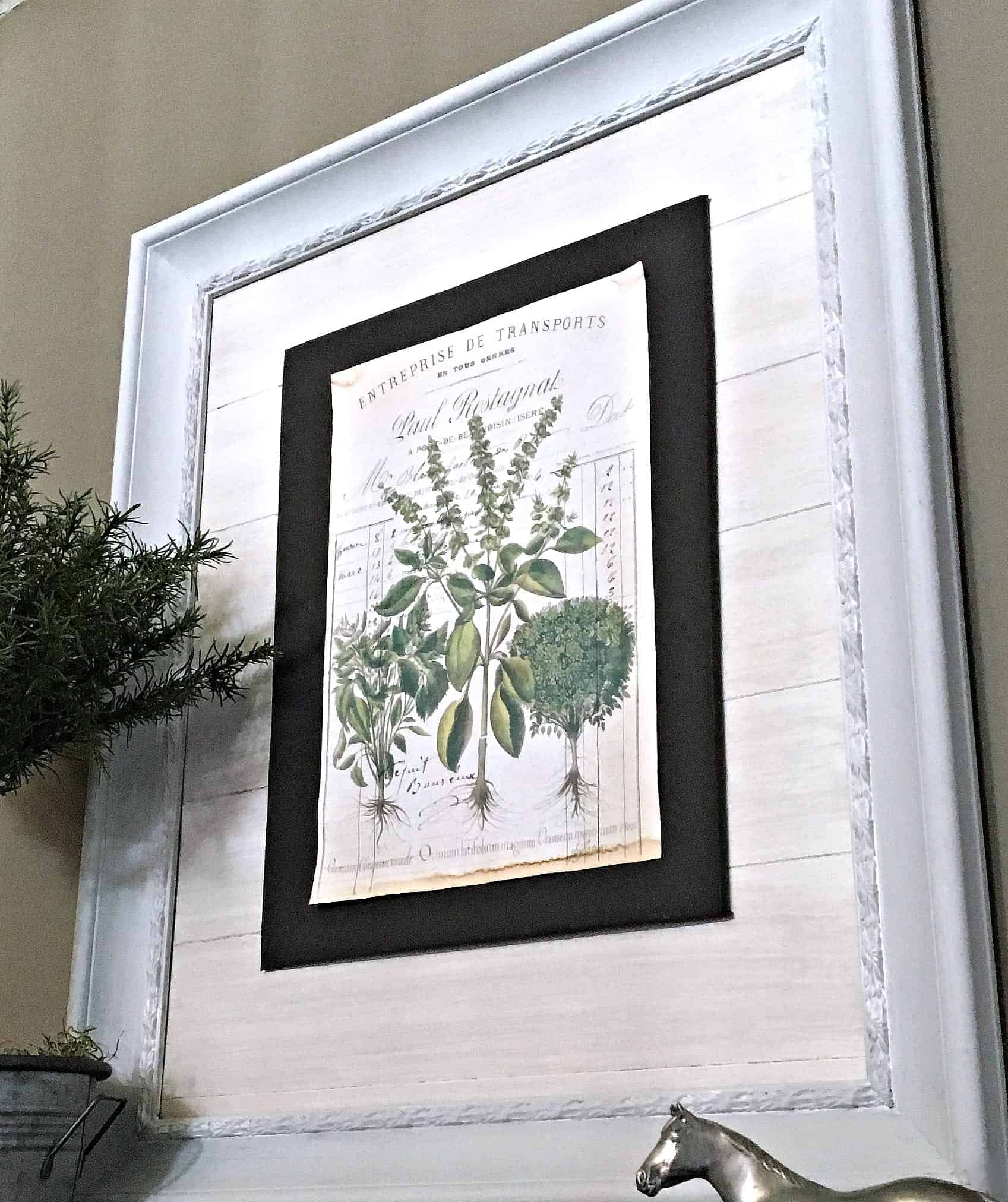 The best part about DIY art is that you can change your art throughout the seasons. I love having versatility in my decorating, but I'm even more excited about having "shiplap" in my home for an understated farmhouse look, without the permanent commitment!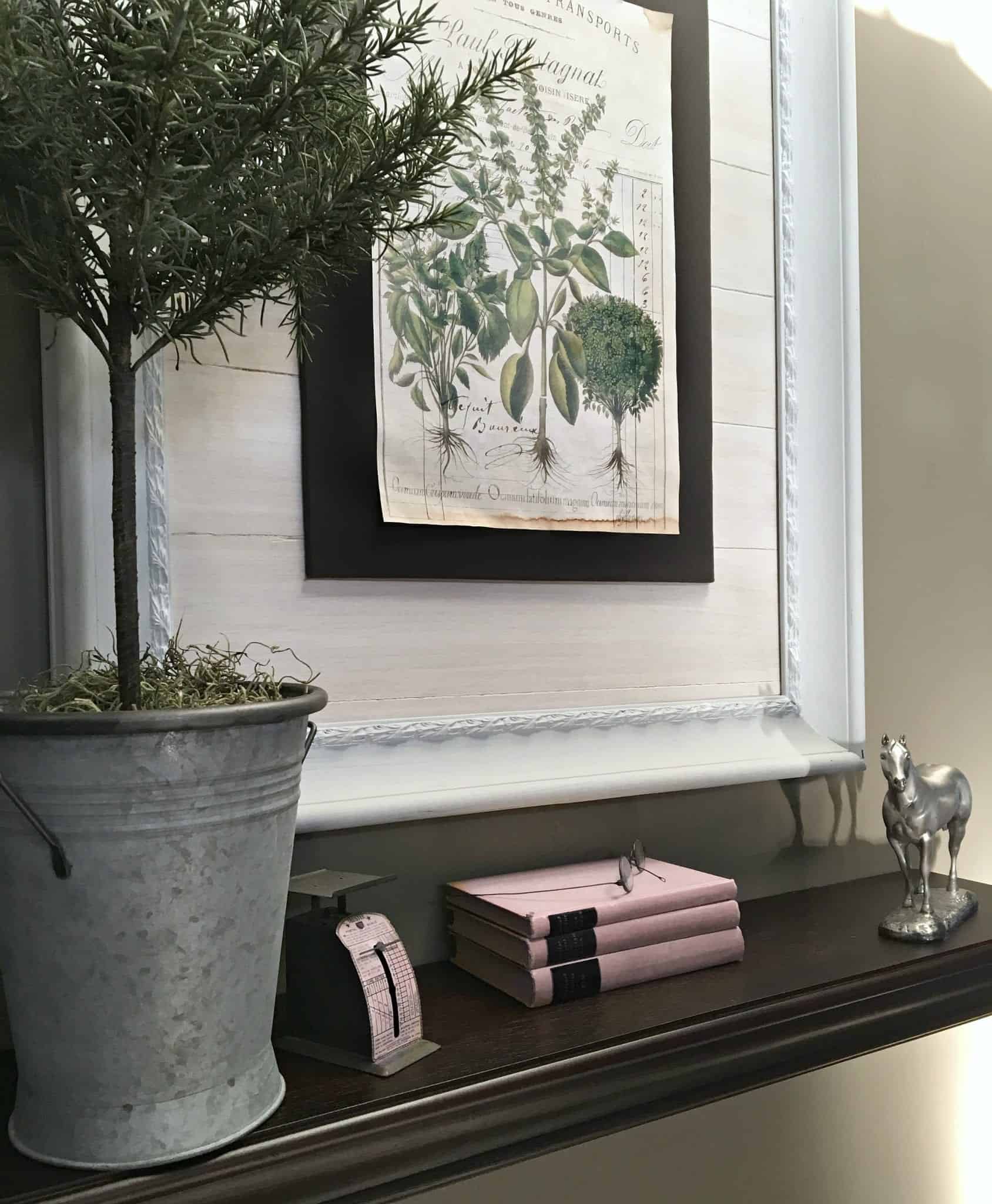 And we still might find a way to work a shiplap wall into my craft room (the project that seems to never get off the ground). How about you? Are you a shiplapper? Please share, we love seeing pictures of your projects!