My DIY Image Transfer Fail
Update:  See how I recovered from this initial disaster here.
Over time, I've come to realize that I have a fairly high tolerance for dealing with the failures that come along with home DIY (and with life in general, but that is another post that will likely never make it to the blog) ;). We are lucky to have no major disasters or trees falling on our house, so trust that my perspective on what is considered a true "disaster" is in check.
One thing you need to know about me…I don't often take shortcuts.  The long and winding road to success…well, it beckons me.
While I always give consideration to an easier, cheaper and quicker DIY methods, sometimes the shortcut just isn't meant to be. I don't prefer the longer and often more complex road to success – but I'm used to it. We fit together. There is comfort in that dysfunction. So that's where I've developed a strong will and force myself to learn something new (my reupholstery project is a good example).  If I fail (or when), I always have a "Plan B" percolating in my mind. And as I move towards "Plan B", I always attempt to salvage the remnants from "Plan A" at minimal costs — between crying jags.
So this whole image transfer thing. Using Citrasolv have been all the rage among other DIY bloggers. I've studied these tutorials for almost a year and felt pretty confident that I could conquer it. Awhile ago I thought "I can use Citrasolv to maybe…I don't know, create my own, large-scale art for my family room above the entertainment center".
Riiiiigggghhhtt.
For the record…
We're talking…BIG ART.
Because…if I fail, I might as well fail – in a BIG way.
The image I found online was of a patent drawing that I fell in LOVE with: a hobble invention, circa 1900, invented by Thomas Neagle.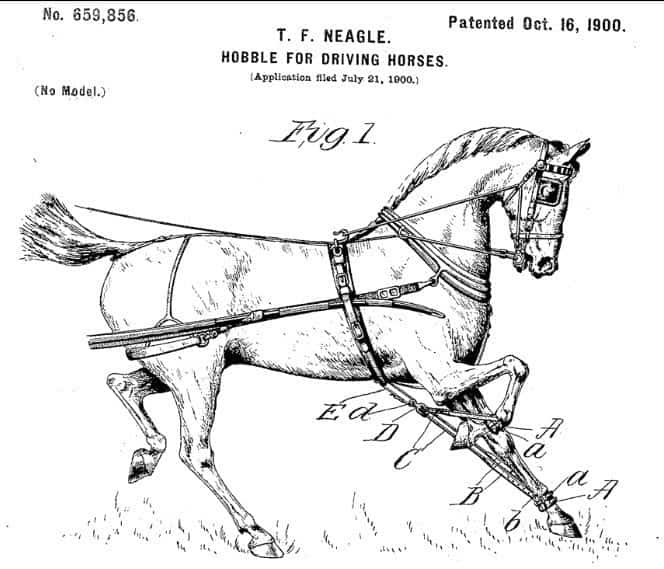 Yep, had to have it. And it must be large.
Tom's horse / hobble image couldn't be more perfect for an industrial theme. Therefore, I am embracing this horse along with it, and he shall command my room.
When it comes to choosing art for my house, I am picky slow-moving. Especially when I am in the process of changing my themes towards what I will call a "French-Industrial" theme. I want tufted ottomans and distressed everything, vintage and modern, black and white, French script and subway art, rich fabrics and muted backdrop with pops of color that I can change with the seasons.
This horse just plain works with all of it. It is meant to be. I have big plans for him, an when I say big, I mean–he has a big job to do. I need him to fill this gigantic void on my wall…(knowing full well that this canvas picture just didn't cut it, and that's not small, it's 3 feet x 3 feet!):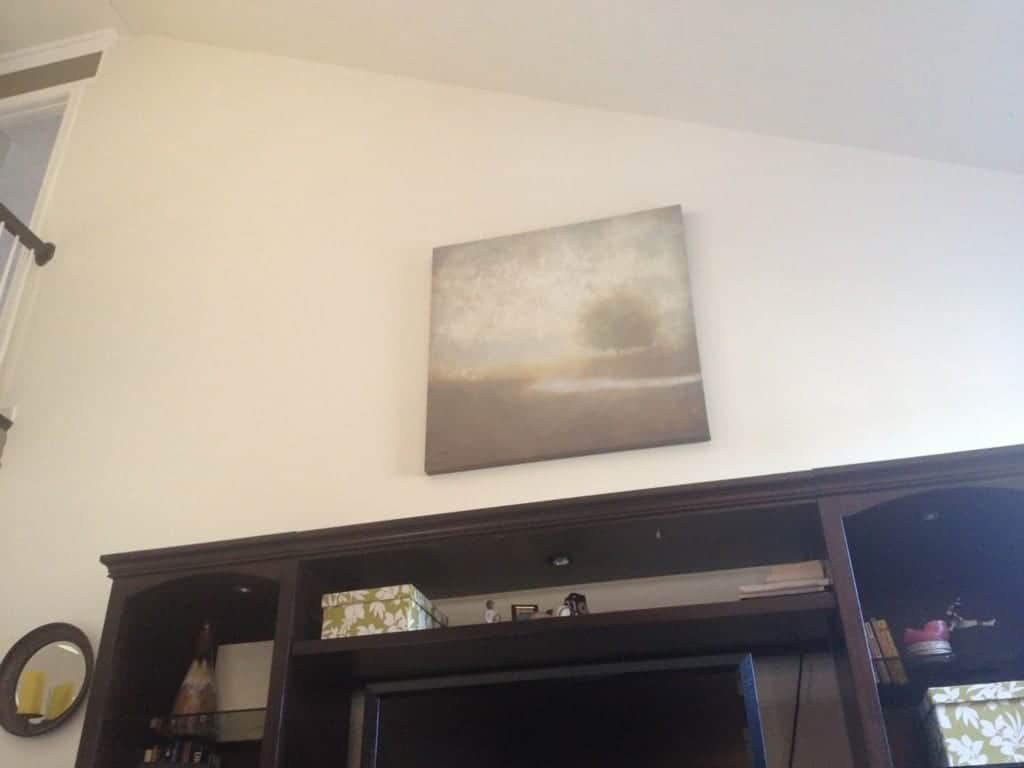 Ugly. Or just too bare.  But you have to start somewhere…
The horse will be framed within one of these 32-pane salvaged windows I found on Craigslist for $20 each (hoping for a Restoration Hardware type of look) — ha ha, wishful thinking.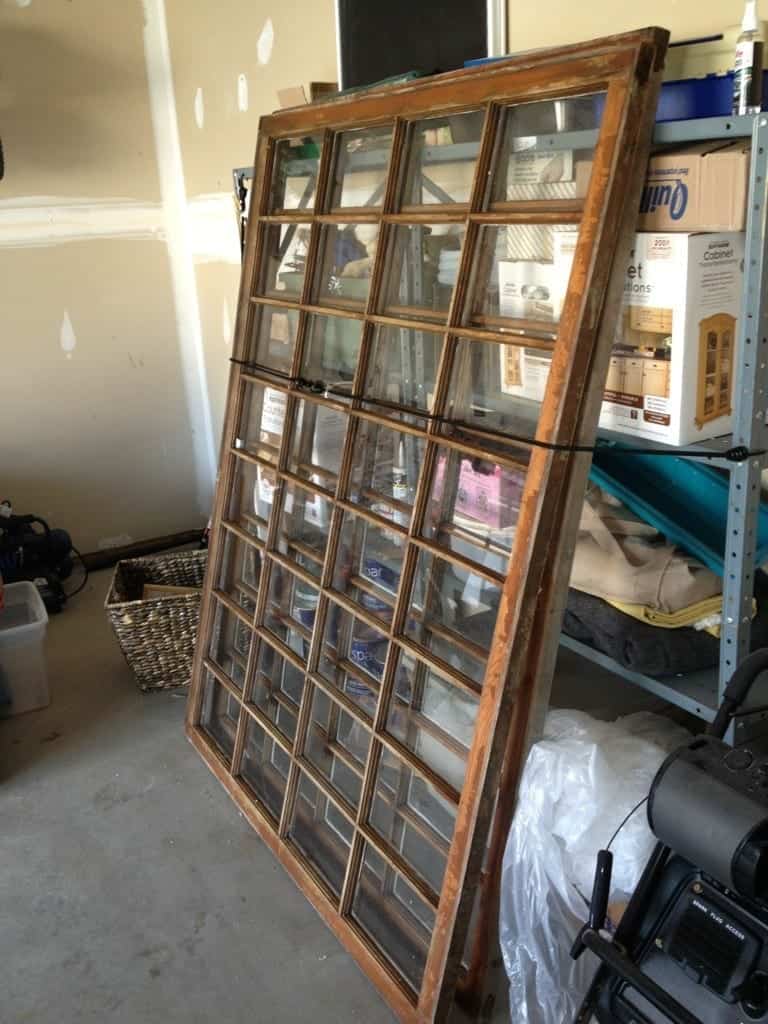 Finding art that is large enough and cool enough to fill that space has been a challenge. I've simply grown tired of plain canvas art, and I've even searched far and wide for another shower curtain that I can turn into my own canvas. Anything oversized and unique is outrageously priced. And…I couldn't find anything that I liked to begin with. So my decision to DIY this was based on these factors, combined with the fact that my budget range is from cheapest-to-cheap.
So…
I checked the copyright on the image, it is safe to use for personal use. I called the local print & copy store, and they could print my horse (yes, he's now MINE) to fit the exact scale I needed! The Citrasolv transfer method requires laser printing…and according to them, that's what they could do! The news kept getting better. So my horse would be split into two halves (total measurement 66″ x 55″) and he would be ready within the hour.
The Bonus???? At this point, I'm only $20 bucks in on the window and $32 bucks for the photo enlargement.
I picked him up Friday, and he was gorgeous! The print and copy people even loved him, and were anxious to see what my plans were with him.
Just so happened, my girlfriends were also anxious to try out image transfers to fabric, so it worked out that I host an image transfer party. I wanted to see for myself that I could get this transfer method down before I tackled my larger project. I was also excited to send everyone home with some cool transfers they could display in their homes.
Well, disappointment started to set in pretty early.
Here are some of the remnants of our transfer party, which was one of the more frustrated groups of women you have ever witnessed. "DIY Fail!!!" utterances in between sips of our wine could be heard.
Crafting can be downright dangerous with us women-folk, especially when it doesn't go well.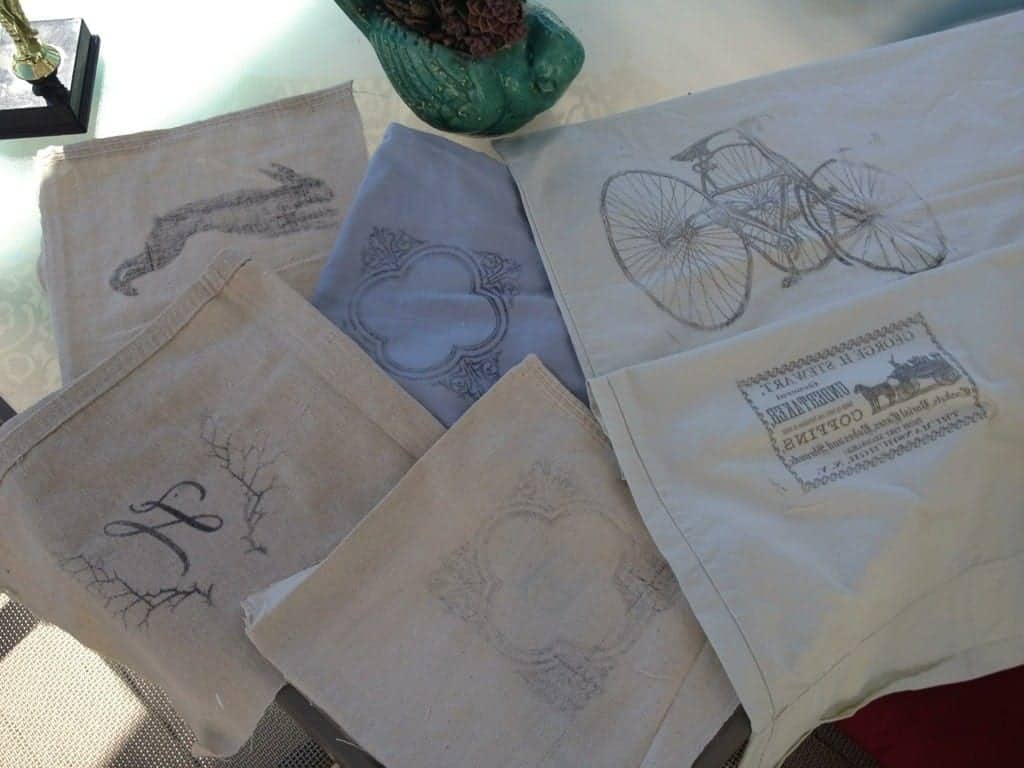 The two images on the right are inkjet, the rest are Citrasolv transfers. (We know these images were backwards but it was more about the practice than anything…we printed hastily for the sake of trying different techniques).
The inkjet / waxed paper method worked great! But no WAY was I going to tile-print my horse onto 40 individual waxed paper sheets and transfer to a painters drop cloth. (Or…was I? Keep reading)….Citrasolv was next, and while I had success with it, others didn't…and I started to realize the magnitude of my future undertaking.
Lessons learned:
Inkjet: I loved the results, the image and text were clear. On muslin or cotton, images were perfect…but on canvas or drop cloth it is more fuzzy. Wet the cloth first, then burnish. NOT good for large scale prints (like mine) because you would have to tile-print 40 pages, individually run each page through onto wax paper…and..and NO WAY…just…no.
Citrasolv: (This IS the method I planned to use for my horse). This process does work, but it takes a LOT of elbow grease. Images are not as clear as inkjet (that doesn't bother me as much because I like imperfections). I did read beforehand that it doesn't work especially well on rough canvas (which is also what I had planned), but again, I was ok with a more distressed look. In the end, the Citrasolv transfer process would be very difficult on the large scale project that I had planned, especially on painters drop cloth. While not impossible, it's just not practical.
Welp. I decided to punish myself and try the Citrasolv method anyway…and guess what?
My fate was decided for me…(this is the bottom of the large scale picture, after 5 minutes of dragging an old credit card across the picture, and burnishing with a spoon, and breaking a sweat).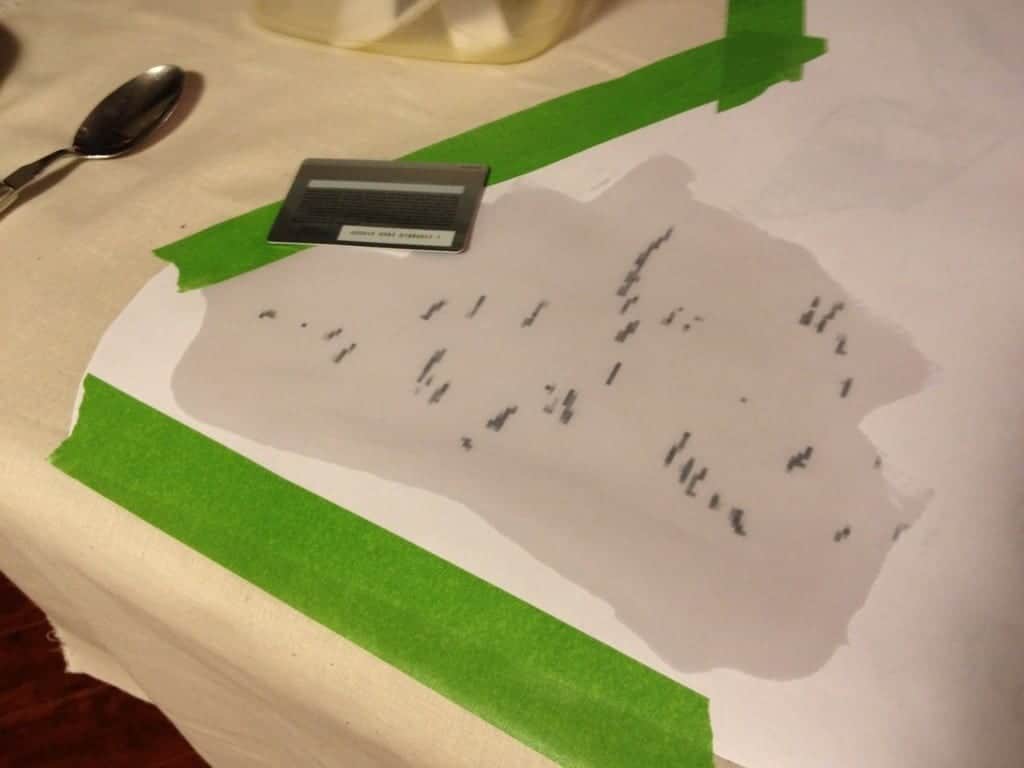 … I got nothin'.
Not ONE bit of the ink transferred. I am not sure if it's truly a laser print from the copy and print place…
I now have a blank canvas.
The good news?
I also have thick skin, and an unbelievable will… combined with a "Plan B". So instead of beating myself up, today I'm indulging in some retail therapy…just to clear my head…or maybe find some large-scale art.