See more pictures on HGTV's "Rate My Space"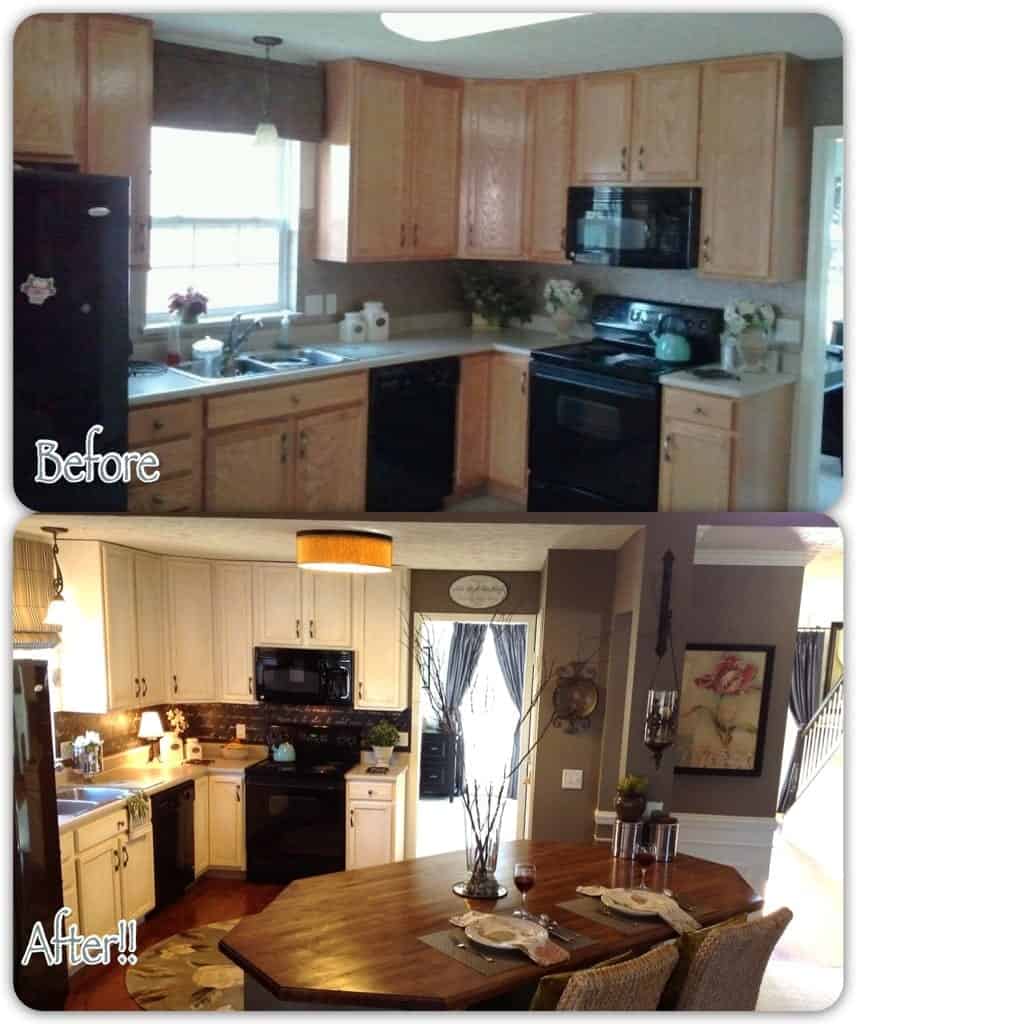 (Above): Before & After pictures of my kitchen transformation, including Rust-o-Leum Cabinet Transformation in Antique White, new lighting from Lumens.com, new Roman Shade from SelectBlinds.com, and a vintage stencil backsplash (stencil from Royal Design Studio, "Springtime in Paris").
The lowest cost – highest impact remodel was my Rustoleum Cabinet Transformation in my kitchen, costing me $149 for the paint kit + painting supplies. I am SO pleased with the results! The kitchen, by far, was the one area that I regretted choosing oak cabinetry. Seven years ago, oak was desirable! How times have changed in a short 7 years, since none of these distressed finishes were popular, nor were they even an option when I built in 2005.
Another view:
Up close of the cabinets:
To be honest, I stopped this project several times because I had so many projects going at once. I started in August of 2011, and it was a single Mom project…kids in the house and all. Plus, you need to PRACTICE the process of antiquing. I still need to put the finish coat on these cabinets.
Would I do it again?
Absolutely. It is one of the projects I am most proud of.
Lessons learned?
Find someone to do one part, and you do the other. It would have helped me save a lot of time if I would have someone apply the first coat of paint, then the other apply the antique glaze (two different people doing the antiquing would yield two different techniques, you want a uniform finish). I burnt out several times doing it all myself!
What you don't see in these pictures is my island. (See "A Deserted Island") which also involves an Ikea Butcher Block countertop installation.
Related articles
A deserted island (streetwisedecor.wordpress.com)
Something old, something new, something borrowed, and I'm not blue – Part I (thegreensheep.wordpress.com)
Cheyenne Weaver's Gilded SimplicityHouse Tour (apartmenttherapy.com)
Shelley & Reed's Creative Cottage House Tour (apartmenttherapy.com)