How we "fixed" falling drywall tape…
How to DIY Hand Hewn Wood Beams
(and make them look authentically old) 
I'm convinced that we live in a house of cards. I think our builders stacked a bunch of drywall side-by-side–then taped it all together. Don't laugh, because in our sunroom…we were right. No studs exist at the peaks of this ceiling which is why it was coming apart…literally at the seams.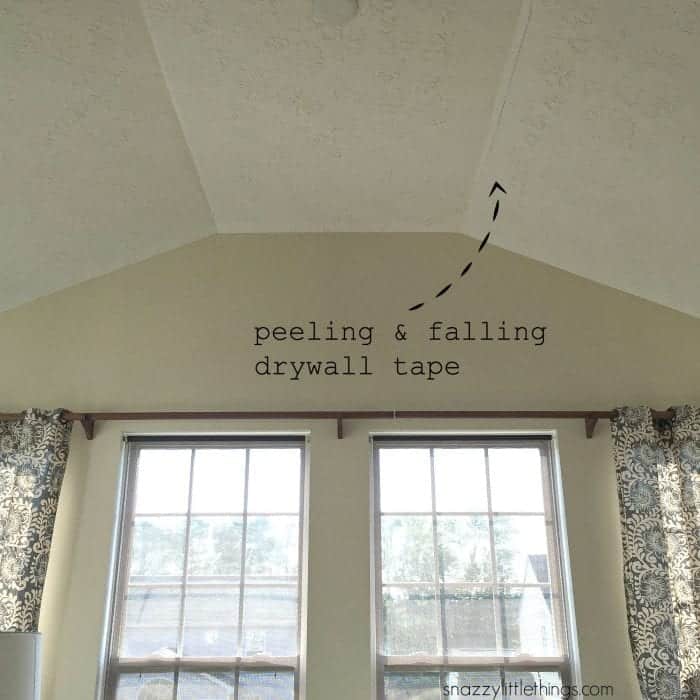 Glue or spackle wasn't fixing the problem either. As the house settles, the seams would reappear over time. We talked about covering the ceiling with planked boards (painted white), but that's still under consideration. It finally occurred to us that — we could add reinforcement to our ceiling by installing our own DIY rough hewn wood beams. And, we could finally give this room more character. So here is the tutorial…

This is a very simple project that gave our room stunning visual impact. Made even simpler with some cool new tools we picked up from Ryobi.
In keeping with our style we wanted theses beams to appear hand hewn. Solid beams were not an option for us for a few reasons. First, the structure of the room didn't offer much load bearing support. Second the cost was more than we wanted to take on, and finally we were not excited at all about hoisting something that heavy 14 feet in the air.
So we settled on faux beams. And our materials cost was $35 for each beam.
After shopping a bit and finding a few pre-made options at the big box stores, we decided to build our own. The construction was blindingly simple but the tricky part would be making them look authentically made by hand. We have a video that demonstrates the techniques we used to make this new box look like it had been hand cut by an ax 150 yrs ago.
The clincher was the fact that we recently added a Ryobi Airstrike 18V Finish Nailer to our arsenal. This is a terrific tool, we were a bit skeptical having used pneumatic nailers for years but this gun provides all of the power you need to drive 2 1/2 inch nails without the hassle of dragging a compressor and a hose around. So nailing when up on a ladder and a long way from our shop became a piece of cake.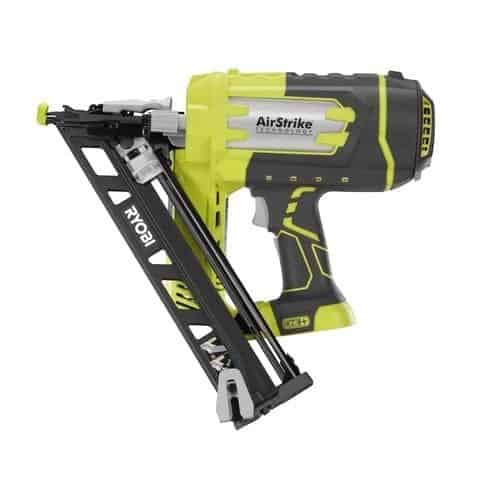 Another bit of Ryobi technology that came in handy was their new Phoneworks Stud Finder. This is part of a set of tools that plug into your smart phone and display the information right on your phone. We found this to be a very sensitive and accurate stud finder, which was extremely help finding oddly spaced studs in our stippled drywall ceiling. One bit of genius with this tool is a button built into the finder that marks the wall when you find the stud, no more having to grab the pencil and make sure the mark is in the right spot.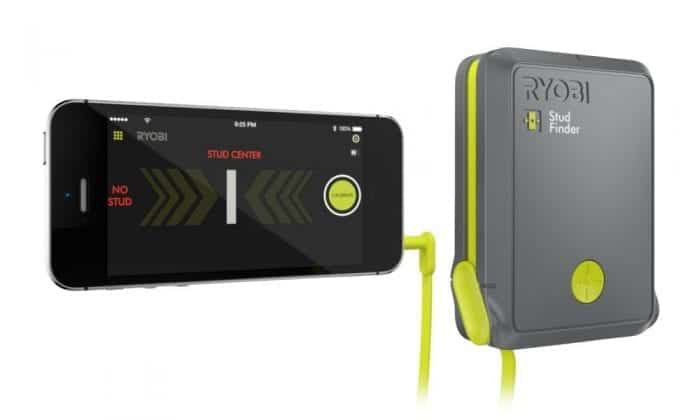 The span we wanted to cover was nearly exactly 10 feet so it was a relatively easy matter to find boards that were long enough to fill the space. We opted for cedar because it is relatively cheap and very light.
The beam build is really just a simple box
Our 15 year old really dug this part…putting it all together using the Ryobi Airstrike. He's now understanding the beauty of power tools.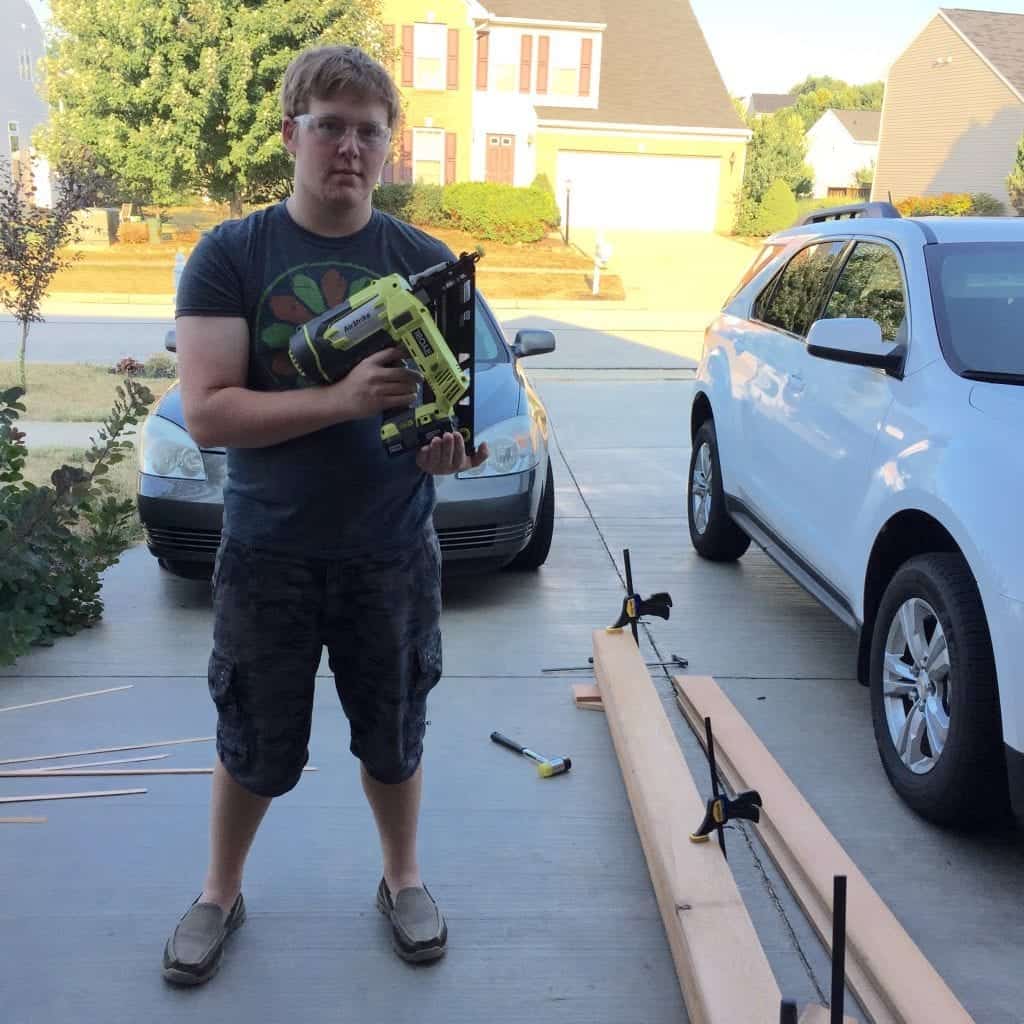 We used:
6 1X6X10ft Rough cut Cedar Boards
1 2X4X6ft Pine
8 4″ Hex Head Screws
2 1/2″ Nails for Nail Gun
Once they were put together…we roughed up the adjoining pieces to make them look like they were "one" and the parts blended into one another. This really helps it to look like one single piece of solid wood once it's stained.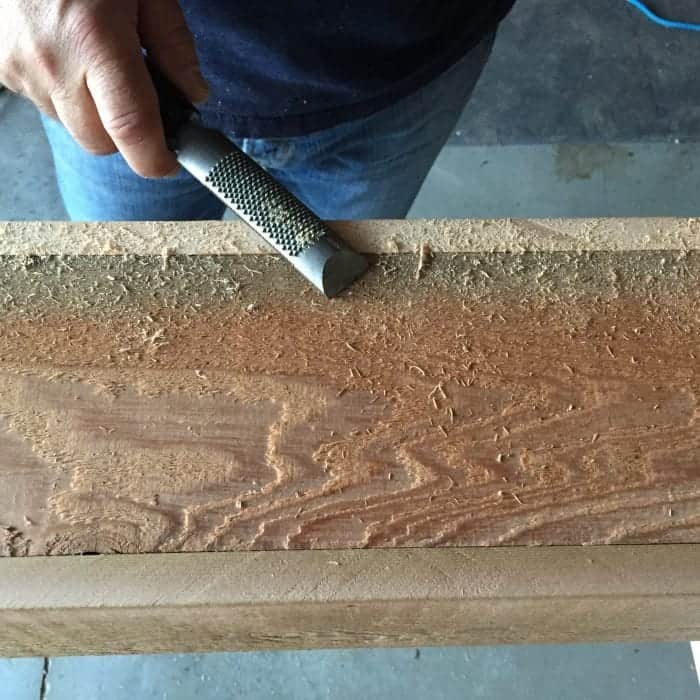 The anchors for the beams we manufactured on the drill press. I cut small block of 2X4 and cut recesses for the screw heads so that the screws would penetrate deeper into the studs. Our ceiling had studs spaced at 24″ so I used four hangers for each beam.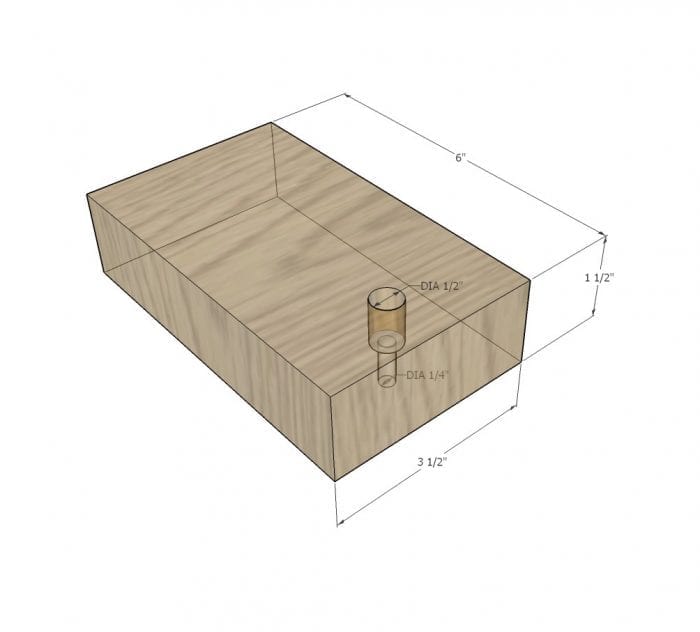 We screwed the hangers into the studs and simply slipped the beam over the hanger and nailed into the side of the hanger with the gun. (On a side note, our 15 year old really didn't dig this part–but he still was a huge help).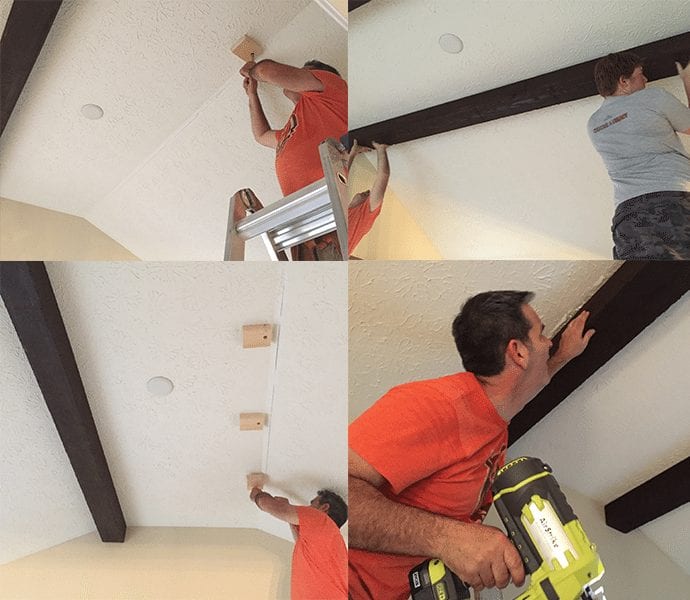 That's really all there is to it. Here is a quick look….much better, don't you think?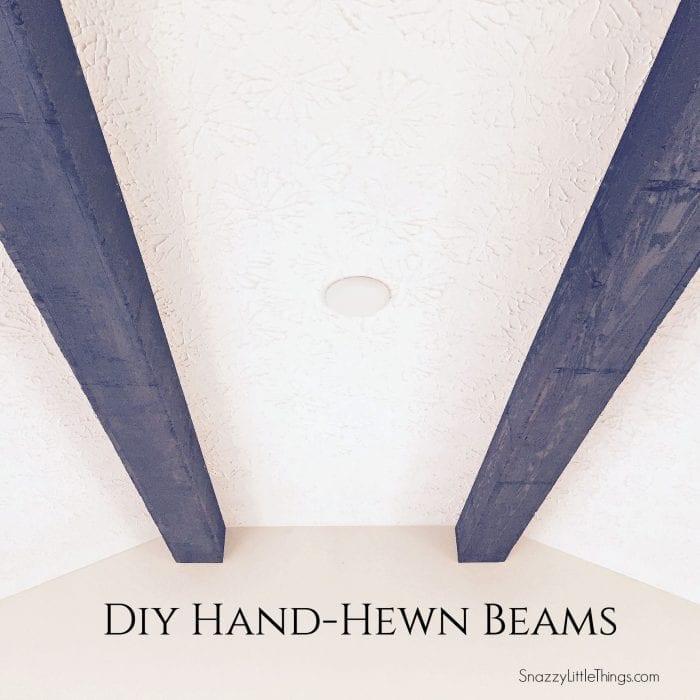 And even though it would be slightly out of order, we may still try planking the ceiling because we're both kind of over the stippled look. I know, it's totally not the right way to do things. We tend to do things on a whim, then realize (hey…a plank board ceiling would be nice). But we'll make it work.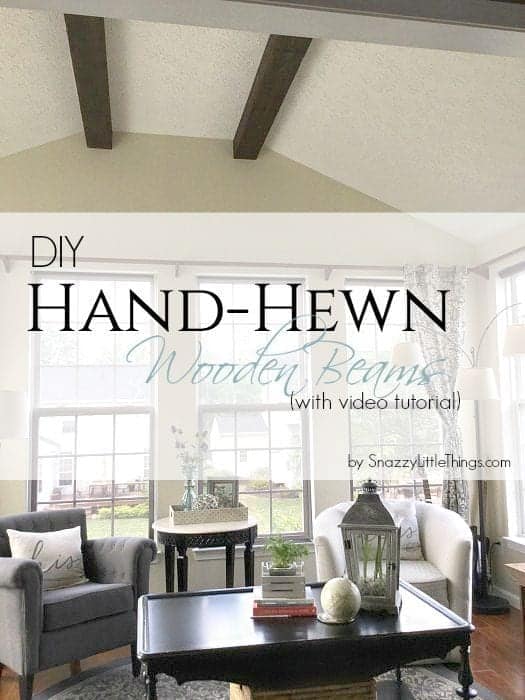 More changes to come…a new hanging light fixture is on our radar…maybe even the wall paint. We'll see…