Making old art beautiful again…
Affiliate links included throughout this post.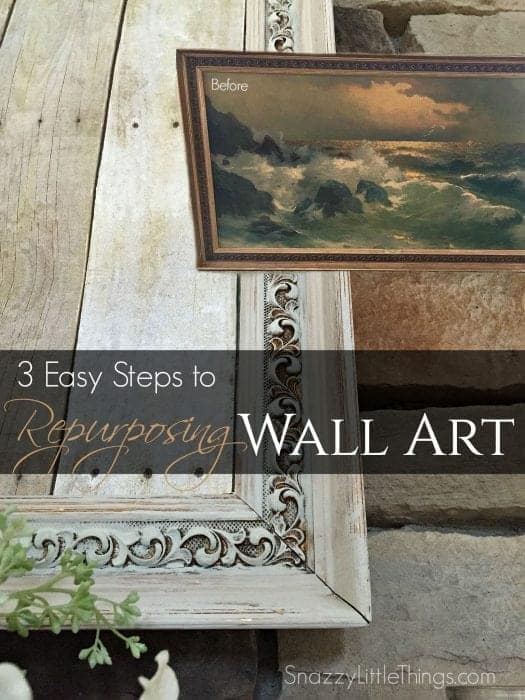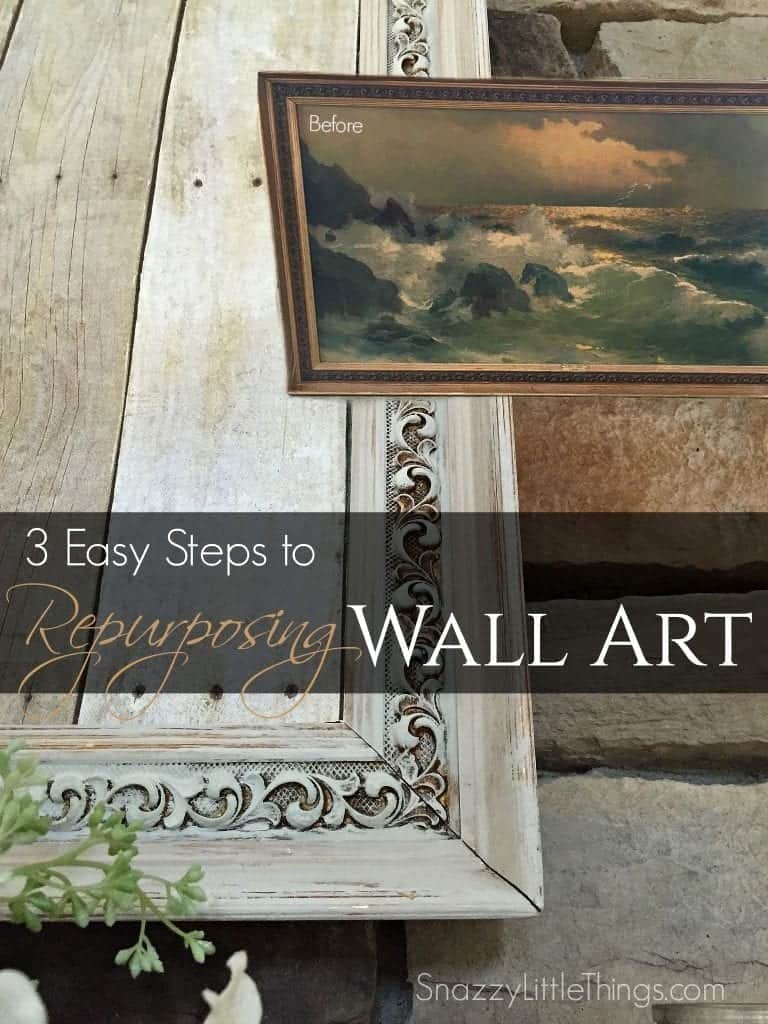 Today I'm going to show you how I repurposed old 1960's reproduction art into a rustic farmhouse display that fits into my decor. And I'll also show you how my repurpose is multi-functional — I can still display the original seascape by removing my distressed wood background. You can easily do this with most any piece of canvas art in your home. A great idea if you like to change your vignettes each season, and you want some versatility with your artwork.
You probably spotted this in my fall home tour yesterday. But like most pieces that I repurpose…there's always a backstory.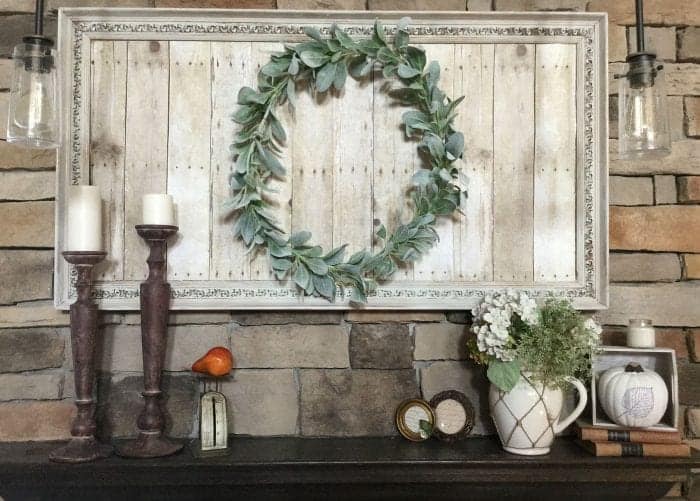 I give vintage pieces a chance before I paint them. I evaluate a piece by moving it around in different vignettes just to see if it could work. Then I think on it…
This purchase was all about the frame. Sorry for any art purists out there, I realize this DIY may not sit right with some, but I was desperate for some art over my mantel that was the right size. For $14.99 I couldn't pass up the frame, but I wasn't too sure about the artwork. And it was pretty smelly with some water damage.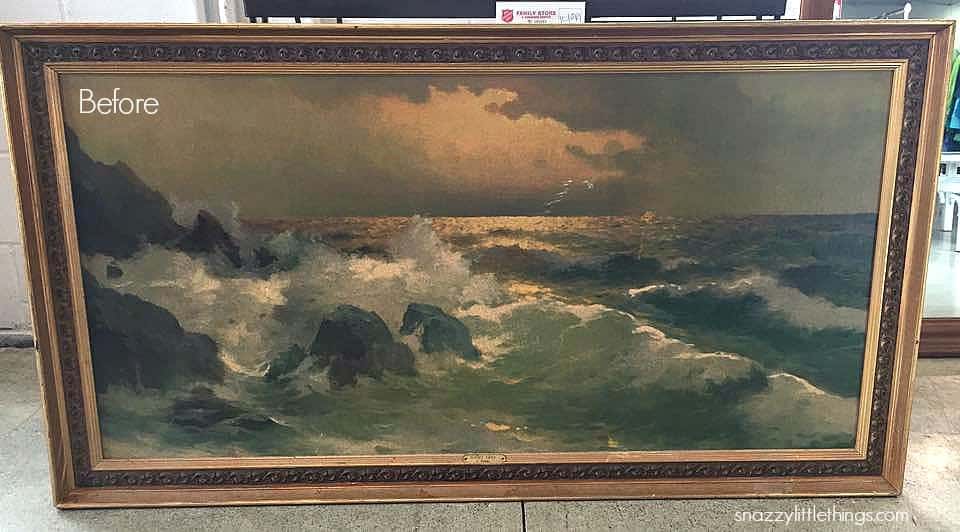 This reminded me of 1960's art from old motels. So I did a little research and found out…I was right!
My family doens't hold back when it comes to first impressions:
***
"Ew!" – my husband, (biting his tongue trying to be nice. He's smooth like that.)
"I think it's PRETTY" – my 11 year old
"Reminds me of vacation," – my 15 year old
My response?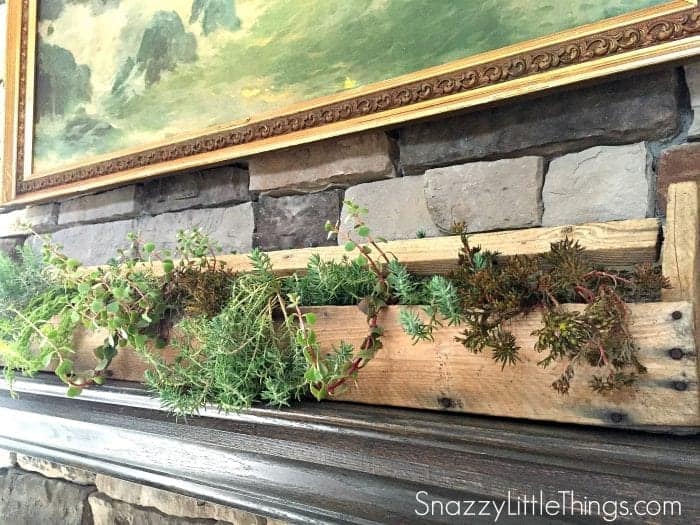 It hung above the mantel for about 6 months. To be honest – the seascape started to grow on me.
Even this piece deserved a chance. And I don't like to be a "quick draw" with the paint brush. I enjoy creating contrast and juxtaposition when I decorate. I mix old with new. Weathered beat up wood, next to something shiny and bright. Light against dark backgrounds. Dark against light backgrounds. And in this case, seedy motel art mixed with a classic background :)
After awhile, the verdict was out. We didn't love the gold frame, but we wanted to salvage the art. Maybe someday we'll decide differently. But for now, that's the direction we're going.
Ok, so now the paint brush was calling my name.
Step 1: I taped off the edges, then drybrushed the frame with Martha Stewart Chalk Paint – just enough to highlight the embellishments. I'll be honest I was dying to do this for months, I don't have a lot of gold in the house, and I knew it would be beautiful. One drybrushed coat is all it took to make it "pop".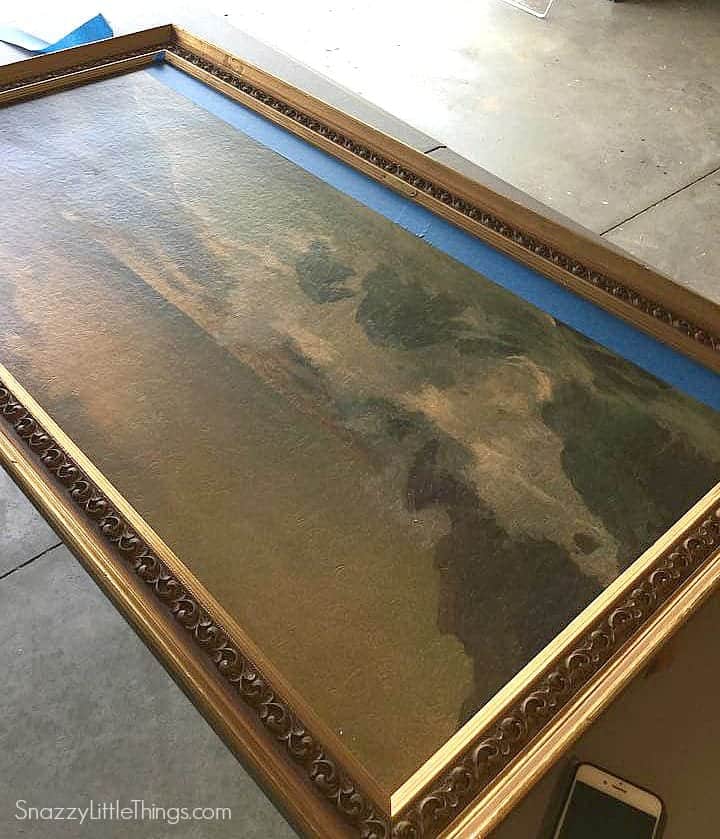 Above: taping off the image so that I could paint the frame
The paint I used:

Plaid Martha Stewart Vintage Decor Paint, 8-Ounce, Smoke
(affliliate links included throughout this post)
Step 2: Using a tape measure or exacto knife, cut large piece of paperto fit perfectly over the canvas. I recommend these large rolls of paper that actually serve as a background in photography. Here is the one that I used:

Pacon Fadeless 48X50 Weathered Paper, Wood (0056515)
Step 3: If you want a permanent solution, you can carefully Mod Podge this piece right onto the old canvas, but keep in mind that there is no going back once you Mod Podge. It's permanent. In my case, we only wanted to cover the seascape temporarily. So I sprayed the back of the paper with repositionable adhesive spray, and tacked it down onto the canvas once it was sprayed (I did not spray the art itself, only the paper).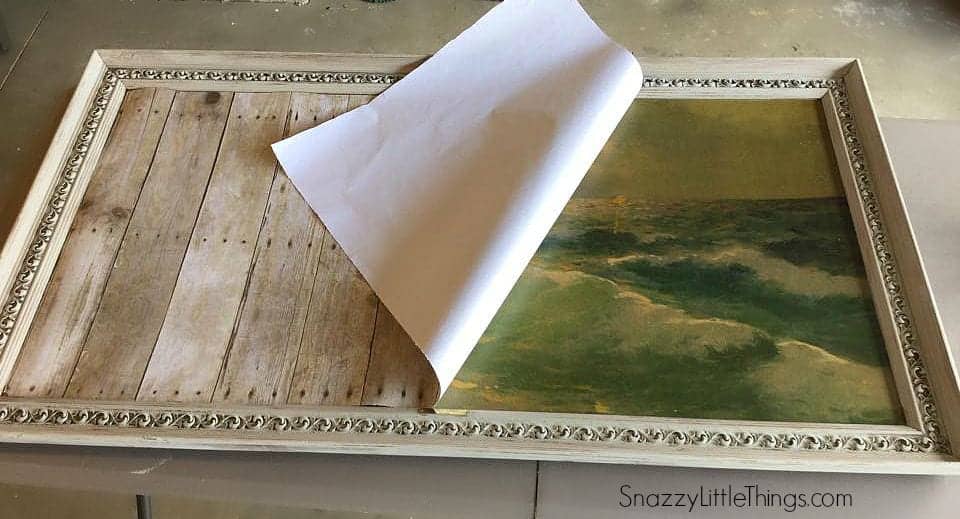 It fit like a glove, and I couldn't believe how gorgeous it already was. We talked about the options and what to do next. Vinyl appliques might work, but I opted for a 3D effect by hanging a floral wreath off the back. I created the wreath using floral found at Walmart. Hung it in the center, then rehung the art over my mantel.
This worked much better than the gold and blended with the rest of my room decor.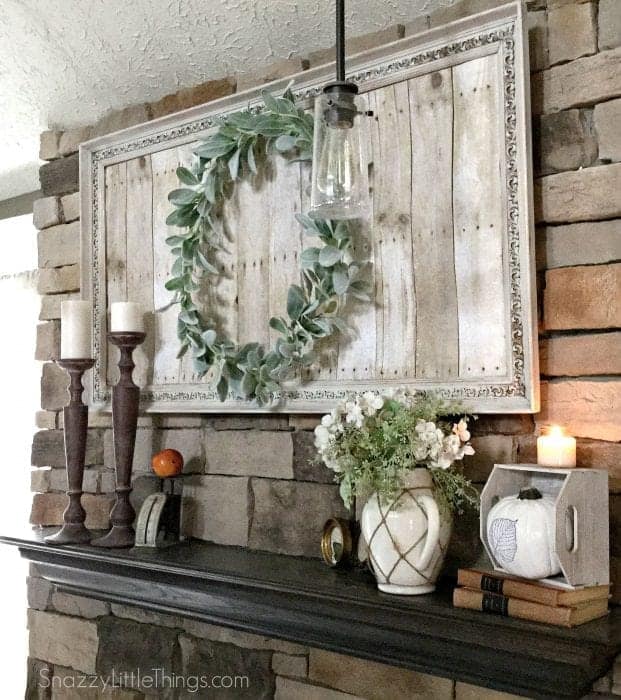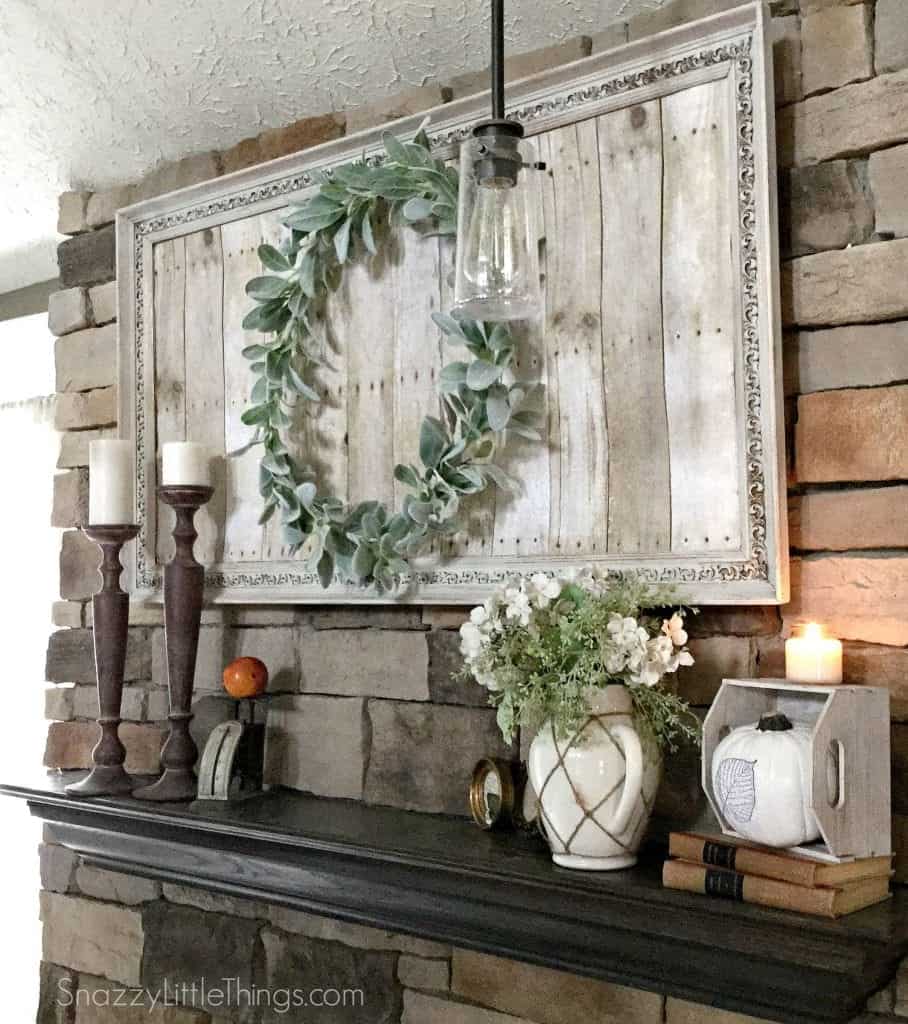 Up close shot of the finish. The best part is this can be repurposed again by removing the faux wood / paper cover.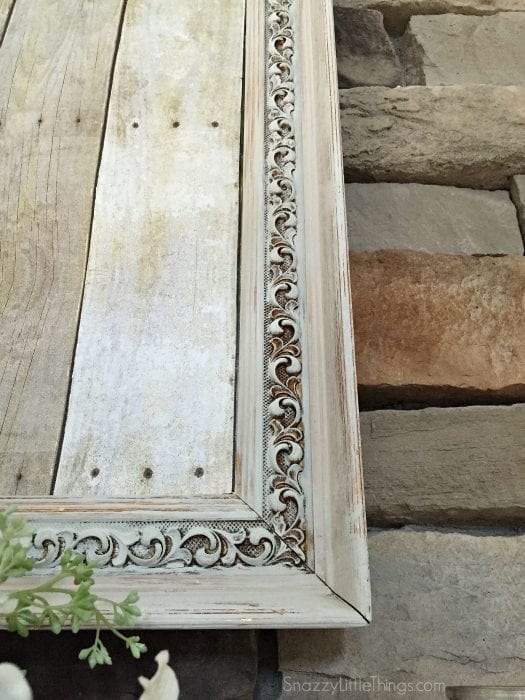 So. My kids are happy. I'm happy…my husband is definitely happy.
And if we ever need our seedy hotel art fix, we can always remove it and display it again, in all its original glory.
Thanks for stopping by!