Happy Sunday! We had a super easy DIY today in our sunroom. We added a little (well, an oversized) "personality" to this space.  I'll explain more later. But first, here is how it once looked years ago. The sunroom has been one of the most difficult rooms for me to decorate. The first major challenge was I had very little furniture when I first moved in (as you can see in the picture below).
Eventually, I'd save enough money to invest in new furniture, and upgrade the flooring. I love the room, but it always tends to feel a bit disconnected with the rest of the house. The person who sits out there alone tends to feel like they're being punished–which tells me I still have work to do. So making the room more cozy and giving it a "purpose" is my goal.
I started to make some strides these last couple of years. The sunroom is a great reading room (so much natural light) but there is very little space for bookcases. I like to maintain the open airiness of the room. Window seats are pretty, but I don't find them especially comfortable — and I like having open access to the windows and the corners. I have a need to clean every corner and crevice –especially since I have a Sheltie that sheds his own body weight every day.  So now, maybe you can understand my dilemma.
For years, I stayed in the safe zone with my decor just in case I had to sell the house.  Beige and browns…
But, I was bored. It was becoming obvious to me since I'd experiment with darker colors and patterns. My thoughts drifted towards a color change. I wanted something a little more bold.
We added the wood beams last summer, which opened the door to an entirely different vibe in the room. Right before Christmas, I decided to take the plunge and go "dark".  Here is our new paint color:
Above: Benjamin Moore Kendall Charcoal
I wasn't too worried going this dark since it's a room that consists of mostly windows. The walls are barely-there, and I knew I wanted to go with a brilliant white-against-dark contrast with whiter curtains and trim.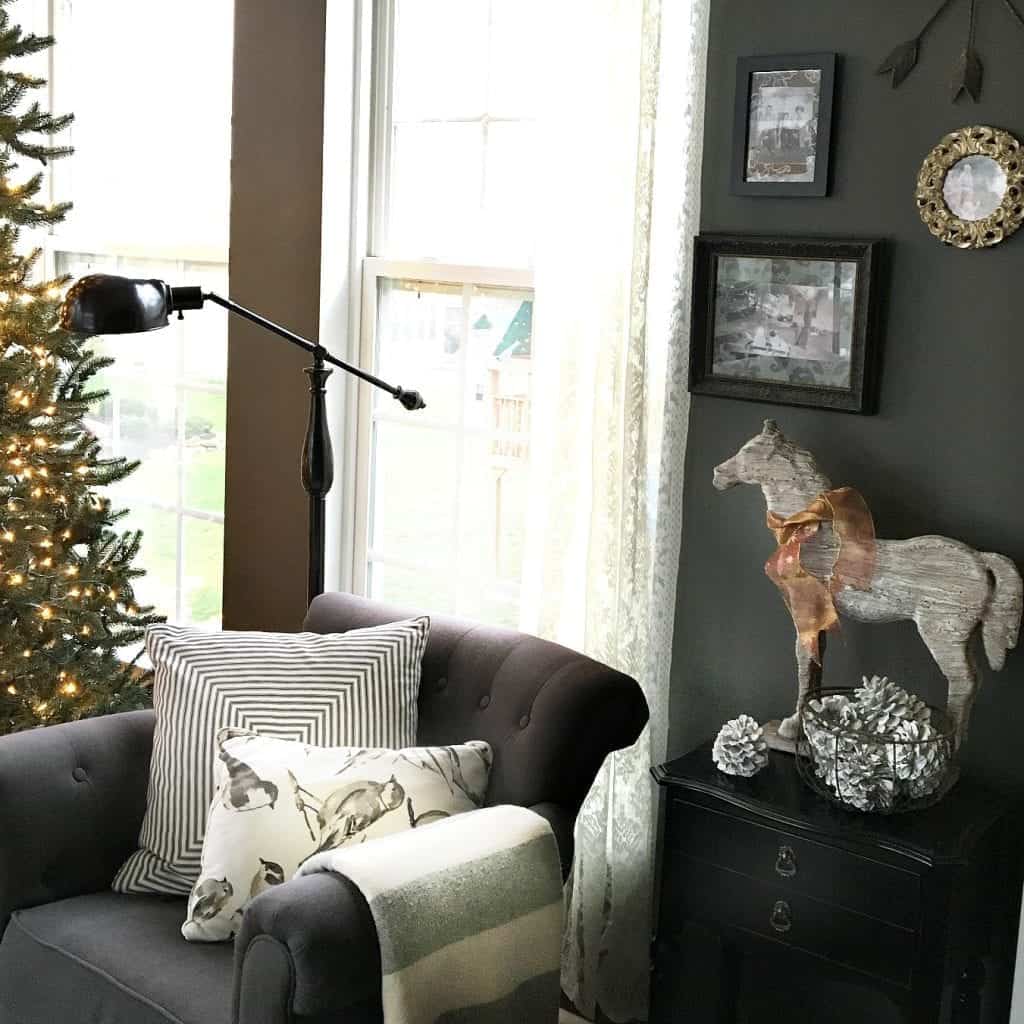 After the holidays, I was free to finish the rest of the room. Mark and I pooled our Christmas money from my in-laws and his aunt, (who totally spoil us, by the way). We opted for yet again, something a little quirky–which fits us perfectly.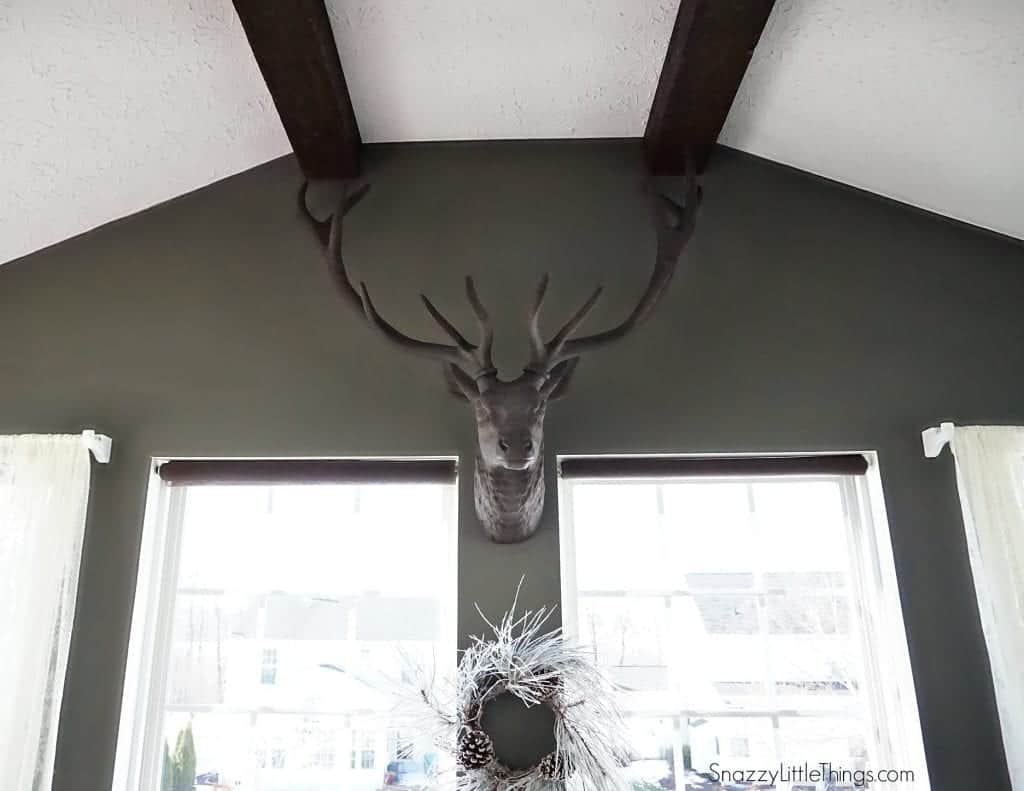 A metal rust stag head mixed with lace curtains. Two very different and distinct "personalities"…for sure. :) And Buck has quite the presence all on his own.
As luck would have it, "Buck" didn't quite fit in the space above the windows…(of course! his antlers were way too big). So we placed him between the windows. Some people wouldn't agree, but not everything works out perfectly. You just have to work with the space you have until it feels right. Once I removed the curtain rods from the two middle windows, we ended up loving his placement. I'm still moving some things around a bit trying to make sure everything fits. I'm sure the wreath will end up around his neck soon…but that is a two person job.
Below gives you an idea how bright this room can get. Here is the afternoon sunlight pouring in. Now, I'm sure you can see why I wasn't afraid to go dark on these walls. We're thinking of adding some pretty, white plantation shutters for some privacy. And I'd love to plank the ceiling — but I dread the thought!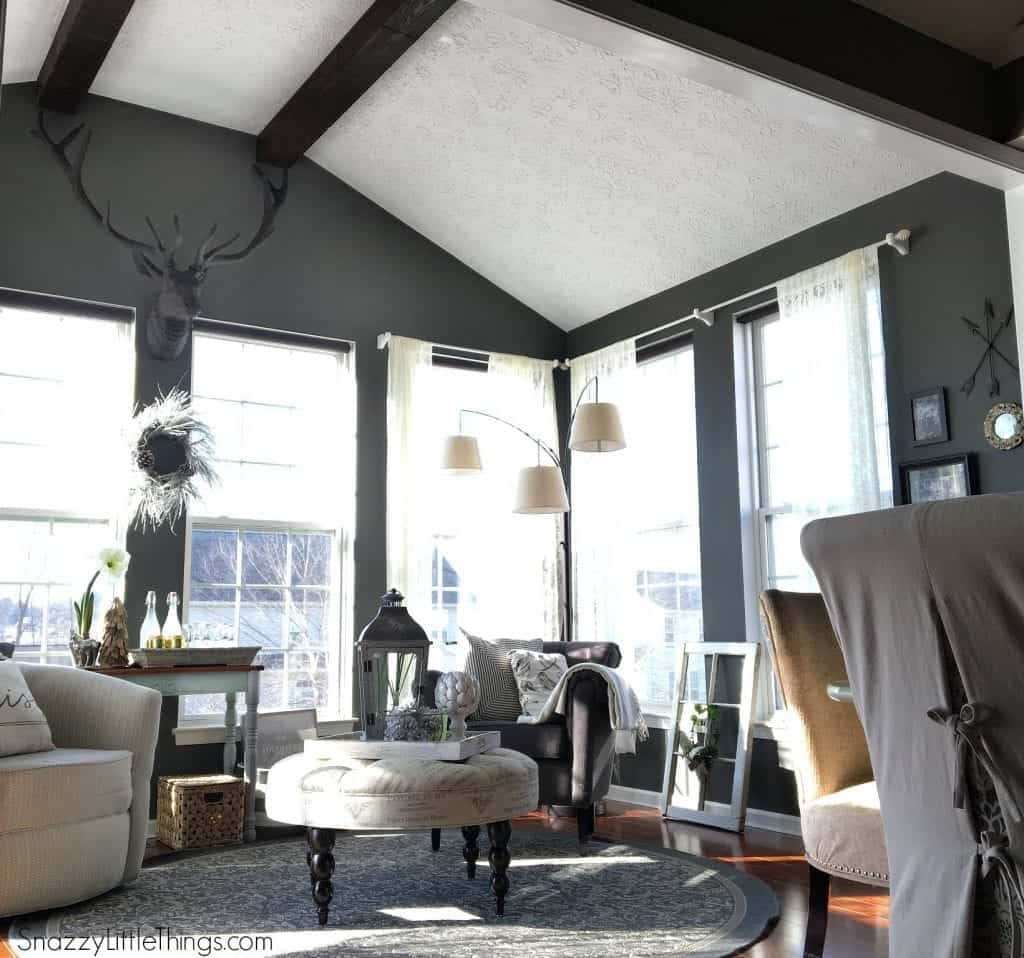 I'm still working on the room, and have a few accessories I'm still trying to work in. I have always hesitated just throwing in pops of color willy-nilly. But with this new palette, I'm ready! The beige walls always threw me and were just a bit "off" and I could never figure out an accent color that worked with the rest of the house.
What pops of color would you add?
I have a few in mind, but I'd love to hear what readers think! You always have such great ideas!