This week I put more energy and focus on Youtube, and would love to invite you to follow Snazzy Little Things on Youtube as I roll out my new and improved channel. There is a red "subscribe" button on my Youtube page, so if you follow along you'll be notified when we put up new content!
Follow Snazzy Little Things on Youtube
As for the topics, there will be new projects, old projects revisited, and collaborations with other bloggers. With almost 350 already-existing posts, I'm tasking myself with finding ways to feature my "best of the best" projects into fresh, new video. I may recreate some of old posts into video, or even give you a walk through of the exact process I used. Bear with me as I experiment with my limited video editing capabilities. I tend to be a perfectionist and I'm very self-critical when it comes to putting myself up on a screen.
About Rebuilding Confidence:
Now, if I can be totally raw, I'm going to share a bit more about me.
These last two years, I lost my way with blogging. But I was especially terrified to put out any video of myself. I didn't used to be this way. In fact, only a few years ago, I did on-screen web commercials (like a talking head) and was paid to "model" so to speak. I did silly infomercials (all the bad acting and annoying voiceovers included), but I had a blast! One of my commercials even ran continuously in a well-known craft store for awhile.
All I can piece together is that some life events occurred during this timeframe that had a major impact on my self-confidence.
I normally will myself to "get over" things and move on. And I normally do. So I guess I'm shocked that I allowed this to affect me as much as it did.
I've been lucky and enjoyed a strong career most of my life. But during my last software sales job, I had a notoriously horrible boss. Prior to him, I was very content working for a different manager in a different role. Yet my "future horrible boss" approached me several times about moving back into an outside, traveling sales role. As a 40+ year-old mom, I knew what I wanted at this phase of my life. I was very upfront about my limitations when it came to travel because I wanted to be near my kids and my husband. I didn't want to be absent from my kids' lives and gone Sunday through Friday. But after several negotiations (and incentives) I accepted the outside role — wrongly assuming that we had an understanding.
Almost immediately, he talked down to me very publicly on conference calls in front of the entire team. He was dismissive of my past successes as well as any ideas I offered on conference calls. He began speaking very slowly and loudly to me – as if I didn't understand sales 101. I tried to ignore it or even deny that it was happening. But it became bad enough that my co-workers called after conference calls to see if I was okay and to offer their sympathies.
Eventually, I realized the gravity of the situation, and I was not okay. It was taking it's toll on me personally. I was behind the wheel of the car constantly. Eating on the road. Gaining weight and losing confidence in my abilities as a sales person. I became timid and unsure of myself in every meeting. Somehow I believe his treatment was all part of his plan. .
I had a four-state territory and would be gone several days per week in addition to my trips to Israel. My "lack of" travel ultimately was his issue. Ironically, other reps were traveling far less than me. But whatever his reasons were, the target was on MY back. He rarely attended my client meetings. What few he did attend I felt like he was evaluating and observing my every move. I was critiqued to an extreme, and sometimes, in front of customers. I was the only female sales rep in the company, and here I was working for a misogynist. I even contacted a lawyer who felt that I had a solid case of workplace discrimination. But I never pursued anything.
I'm not new to the workplace rodeo, so I understand the need to prove oneself. But at the time I left, I was at 96% of my sales quota. Taking your lumps is normal when your numbers are down, but there was absolutely no reason for me to be personally attacked every single day. I've experienced the reality that when you reveal that you are M-O-M in certain workplace environments it's a sign of weakness and vulnerability – and it's especially risky in the technology industry.
Needless to say, I don't work there anymore. Slowly, I am willing myself to "get over it" and to bounce back.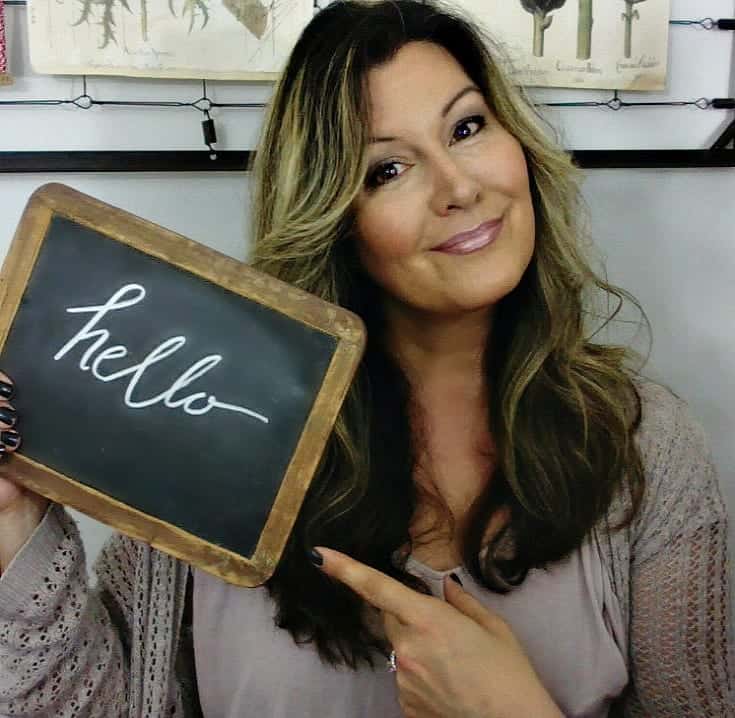 Blogging is a great way to "hide" from the world if you allow yourself. But there is no hiding in the world of video, so I see this as a step in the right direction. A few years ago, vlogging wasn't really a thing. I did private videos with subscribers and it was a lot of fun. But now, video is THE thing.
If I can make video a regular part of my posting schedule, without overthinking it – I think it could be even easier (and more fun!) than writing.
Am I right? Let me know if you'd love video and what kind of weekly topics you'd like to see from me. Here are some ideas:
Topics:
1) Home tours from beginning to end of a room transformation
2) Detailed tutorials (overhead shots)
3) Weekly "Answering Top 5 Questions" on the blog this week – like a video chats
4) Other ideas?
Thanks as usual for all of your input – I love it when you all comment on my posts, it makes me feel connected to real people and makes blogging so much more fun (for me). You all have great ideas. And I promise I'll attempt to answer each and every one!