Today I have had the best birthday. I can't remember a November 6th when I had my windows open and the heat off in my house. And last night, my daughter and I walked around the high school track with no coats on. What a gift!
But tonight, my family surprised me with something I've been wanting for a very long time–a brand new camera!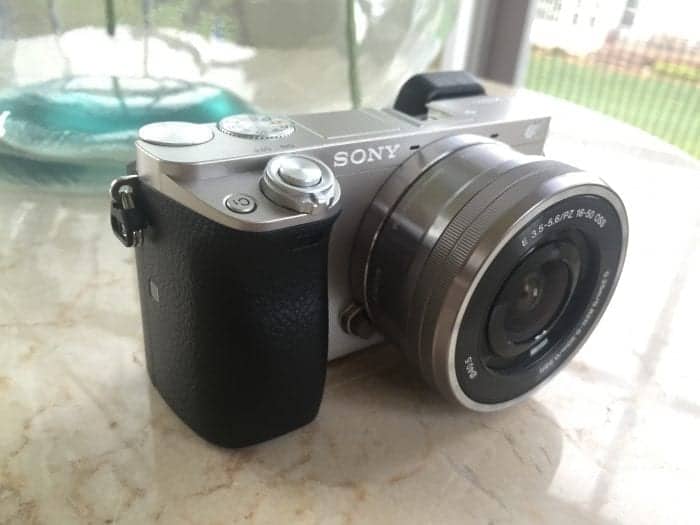 Here is a glimpse, my affiliate link if you're interested in purchasing the a6000. It has a lot of bells and whistles, so it will take some time to get used to it. My husband and I are both in IT, and tend to do an inordinate amount of research on technology before we invest…and this was my husband's pick for me.
Ok, so now I'll let you in on my little secret — for the last three years, this entire website has been photographed with an iPhone camera. Specifically…this one.

Proof that all you need to start a blog is a broken iPhone, and to start writing 🙂 If you've always wanted start a blog and want help? contact me! I'm starting to wade into the world of blog consulting services.
I broke the phone while school shopping with my daughter in August. Concrete floor at The Gap-meets indestructible iPhone protective cover. As you can see the iPhone lost. I could have replaced it, but nowadays, insurance seems to cover nothing. Plus I was setting an example…I always tell my kids that if you break an iPhone, then you have to live with it. Well, this is me, living with it. Yes, it is definitely time to retire the iPhone camera. I know that photography is it's own hobby unto itself, so I'm very excited. I owned my last "real" camera 10 years ago. It was my high school yearbook camera, it was 100% manual, and while it wasn't worth much…it was stolen with a full roll of film on a gorgeous Labor Day in a park when my daughter was just a baby, and I never could justify the cost to replace it. I can't wait to bring you prettier pictures and tutorials in the future.
 ~ My Gifts for You ~
I'm happy to announce my new and improved "member freebies" area on snazzy. It's the least I could do…you've been extremely patient as I make this area of the blog prettier and easier to navigate. (And speaking of gifts, one of the biggest giveaways I've ever hosted can be found in my holiday gift guide blog hop–you won't want to miss your chance at winning over $5,000 in freebies!!). 
***
Here is a glimpse of the new and improved freebies page: 
Subscribe for instant access to all of the above + many more
This is where I offer printables, building plans and DIY videos for loyal fans and subscribers. I've been working on this for awhile now, and still ironing out a few design kinks, so let me know what you think. I'm hoping that soon it will automatically recognize subscribers so that you won't need to provide your email address – I promise to continue working on this.  If there is a specific function you'd like to see on the blog, email me! I love a challenge (and believe me, web design certainly is) with the goal of making the blog easier to navigate. (See my blogging tips page, where I recently began providing blog support services, and providing tips on how to run a successful blog).
Some of the new functionality includes:
A gallery-grid layout (much like a store) where you can "download + print" or "view post" where it originally appeared on the blog.
Building Plans (our library is just beginning).
Live DIY Video Workshops:   Subscribers will be invited to join my live DIY workshops which will be announced via email.
Another screen shot of the building plans section…more builds to come!
…and a glimpse at how to access my DIY video workshop library:
Check your email for newsletters to receive full access!  Thanks for following along on this DIY journey.