Our Garage Woodshop Progress
Garage Woodshop – from upcycled materials
The perfect distraction from finishing my ever-growing list of to-dos? Craigslist
Introducing our new "salvaged" wood-woodshop. This part of our home is a work in progress, so bear with us. We found these cabinets online before we were able to paint the walls and the floor so we're doing things a little bit out of order. We're planning an epoxy finish on the floor, but he's already been able to build some beautiful things with this current setup.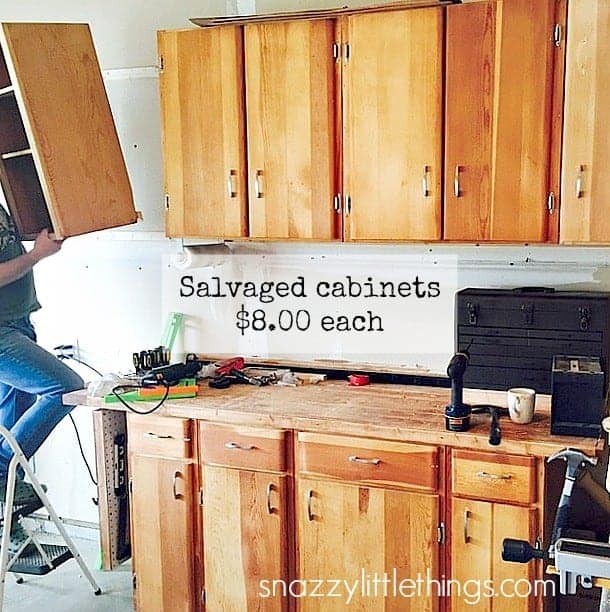 These cabinets weren't always this pretty. This is a story about "potential". So I'm starting with the after shots.
Until now our garage has been a disaster area as we move through the house making improvements. We had no real work benches. No workspace. We've been doing most of our DIY on my kitchen table and on whatever flat surface we can find. We've been making small investments in portable benches, still attempting to make this a usable garage.  But now…we have this…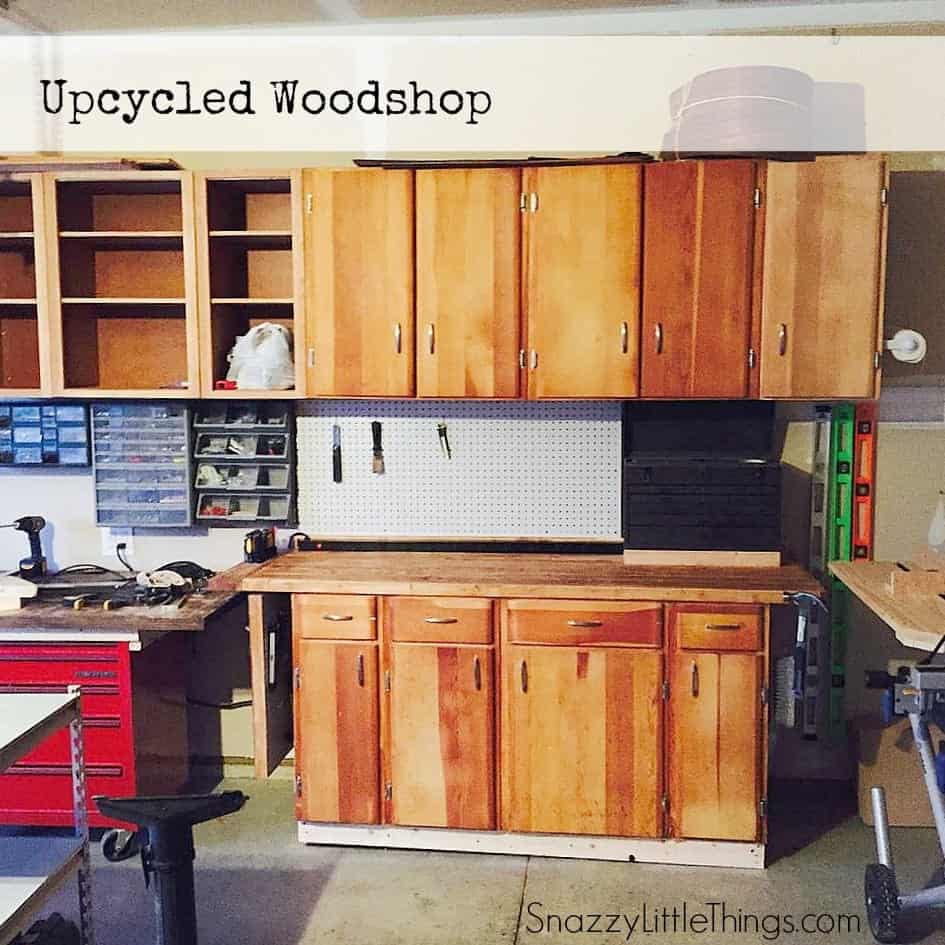 Sometimes you can't possibly make anything for less than what you would buy used off of Craigslist. We had all of these visions of a new woodshop supplied by a famous brand. But…for $80.00 and a little elbow grease, we're in love.   We have more to do here (such as painting the walls and the floor, but we are very excited). 
So…back to the warped, smelly and unfortunately timed part of this story…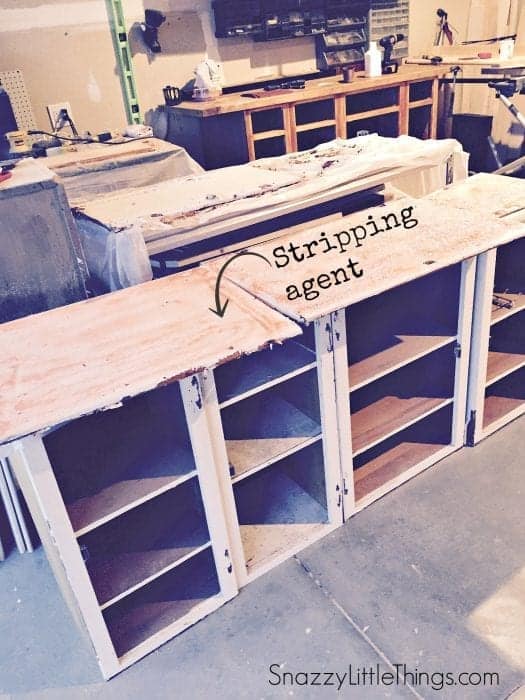 Yes, these were disgusting. But I had never witnessed such excitement coming from my husband over a Craigslist find. His almost guttural utterances of "they don't make cabinets like this anymore" had me convinced this would be worth it.  50 year old tack paper. Stains. Drips of food preparations from years past.
And lots and layers of paint.
My husband (and my son) accepted the challenge. They sprayed the cabinets with Citristrip (affiliate link) and let that sit 24 hours. This gives you an idea what we've spent the better part of May doing.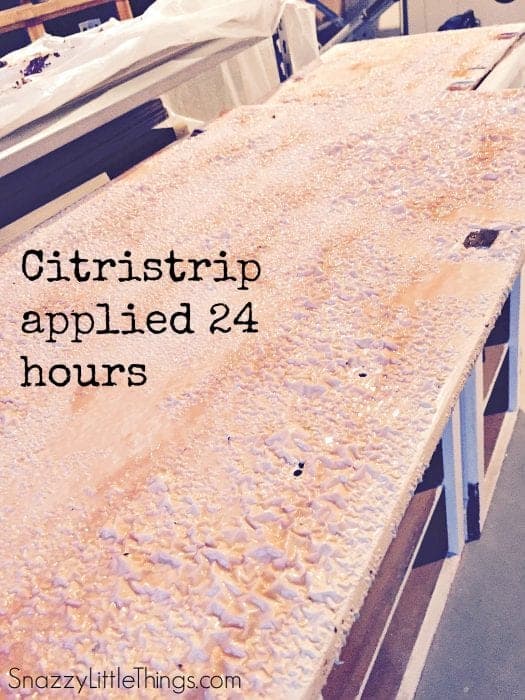 Gross! But fun…my son got a kick out of scraping and sanding.
Between science experiments Mark built the top out of scrap pine wood we had lying around. He treated it with a poly walnut stain (also in our stash).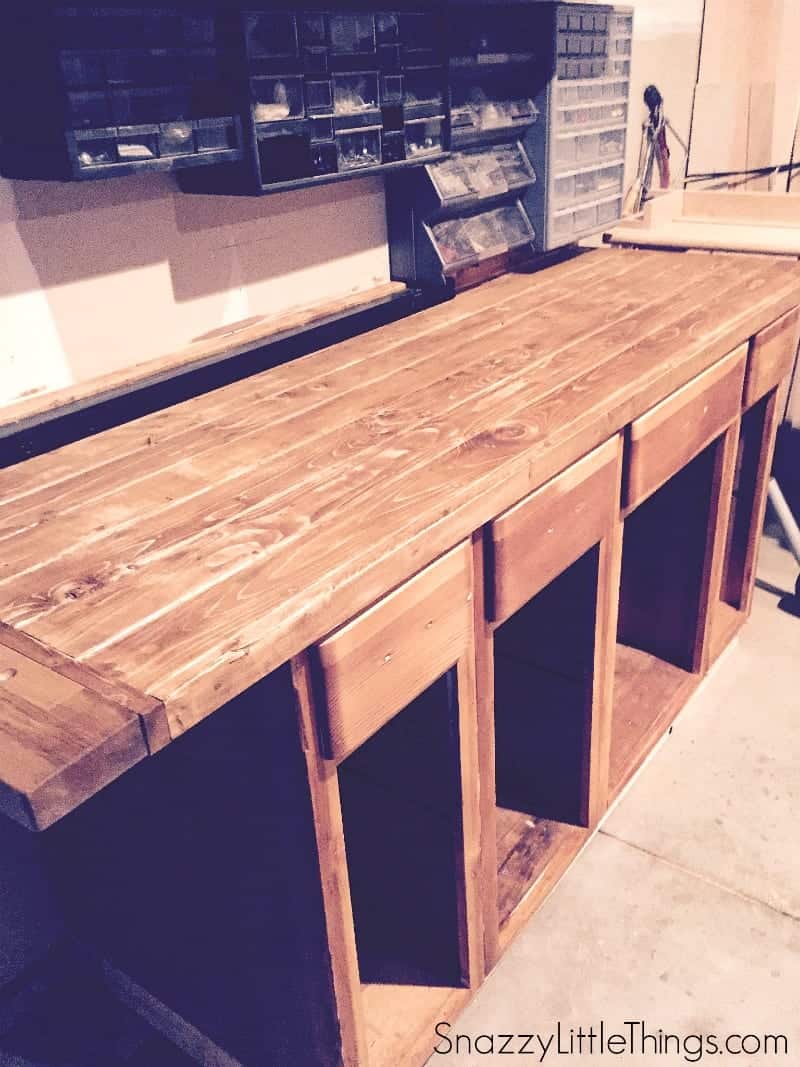 Then, we treated the cabinets with Watco Danish Oil.
Source list: 
Builders Hardware:  (handles on cabinets) $35 from Lowe's
Cabinets from Craigslist:  $80.00
Wall cleats (brackets to hang cabinets) — all scrap wood
Bench Top:  scrap wood (Seven 6′ 2×4's @ @2.00 each)
Citristrip:  4 x $7 cans of spray
Danish Oil:  in our stash
Total = $157.00 
One more look…we have a ways to go before this is a "finished" garage, but sometimes…timing is…what it is.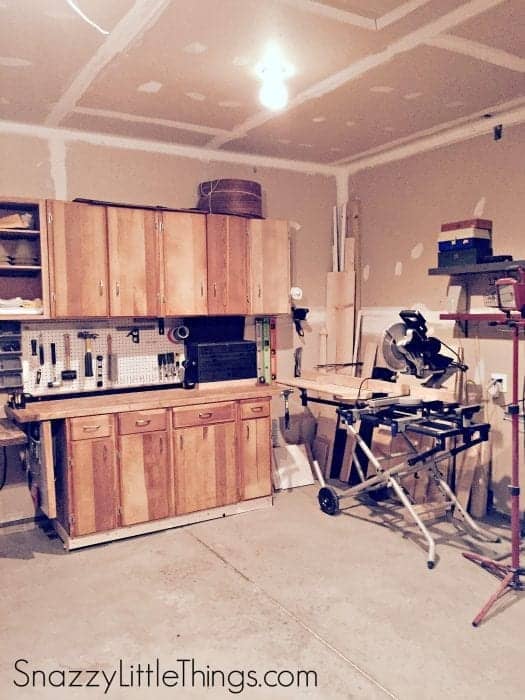 We'll keep you posted as we progress. I'm excited, too, to ramp up my woodworking skills. He's attending a conference with me this summer and will be in classes with the Ryobi, Kreg and Home Depot teams to make some furniture for Habitat for Humanity, so we're getting really excited.
Stay tuned!