Last Minute Halloween Decor Tips
Today I'll share how I pulled off my Halloween decorating in just a few hours simply by keeping a small "stash" of decor on hand every year. Most of this can be reused for upcoming holidays as well. I really get into Halloween and all holiday for my kids' sake, I love making memories for them.
The Front Porch: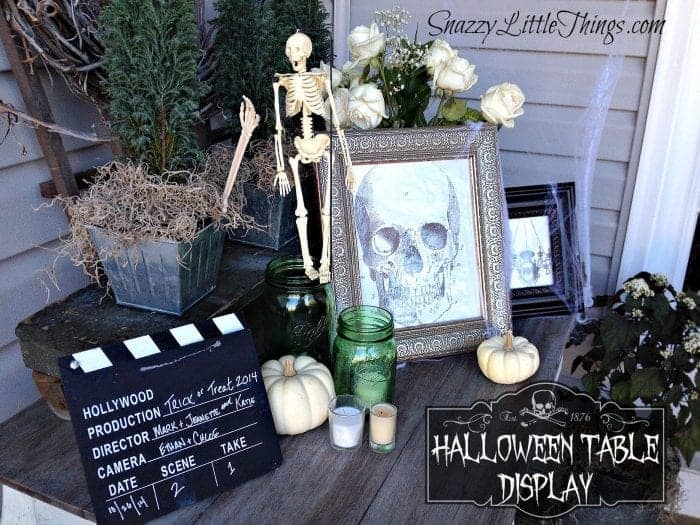 Front porch trick-or-treat vignette.
Tip #1:  Use Free Printables
I love visiting Karen at The Graphics Fairy. She offers a variety of  royalty-free Halloween printables to choose from. The skull picture can be found here and here you can download the bat chandelier. So fun!
Other ideas for a quick, ghoulish display:
Replace Family Photos: Use frames with existing pictures and temporarily replace family photos
Mason jars always make a good photo display – just drop in a printable for some added Halloween flair
Spanish Moss:  I find this is a good decorating "staple" to keep year-round. But it is very effective at Halloween, too
Dead Flowers:   You can never go wrong with a dead or dying bouquet of flowers. I just happened to have my roses from Sweetest Day, it worked out perfectly.  
Tea Lights:  Pictured above – these can be found in the wedding section at your local craft store, but having them on-hand for the rest of the holiday season is always a treat
Need some free silhouettes? I've got you covered…just become a subscriber for instant access to my free downloads.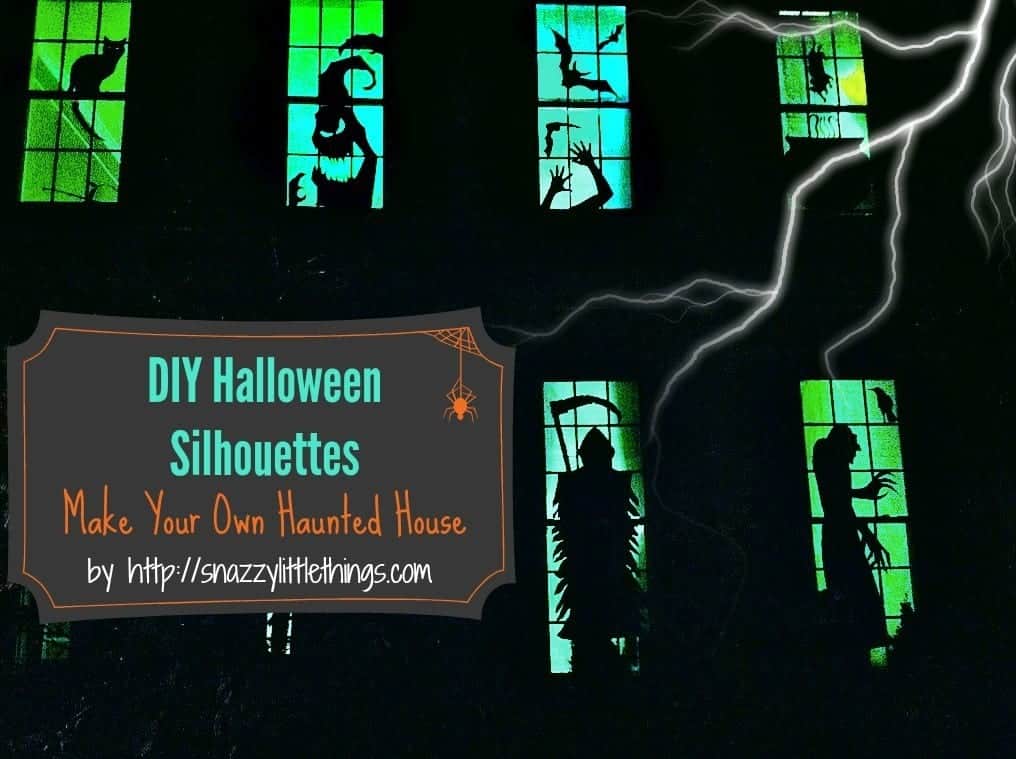 Tip #2:  Keep a Decor Stash 
Such as:
Faux Spider Webs — these are only a couple bucks. I keep several bags (pick them up after Halloween)
Green, Purple or Orange Tissue Paper (to line windows, making a "haunted house")
Green, Purple or Orange Light Bulbs – replacing the interior lights 
Black Construction Paper – silhouettes can be freehanded easily or downloaded if you need a ghoulish figure standing in the corner.
Chalkboard signs (to make a ghoulish greeting) — this is great for year-round use
Glow sticks — use for trick or treat — or even as a stir stick for a fun holiday party
Ropes / nets — (also great for beachy vignettes in the summertime)
Glitter Spray Paints – in case something needs a new look or touch up
I don't let my perfectionist tendencies take over. I let the kids have fun with this "holiday" and decorate until their hearts are content. They were so proud of themselves with their spider web creations:
Tip #3: Keep a costume stash
I've attended numerous school costume parades for my kids, which caused me to start keeping items that I thought we could re-use as a family. My stash has saved me many last minute trips to the store.
Wigs:  Brushed out and put away in their original packaging
Masks: Especially the high-quality ones. I clean them out with a Clorox wipe before putting them away.
Props: Even when your kids are toddlers, save their props. Think tiaras & crowns, nightsticks, police badges, magic wands, glasses & goggles. These can become reusable items as they get older, and sometimes undersized is even funnier.
Distinguishable Clothing Items: Think Capes & White Lab Jackets
Makeup:  Red lipstick / black eyeliner / white eyeliner. 
Stuffed Animals: You never know when you'll need a pet as a sidekick to complement your outfit.
Clearance items from the previous season. I simply buy and store them until next year.
Thanks to my stash, we pulled off some great costumes this year, mostly out-of-the-box: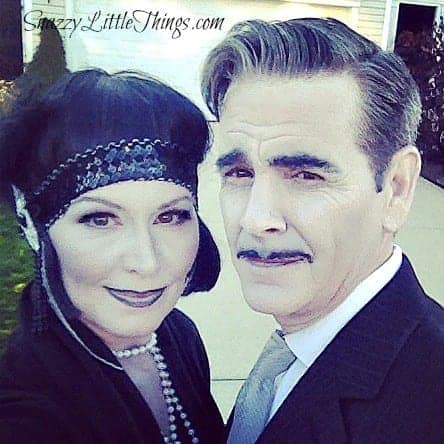 We were a black & white silent film couple. Our previous Halloween craziness using our "stash".
Hope you enjoy Halloween as much as we do!
Cheers!