It took us awhile to get the handmade aspect of our business going, but now we are in full swing! We seem to be gravitating towards neutrals, natural wood, greys and whites again. It's fun to witness the design process unfold once inspiration strikes. 🙂
Here is a behind-the-scenes look at some of the handmade creations coming out of The Shop. People want to get to know you and your craft, and they love to tell the story about the makers of the pretty items in their homes. I learned that it's important to mark your items "handmade by snazzy little things" or <insert shop name> at shows like Vintage Market Days.  Once the season is over, we'll make some decisions about what items will remain in our online shop. I love that the vintage and handmade shows gives us a chance to test the market to see what items are popular as we streamline our brand.
Handmade
…by snazzy little things
Wooden signs: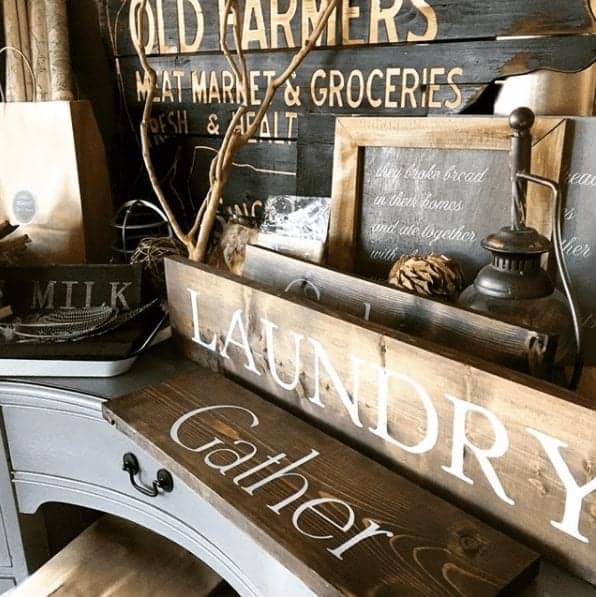 I realize I'm a little late to the whole sign-making movement and the market is filled with other shops who are already making beautiful signs, I'm learning that I can still differentiate by doing one thing differently…choosing unique fonts. For now, I thought I'd offer this quick preview of what's I've chosen so far which soon will be offered in the store. We are still pricing and sizing and determining what will be in our line, but for now, this is our little experiment.
Naming + Branding:
handmade by snazzy little things
It was time to officially create shopping bags and labels for our booth, so that means we had to settle on a name for the store. After much deliberation…it's still named "The Shop at Snazzy Little Things". I know, I know…not super kitschy or creative, right? But since we always refer to The Shop as in…"I'm going to work in the shop" it just stuck. The blog is what started our journey, so I felt having an offshoot using any other name would be confusing. Hey, at least it's authentic!  Once we settled on that…I ordered my bags, my stamps and created labels.
I have to say I'm really enjoying every aspect of creating a retail experience for customers. But wow, what hard work! And it's really pushed us to make some decisions I hadn't thought of before. From branding, to tags, to shopping bags, there is a lot to think about when you move from an online store to a real, physical location where people can shop–even if it is only for a pop up booth for one day.
Woodworking Pattern For Instant Download:
And…we created a new cathedral window design this week!
I hope you enjoyed this little preview of our newest items handmade by snazzy little things with a little bit of behind the scenes on what's coming in The Shop…handmade.