This post was written in the wee hours, past midnight Monday morning during one leg of my flight to Kansas City.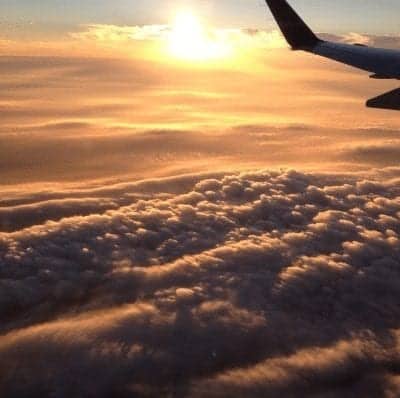 Above: snapped en route to Atlanta, GA.
It's past midnight, and I'm in Atlanta finally sitting on my "cancelled" flight heading to Kansas City. I can't DIY–so all I can do is sit here. I've been people watching…and I intend to tell you about it.
This travel adventure started at 5pm Sunday. I flew out early so that I can be on time for my early morning meetings tomorrow.
I'm not sure what the airlines are up to. The psychology behind announcing over the PA system to a crowd of 200 that their flight is cancelled (when it's only delayed) is a tad…I don't know…warped? This happens often enough that I now think it's the norm. What do you suppose that solves? Do they think people will just casually shrug their shoulders and go home? It evokes raw emotion, instant chaos, a line 150 people deep and babies cry. Babies always sense chaos.
It's interesting to see how a crowd of people reacts to the exact same stressor — a cancelled flight.
Some people think this is only happening to them. Others calmly pick up their cell phone to tell their loved ones. Some start working again. Some people just sit and wait it out.
I fall into the camp where the stress causes me to start chatting with other people around me. We bond, and talk each other through the mess.
Then, 45 minutes later, we're all corralled like calm cattle on the very same flight that was "cancelled".
Which camp would you fall into?
To quote my husband, "how in the year 2014, how did it become SO difficult to hop a direct flight to the center of our country?"
Good point.
Random thought now concluded.
**************
Preparing for a home tour
These next few days are jam packed with DIY when I come home. The fall home tour (which I am REALLY excited about) my "tour" goes live the last day.
I have a few more projects to squeeze in and pictures to capture before the natural light of the day dissipates, edit the pictures, write the post with Pinterest-worthy shapes, sizes and captions, then schedule them for a 4am upload for Friday morning.
None of that really stresses me out, oddly. Blogging has become invigorating again. And…these tours force me to put down the sander and make a wreath. Not always an easy transition. But I'm good with that. (My last home tour was over the holidays, Holiday Home Tour).
Back to my heartfelt cliches.
Thank you, random people, who found my blog and didn't click the "unsubscribe" button. That is truly a gift you have given me.
Thank you for your comments. Yesterday you proved to me that you are not just 256 fake IP addresses.
You're real, too.
The comments that followed my post yesterday was like a gigantic group hug. Followed by a little b!tch fest which of course required some tears and prayer for good measure. Sounds like a perfect girls' night out. I am good with all that if you are.
Thank you for understanding that sometimes the biggest writers block is when you fail to write with your authentic voice. I write the way that I speak most of the time, but sometimes if I edit my words ever so slightly, it doesn't convey the truth about what I'm really feeling. Being inauthentic is different from not being truthful. It's a delicate balance and I am learning how to accomplish this in my writing.
I feel like I can now have kitchen-island-type-of conversation while serving you a cup of coffee. Or beer.
You have no idea how much yesterday meant to me. The gigantic elephant in my mind in the room, was finally addressed.
I have to say, all of YOU put a , spring back in my step.
About the fall home tour…
Are you following along? Head to my Facebook page…this is where I will post home tours from my phone as they start happening. I love home tours, don't you?

Added bonus on Facebook: I wasn't thinking and posted snapshots of my "real" house, which is experiencing a bit of post-wedding-afermath.
So now you can smile a knowing smile when you see me publish my home tour.
Because, you know the truth.