You've come to the right place!
Welcome to my decorating series called the "12 Days of Christmas Holiday Home Tours".  Check the button on the right between December 3rd-13th where I will be updating it daily with amazing DIY craft ideas and amazing holiday decor including shabby, rustic, industrial and glamorous holiday updates!  I'm getting help from 30 of my talented friends who will share their homes with you throughout this series.
I'm doing a little decorating myself…but often go to Polyvore for inspiration.
But, before I dive in this morning and continue decking the halls, I'm taking a break and browsing around for some additional decorating inspiration. This year I'm mixing my old decor along with some new, twiggy-looking items to bring in a Restoration Hardware inspired theme…and having a bit of fun with it. I decided to hop onto Polyvore and put together some ideas that I have in mind, and I thought I'd share it with you here.
If you enjoy shabby, rustic holiday themes, holiday crafts, DIY and getting ideas and would like to see what other crafty folks do with their holiday homes.
Then Join the Party For My First Ever….
12 Days of Christmas Home Tours
This is where I follow 30 bloggers who will be graciously opening up their homes to us in "The 12 Days of Christmas Home Tours"…and I would love for all of you to stop by to join us! I will be updating  the page below everyday between December 2nd – 13th to share what these other talented ladies are up to.
Click the picture for the latest updates on the "12 Days of Christmas Home Tours"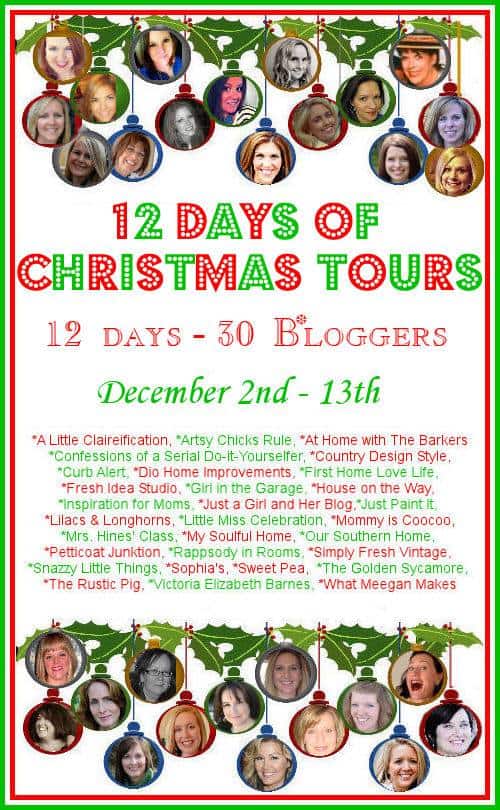 Here is the lineup of everyone I'll be joining:
Monday DEC 2nd
FIRST HOME LOVE LIFE
DIO HOME IMPROVEMENTS
Tuesday DEC 3rd
AT HOME WITH THE BARKERS
RESTORING OUR 1890 VICTORIAN
Wednesday DEC 4th
FRESH IDEA STUDIO
THE GOLDEN SYCAMORE
HOUSE ON THE WAY
Thursday DEC 5th
CURB ALERT
PETTICOAT JUNKTION
Friday DEC 6th
ARTSY CHICKS RULE
RAPPSODY IN ROOMS
Saturday DEC 7th
SIMPLY FRESH VINTAGE
COUNTRY DESIGN STYLE
Sunday DEC 8th
MRS HINES CLASS
SNAZZY LITTLE THINGS
Monday DEC 9th
JUST PAINT IT
THE RUSTIC PIG
JUST A GIRL AND HER BLOG
Tuesday DEC 10th
OUR SOUTHERN HOME
VIRGINIA SWEET PEA
MEEGAN MAKES
Wednesday DEC 11th
SOPHIAS DECOR
A LITTLE CLAIREIFICATION
GIRL IN THE GARAGE
Thursday DEC 12th
MOMMY IS COOCOO
LITTLE MISS CELEBRATION
INSPIRATION FOR MOMS
Friday DEC 13th
MY SOULFUL HOME
CONFESSIONS OF A SERIAL DIYer
LILACS AND LONGHORNS
Fa-la-la-la-laaa…la-la-la-laaaaa!
Related articles