Lately I've been dreaming of opening my own brick and mortar shop. I picture it being located in a quaint little town in an old building with a bright, open welcoming store front. With old painted tin ceiling tiles, wood floors and huge pane glass windows. I'd host weekly how-to paint workshops filled with friends, and coffee in the morning and wine and cheese at night. And I'd finally have a paint studio year round where I could unleash a little more of my bottled up creativity.
Until then, I opened my own online vintage-inspired home decor store called The Shop.
Since I opened in February, I've had so much fun learning about the entire process of opening an online store. I've always loved decorating and photography so this seemed like a natural next step for me in the creative process.
Each time I choose products for the store, it feels like I'm redecorating my home 🙂 I'm drawn to farmhouse wares and industrial items, with a little boho thrown in. I love staying ahead of the curve and learning what unique products are trending each year.
"Introducing: Deals + Steals"
I'm so excited to introduce "Deals + Steals" at The Shop, offering flash sale pricing on trending home decor. These sales are reserved for VIP members and is my way of providing you with exclusive deals not available to the general public. If you'd like notices of these deals, all you need to do is sign up here. But you'll have to check back often – our inventory changes frequently.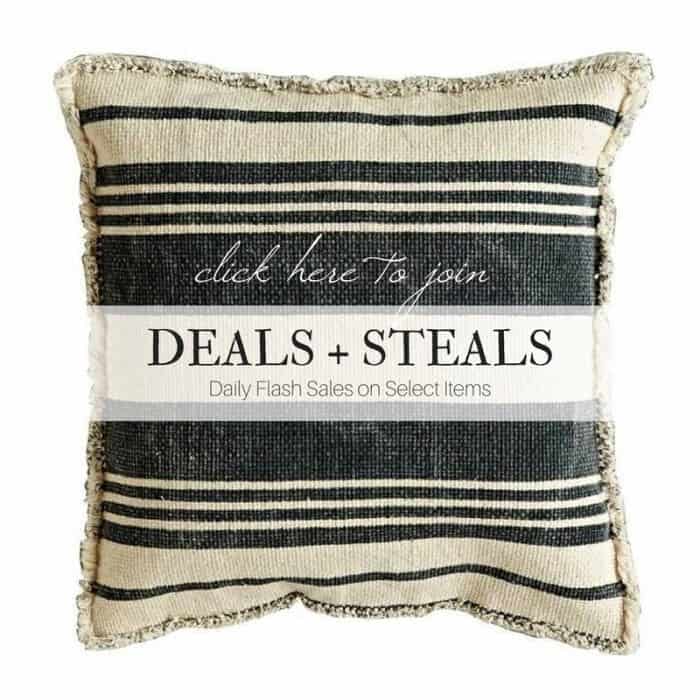 How it works: 
Once you sign up, look for an email with a link within 24 hours. Each week (Thursdays) you'll receive a notice about that week's deals. My inventory is always changing and moving quickly…so check the link often! I'll be adding one of a kind antiques in addition to farmhouse + vintage inspired decor that I source from vendors. I may even begin creating boxed "farmhouse" themed sets for you to purchase, it could be a lot of fun!
Join me LIVE on Sunday at 8pm Eastern: 
On Saturday evening, join me LIVE on Facebook at 8pm, (Eastern) I will be sharing video of some of the newest products in my store in a live video.  Just click this link and refresh your Facebook screen until you see my face 🙂 I hope to see you there!