Today I'd like to show you some surprising ways I've been able to pull off "almost free" decorating using my home printer. Some of these ideas were born in moments of desperation, but ended up becoming what my husband calls "moments of brilliance". Being on a tight budget has caused me to figure out some cheapy (yet elegant) ways to update my home. After all, necessity really IS the mother of invention.
Free Printables
This is probably the most obvious freebie of all — framing free printables. They're everywhere on the internet! Before blogging I had no idea this was even an option.
No special printing methods needed, just print, frame and you're done. The free downloads are available for subscribers, but I enjoy perusing Pinterest more and use them all the time.
Tile Printing Enlarged Art
Tile printing is something I do when I want to enlarge an image and use it as a template. You print multiple sheets of 8.5″ x 11″ paper then tape them together. If you aren't sure how to go about doing it, I wrote a tile printing tutorial awhile back that you might find helpful. I know, I know…it would probably be easier if I sent it off to a copier, and I admit to being slightly crazy for attempting some of these. Sometimes it's more about the artistic journey for me (versus doing anything rational. 😉 )
Paris Map Art (76″ x 55″) a decoupage project: – a project that I'm rather proud of. This was a piece of art that would have cost us upwards of about $1800 at Restoration Hardware. This only cost us $40!
A Ballard Designs Monogram "knock off" (for a buck!)
Then, there was this crazy horse project that I took on. This was done out of sheer determination since my image transfer attempt had failed me. You almost have to click through to believe what I did. But at least I prove that it really is possible.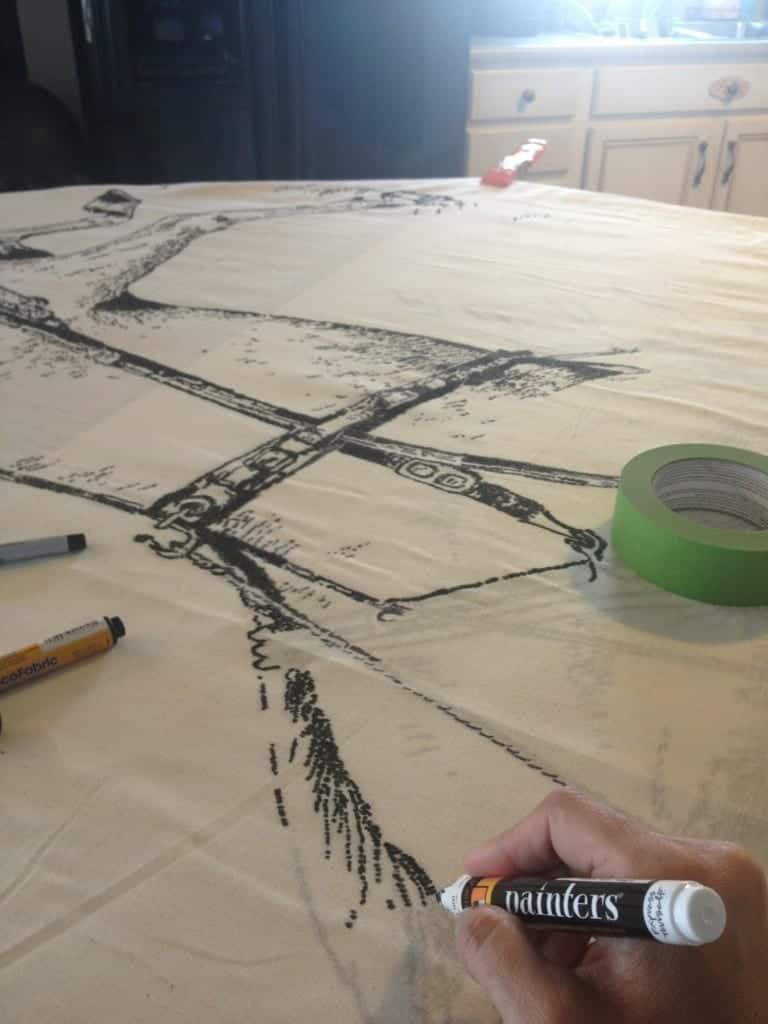 DIY Furniture Projects
Then there was this table that needed a little extra something, so I enlarged (tiled printed) a French advertisement and did an image transfer using transfer paper.
This $25 Goodwill table project goes way back, and I'll let you in on a little secret…
I had run out of the Paris poster art that I had decoupaged on the top of this table–but I still needed to finish a couple of drawer fronts with the same image. So I resorted to photographing the image with my phone, then printing out a sheet onto the front drawers. This helped me get the project finished, and no one can even tell.
I did a round up of 60+ image transfer projects, and in some cases a printer was used for furniture transfers. I'm sure you'll be inspired by some of the talent in that round up.
Running Copies + Framing
When we visited Epcot a few years ago I had all of the kids' silhouettes made. Just this week, I finally got around to placing the silhouettes face down on the glass, then ran a copy onto free dictionary paper. They look so pretty in our sunroom, and I evidently caught a picture of my t-shirt in my daughter's image.
Using my home printer has become my little workaround for not having a Silhouette or a Cricut die-cutter at home, too. Learning to be creative with it has saved me thousands of dollars. Even the cost of toner can't hold a candle to how much money we've saved.
What creative projects have you come up with using pretty paper and printer at home? I'd love to see!