Guys, I'm actually doing a craft.  One that I can share, that is relevant, and practical. Unlike my complicated, oversized image transfer art (that failed) that was nearly seven feet tall.  Not practical.  My new craft is one that you can actually DO.  And just to prove it to you…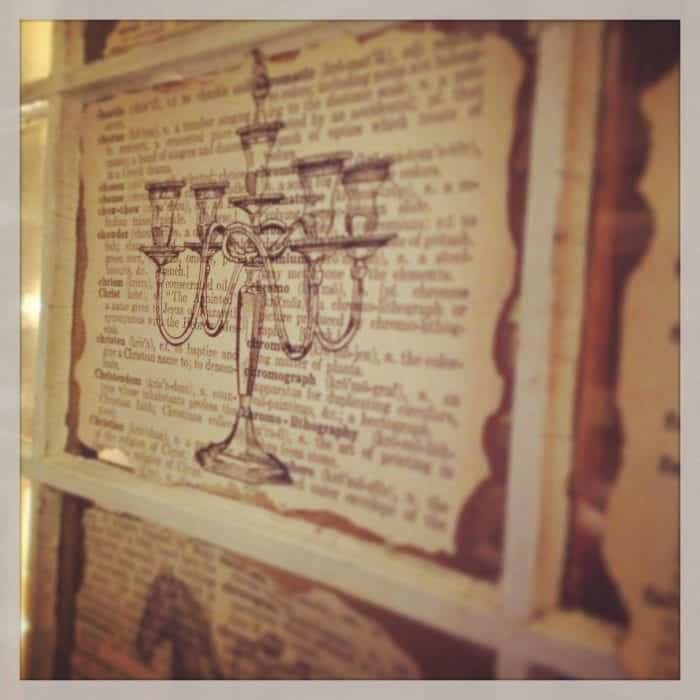 See above.  Don't blink, that was your sneak peek.
Yep, that's all you get for the moment.  Until Sunday.  I'm getting ready to reveal a LOT of stuff on Sunday.
Holidays come like a freight train, don't they? All year, I complain about my house being too empty. I'm too broke, too busy, blah blah. And I'm sure you've gathered during my super A.D.D. moments I choose to work on super-complicated things instead of something simple, like…buying a pillow. (Wait, a turquoise PILLOW?????!  Um, hello wall…meet sledgehammer).
Yes, sometimes I would rather do something complex…anything is better than making a permanent decision.  Besides, what if the trends change by the time I'm done patching my wall?  What if the pillows are a different shade of turquoise by then??!
And I do these things while my family sits on lawn chairs in the basement during movie night.  My family has grown pretty used to my cheapskate antics, and my kids totally realize that looking for the perfect Craigslist couches can sometimes take a WHOLE YEAR.
In reality I'm just undecided.  I'm sure you gathered.
Then…the holidays come, and…
BAM!
The North Pole takes a dump in my house. Santa, the Snowman, the Elves. They all move in like bad relatives, invading every bit of my barren sanctuary, engulfing any Zen there was, and worse yet… messing with my Feng Shui.  My homescape suddenly throws up glittering golds, greens and reds all over itself.
(In other words, not me…AT ALL).
Then again. It happens. January. It all comes down and put away.
Empty.
My heart breaks again, panic sets in, and I'm back to being confused again. I start feeling guilty about not buying that pillow.
Well…Mr. Santa…not this year, Bucko.  I'm taking my home back, I'm taking this vicious cycle AWAY from you this year.  Oh yeah? Just to prove my point, I went shopping and overspent on a pretty vintage candelabra, which will be sitting on my mantel. Exactly where you used to park it, making it impossible for me to decorate around your you-know-what.
My kids are kind of over your shtick anyway.
So…
Have you seen the "12 Days of Christmas Home Tours"????    Well…if you haven't, we are on Day 2, and my turn is THIS SUNDAY!   My house?  Well, it's starting to grow up into a big girls' house. Kids are getting older, which means my holidays are starting to evolve a bit, leaving room for my own personal preferences, and maybe a donation or two to Goodwill.
I can't wait to show you the fruits of my labor.
And the best part?   SOME of my crafts are NOT even Christmas related.  They are things you can attempt any time of year…and they can be displayed AFTER the holidays.  I'm talking year-round decorating here.  I'm pulling it off!
Don't get left behind…the tour has started!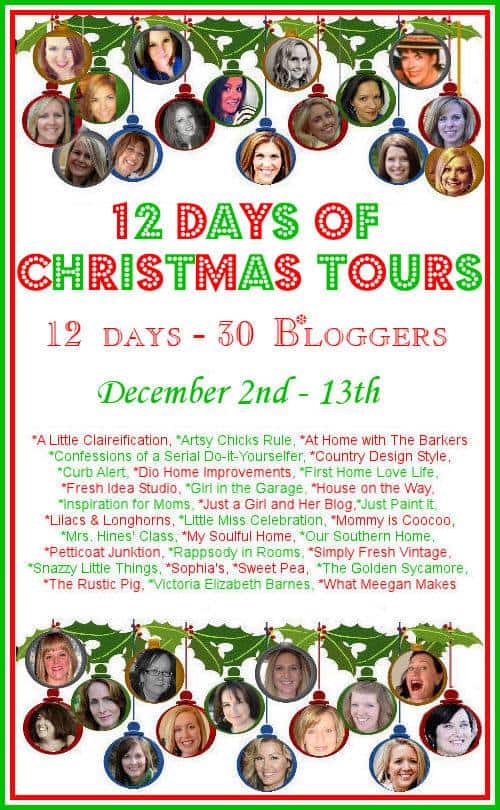 Related articles