Rustoleum Cabinet Transformation (Kitchen)
My kitchen when I first moved in back in 2005: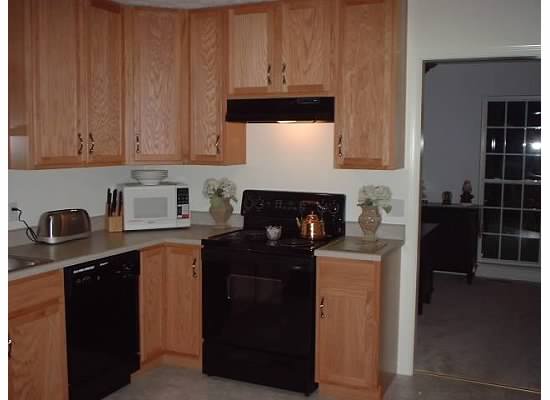 I added a wallpaper backsplash that year…I had NO budget for improvements (yet).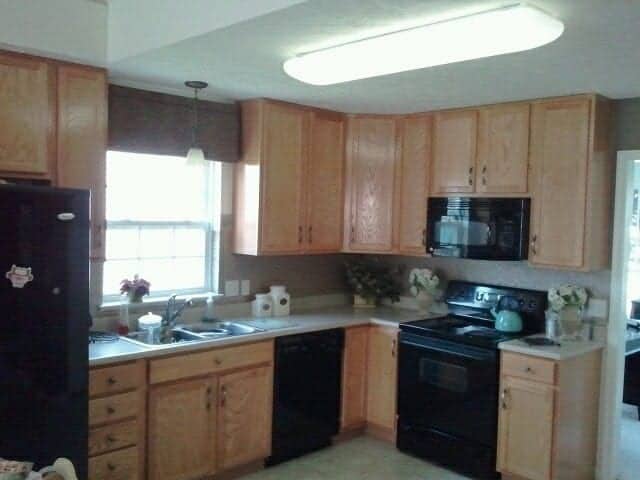 My lovely junk collector island that we later leveled and added IKEA butcher block.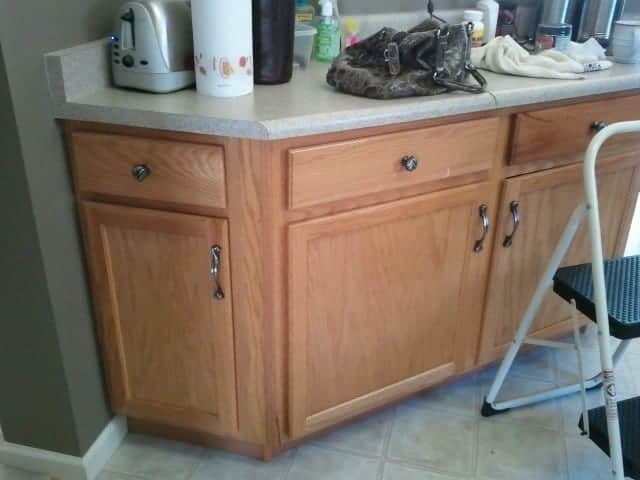 Our "first" after picture below…this is after investing only $1600…(we are now continuing our upgrades…see Kitchen Project Phase II to see what we are adding on).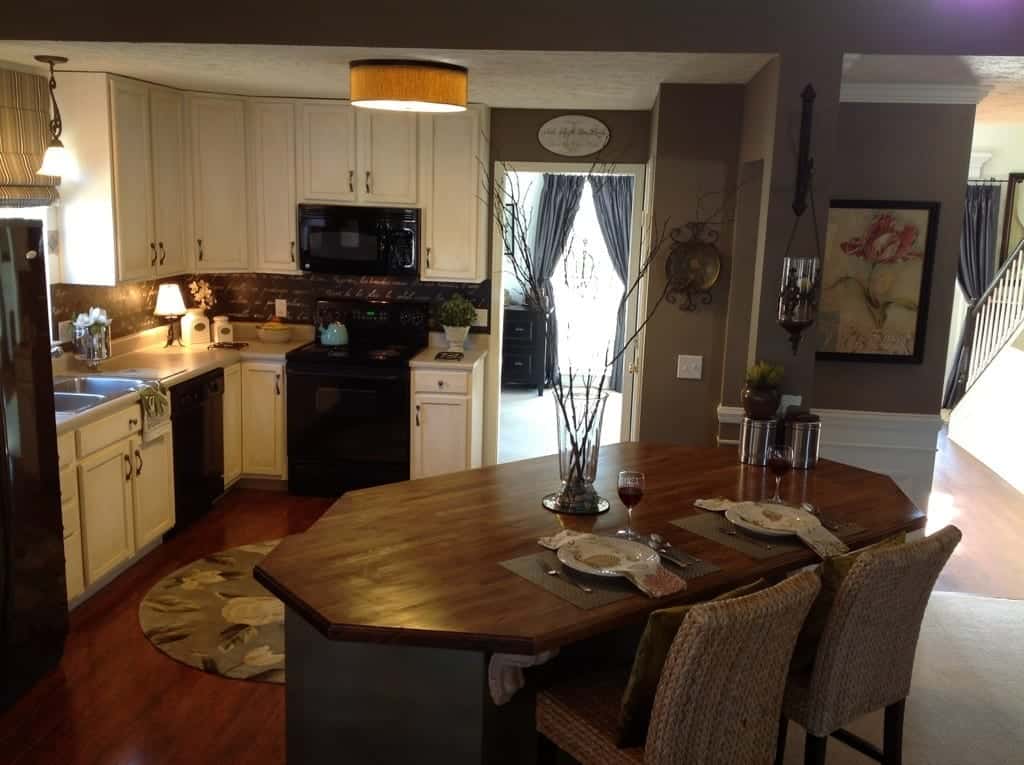 Below, just the white cabinets and no backsplash yet…(you can read more about the backsplash here)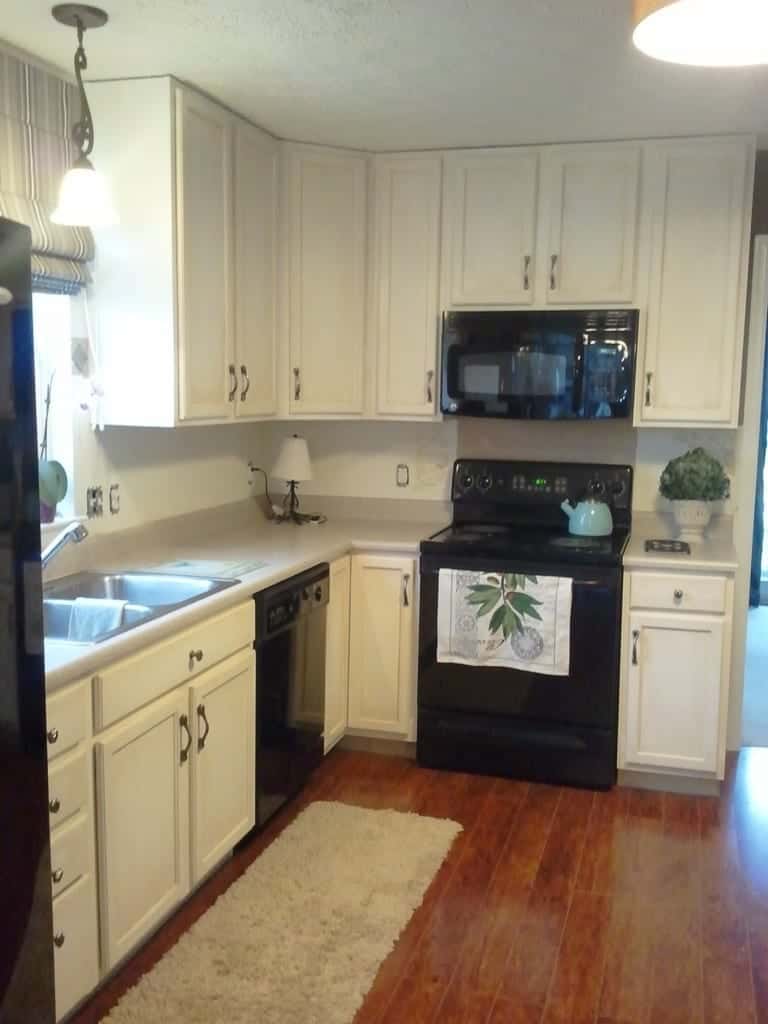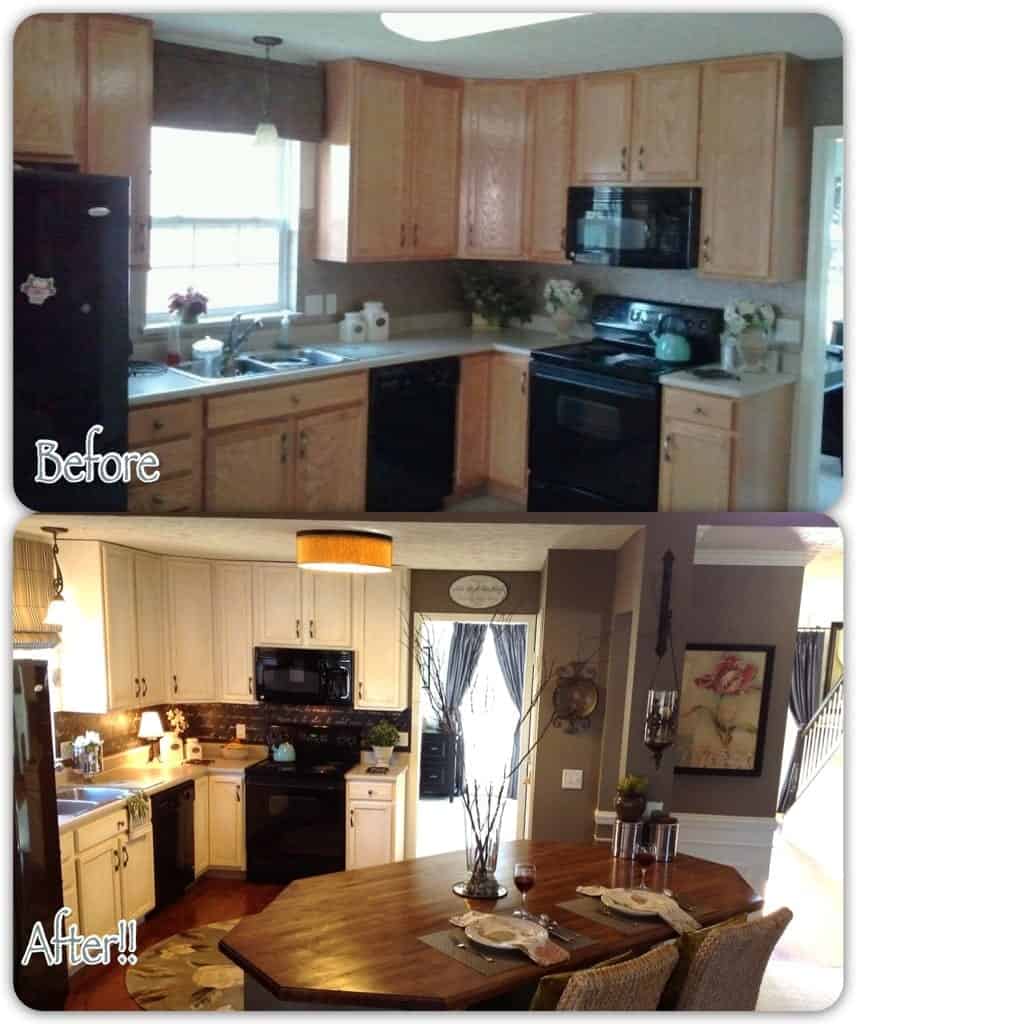 The lowest cost – highest impact remodel was my Rustoleum Cabinet Transformation in my kitchen, costing me $149 for the paint kit + painting supplies. I am was pleased with the results…at one time. The kitchen, by far, was the one area that I regretted choosing oak cabinetry when I built the house, but seven eight years ago, oak was desirable! Oh, how styles have changed in a short span of time, even distressed finishes weren't that popular back then.
Another view:
Up close of the cabinets, (but now we trimmed the cabinets at the top and bottom in our Phase II upgrades).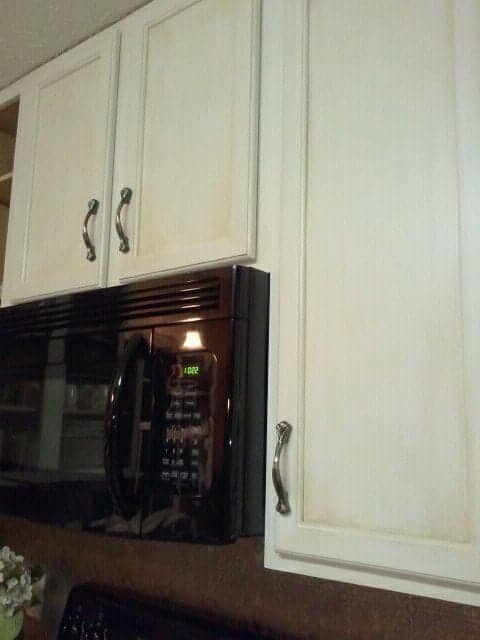 Aside from the nice big gap at the ceiling, do you see anything else wrong w/ the cabinets?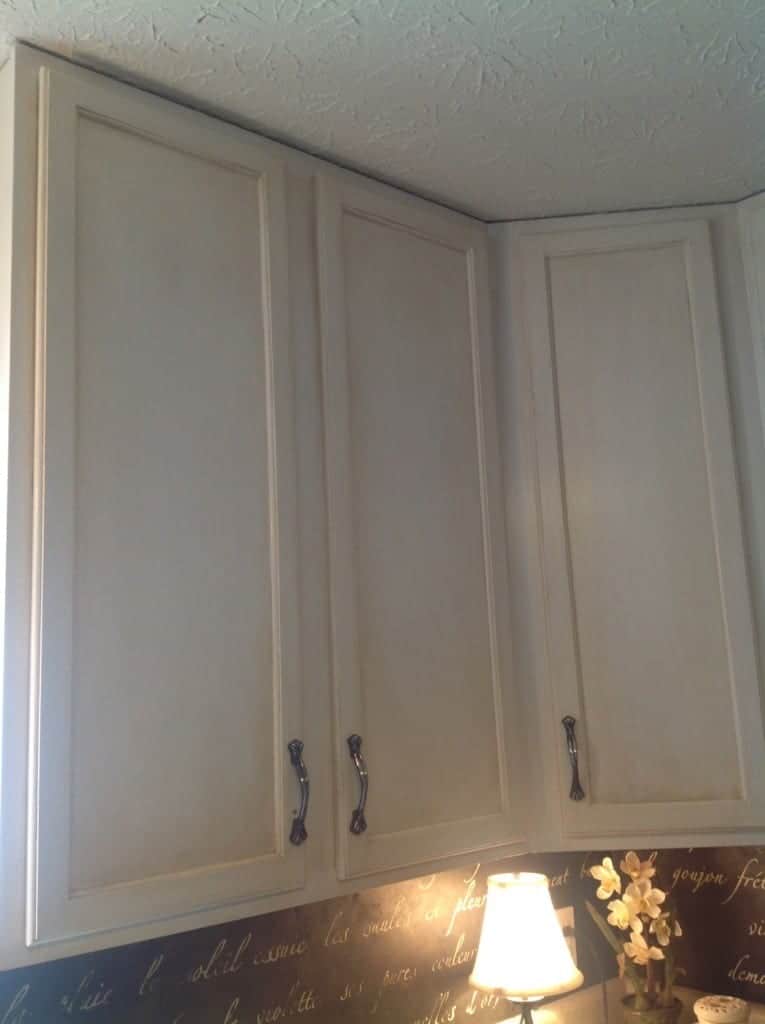 As I painted cabinets a year ago, I stopped this project several times because I had so many projects going at once. I started in August of 2011, it took forever…a single Mom project…kids in the house and all. Plus, you need to PRACTICE the process of antiquing with Rustoleum, it isn't the simplest. Would I do it again? Absolutely. It is one of the projects I am most proud of. No…a year later the Rustoleum paint is chipping. I'm now onto Phase II of my kitchen remodel, and I now plan to use chalk paint to cover up the Rustoleum issues. Had I known there was an easier way to antique furniture, I would have done this first. Lesson learned.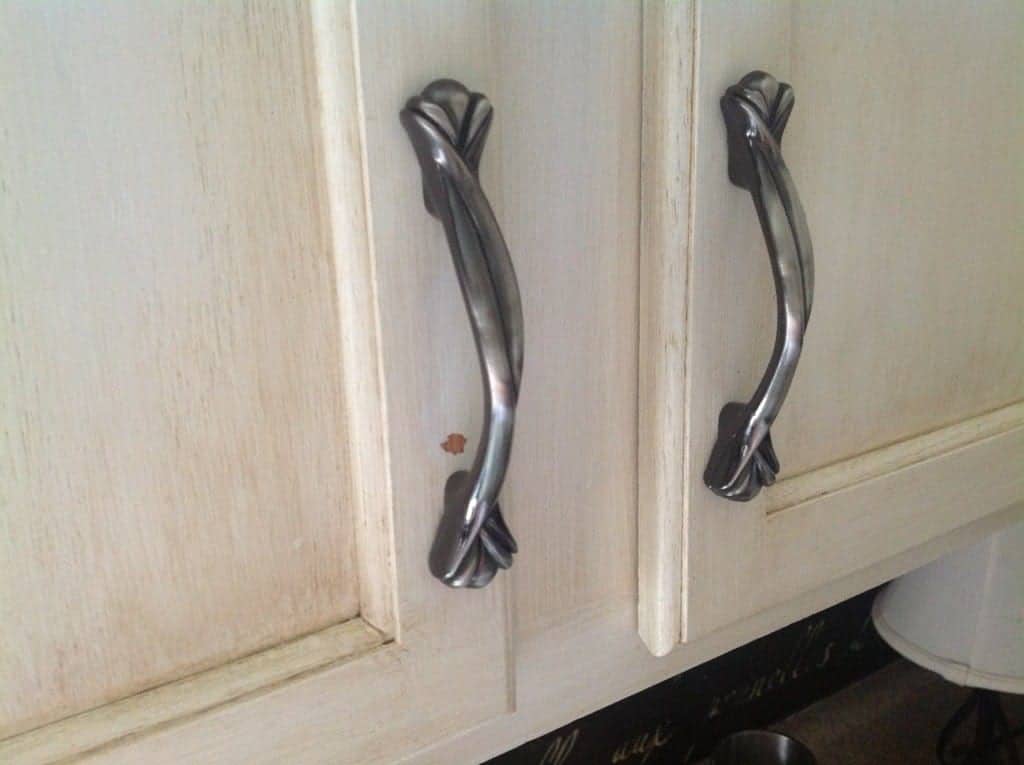 Additional lessons learned?
Don't use Rustoleum for this project. I was initially very proud of the results, but as I said, a year later the paint isn't holding. I actually prepped the doors quite a bit with their deglosser and even sanded lightly on the doors to ensure this paint would adhere, but it is not a bonding paint, so the results are…well, as you see above.
If you do paint cabinets, find someone to own part of the process. For instance, ONE person can paint the front and back cabinets white. But I would recommend ONE person take on the antiquing (so all of your cabinets achieve the same finish results).
Now…a year later, we are onto Phase II of our kitchen upgrades. I'm a tad burned out, honestly. But with the added trim, the molding…and we even removed cabinet doors and replaced them with glass, and later we will be adding faux leaded glass. I'm pretty pumped about the END of Phase II.
So…
Back to painting. I wonder if this will also take me a year of weekends to complete? I sure hope not! (ugh!) Thanks for joining me on this journey…and I hope my post helped you make good, solid decisions about your own kitchen remodel.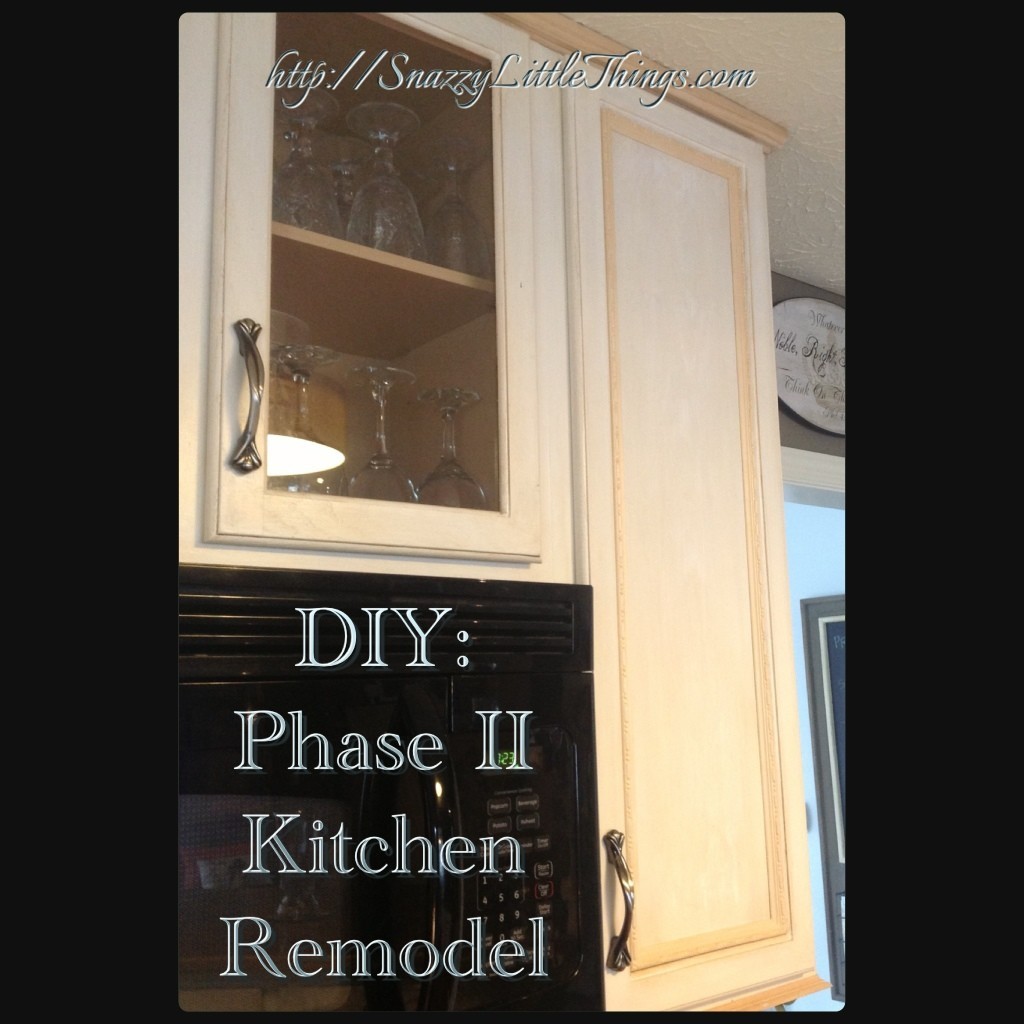 Related articles Something old, something new, something borrowed, and I'm not blue – Part I (thegreensheep.wordpress.com) Cheyenne Weaver's Gilded SimplicityHouse Tour (apartmenttherapy.com) Shelley & Reed's Creative Cottage House Tour (apartmenttherapy.com)