* This post was sponsored by Wayfair.com *
Today's guest blogger is my stepdaughter, Kaitie. She's setting up her gorgeous apartment in Motor City, Michigan and I wanted to include her in this campaign. We're entering the phase of life where she's outgrowing her post-college hand-me-down furniture and we'd like to start helping her upgrade her space to suit her own personal taste. It's her birthday this weekend, too! The big 2-6! Happy birthday, Kait!
Love you…Dad & Jeanette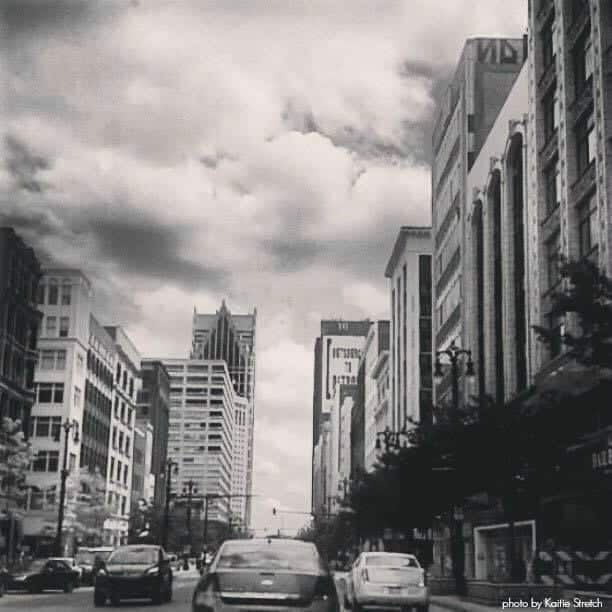 Detroit, Michigan, 2014
I live in the land of the twenty-something; the land of plaid shirts, man buns and the lingering smell of American Spirit cigarettes. It was a long series of events which led me to this 19th century penthouse suite (read non-air conditioned dust trap with awesome views) in Detroit's Midtown neighborhood. Now, I'm a Buckeye making a life in the land of the Wolverine.
It's a happy life in a happy place. Each corner, it seems, boasts a dive bar with cheap drinks, a dance club packed to the brim or a restaurant with shawarma and falafel galore. Each day, this city fits a little more comfortably.
It's a funny place with odd traditions. Terrance the Dancing Man busts a move to Michael Jackson classics at the corner of Second and Seldon daily. The Marche du Nain Rouge chases the devil past my driveway.  With Hart Plaza, Ford Field, Comerica Park and Belle Isle within fifteen minutes, it's a great place to be young and poor and free.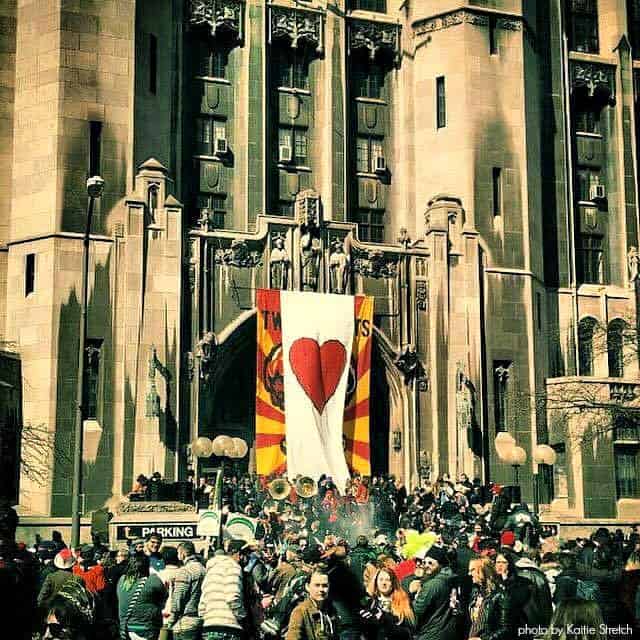 March du Nain Rouge, March 2015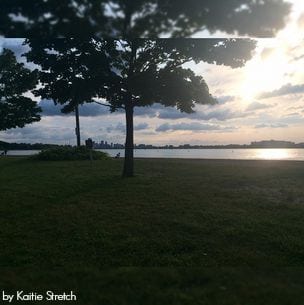 Belle Isle State Park, June 2015
When I'm home, I spend a lot of time by the windows. Our sills are over a foot deep; the perfect size for a throw pillow seat and crossed legs. I can see the sun setting behind the Renaissance Center. I can watch all the Slow Rollers start the race. I can hear my music, drink my wine and listen to the city bustle.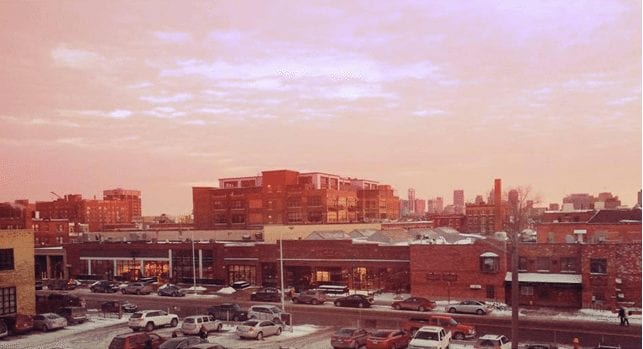 View out my window, January 2014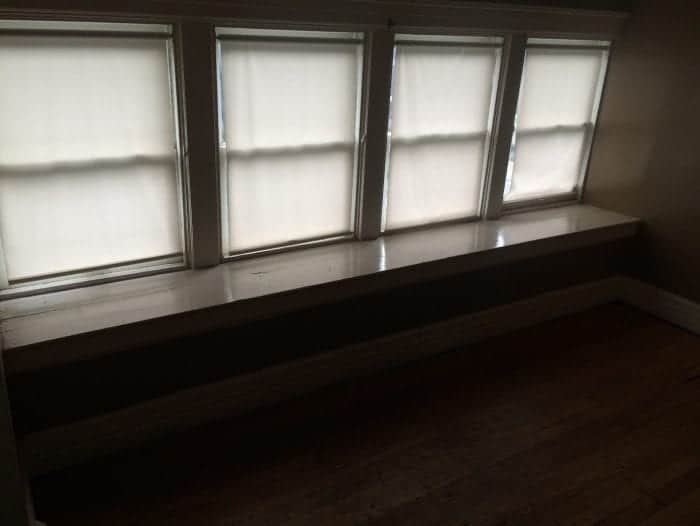 View inside, June 2015
The people, the art, the life outside my windows are beautiful. The interior though – boasting such highbrow features as an out-of-tune piano and a litter box – needed some work. We wanted an eclectic and artistic style on a nil budget. We had to be creative.
Living in an old building offers wall cracks and creaking floors, but also a wealth of long-forgotten furniture and art stored in the basement.  After a promise to return everything upon the completion of our lease, we found ourselves with a vintage consignment store just three floors below us. We found coffee tables, art, lamps and upholstered furniture. With the addition of some well-placed throw pillows to add some color, we were close. It was starting to feel comfortable, but something was missing.
Weeks went by with no answer. We were trying to create a place of our own in a city that felt foreign, but even our living room felt transitional. We needed something to pull it all together.
Our basement shopping spree left us with much more bankroll than expected. We needed a piece of art that would bring in the color scheme of our furniture and wall paint while being functional enough to justify the withdrawals from our already pathetic bank accounts. "What about a rug?" I asked.
Enter Home Dynamix.
After much deliberation, we settled on the Catalina Brown/Red design which matched our earth tone aesthetic, our artistic neighborhood and our penchant for red wine. It's #morethanjustarug.  You can check out their gorgeous selection of Home Dynamix rugs and other home products, you'll understand why we were torn, too.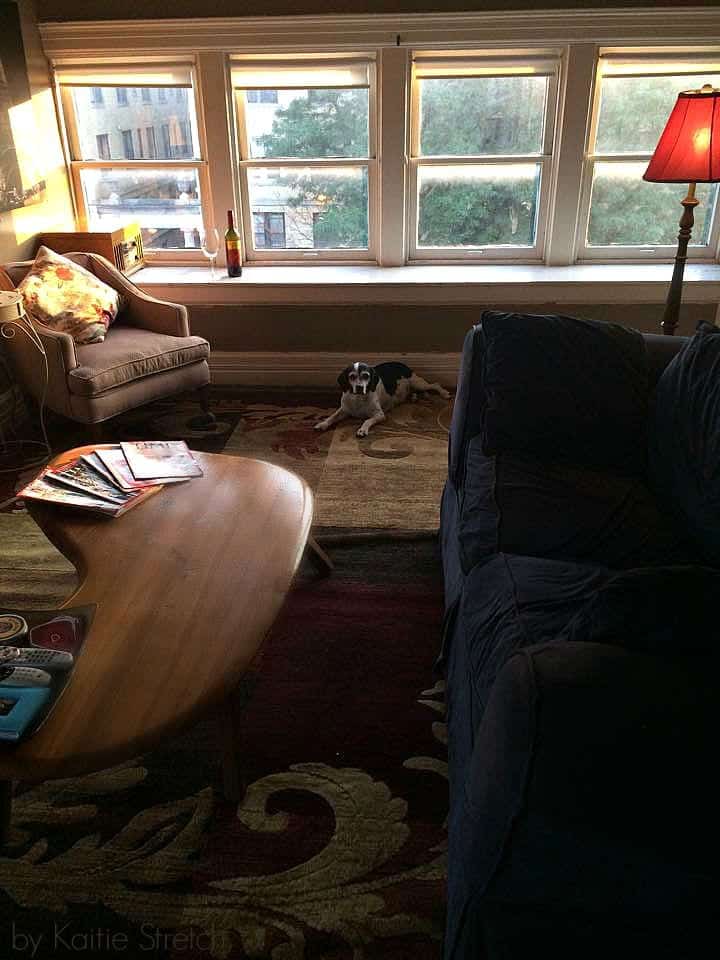 Living Room, July 2015
Now, after work, we take off our heels and squeeze our tired toes against the soft inviting fabric. Our animals curl up beside the window sills while we watch our neighborhood ebb and flow below us. Surrounded by all things new and exciting, we finally have a place that feels like home.