My Top 10 DIYs of 2013
To my surprise, readers don't stop at Snazzy to witness the more complicated DIY home remodeling stuff. You like to see smaller painted furniture projects. Even more popular are the projects where I completely failed, made big mistakes and had to start over :)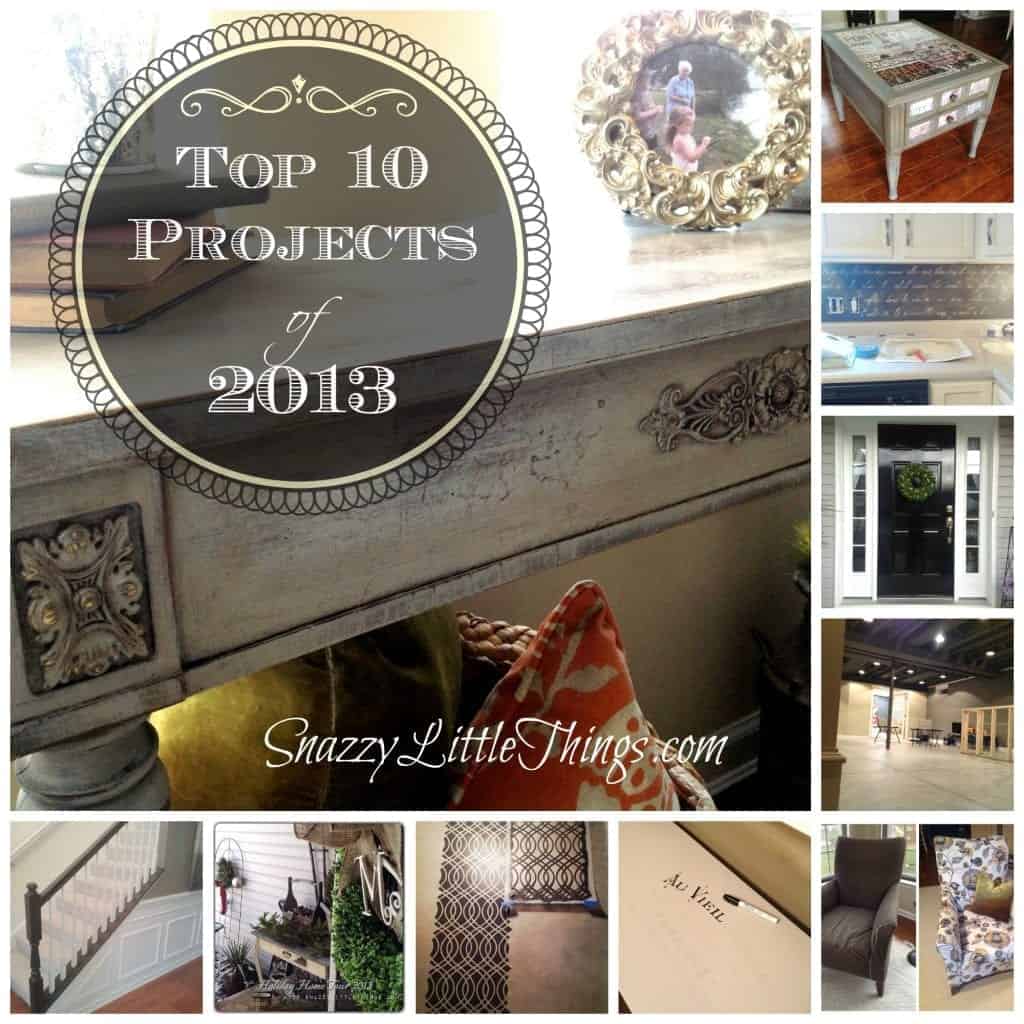 So here we go, below is the full list of what YOU were the most interested in…starting with #10.
*****
#10 – Industrial Basement Project
We love the industrial motif, but at the time when we took the plunge on this project, we had no furniture for this space. It's come a long way! Enjoy even more basement remodeling projects that we have done to move towards completion of this space.
#9 – T.J. Maxx Broken Table Rescue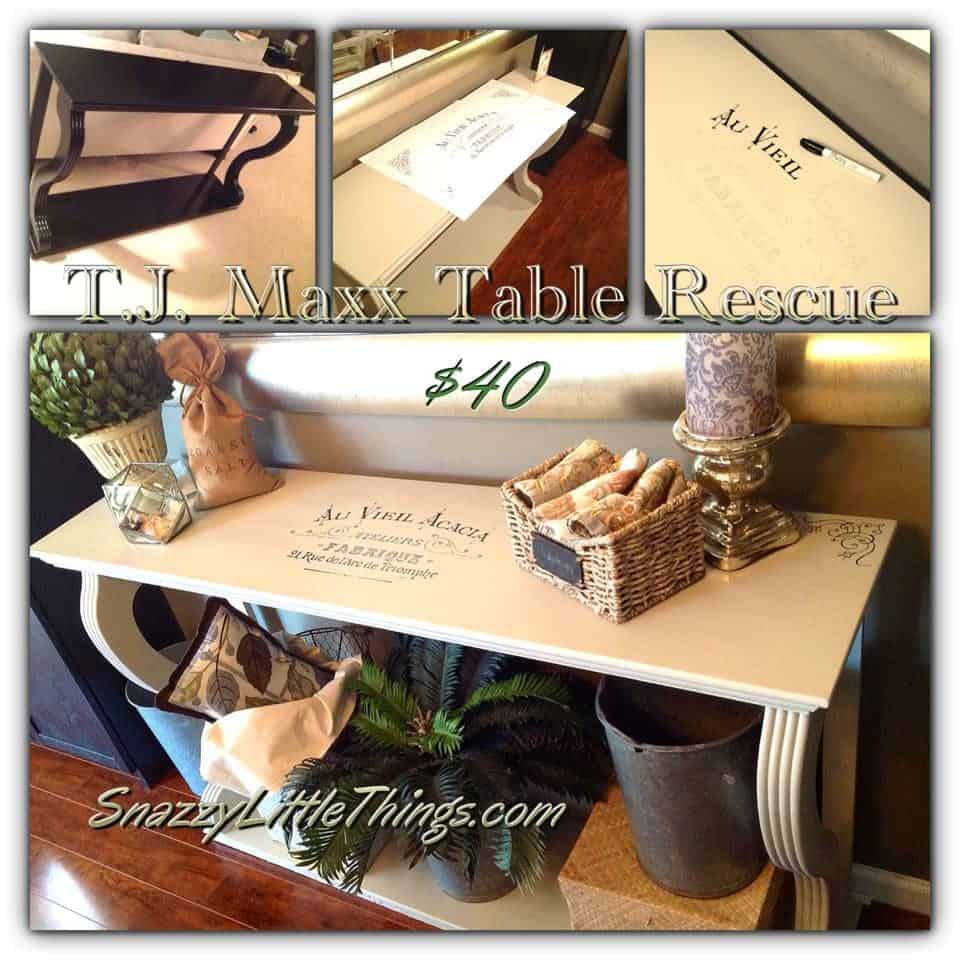 I know you walked past this table in the T.J. Maxx clearance section, didn't you?  Well I did too, until I realized it would perfectly fill a void underneath my large dining room mirror.  This table was a popular feature during the holiday home tour.  If you're wondering how I did the image transfer…click here to read more.   To be honest, just for the sake of the picture, I snapped this before repairing the broken screw. Eventually I'll get around to fixing that.  Just add it to the list.
#8 – DIY Wainscoting & Painting Stair Railings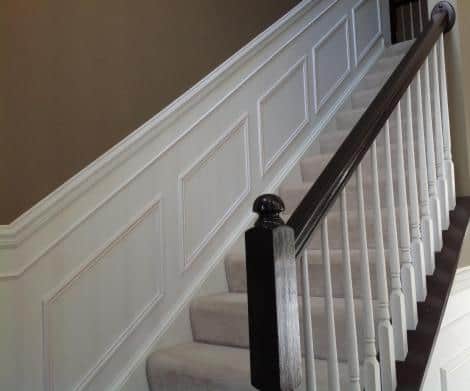 Hands down, these two projects combined made the biggest impact and improved the overall aesthetic in my house.  Click here for the wainscoting project + painting the hand rail tutorials. Paying for these upgrades would have cost thousands through the builder. The DIY version was $500 or less.
#7: Upcycling a CD Tower as a Shelf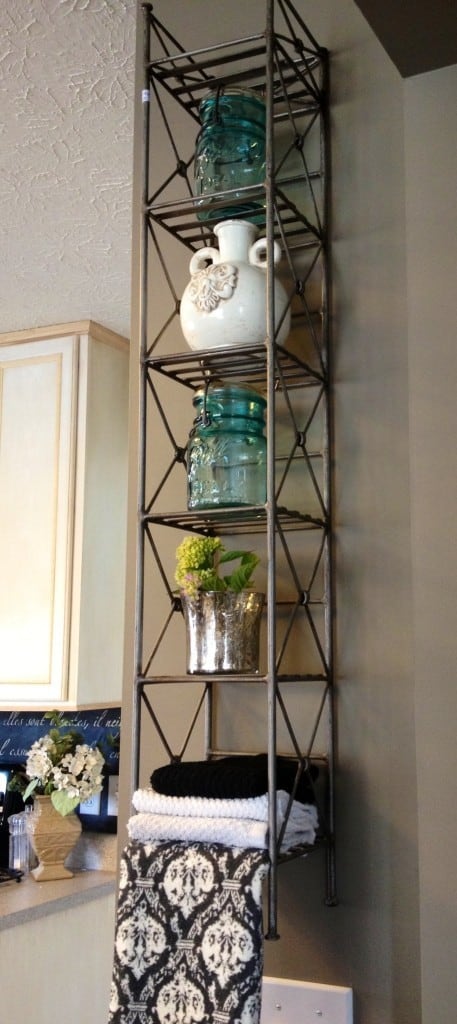 Really?! I didn't think of it as anything special, but here you go…the most complicated DIY you will ever witness.  I was even so excited to share, that I forgot to take the tag off of the rack.
#6 DIY Chair Reupholstery Tutorial
Here is that very moment when there's no turning back…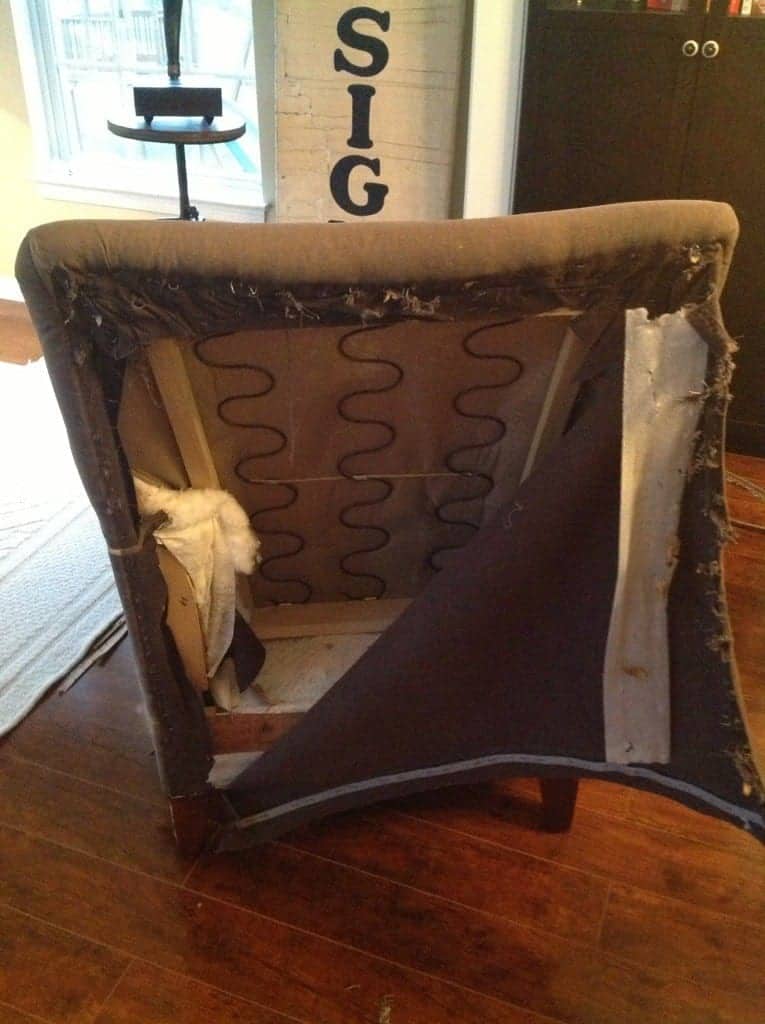 And just to show you that not every project is all fun and games around here…here is my old chair that I reupholstered. (Click through to see the full tutorial).  I felt I had officially "arrived" as a real DIY blogger after this project was done. I even created an entire 40-photo gallery showing you my thought process (scary!) each and every step along the way (keep in mind, I often tackle projects when I'm alone and bored, and a TV watcher…I am not). So many of my pictures are taken with one hand while trying to show you what I'm actually doing.
#5 Painting Your Front Door Black on a 90 Degree Day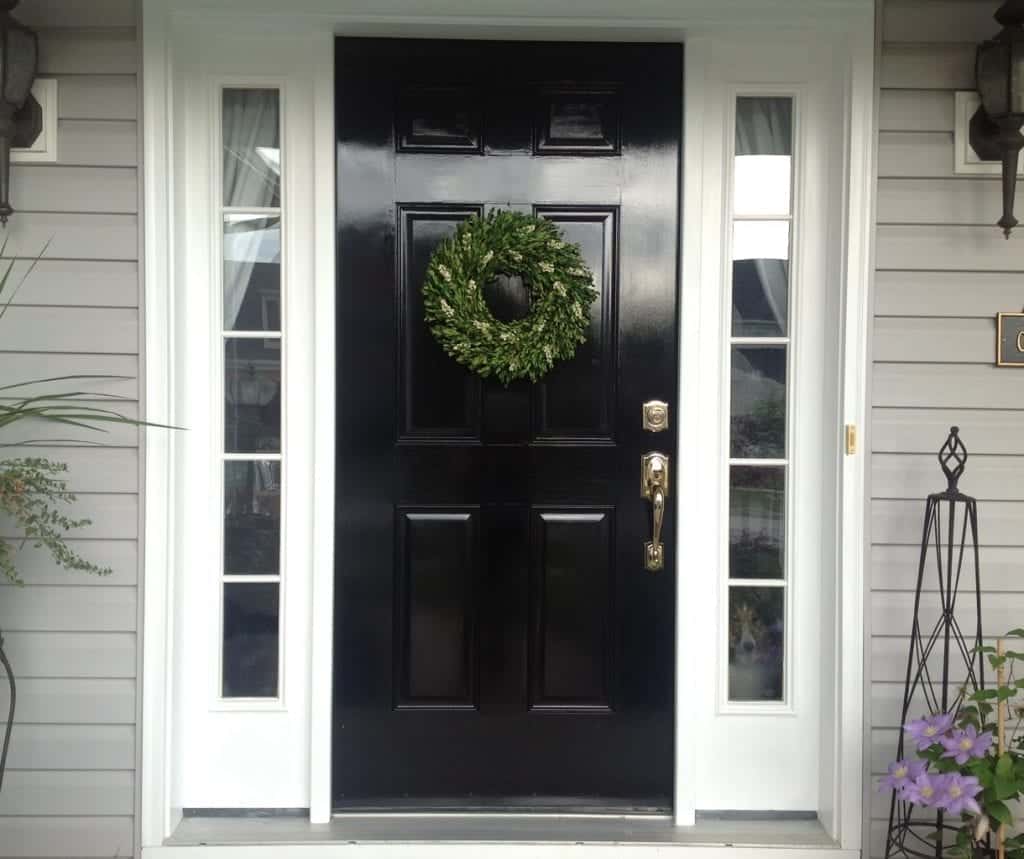 Believe it or not, there is a bit of trick to using oil based, glossy black paint.  (Yay, I love surprises).  Here is the full tutorial with tricks and tips (and lessons learned) on this project. And I tell you exactly what NOT to do (based on my own experience).  In case you haven't noticed, I kind of "jump in" on a project…because on the rare occasion that my kids aren't home and I have T -minus 8 kid-less hours to get something done, I have to do it, like…NOW.  That doesn't allow me a ton of time to do research. So for those DIY'ers out there like me, click the "Follow Me" button, and wait for Jeanette to mess it up first, then I'll give you the straight scoop.
#4 My Holiday Home Tour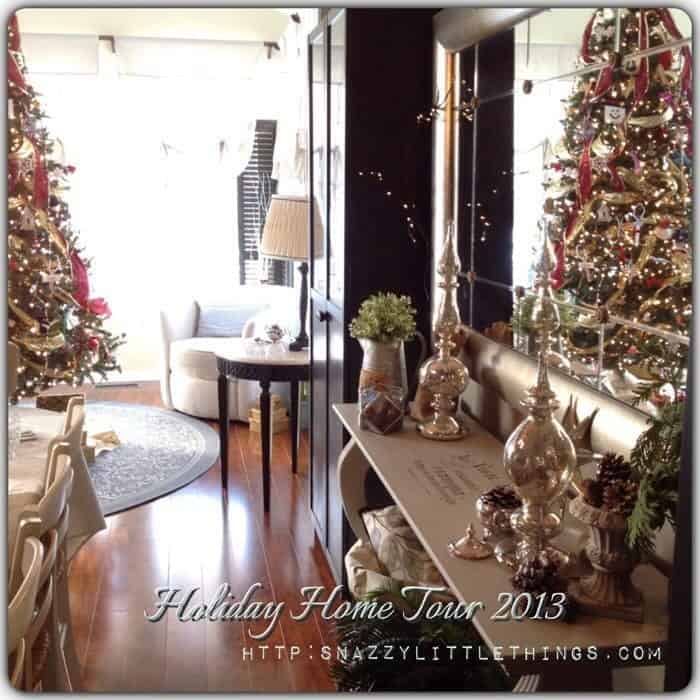 Before my holiday home tour, I DIY'ed and blogged by myself, and I really hadn't reached out to other bloggers. Because of my day job, I really don't promote Snazzy Little Things as much as I probably could. That all changed this month when I was invited to join 29 other bloggers in the "12 Days of Christmas Home Tours"…and I realized how many friendships can come from the blogsphere.  This is also when I realized that blogging can become much more than a hobby, and that my DIY efforts were really starting to pay off.
#3 Victorian Table Upcycle & My First Chalk Paint Experience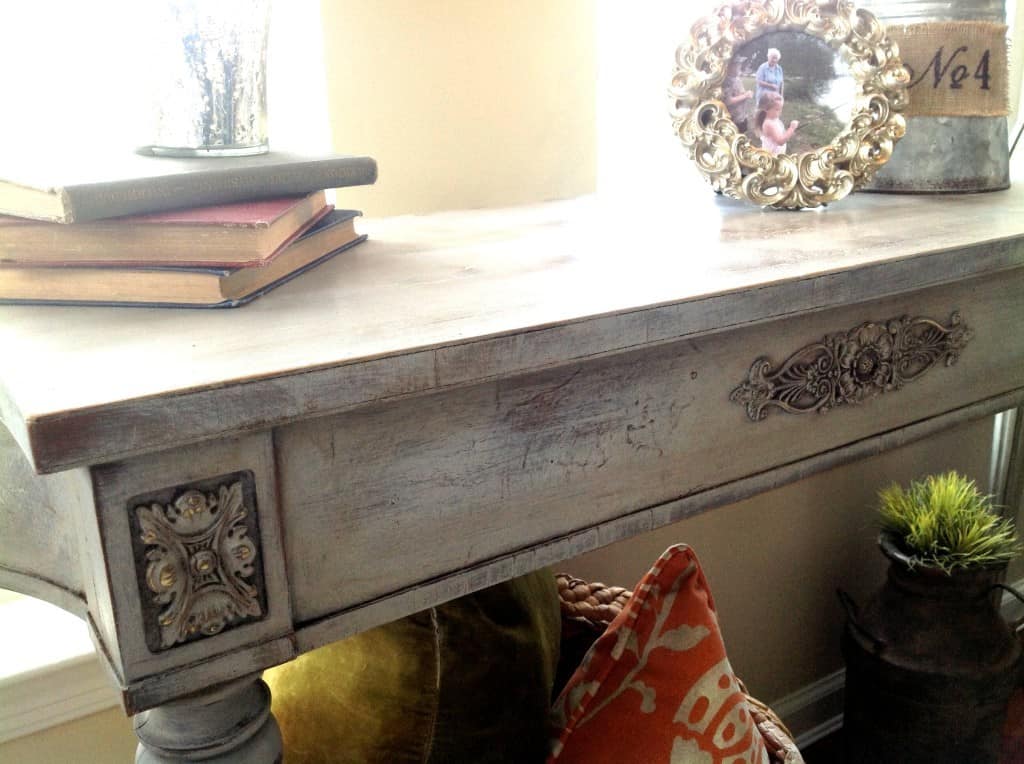 Be sure to click over to the post for the full tutorial. I found this table that had severe water damage on the top veneer, and I decided to take the plunge and use Annie Sloan Chalk Paint…this is the result from my FIRST try.  Be sure to read about the entire process here, which includes a video as well.  It is one of my most favorite projects to-date.
#2 DIY French Stenciled Kitchen Backsplash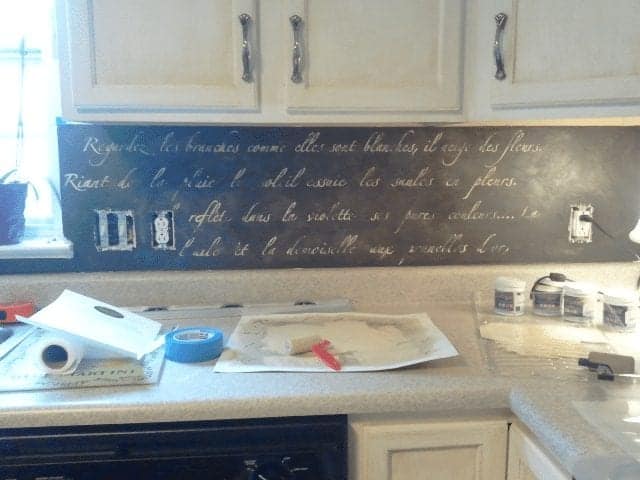 This French stenciled backsplash made all the difference in my overall kitchen remodel. This was one of my earliest projects I tackled in the house, and it anchored the idea that I wanted a French-industrial look throughout.  More on our kitchen remodel can be found here.
and….
here it is…
The #1 Project this Year?   My $25 Goodwill Table Upcycle (the one wrought with mistakes)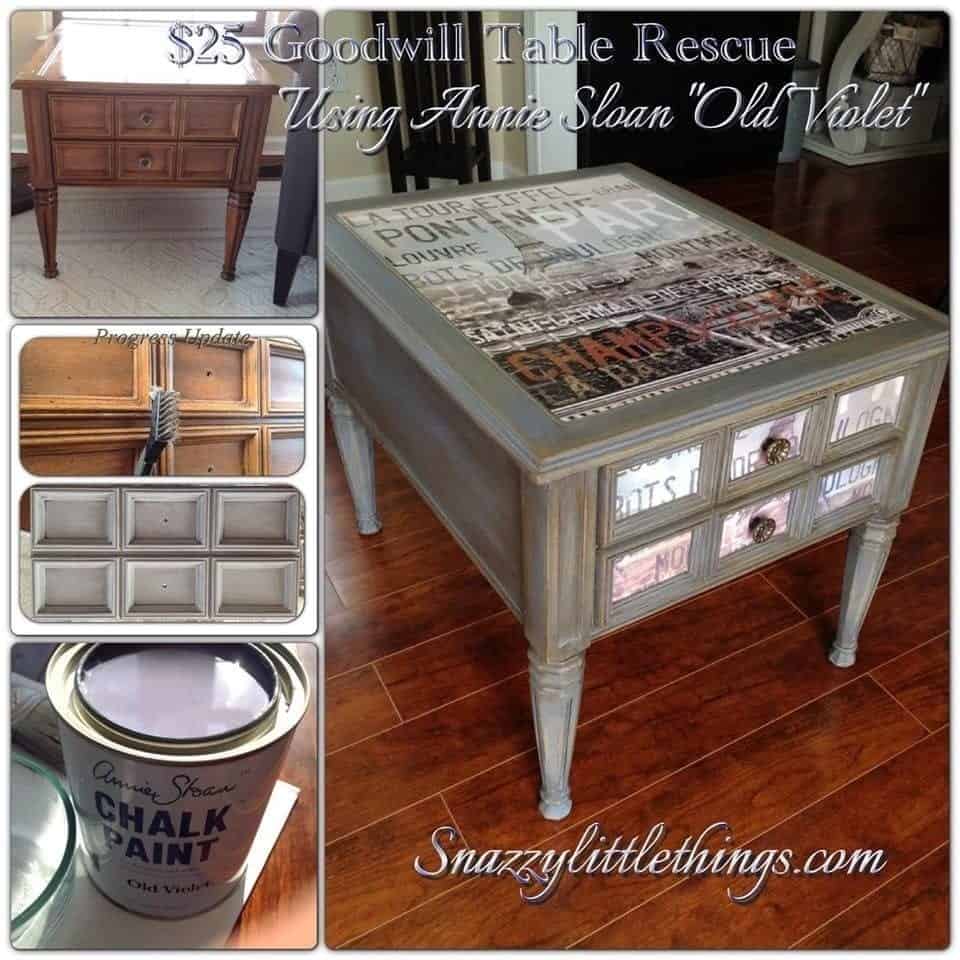 It proves to me that you never know what resonates with people. This Goodwill table sat unfinished in my house for 6 months before I tackled it.  (Click here for the whole story). Once I did tackle it, it was a comedy of errors including poor paint and color choices, plus a mod podge disaster.  But in the end, it helped me discover my love for Annie Sloan Old Violet and learn the correct way to Mod Podge. It's a very functional conversation piece in the house. (Also? It's not even my most favorite project in the house…but hey, everyone else loves it…so it's offically found it's home).
******
Thanks so much to YOU for taking an interest in what I love to do here at Snazzy Little Things…and I hope you'll stick around and play along in 2014!   The wheels are already turning with ideas for the blog next year…and I'd be honored and thrilled to have you along for the ride.
Be sure to visit my blog friends to see their "Best of 2013" posts for more ideas.
CONFESSIONS OF A SERIAL DO-IT-YOURSELFER