There is this quaint little town near me. It has a perfect downtown square with a white gazebo surrounded by huge oak trees, cute buildings, gorgeous little boutiques and coffee shops. And now…it's getting a brand new tenant!
We signed our lease today and we MOVE IN to our new retail space in Hudson, Ohio on April 1st! 
About Our New Location
Hudson, Ohio is a short drive from the turnpike, so if you're ever passing through Ohio on I-80, plan a visit! The town is a great destination for those looking for a fun weekend filled with history, antiquing, good eats and sightseeing. This area was originally part of a Western Reserve settlement marked by a flag "Range 10" in 1799 (I found this presentation about our specific location here).
Enjoy this aerial tour and a bit of history about Hudson, Ohio.
Hudson + Winter = Beautiful! Enjoy. #DJI #P4

Posted by Dave Petno on Monday, January 1, 2018
They host a slew of summer festivals with music playing encouraging locals to come out and enjoy the Hudson sights and sounds.
We'll Be Located in "The Sampler"
Address:  5204 Darrow Road Hudson, Ohio 44236
Our move in date is April 1st, but you're welcome to visit The Sampler anytime before then. I instantly fell in love with our space the minute we walked in. The area was originally called Darrowville, and is undergoing a historic resurrection.  Here are some fun facts:
The Sampler, today:
"The Sampler" has a welcoming, general store feel with a big front porch lined with rocking chairs and collectibles.
It's a destination and is home to about 40 different artists and vendors.

The Sampler is a shop featuring handmade, antiques, new vintage-inspired + trending home decor
It also has a full antique mall attached. People spend about 45 minutes here. It's fun to shop!
The Sampler offers a cute gift shop – you can also visit a gorgeous floral shop in the adjacent building. 
Location. Location. Location. There are lots of antique shops in the area.
It's not a cluttered space, the owners keep it very open and accessible to all.
This arrangement makes it possible for us to maintain The Shop Online as well as the blog.
The town holds annual festivals, like The Taste of Hudson, and The Hudson Flea.
Our space is directly on the right as you enter the front door.
Our booth will take up a 35 foot wall x 12′ deep = 420 square feet!
A rendering I drew of our space: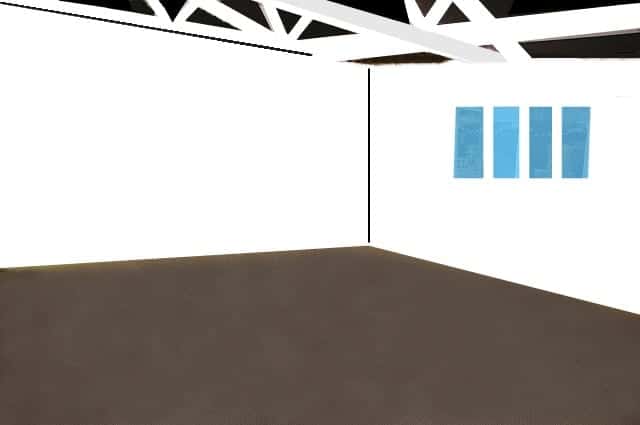 Mixing old and new is the theme at The Sampler. I love that the owners have a fresh perspective and appeal to the younger generation of antique collectors. By shopping The Sampler, you get the best of all worlds, a gift shop, an antique mall, and a home decor store — all in one.
Global Shipping + Our Traveling Shows
One of the new trends for shop owners is to have an online presence. So our online store will stay open + you can purchase items buy on Pinterest, Facebook, Instagram and now on we are beginning to ship select items internationally on eBay (visit our eBay store). We still love doing the traveling pop up shows, but will be limiting them to about three per year and staying local. We will be participating for the first time in the "Made in Ohio Arts & Crafts Festival" at Hale Farm & Village as well.  To stay up to date on our store and traveling events, follow us on social media. It's clear this is the best move for Mark and I since we love creating pretty decor and furniture. And most definitely I will continue blogging here on Snazzy (I will forever be decorating or redecorating my home). We plan to host in-store workshops and events, too.
We hope you'll enjoy following along!
Come visit Hudson throughout April — our inventory may start out lean but we will be growing. All of April we will set up shop. Then we plan to have a grand opening event in May with prizes, refreshments and a years-worth of in-store coupons that you can redeem on anything from the Hudson Snazzy Little Things.
All the best!