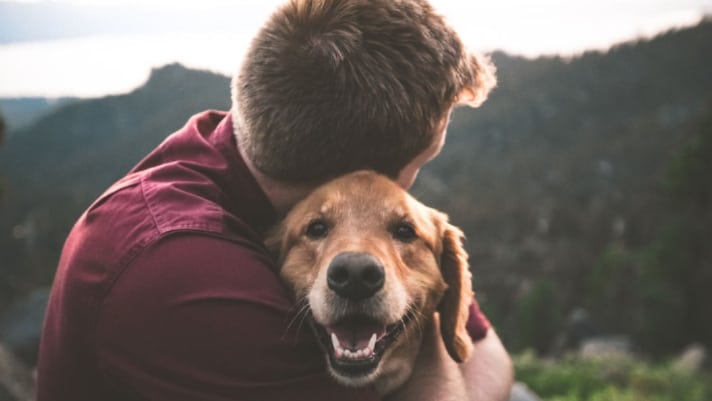 Although most of us probably hope that our relationships last, the sad truth is that breakups happen all the time. And while divorce rates are on the decline, there are still 827,000 divorces that occur each year. In the aftermath of a separation, sorting through your sadness is bad enough without having to think about how assets — accumulated in the span of the life you shared with your partner — will be divided. Things become even more complex when there are dependents involved. While non-custodial parents are awarded an average of 88 days with their children during the year, what happens when your child is of the four-legged and furry variety?
That's a question that many pet parents are now being forced to ask during the dissolution of their relationships. Since most U.S. households have at least one pet (and many pet owners regard their pups or kitty cats like their own offspring), this matter can certainly complicate a situation already fraught with emotional landmines. But some couples are getting smart and are trying to avoid this situation entirely. That's right: they've created the "pet-nup."
Millennials may be blamed for the death of a lot of things, but apparently, prenuptial agreements aren't among them. These particular agreements outline what will happen to a pet if the relationship ends, allowing some parents to avoid custody disputes over their beloved animals. Since a recent survey found that divorce cases involving pets required lawyers to spend an average of 25 hours of billable time resolving custody issues surrounding this one issue. A separate survey actually found that nearly 30,000 divorce court cases that reached the courtroom involve pet-related conflicts. Even though certain states are now allowing pet owners to consider their furry friends' needs when determining these kinds of arrangements, some laws really regard pets as nothing more than personal property. Subsequently, it might be smart to plan ahead and lay out how pet parenting will change in the event of a soured relationship.
Whether or not you have a "pet-nup" in place, you might have to negotiate co-parenting your canine or feline with an ex in the future. If and when you do, you'll need to establish some rules and boundaries. For one thing, you will need to designate a rightful owner by registering and renewing your animal's license. Then, you can talk about a custody arrangement. As is the same with children, the needs of the pet must come first. Just because you feel like snuggling up with your pup one evening doesn't mean you can switch up the agreement on a dime. There are more than 75 million pet dogs throughout the United States and, as you can imagine, these scenarios are pretty common. Domesticated animals tend to like routine and may not always adjust to change very well. You should stick to the schedule you've created out of respect for both your former partner and your pet. You might consider switching off weeks or months, depending on the circumstances, and splitting up holidays in a way that's fair to everyone. Keep in mind that if your animal doesn't adapt well to the new arrangement, you might have to put your own feelings aside and do what's in your animal's best interests. Don't forget to figure out travel arrangements and the need for animal care during the day, as well. You'll also want to hammer out the details surrounding your pet's diet, grooming needs, medical services, and insurance needs — particularly who will be responsible for costs.
Aside from the practicalities, you'll also need to come to an agreement with your ex regarding individual behaviors. There needs to be an understanding that both parents will continue to treat the pet the same as before and that the rules of the house remain the same. For instance, if one parent suddenly allows a dog on the couch but the other parent sticks to the no-furniture-allowed rule, this can be a confusing experience for the pup in question. Changing up an animal's feeding schedule or providing more treats than normal can also have frustrating consequences for both the animal and the former partner. Ultimately, these behaviors can allow for resentment to creep in — and when it does, the efforts to co-parent successfully will fall apart. It's essential to ensure that both pet parents involved are equally committed to preserving the well-being of the animal and that they won't allow these kinds of sabotaging behaviors to happen.
Pet parenting can be full of ups and downs. That's especially true after a relationship has ended. But what won't change if your shared love for your fur baby. By keeping these tips in mind, you may be able to create a healthy environment for your pet and a healthy relationship with your ex at the same time.