Studios, Woodshops & Storage Ideas
January (to me) represents the ugliest month of DIY. It's usually when I hit the panic button and tear down a wall or two. Everything looks so sad, boring and beat up after a holiday.
Getting organized post-holiday involves solving a number of space and functionality issues in our homes. We have several of these problems in my home. So if you're looking for the "real" side of DIY–embarrassing pictures ahead. You won't be disappointed ;) But I'm not always here to show you pretty things, am I? My job as a DIY blogger is to check my dignity at the door and show you the good…the bad, the ugly…and all of it's wonderful potential.
Like most people, we lack functional storage. Functional, meaning what? Like…finding the open space on the floor and throwing other things on top of it? Oh, you mean…storage can even be pretty?!
Let's just say, I'm not there.
Yet.
And before you think "my God, Jeanette…are you a hoarder?!?" What I'm about to share represents the chaos that happens when you urgently stuff the entire contents of one larger home down into one, smaller home. (Because your too-good to-be-true buyer falls through). When we were purging items at a semi-leisurely pace prior to that. You know, because we were thinking we would have enough time to do that.
But I digress.
So since our "big 200 mile move" and shoving 20 pounds of "stuff" into a five pound bag, the upstairs of our house has nearly recovered. We really have purged more than you think. (And just so I retain a small bit of dignity, feel free to browse my holiday home tour).  Would you?
Now we must address the not-so-pretty parts of the house.
We love to create things, but we are so tired of the process of moving stuff around so that we can build something else. It just causes a much bigger mess when you don't have a workspace. And we've been doing this for two years now.
So What We Did: Arranged a Modular Woodshop (in the garage):
The previous house had a beautiful workshop. So this past fall, we created a modular woodshop in our garage so that we could navigate between a functional two car garage–>to functional woodshop–>back to functional garage more easily. Mark brought lots and lots of tools during the move with no place to put them. We picked up a portable heater so he can work reasonably well all winter long (although it's not "warm" it does take the edge off). So this space is a work in progress. (And yes, the unfinished walls are really bothering me, too).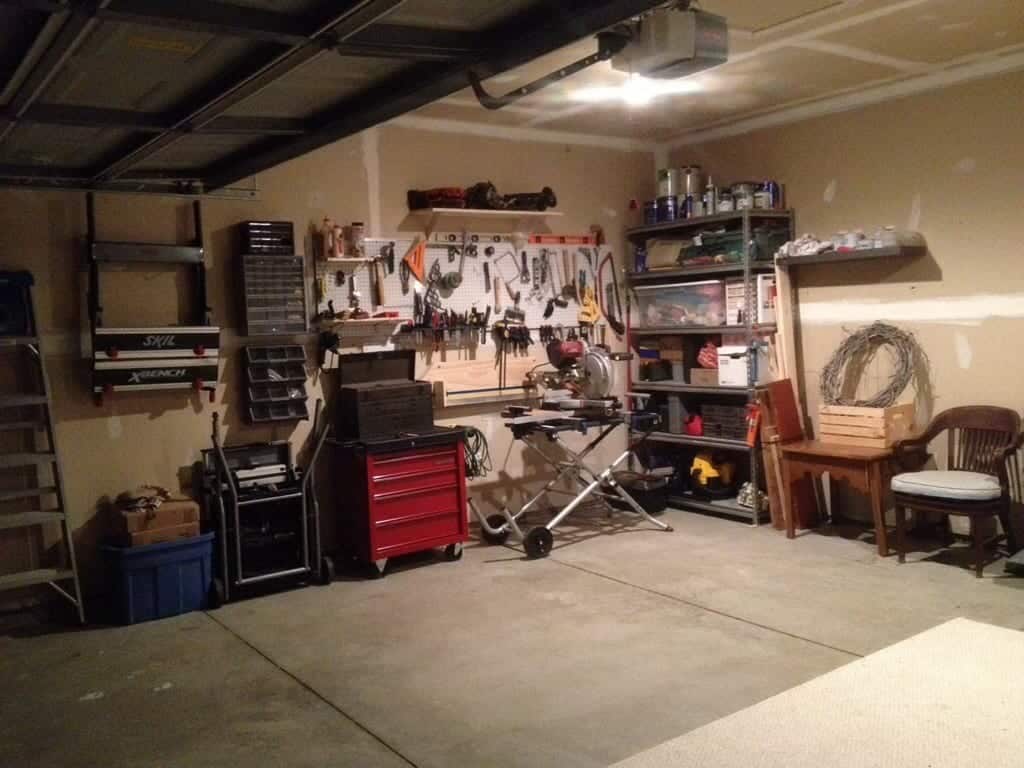 (Still room for our cars, too).
Next: Addressed Messy Storage (Caution! Embarassing pictures ahead)
Imagine a bunch of sailors throwing cargo off a sinking ship. That's what we were doing when we moved. Two homes worth of stuff piled high on one side of the room: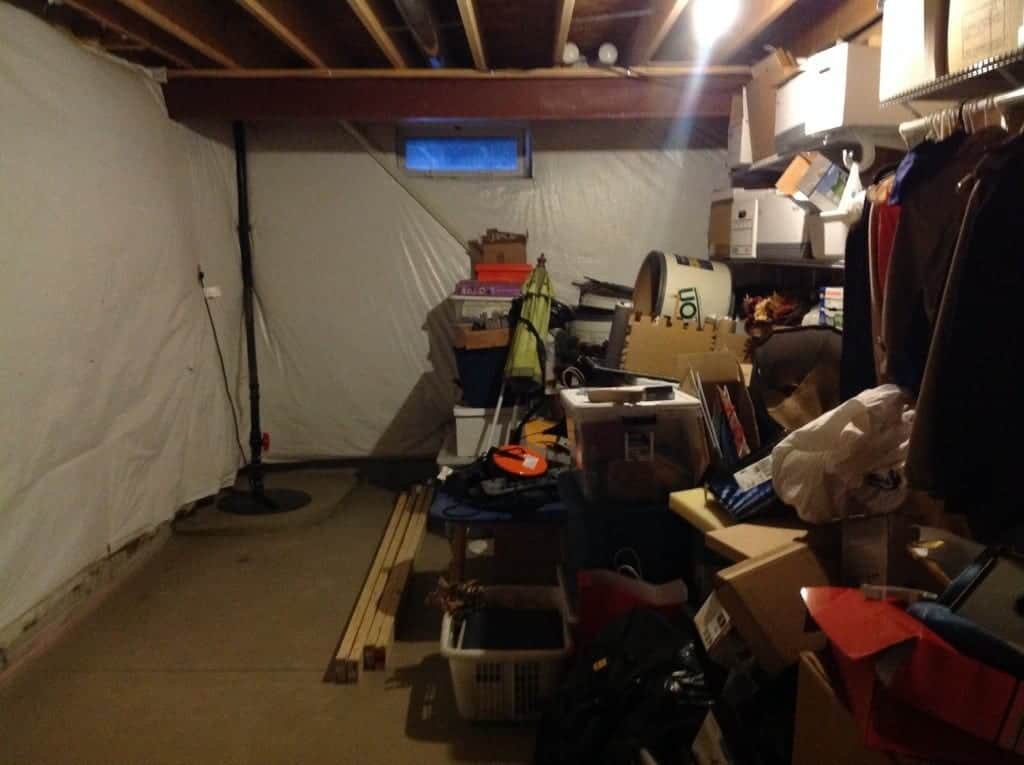 Mark's ability to swallow, to think, and his usual pleasant disposition were all severely compromised when he'd even enter this room. The act of sorting things upsets him. (Unless it's tools). And, he would speak in tongues for a half hour after his alleged "escape". I, on the other hand, was simply annoyed that I couldn't find our Santa hats in time for Christmas.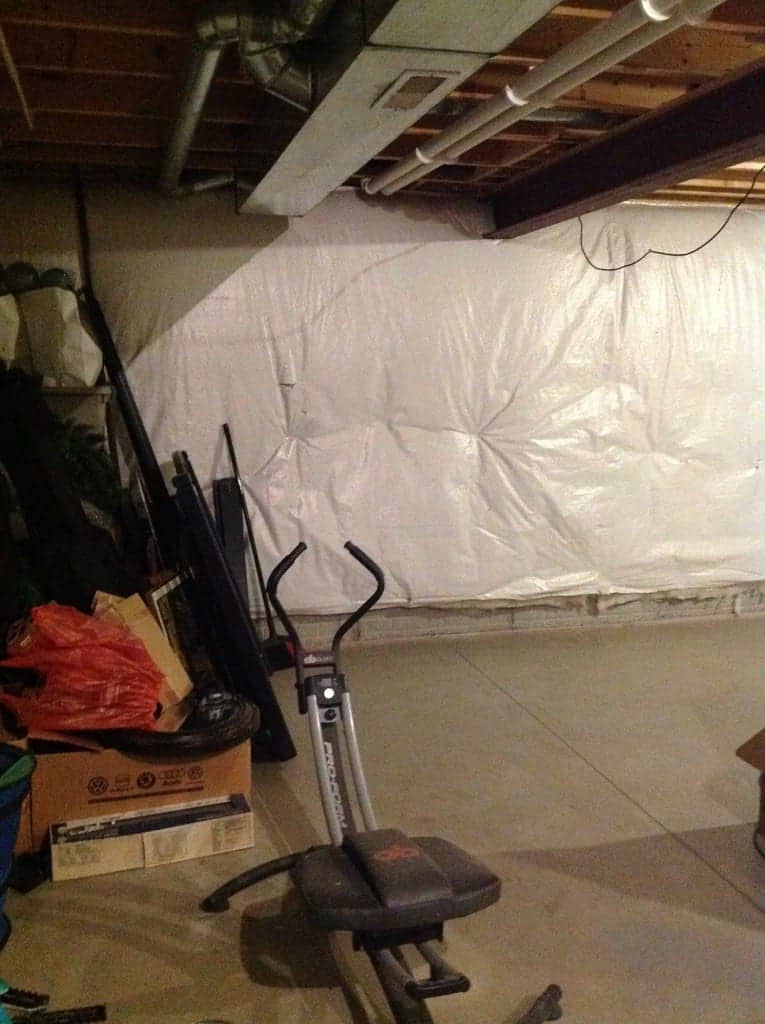 …after building one wall of cheap shelves…a walkway!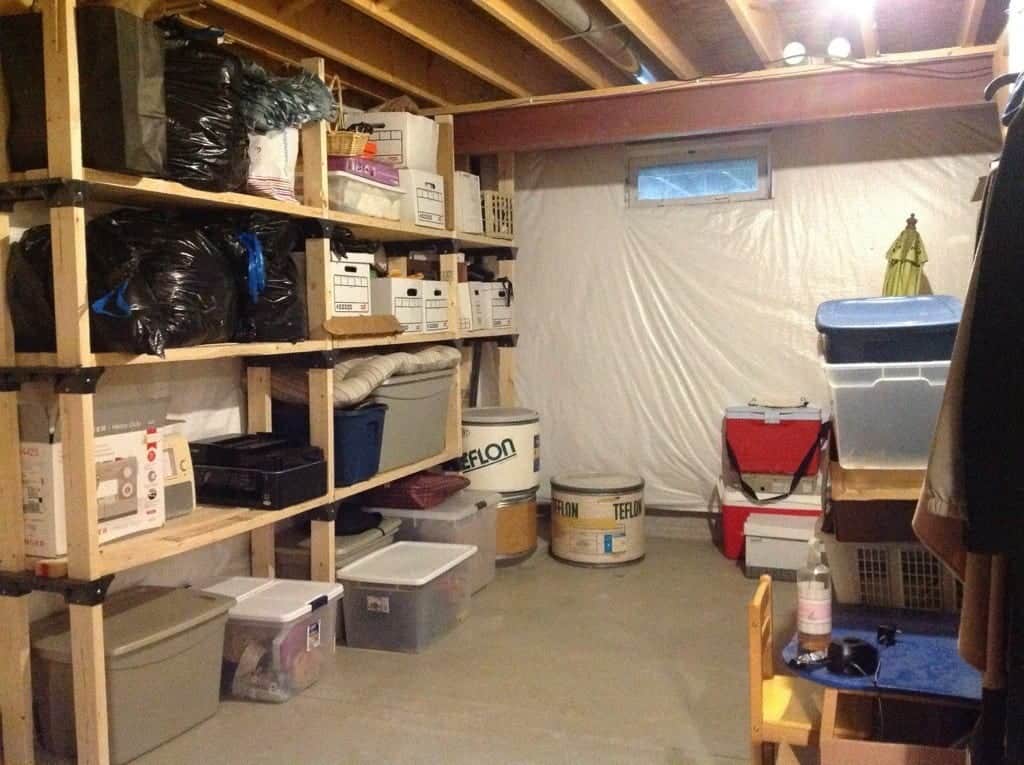 Eventually we stopped complaining and did what we had to do.We have some serious sorting to do, but it's already so much easier to group and divide our things so we know what we own. And…BONUS! We like each other again.
Progress. It's good.
Craft Room / Studio inspiration:
The good news? As we've been sorting through our craziness from two years ago, we've come to realize that this is actually a HUGE space! So we are getting pretty excited to convert this atrocity into a studio / craft room for MEEEE.
I bet you're thinking "no way will she ever get through that mountain of stuff."  Oh yeah? Well. You. Just. Wait.
...picture a cottage style room with lots of white, painted rafters and beadboard…with birds chirping and the sound of a mountain spring in the background…
Don't believe me? Rhoda did it. (Except she doesn't show you her "stuff"  like I did).
We all need inspiration, so here is mine. Rhoda from Southern Hospitality really nailed my vision with her basement which she converted into a beautifullaundry room.
Rhoda's laundry room, before the transformation: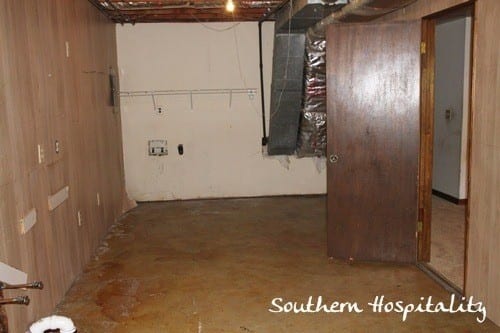 …and after!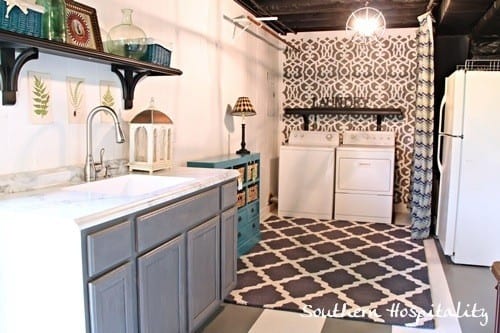 Studio or laundry room inspiration. Courtesy Southern Hospitality
Isn't that amazing? I love how bright and cheery Rhoda made this space. Just goes to show you that any space has potential to become something amazing. Even though my room will be for crafting and not for laundry–I know this is the direction that my vision is taking me.
Next is Beth's amazing craft room, I love her functional use of space with canisters and under the table storage. Check out her entire space by visiting her blog, Unskinny Boppy.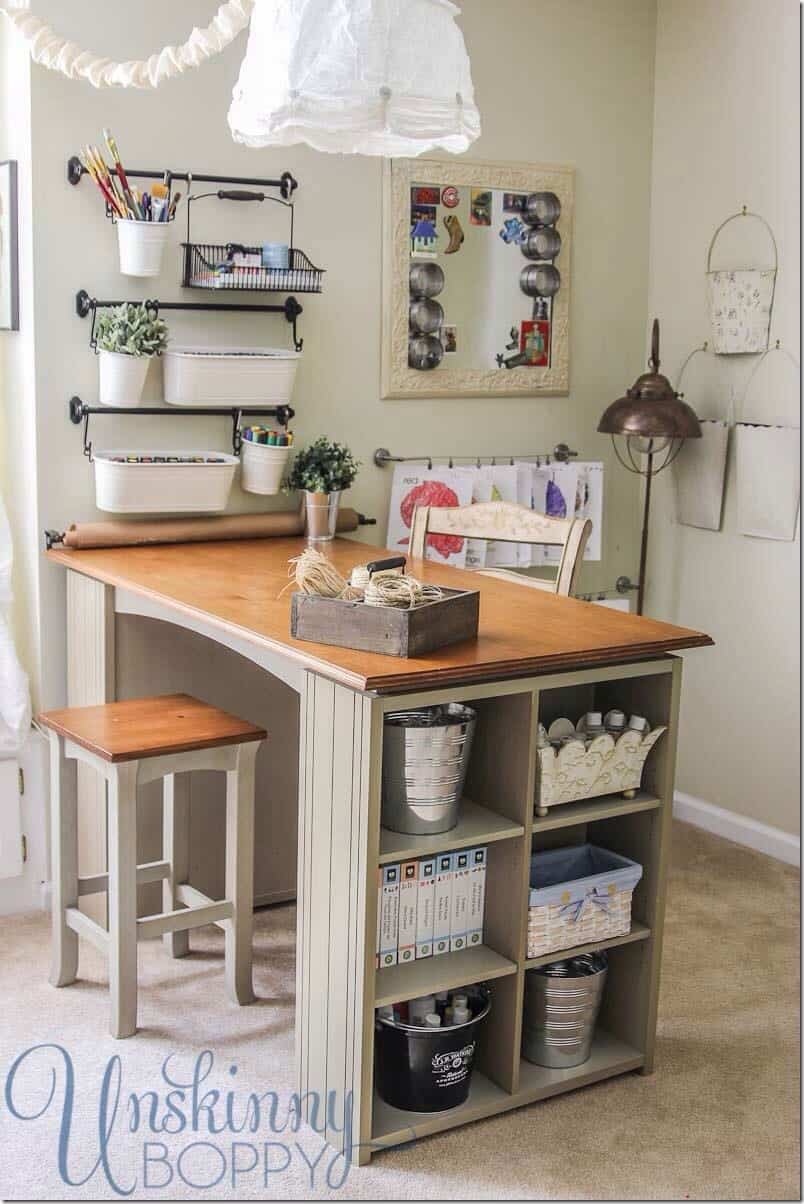 Craft room inspiration. Courtesy Unskinny Boppy
So don't burst my bubble. No just yet. This WILL happen.  Remember my closet?
It just might take me a year of basement dwelling to do it!