Today I'd like to tell you a story about Mr. Snazzy…better known as Mark. The mastermind behind our woodworking projects. We don't talk about the aneurysms much (yes, plural), because he doesn't like to dwell on the past. I'll admit, however, that I chose to write this story, mainly because it might offer someone valuable information and possibly save a life.
I also want to emphasize that where there is humor, there is grace. And that's the story I hope you'll remember that from this post, and that you'll come to admire my best friend for keeping things lighthearted — even if the situation is dire. 🙂
January 17, 2014
On this day — I nearly lost this guy.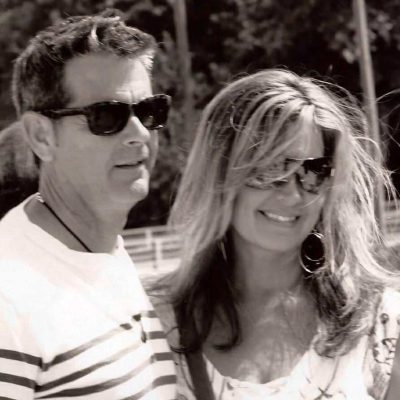 …and I sometimes shudder as I think about the random series of events that happened two years ago. Mark, who is quite the jokester, is definitely a "force" in our house (think Phil Dunphy. but way cooler. According to you-know-who). Yes…that's Mark. But above all, he is a creature of habit. His normal daily routines are not easily thwarted. Somehow, he forgives me for my inability to succumb to this 😀 . But he is my +1. I once heard that our soulmates aren't the people that agree with us, they are those that challenge us to bring us to a higher level of understanding.
So let this set the stage for the series of miracles that were about to take place. Because Mark had his angels working overtime on this day.
8-ish p.m.
Mark was a fitness buff. His normal daily routine involved a hard-core workout, and that's exactly what he was doing that evening.  
The kids and I were upstairs vegging on the couch as Mark announced he was working out in the basement. I heard him making his way upstairs after only a few minutes — which was odd. He never breaks his routine–especially his workouts.
He was complaining of a headache and nausea. He uttered something to the effect that "this is the worst headache I ever had" — and he promptly popped a Tylenol or three (which became the first miracle, taking an aspirin could have caused excessive bleeding) He then went into the bedroom to lay down. 
My years of "medical training" equals zilch (other than my obsessive baby-book reading as a new mom-to-be). I noticed that Mark had been taking longer than normal naps lately, and they were more frequent. I also noticed that he was complaining of a headache, almost every day for quite some time. So in that moment, something nagged me to get up and check on him. I took a not-so-delicate and more authoritative tone —
"Don't say it's the worst headache you've ever had — unless you mean it."
I probably sounded impatient and very Claire Dunphy-like in anticipation of his usual protest. But I seriously wanted to get to the bottom of the situation–and fast. His response was surprisingly honest, and he spoke in more hushed tones, emphasizing that it was pain, not a dull ache like a normal headache. He said his "whole head" hurt, as well as his neck. Turning on his left side was especially painful (which we found out later is where the aneurysms were).
Not knowing any of this, I thought maybe I should call the squad, but of course, that's when he protested. (What IS it with you men?) I finally declared that "IF-you-throw-up-we-ARE-going-to-the-ER".  
He finally said okay.
Fifteen minutes later – he started to vomit.
And for the first time ever, I helped him get dressed.  
8:30-9ish p.m.
The brand new ER is a three minute drive no more than 1/2 mile from our house (miracle #2). But I was nervous about waiting because that's what sometimes happens in a crowded clinic. Get in line, right? Especially this time of year.
So I called ahead…
 "My fiancée has an ACUTE headache and he's vomiting — is there a chance you can take him in right away? " 
Was that MY voice? Where did the word "acute" even come from????
Their response? They were at the door waiting with a wheelchair and brought him right back. No waiting! (Miracle #3!) 
After a quick CT scan the clinic doctors called me back. I left my year old in charge of his sister in the waiting room. I found Mark sitting up, commanding the room with a half grin from his bed in his hospital gown. Evidently he thought he was the one in charge of the situation (typical). The docs were grinning, (aka, appeasing) him as Mark broke it to me that he had a "slight brain bleed". I choked up — I, for one, immediately knew that this was serious. The doctors explained their suspicions, possibly…just possibly an aneyrsym, and that it was "routine" to send him to the main hospital to confirm the cause.
Momentarily, I felt like I might be overreacting.
Mark's joking nature took over the mood. It was under this "no big deal" pretense that I started to call the family to tell them about the brain bleed.
 Thinking back, I can recall the seriousness of the situation. I replay the doctors' words and their faces. The way the news was delivered had a lot to do with the fact that they are ER doctors and nurses. Not neurosurgeons–so they couldn't diagnose it officially and had to send Mark to the main campus. My good friend, Jill came to pick up my kids right as I was heading out to the car. She was a doll…(and unbeknownst to me, she'd have my kids for the next four days).
Side note: And to think Mark wasn't even supposed to be home that night. He was originally supposed to travel, 200 miles away and was going to be in a hotel. By himself. And you know by now, Mark never breaks his plans. Something told him it was ok to stay home. (By this time, I stopped counting miracles and thanking the Lord for my blessings…)
10:30 p.m. transfer to the main campus
As I got in the car to follow the ambulance, I started to call family telling them everything I knew. Mark's "oh it's just a little brain bleed" attitude, it helped me convey a "don't worry…yet" kind of message. But I knew he was pretending to feel ok. He was NOT the same guy he was for me just two hours earlier at home who was in severe pain. I couldn't tell if his happy demeanor was meant for me or if he was actually feeling better.
As the EMTs gurneyed Mark into the hospital, the party mood dropped like a record screech. An "A-Team" of neurosurgeons were waiting for him, I remember five white coats who had clearly read Mark's CT scans. I was ushered aside as they talked to Mark privately behind the curtain. Mark had not one, but TWO aneurysms right behind his left eye.  One was huge, the other smaller…yet that was the one that was bleeding. Had they burst – he'd be gone. A non-invasive brain surgery was about to happen, but they needed to wait for Dr. Al-Ali to arrive.
Non-invasive in this case meant they would not need to cut through the skull. The entire surgery would take place by inserting a coil through the femoral artery at the groin. Can you believe they can do BRAIN surgery this way????
Waiting for Brain Surgery (11:00 p.m. – 1-ish a.m.) 
We were so lucky to be near a hospital where this procedure takes place, which from what I understand is not readily available. So many of "what-if" moments were starting to become more real to me. Had Mark traveled to a different city, a different surgery (aka, through the skull) would have been likely, and maybe a different outcome. God's grace was truly present, and Mark was being protected.
The coiling approach to surgery is designed to do two things:
1) By injecting a dye into the brain, it confirms whether there actually is an aneurysm.
2) If confirmed, they would coil the pocket with a thin wire.
Mark's surgeon was clearly a rockstar. I think they had to fly him in from some secret mission. By the time surgery was about to happen, pretty much the entire nursing staff had already "heard" of Mark, as I stood in the background just shaking my head…grinning. But understandably, they were checking his vitals…constantly.
Edited to add: Reality started to set in. I realized at any minute – Mark could permanently lose his sight, or his speech or his mobility, or his life. Basically, I was watching a man who was bleeding internally — blood is caustic to the central nervous system — and it can cause major damage. Or, the aneurysm could burst at any minute, and he'd be gone. And here he was, keeping things lighthearted. The outcome of the surgery was unpredictable, and I didn't know who I would "meet" once the surgery was over. 
Last words, before he was wheeled into surgery
Finally…it was time. It was after midnight. The nurse came to get Mark and suggested that I have him call his Mom before he was put under.  I dialed the phone…and realized how surreal things seemed as I watched all of this transpire. Mark hung up the phone, and handed it to me. We said we'd see each other in a few hours.
As I watched him get wheeled into surgery, they bumped the doors opened. That's when I heard him ask the nurse,
"If you have to shave down there, can I order a Brazilian bikini wax???"
 – Mic drop –
The surgeon came out around 2 a.m. to confirm the surgery was going well. By around 4:30 a.m. the surgery was over. The prognosis was 33% normal recovery, 33% chance of disabilities, and 33% possibility of the worst.
 Mark recovered normally after two solid weeks in the neurointensive care unit. He was fully monitored for stroke side effects (and he did, in fact, have mini strokes during his recovery).
One of the nurses said to me, "we don't meet patients like Mark. Most of them don't wake up when they lie down."
And the day he was discharged – some of the nurses cried.
Thanks for listening. Feel free to pin this story…it just might save a life!