Tiny Laundry Room Organizing Ideas
Today I'm (finally!) sharing a progress update along with some tiny laundry room organizing ideas. We've carefully considered how this space could flow better and discovered some small "hacks" that made our exceptionally small space more pleasant to be in. This room is large enough for one person to stand in place and turn in a circle, that's it!  Click here to see all of my laundry room posts to-date. (Affiliate links included throughout this post)
To start with, I found a pretty new rug on Overstock.com.  Not necessarily a 'hack" but it certainly brightened up this room! I originally wanted a moroccan tile like this one, but this rug pattern satisfied my craving for the time being.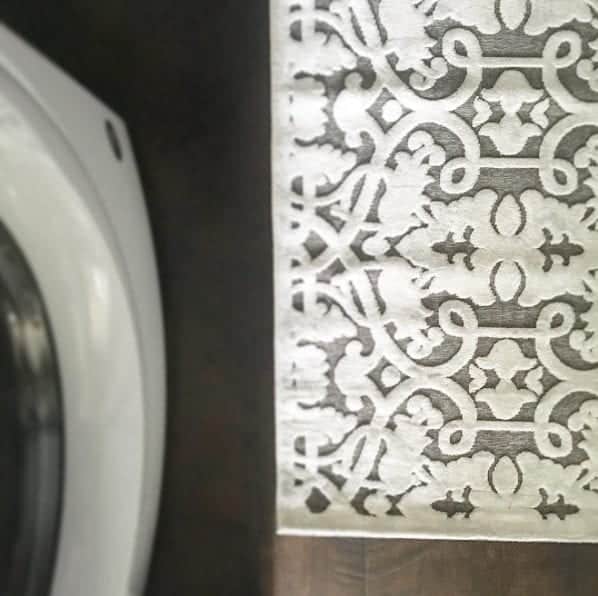 New Cabinets, Custom Built
We hoard cheap building supplies – for $4 each, we purchased black Ikea cabinet doors (like these, without the cabinets). So, Mark built custom cabinets to fit the doors. More on this later, but he did a beautiful job!  I stained them with Rustoleum Oil Based Enamel in Matte, which seemed to match the finish on the doors perfectly.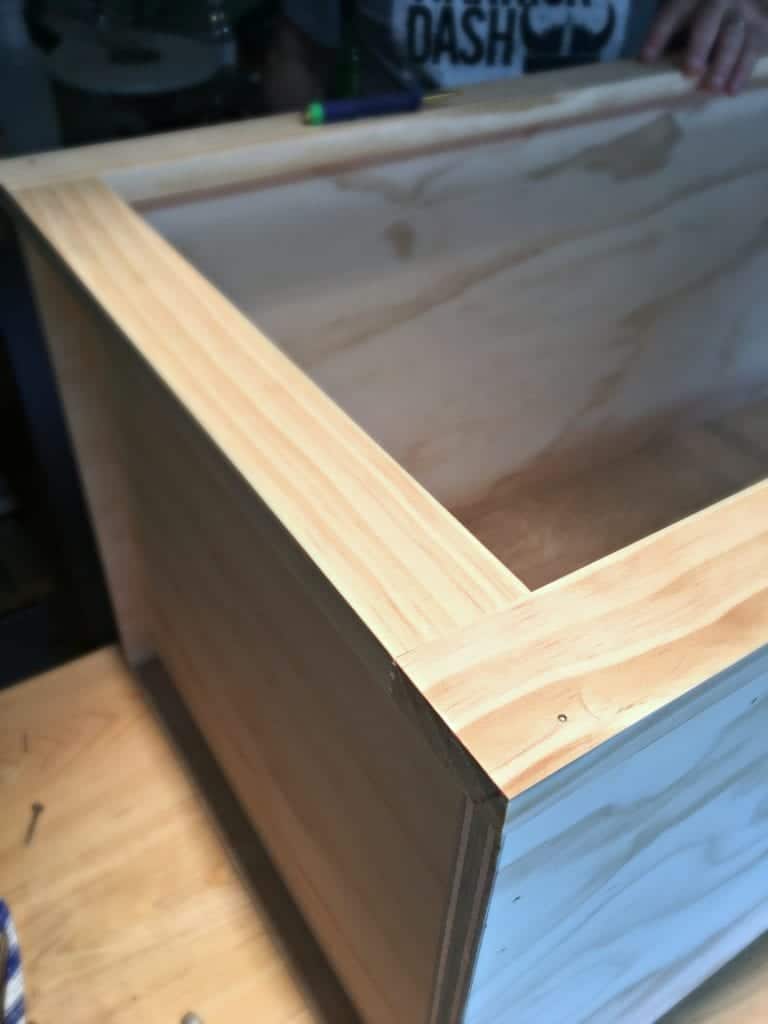 New Floor
We stopped short of the laundry room during our Pergo flooring project last year. Once the washing machine died, it gave us the opportunity to remove the appliances and finish the Pergo. Mark used a snowblower to clean out the dryer vents (clever!). It worked pretty well, just be sure to give it a good seal using duct tape.
You can see we also installed beadboard and painted it the brightest white we could find with no yellow undertones. We chose Oxford White, by HGTV Home / Sherwin Williams. For tips on choosing the perfect white paint color, check out this post from Remodelaholic!
Industrial Laundry Rod / Valet
above the door!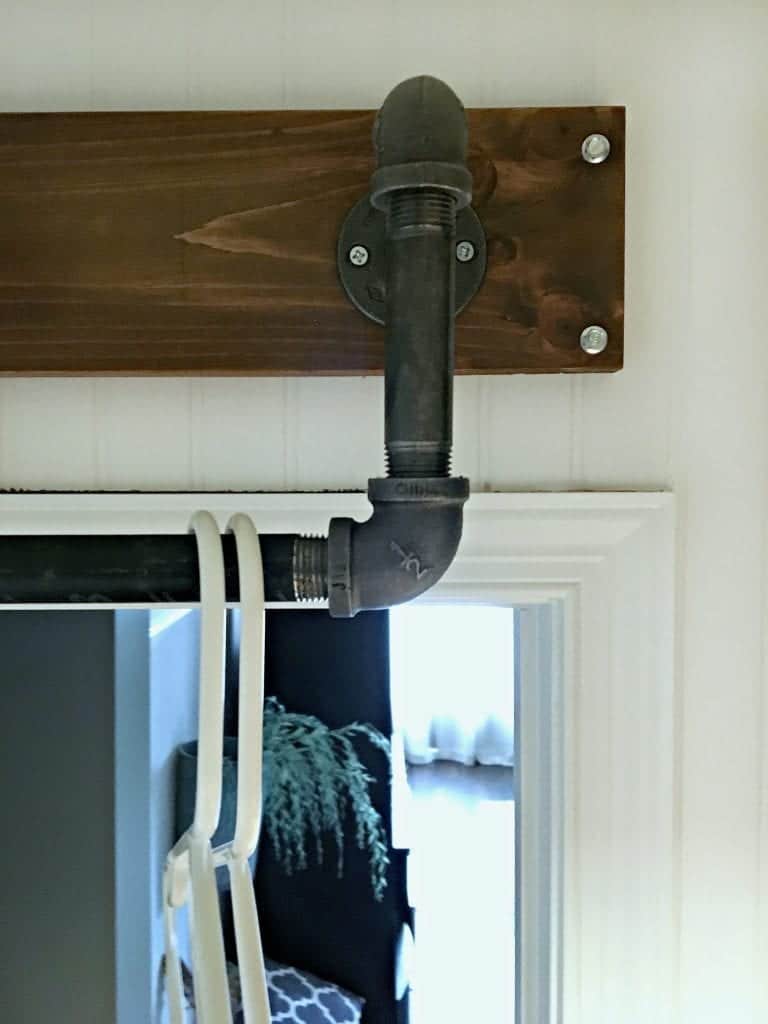 I can't decide which part of this room is my favorite, but this project might be the winner! I knew I wanted a hanging rod, I just didn't want to waste an entire wall dedicated to hanging clothes – we just couldn't spare the space and have a rod take up the walkway. Every valet I found online was "over" the door – not ABOVE the door. So, Mr. Snazzy created this above-the-door industrial valet.
New Washing Machine, delivered!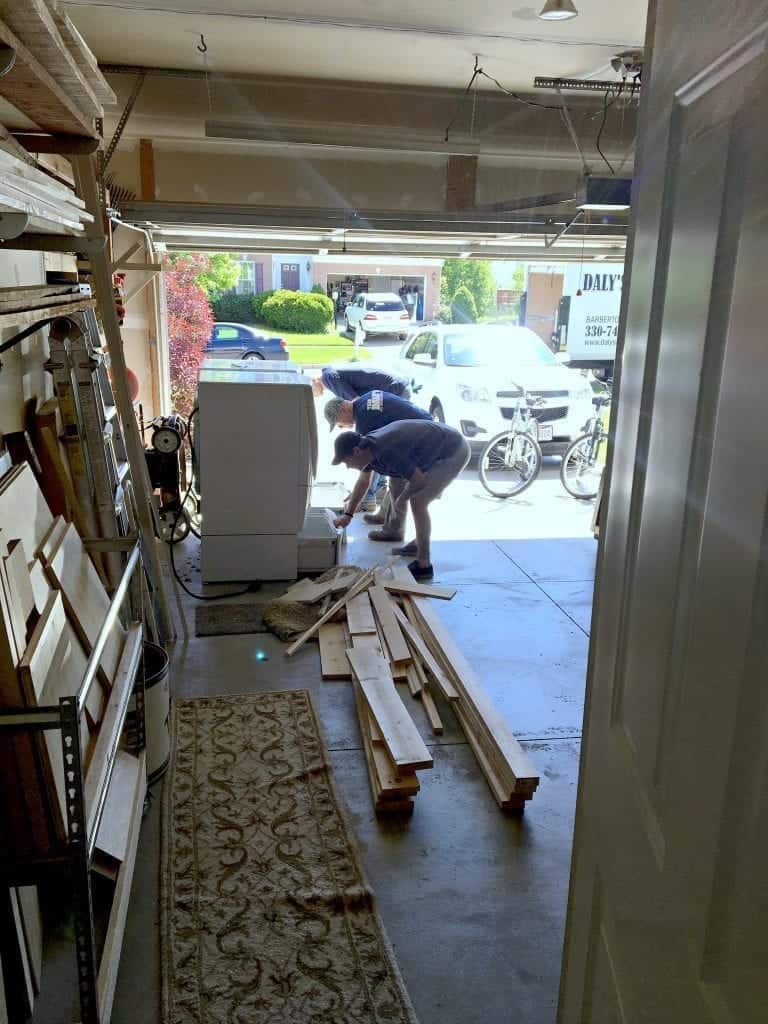 We only bought a new washing machine since the dryer was fine. We found some great deals from a local mom-and-pop store. These guys were great and very careful. They removed the drawers from the old appliances, and we opted to place them directly on the floor. We had to install new feet (about $5) and level the machines once they were in.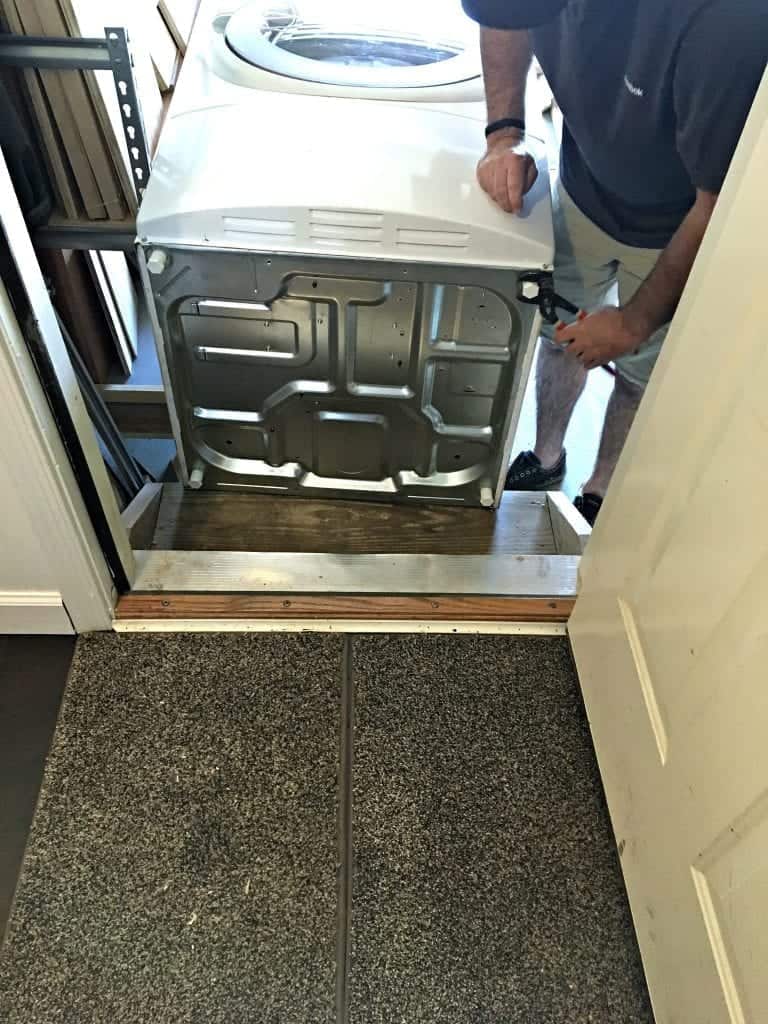 Faux Butcher Block Folding Table
Our laundry piles no longer end up in our living room – what a game changer it's been having a folding table! Mark created a "faux" butcher block made with oak 3/4″ plywood and a wood trim piece on the front. Then installed this above the washer and dryer. It looks exactly like our real butcher block in our kitchen, but is much lighter weight.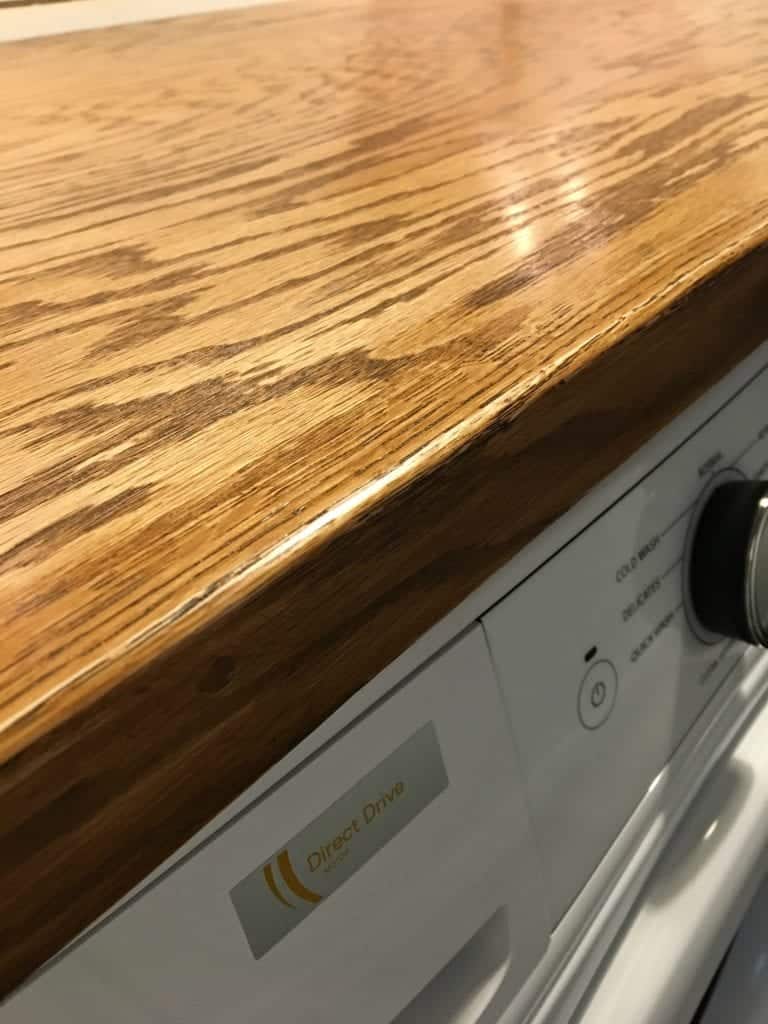 I have to repaint some doors which got chipped and scratched in the process…and as you can see, I didn't even bother to paint the garage-side of the door. Our garage is basically a wood shop and there are so many finger prints…so I'm thinking black glossy on that side of the door, with matte on the inside.
The big reveal is coming soon, I have yet to put a few finishing touches before I share the full space. I haven't even decorated yet and we already love it!
A Glimpse of the Laundry Room
before:
Thanks for your patience! I'm so ready for this project to be over!