I admit, I sometimes don't immediately see the potential that can be found in upcyling old vintage items, and I have to think hard about how to reuse them.  But I'm working on that. In this post I'll share some advice with those of you who happen to be dipping your toe into the world of vintage shopping and upcycling…as I am.
For me, it's a process of opening my mind in order to see vintage items through a completely different lens and their upcycling potential.  On weekends I enjoy some alone time where I can explore some of my favorite secondhand furniture stores. It always feels good to get up early on a Saturday and get into "the zone".  But once I am in that "zone" and I glaze my eyes and walk through the store…..stuff like this happens: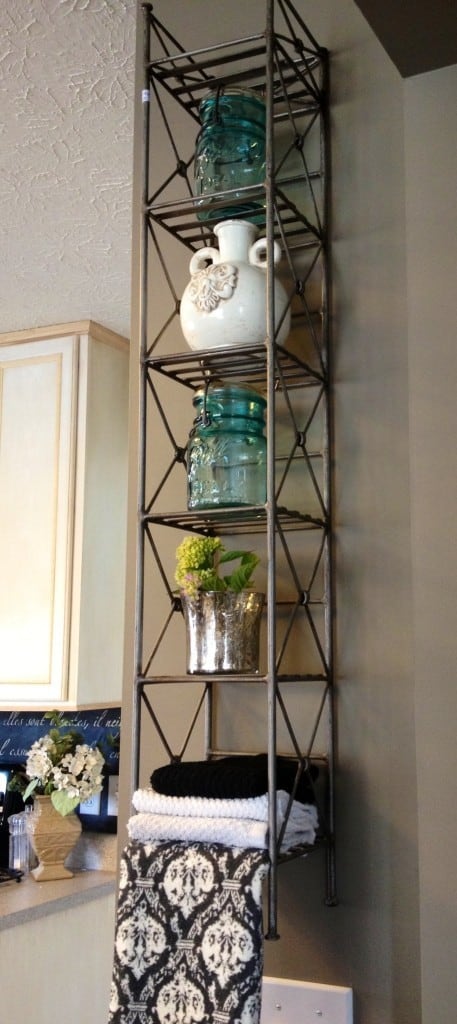 Above: My upcycled CD rack is now a cute kitchen shelf. Except, I might "flip" it over now…even that took awhile for me to realize it might make it aesthetically more pleasing.
All I need is a clear mind, a coffee in my hand…and an empty trunk.
And yesterday, I had all three.
So on these days, my mind creates a loose agenda — it goes something like this:
1). I want to find clearance-only items.
2) I would like to find a table or two that has "potential"….and…
3)  I need some more industrial-steampunk accents.
Here is what I found on my first trip to my favorite thrift shop: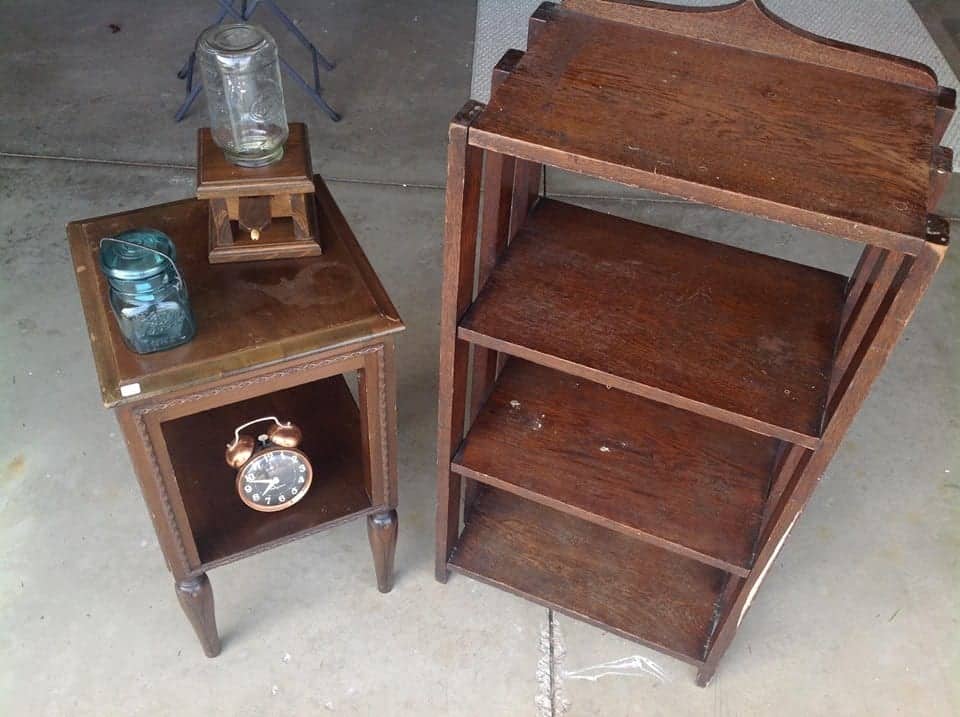 I loved the little table on the left, and the one on the right was only five bucks, so it was a no brainer. I figured for the $5 table, I would apply a more chippy finish. I also picked up a copper & black clock, and a gumball dispenser (my kids will love this). As well as another Ball Mason Jar (see my CD tower above which is where the Mason Jar now lives). The entire ensemble above was $60. I consider that a good day of junkin' in Ohio.
But…I didn't want to go home yet. I wasn't satisfied because I didn't find enough items with an industrial twist.
I'm so glad I didn't. So I grabbed another coffee, and hiked down to see my Annie Sloan Stockist to talk shop. The good stores in Ohio are not always conveniently close to each other unfortunately. But the block where her store sits is packed with great antique shops so it's well worth the trip.
Here is what I found: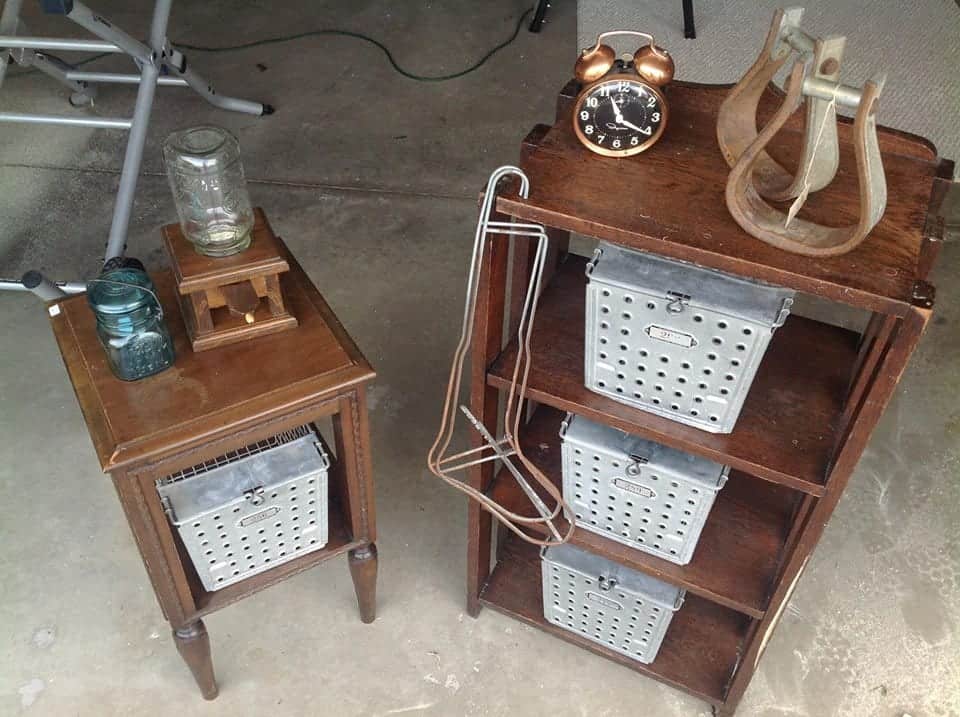 Locker Baskets – I LOVE the industrial locker baskets.  (Here is where they ended up)
Stocking stretchers: Aren't those fun? Something that could really be cool for a laundry room display. (See where they landed in my house after a touch up with some paint)
Stirrups – Those will be used as towel racks in our basement bathroom, which is already decked out in an industrial motif.
So my excursion yesterday was very fruitful.  Sadly, that store had a fire and closed down permanently.
Some advice for upcycling & shopping for vintage items (and seeing them in a "new light")
Find a Store That Fits Your Tastes: Like any store, I've learned that every vintage resale shop has it's own specific vibe. If the shop owner is into industrial decor, it will be reflected in their displays. If a store doesn't match up with your tastes, then don't give up on thrifting altogether…just find the next store that suits you. In my case, I have three favorites that are quite a distance apart.
Take Some Laps Around the Store: I do this often which is exactly what I did when I found my CD tower. It's because I'm really thinking hard about a purchase, (but I would imagine it makes me pretty tough to shop with!) I don't impulse shop (typically). My first lap is perusing the store for it's newest items. The second lap is when I am honing in on my favorite things and choosing the best markdowns. The third is collecting things that I figured out how to reuse and bringing them to the counter. If an item sticks in your mind at the end of the second or third lap…then it's probably worth taking home.
Think About Your Re-purposing Strengths: I am not great at rewiring lamps, but I am pretty darn good at painting everything, and reupholstery. So when I shop for items…I look for the size and shape (first) and not color. With wood furniture, I typically look for pieces with water damage during my "laps" (since I know that painting is the cure). I look for pieces that play to my strengths towards re-purposing.
Talk to Shop Owners About Reuse Ideas: If you aren't sure exactly what you will do with an item, but you know it's a great deal–talk to the shop owner about how to upcycle. They are experts at this since it is their business! They will give you plenty of inspiration and enjoy that type of dialogue with their customers. If you still aren't sure (and it's too good of a bargain to pass up)…buy it anyway and live with the piece as-is for awhile. That's exactly what I did with my recent Goodwill table upcycle. It sat in my morning room for months (unfinished) until one day, it hit me how it would look, and exactly where I would put it.
Make Connections & Stay In Touch: When I find a good store owner or a great contact on Craigslist, I exchange information with them. They are the people who frequent auctions and estate sales (I cannot because of my day job–which believe it or not, isn't blogging). Let them know what items you are searching for, and they will be on the lookout.
Be Patient: If a trip didn't work out, don't sweat it. The right items will come along, and with your new contacts friends will call you if they find what you're looking for. It shows that you're trying to be frugal. Being picky is okay!
When I strike out, I sometimes visit my own basement storage and upcycle some items that are just sitting there. In fact, I did that this past week. Here is what I ended up doing to some old pots that were just taking up space: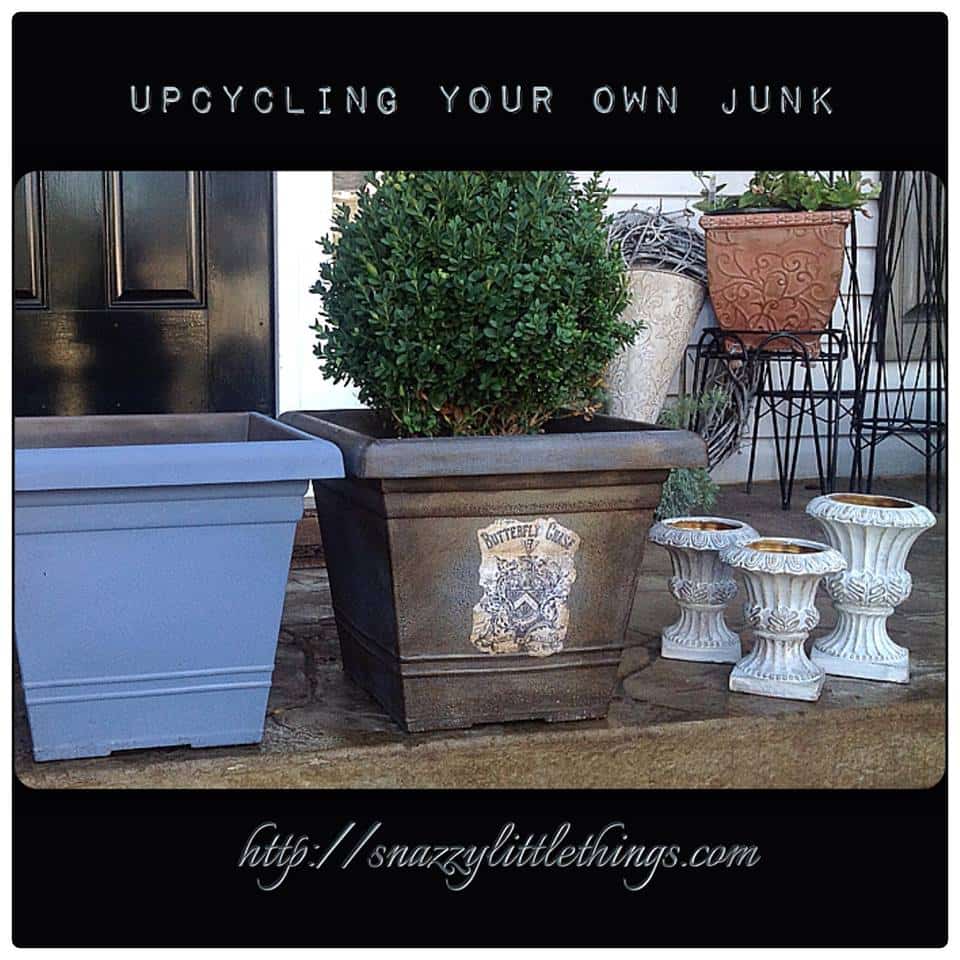 It felt so good to take some old items and give everything new life. I went from forgetting I owned them —to wanting to show them off! My house (upstairs) has a lot of French accents, so bringing these old gold pots from the 90's and giving them a Frenchy finish makes me feel better about storing old items. I knew they were cool at the time I was storing them. I don't save everything, but I do store items that I think will serve me well later.
Another upcycle from my own storage: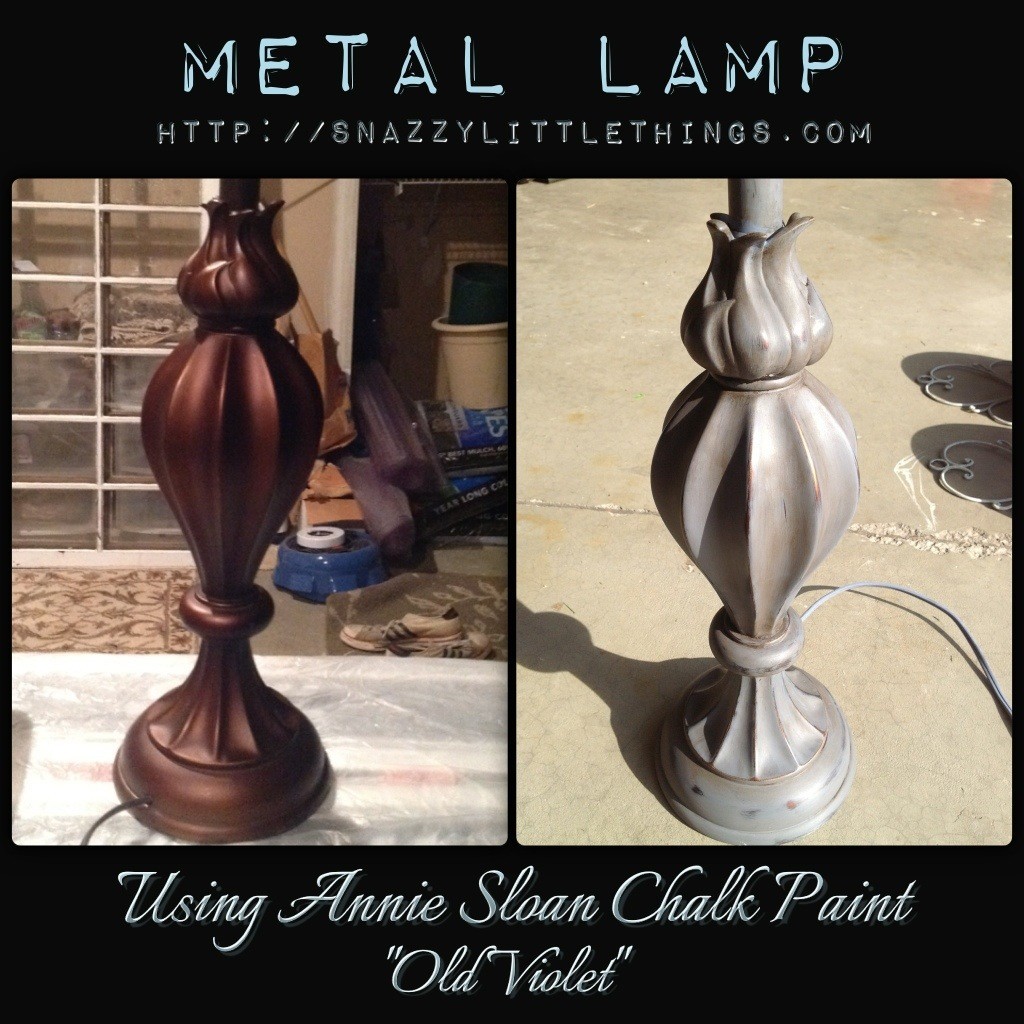 When I'm having a design dilemma, I walk away and take a break, often. It's worth stopping a project to do a gut-check. Not to mention, you should savor the process of redecorating. This isn't a race or a competition (although sometimes in blogworld it seems like it).
It's a creative process that's meant to be enjoyed.
So grab your coffee…get away from the house for awhile, and let your mind wander.
Oh…and by the way, enjoy it.