Many brides don't even consider the idea of making their own bouquet. We're willing to make table decorations, and even our own food? But in this post, I encourage you to attempt making your own following these few simple tips.
Though it may seem like a small touch, your floral bouquet ties all of your wedding decor elements together. What's more, your photographer is going to capture this important wedding accessory in every picture they take. Next to the bride and groom, the flowers are one of the most memorable accessories in any wedding.
Know what you need
Before you get started, it's essential you research what you'll need for the task. As with any DIY project, getting all your kit beforehand is essential. You certainly won't want to rush out for last minute bits once you get started. Time is of the essence when arranging real flowers.
The essentials:
Flowers

Flower shears

Bouquet pins

Floral tape

Ribbon

A bucket of water
For your flowers, you might want to head to a local florist, or even branch out with a flower market. It may be the case that you already have flowers in mind, and need to buy from a few different places. As for the rest of your supplies, you should be able to find these in your local craft store.
Prep your flowers properly

Whatever you do, don't make the mistake of thinking your flowers can go in that bouquet as they are. You want rustic chic. Instead, take time to prepare every flower. This means removing excess foliage by hand and dethorning roses. You also want to make sure your stems are the same length.

Build your bouquet from the middle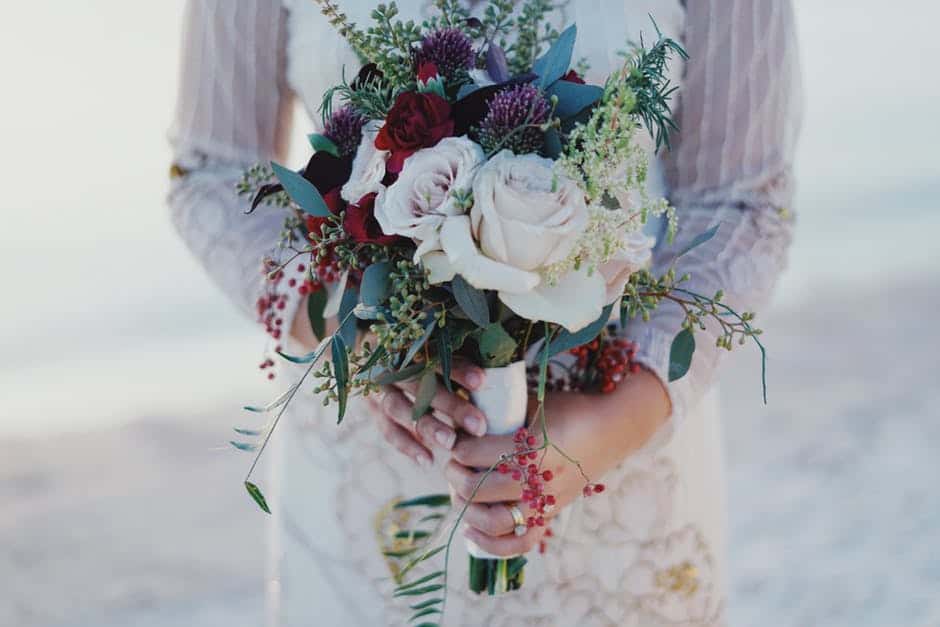 Simple bouquets are on-trend right now. Don't feel the need to be elaborate, the beauty is evident in the flowers you choose.
Building the body of your bouquet is, by far, the most challenging part of this task. But, once you get an idea for the general shape, you shouldn't have any difficulty. The key here is to start from the middle and add from there. Pick out around two or three flowers which you would like to form the centerpiece. Then, add more until you're happy. Throughout, consider sizes and colors to ensure your choices work together as a whole. If something doesn't fit, don't be afraid to take it out and set it aside and use it elsewhere in your wedding decor.

Get wrapped

Don't forget that you'll need your bouquet to stay in one piece through the day. The last thing you need is a flower flying free as you walk down the aisle. Use your floral tape to wrap as you go. You want to cover a large part of your stems here to keep things together. Then, cover that floral tape with a ribbon of your choice.