A Pretty Fall Foyer Vignette
You guys, I decorated something! I'm so excited to actually decorate the house (instead of ripping out the flooring) for a change. Thank you, Wayfair, for asking me to join #TheCenterpieceChallenge because this girl needed a break from power tools.
#TheCenterpieceChallenge
Sponsored by Wayfair
To see my blog friends that have also participated in this Wayfair round up, search #TheCenterpieceChallenge on social media.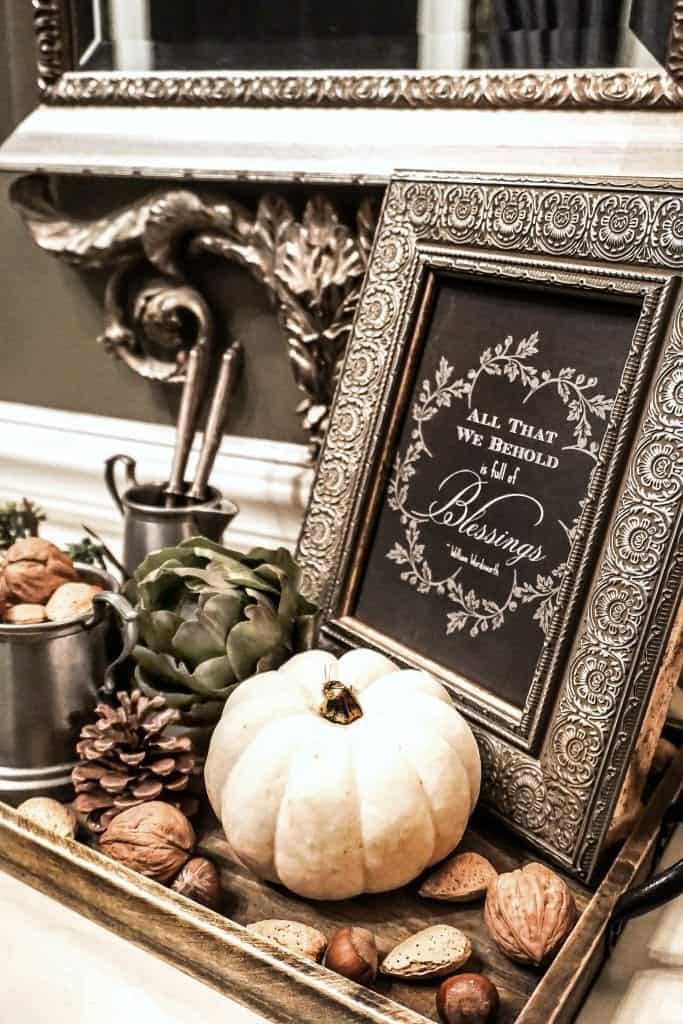 This cute tray from Wayfair was the perfect complement to my bare, white demilune table that sat empty in the foyer, pretty much all summer. (Visit this post to see my full foyer transformation over the years).
I rarely take photos at night because the golden rule of blogging photography is "bright daylight, no flash". But there is something about the warm amber glow that nighttime photography brings that is perfectly acceptable for the holidays.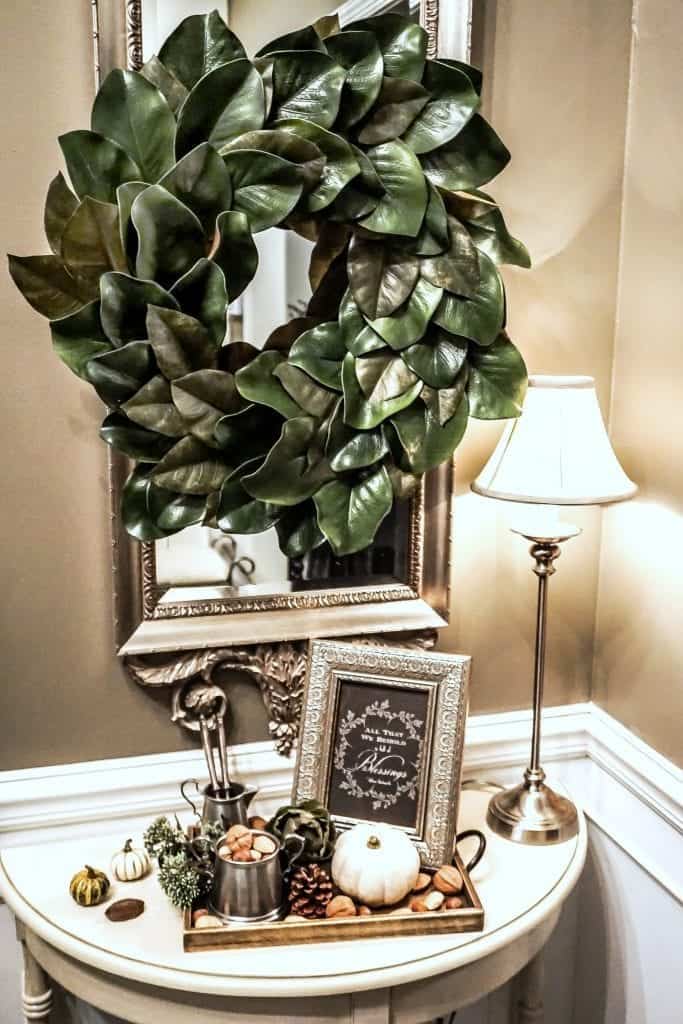 While I do love my painted furniture pieces, I automatically crave natural wood when I'm putting together a vignette against a painted white background. Natural wood never goes out of style.
I went antiquing this week, and I was on a mission to find anything pewter. Part of my hunted treasures included this pretty cream and sugar set that I repurposed into my "nut bar" serving tray.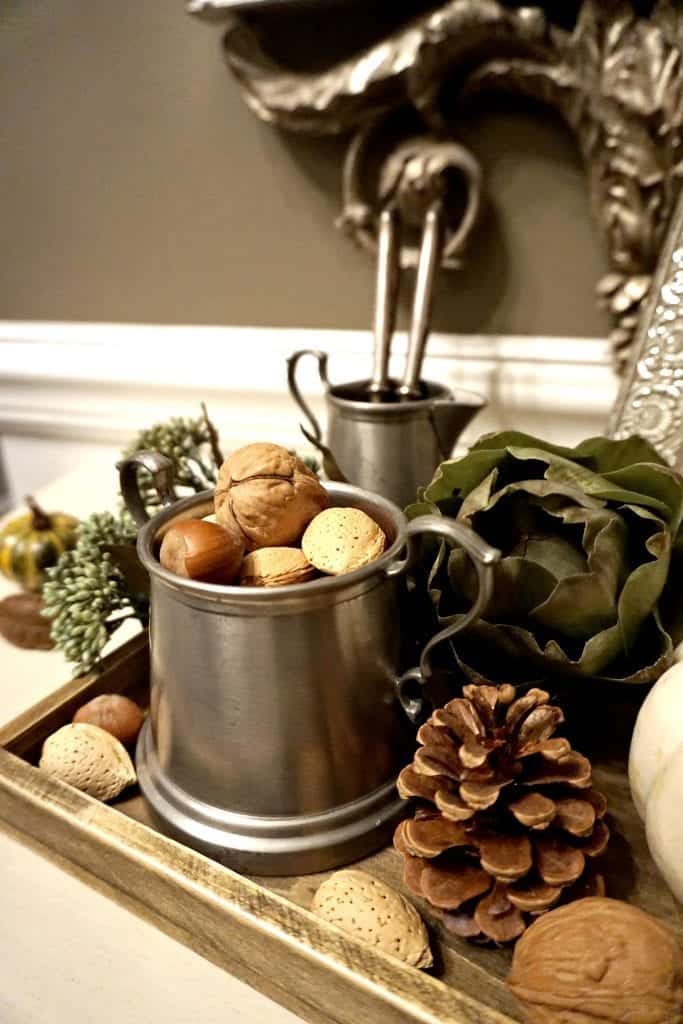 Can you believe we didn't have a nutcracker? So now, we do! Also found at the antique store.
See? I can't think of a more perfect location for my tray. And you've now witnessed the bulk of my Thanksgiving decorating:
This ONE table.
Yep, I keep it pretty simple.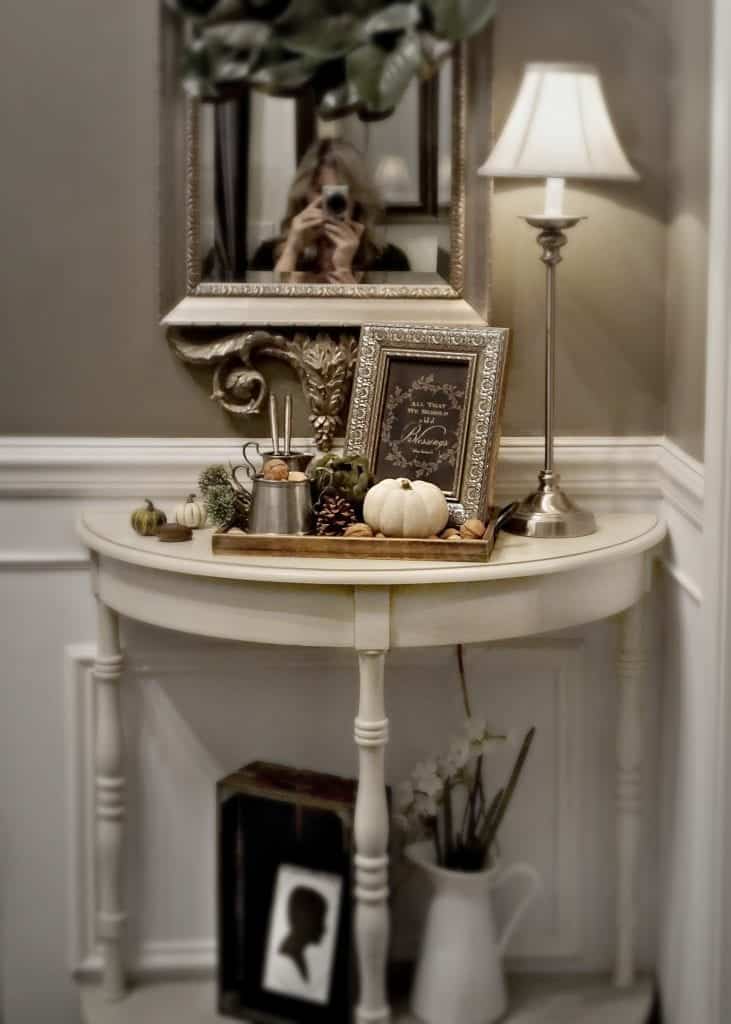 Don't judge my poor camera form. ;-) I've been a one-handed photographer for the better part of five years. Blame it on iPhones :)
I'll let you in on a secret…this vignette took me about an hour to get "just right" for this shoot.
Putting together vignettes really is an art, and I needed the practice! I'm so happy to have witnessed a pro stylist in action during my Better Homes and Gardens shoot (by the way…it's coming out very soon! Look for the January print issue which comes out in early December. You'll see all 30 extra pounds of me, but life has its ups and downs, ya know?).
Don't forget! You can pick up your free "Blessings" printable, below offers a close up of it. I'd love to see it displayed in your home, so don't forget to send me pictures!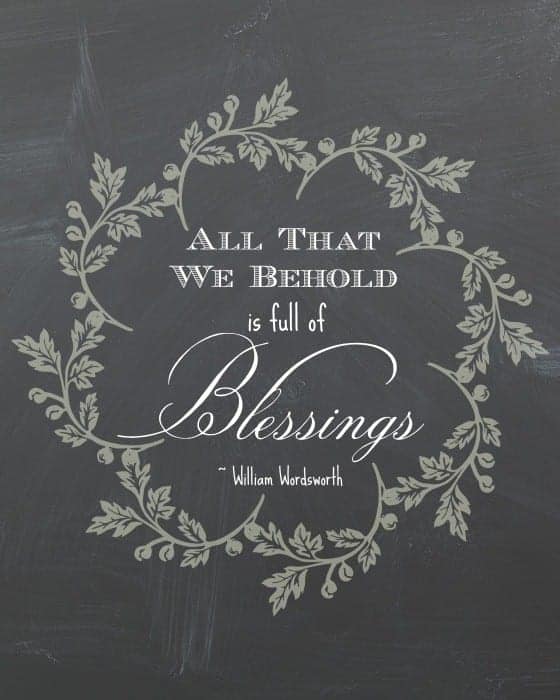 After you become a subscriber to my blog, you'll have full access to my printables library and will be issued a password. If you already subscribe, just check your latest newsletter with a password.