What better way to say "thank you" to friends and family than with a great meal at your special event. Our wedding theme evolved into "vintage–with a twist of ragtime". With our venue, it was easy to picture a 1920's era summertime "rave" with candy striped straws, dancing and a photobooth. So I found a few ways to add vintage touches throughout my venue– even in the food presentation.
****
Wedding Catering with a Twist of Ragtime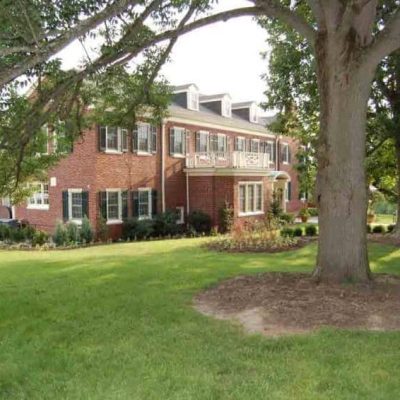 Since I was going for a vintage themed wedding, We had this pretty chalkboard menu awaiting our guests upon their arrival.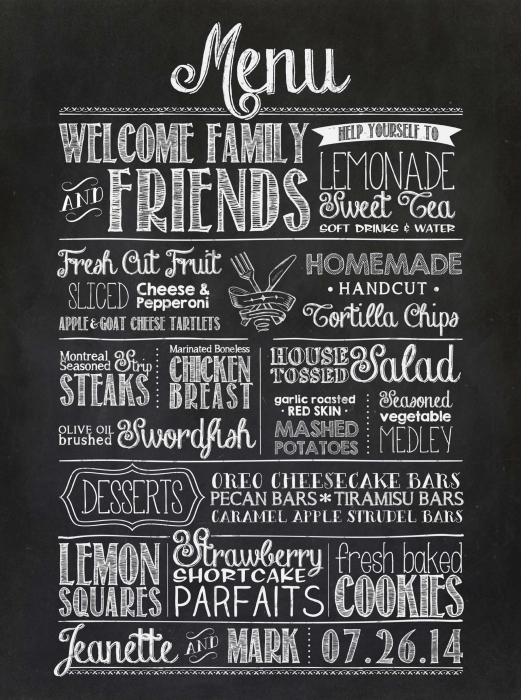 Above: Chalkboard menu created by Branding Ground (a graphic design firm in Cincinnati, owned by my brother-in-law, Mike). 
The presentation of appetizers, below.
Money Saving Tip:  My flower of choice? Baby's Breath in vintage bottles and jars throughout.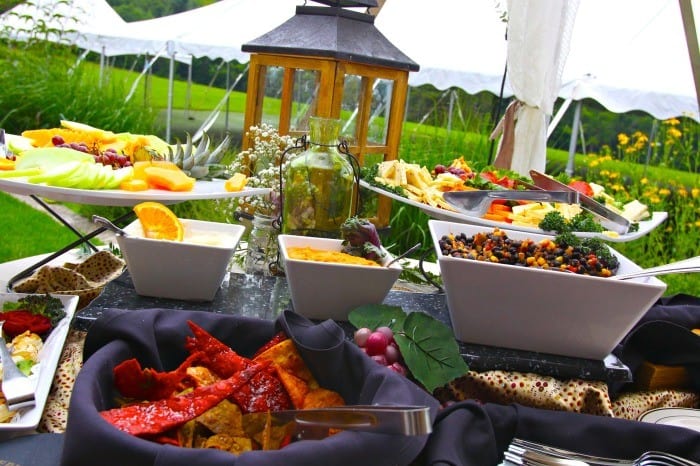 Above: All event images courtesy of Anthony Antal Photography.  Vonderhaar's Catering – Platinum Menu III.  My favorite was the home made tortillas and the red pepper hummus.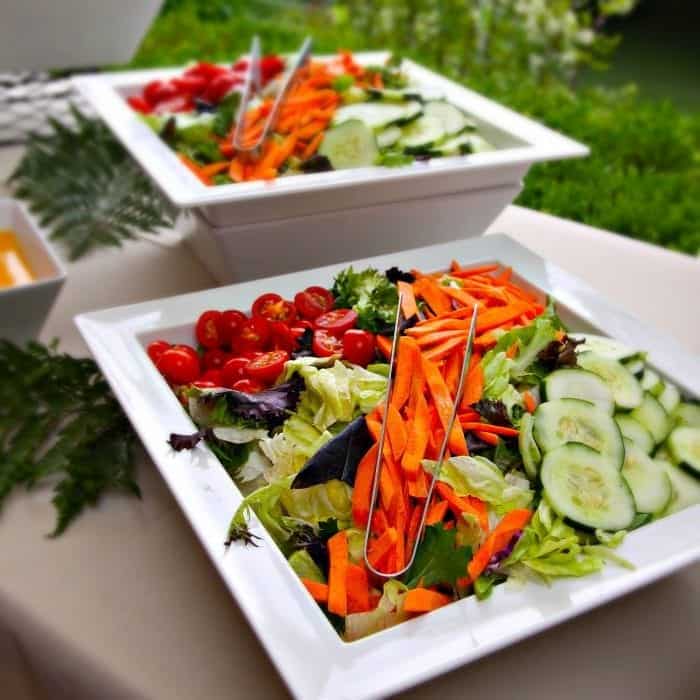 A beautiful fresh salad display. Image courtesy of Anthony Antal Photography.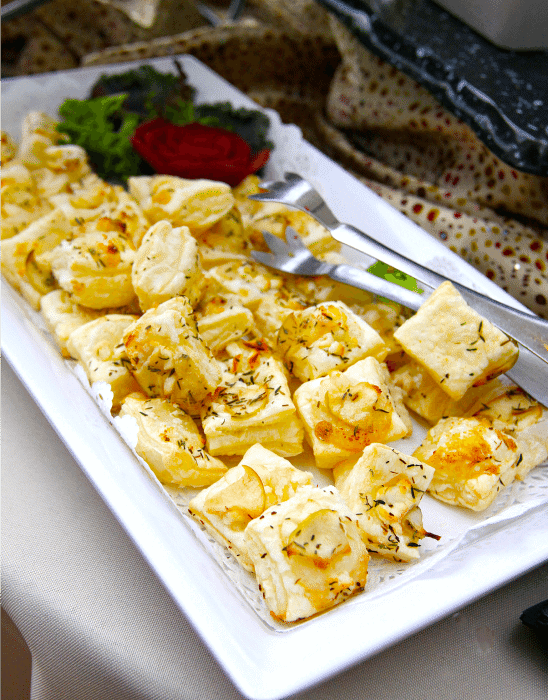 Above: Apple & goat cheese tartlets. Image courtesy of Anthony Antal Photography. 
I felt like a queen as they walked me through the buffet line. They certainly catered to my every need, and I heard the same from all of my guests.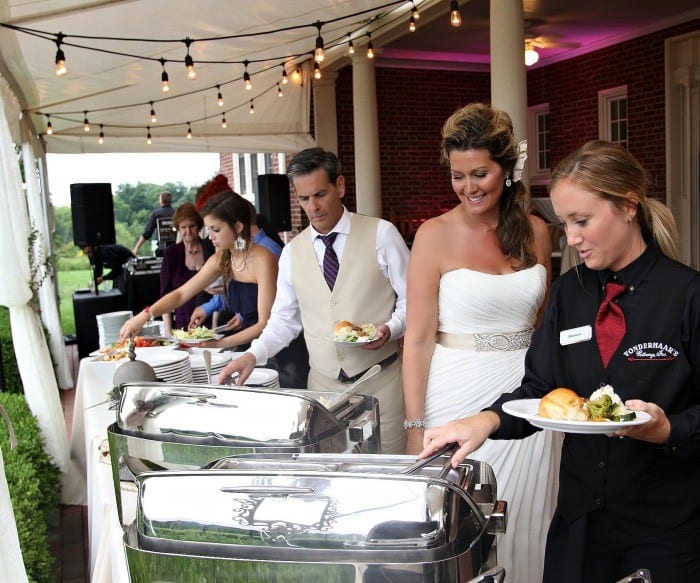 Our head table at the French House.  We had chalkboard accents throughout. I simply dropped off my decor and the staff at the French House worked alongside the Vonderhaar's team and set it all up for me.
Image courtesy of Anthony Antal Photography.
Money Saving Tip: I purchased the lanterns at the last minute from Amazon.com, when we realized we would save almost $12 per lantern versus renting. Plus we gave those to guests as gifts. Much of our decor consist of items that we brought from home, because we struggled to find rentals that suited our vintage tastes.  This saved us considerable $. 
We added a few additional vintage accents to complement our theme…vintage straws and labels are from David Tutera. You can purchase them here. These reminded me of an old 1920's soda shoppe.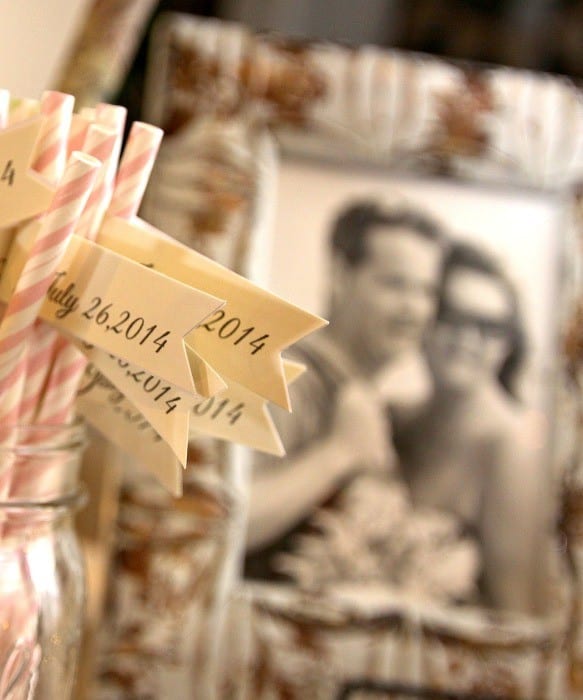 Above: Anthony Antal Photography
Money Saving Tip: We wanted a simple cake, and with only 3.5 months of planning (thanks to a cancellation at the French House, we jumped on it) many of our decisions happened the week prior to the wedding. So we picked up our cake THE MORNING of the wedding and purchased this simple cake topper online. You can purchase from my Amazon store here.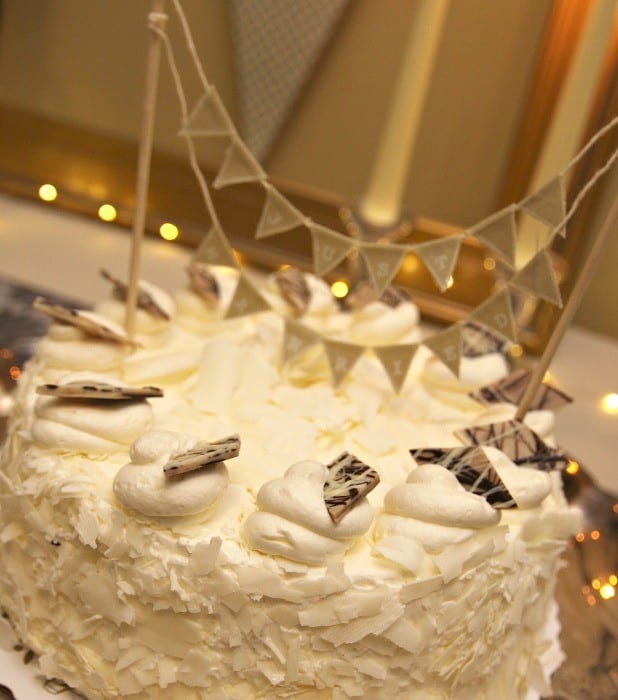 Image: Courtesy Anthony Antal Photography
In addition to the dessert menu that was provided by Vonderhaar's, we set up our own candy buffet. It added to the "1920's soda shoppe" feel and ended up being a pretty and colorful display. The oversized Ball jars are from The Glass Barn, which is right around the corner from Vonderhaaar's.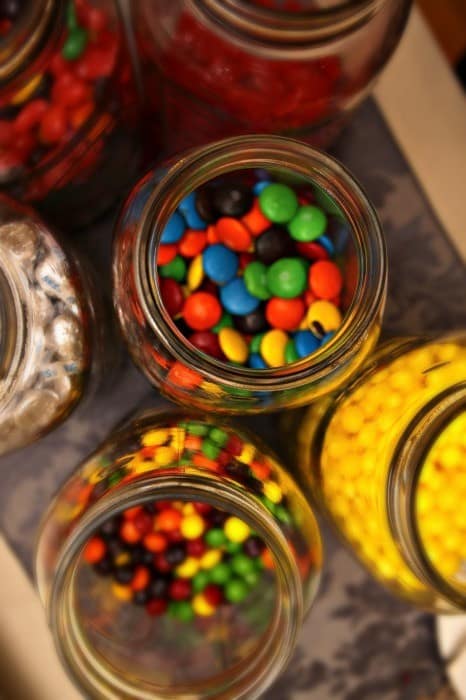 Our dessert menu was outstanding. We had about as many kids as we did adults, and they raided the the cookie trays.

More desserts from Vonderhaar's.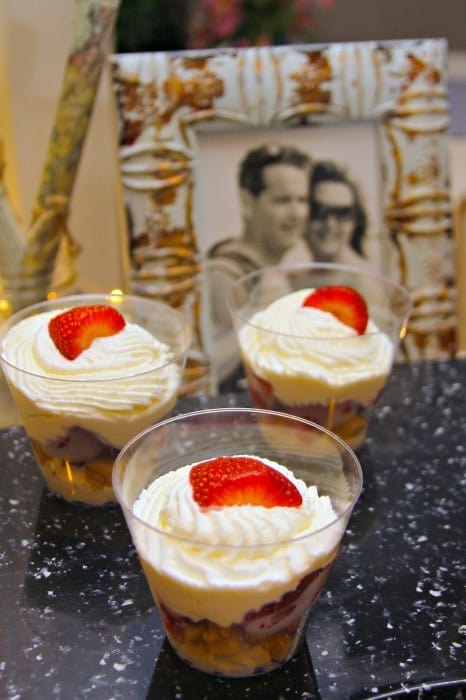 Vonderhaar's Catering honored my theme and made it all very easy for me, even with my time crunch and only 3.5 months of planning.
As I began my search for a caterer, The
French House
staff provided me with a short list of vendors upon my request.
Vonderhaar's
 certainly stood out. Their website is easy to navigate and left me with a great first impression. I could tell that they are a top-notch vendor when it comes to special event catering. Because I live in Northern Ohio, long-distance planning was a bit of a challenge, so I needed this aspect of wedding planning to be completely stress-free. Within a few clicks on their website, I was able to schedule a complimentary tasting for the following weekend.
Platinum Menu III was waiting for us and we were introduced to Lindsey, the Assistant Catering Manager at Vonderhaar's. She was a doll, and she was there to answer all of our questions and made our selection process very easy. So we signed the contract that day, then we were off to continue with the rest of our planning.
Working with Vonderhaar's was most certainly an enjoyable experience for us. The presentation was amazing, the staff was so friendly and it was a stress free. Even if you are planning the event from several hundred miles away, I highly recommend them for your special event planning needs.
Vonderhaar's Catering, Inc.
19 W. Pleasant Street
Reading, Ohio 45215
513-554-1969
Fax 513-554-0255
Toll Free # 1-877-477-4192
Fill out Vonderhaar's contact form here.
To see all of my wedding planning tips, tutorials and free downloads, visit this page!