Why Sheet Vinyl Flooring is a GREAT Option for Your Home

A visual design mood board for an outdated basement bathroom used for guests. Waterproof "wood" flooring, rustic and industrial elements mixed with traditional, vintage decor. Calcutta marble vanity top, mixed metals.
Happy 2020, my friend!
Welcome to our first remodel of the DECADE.
We've now been in our new "picket fence house" since August 2018. We've updated 10 rooms in some way, but our goal this year is to finish (and furnish) the remaining unfinished spaces in our house.
So this means the entire basement and all the bathrooms are now falling onto my radar.
The first order of business…our embarrassing basement guest bathroom.
Basement Guest Bath (BEFORE)
So…welcome to our 'luxury' basement guest bath! Don't you love it? ;-) And yes that's carpet you're seeing in the bathroom. Other than the stinky carpet, the bathroom functions nicely.
It's just long overdue for a stylish upgrade.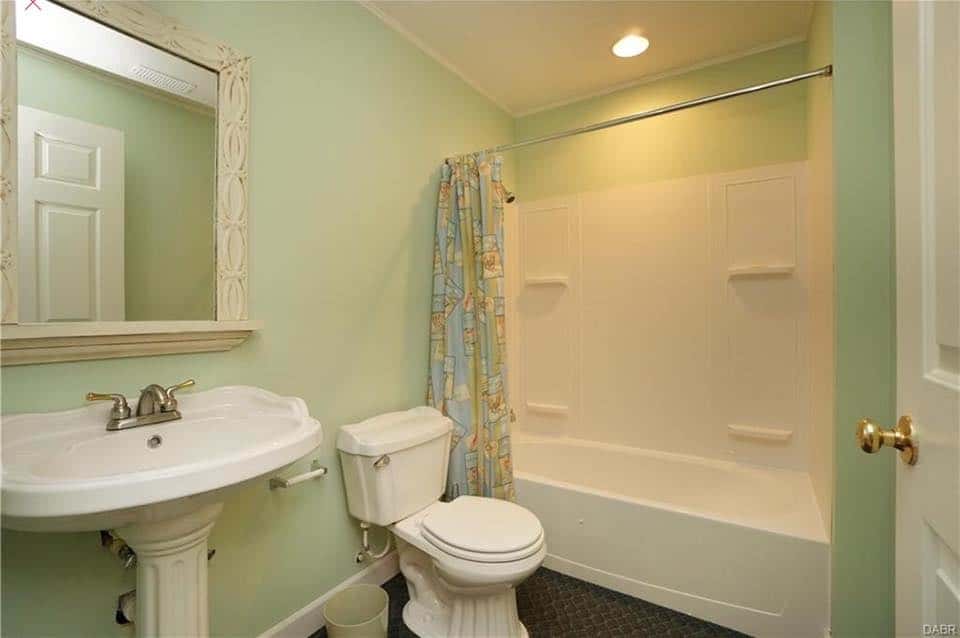 Here is the lived-in look…courtesy of our teenager.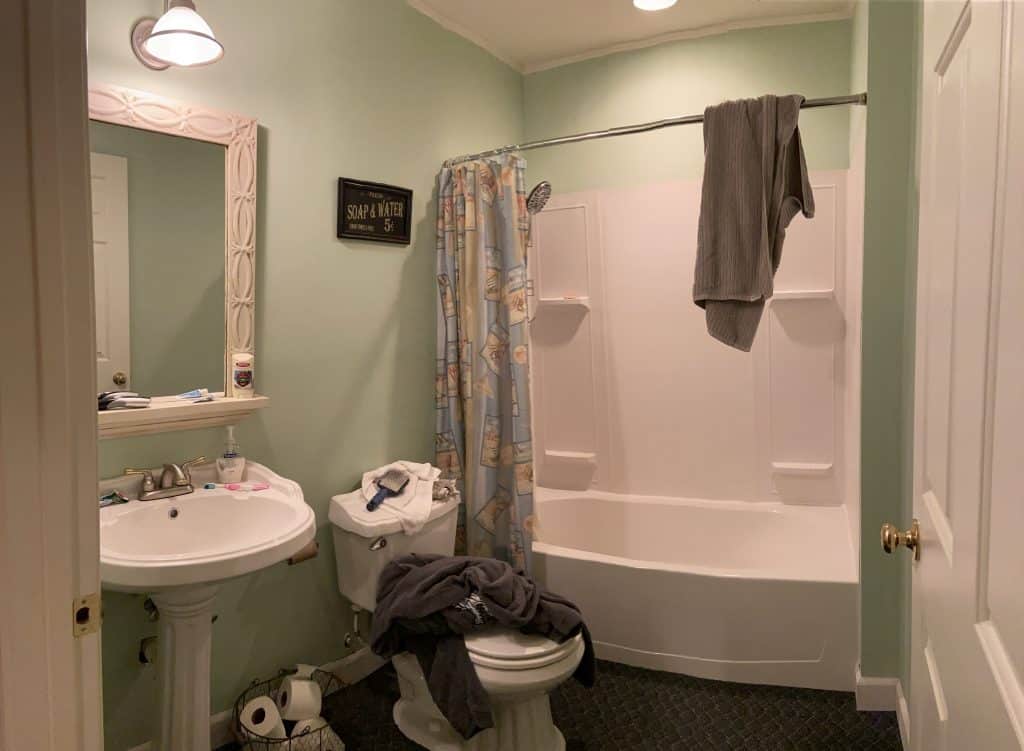 Sooo, we happily ripped out the stinky carpet in favor of beautiful wood-like sheet vinyl flooring by LifeProof, found exclusively at The Home Depot.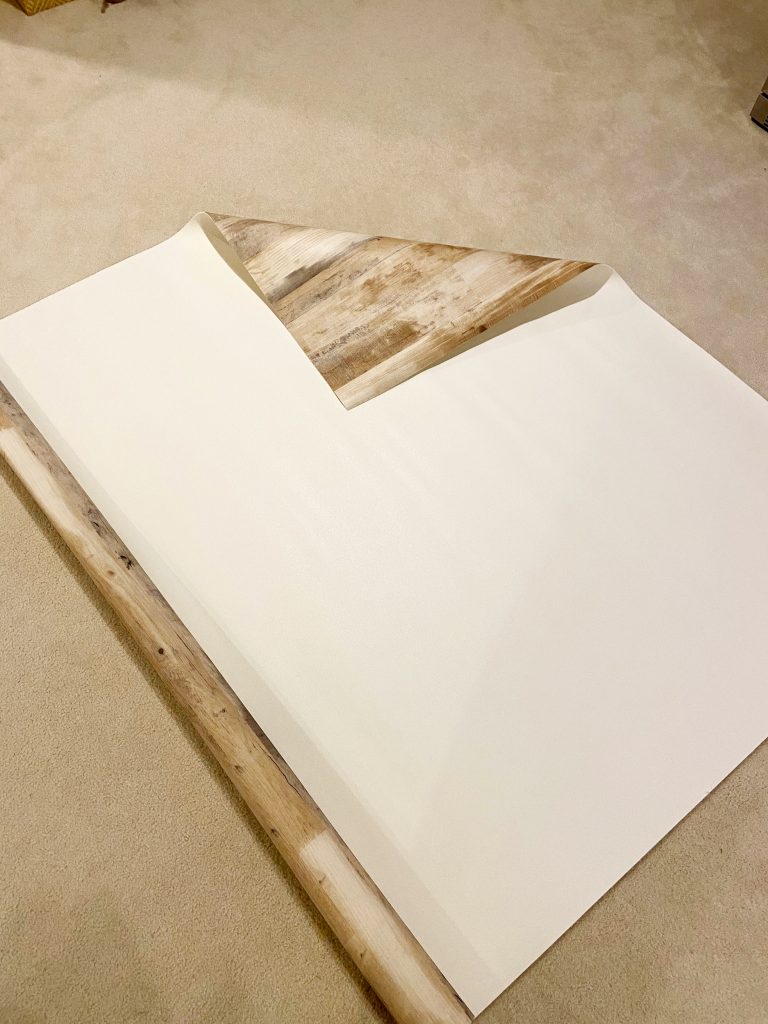 Waterproof "Wood" Flooring
Our new, faux wood floor feels great underfoot. It isn't cold to the touch and once it's installed on concrete, it feels so much like real wood.
LifeProof sheet vinyl flooring doesn't expand and contract with fluctuating temperatures and it has a super thick, cushioned backing which makes it comfortable to stand on. And best of all…it's moisture and mildew resistant, really easy to take care of and is protected by a warranty.
Installed in 30 minutes!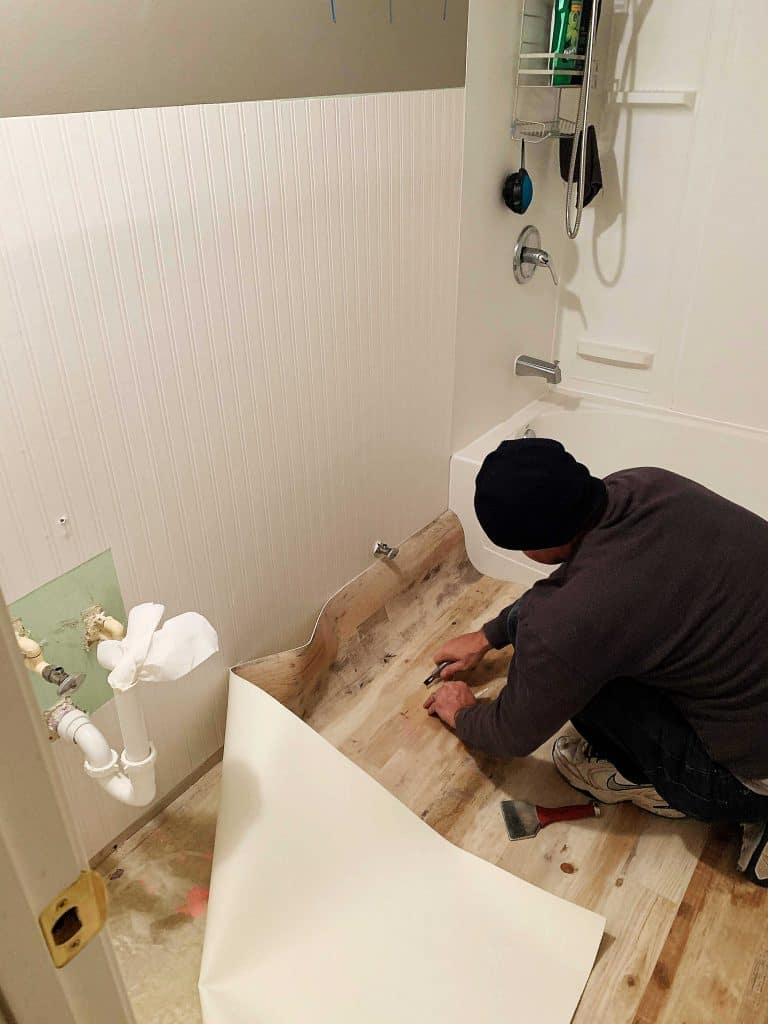 And because there is minimal subfloor prep and no need for an underlayment, installation is faster and less expensive. The installers were in and out within 30 minutes!
No more cold bathroom floors
My preference for any bathroom is warm, rich wood flooring. Tile in the basement seems too cold for me. This is the perfect solution for us!
As for why the previous owners installed carpet? We figured it offered warmth and a non-slip surface that could be installed overtop of the basement concrete.
But we can get all of that with Lifeproof!
Rustic + Refined Bathroom Mood Board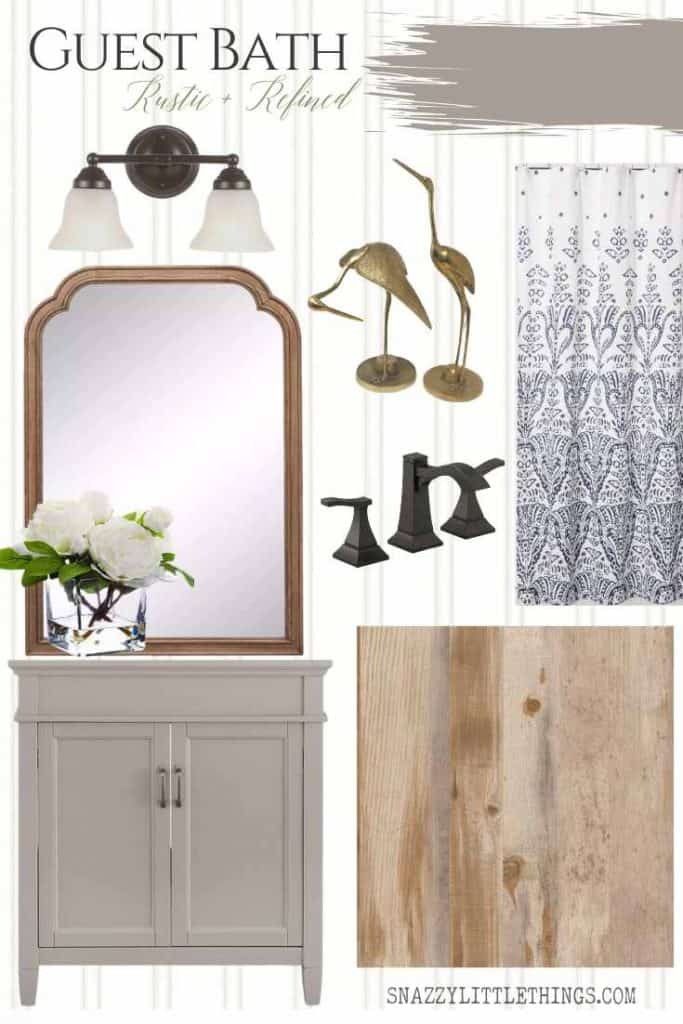 The flooring offers us an opportunity to mix some rustic elements in with a more refined, classic look that I've come to love. Excluded from this remodel is a shower tile project – which is out of budget at the moment.
Coming soon! The reveal!
Later this week I'll share the full reveal! I LOVE this floor and we can talk about maintenance and the final result. Thanks for following along, more to come!