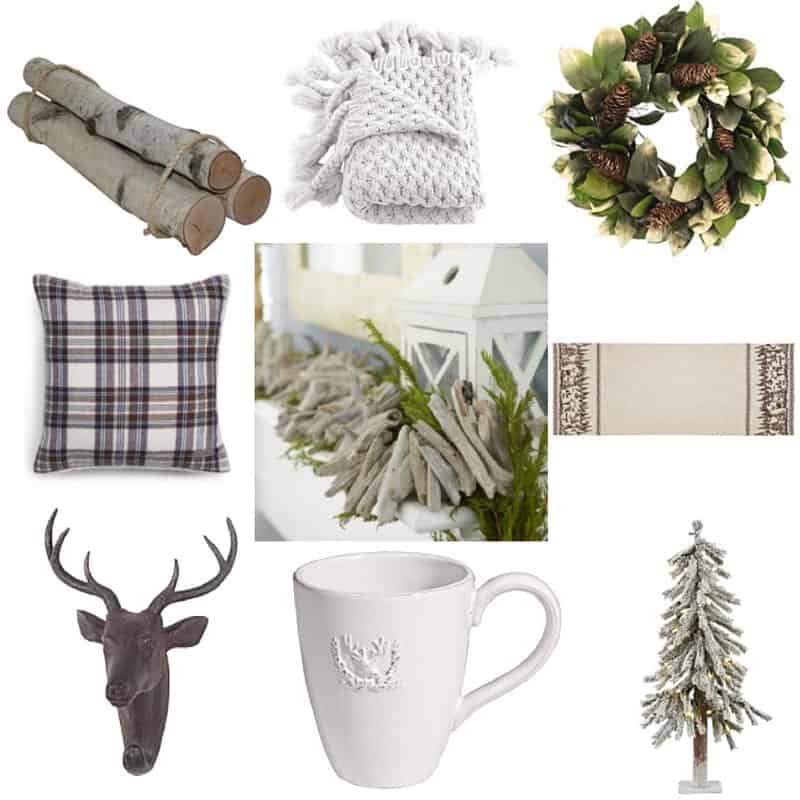 I'm still determined to pull off a festive and beautiful home this winter season, but I've officially made the decision that my holiday decor is remaining boxed up. (FYI, this is scandalous in a blogger's world!) We're decorating the porch and putting up the tree, but that's about it.
If you got a late start this year on your holiday decorating (like me), why not consider winter decorating!?
Due to other…very large priorities, and I'm so happy that I haven't missed my opportunity to still honor the winter season. While I've enjoyed seeing other bloggers gorgeous holiday home tours-sometimes I just have to admit that I'm human and I can't do it all. (Here is a glimpse of some of my past holiday home tours).
To inspire you, Wayfair asked me to provide a round-up of my favorite winter decor, and I'm being featured on their website for the "Blogger's Pick" round up! It wasn't hard to find some gorgeous items that I'd love to purchase. Wayfair has so much more to choose from, and you can create your very own "Winter Decor Ideas Boards" like this + we can follow each other. Be sure to find me, my Wayfair profile is here.
Gorgeous Winter Decor Ideas for Your Home

Secret Garden Glass Lantern
I love the unique shape of these lanterns. Filled with greenery, candles or pretty seasonal trinkets, it's a perfect accent this season.

Whitewashed Driftwood Garland
Driftwood isn't reserved only for coastal or beachy decor. It's a great winter accent, too! love how it's paired with gorgeous white lanterns and natural green accents.

Woodland Christmas Runner
Wayfair has an entire set of Woodland decor that matches this runner, so be sure to check it out. This really caught my eye for my winter decor theme. Would love to display it all season long.

Roped Birch
Birch logs displayed both inside are a gorgeous winter accent.

Patricia Throw Blanket
Adding white with texture is definitely a priority with winter decorating. I loved this throw, and the tassels give it even more visual interest.

Three Kings Wreath
I'm picky about my wreaths, and I've added this to my "must buy" list for winter decorating. And the price is right, too!

Deer Head Wall Hook
Not everyone loves a stag head mounted on the wall, but I LOVE mine in my sunroom. If you don't want to go big, these smaller hooks are the perfect way to introduce "fauna" in a subtle way.

Christmas Deer Mug
Yaassss…laurel wreaths and antlers are a big part of my blog theme. These mugs are so classy but speak "winter cuppa joe" to me.

Flocked Alpine 2′ White Artificial Christmas Tree
2′ of flocking is just the right amount of flocking for me. Love these, and would add them to my mantel display, or a pretty tabletop.

Edgewood Plaid Cotton Throw Pillow
I've searched high and low for the perfect winter plaid…and these pillows are at the top of my "favorite" list.

Floy Lifelike Polystone Rocking Horse Statue
My love for fauna inspired decor continues, and while this might be more "holiday" it would still work in my home all winter long.

Cardinals Decor
A splash of nature and color all in one. We have lots of cardinals outside, but how pretty would these be to display on a mantel or in a gorgeous centerpiece?

"A Season to Be Jolly" Framed Graphic Art
I promised a few holiday items, and there is still time to order many of these from Wayfair. I can't stop thinking about how gorgeous all of these would look tied in with my winter picks. Love this sign, subtle but beautiful.

Premium Comfort Peace, Joy, Love Mat
More plaid makes for a perfect accent on a white, dropcloth tablecloth, don't you think?

Antiqued Garden Angel Christmas Decoration
I envisioned this being near our front door or somewhere inside of our foyer, greeting guests. Great for a garden accent in the summertime, too!

Own Knit Stocking
A touch of holiday and even more so for winter. I love the Nordic look of these owl knit stockings.

Grapevine Lighted Reindeer
How pretty is this grapevine reindeer? Easy to put outside near your doorway, even easier to put away once the holiday season is over.

Tree for Sale Throw Pillow
Loving these gorgeous grainsack pillows I'm finding on Wayfair. Be sure to look for these, along with the winter themed decor, too!
So are you in the same boat as me this year? Sometimes it's not in the cards for me to go "all out" for the holidays, but I'm certainly excited to decorate for winter!
I look forward to seeing what you come up with over on Wayfair.com.
See you there!