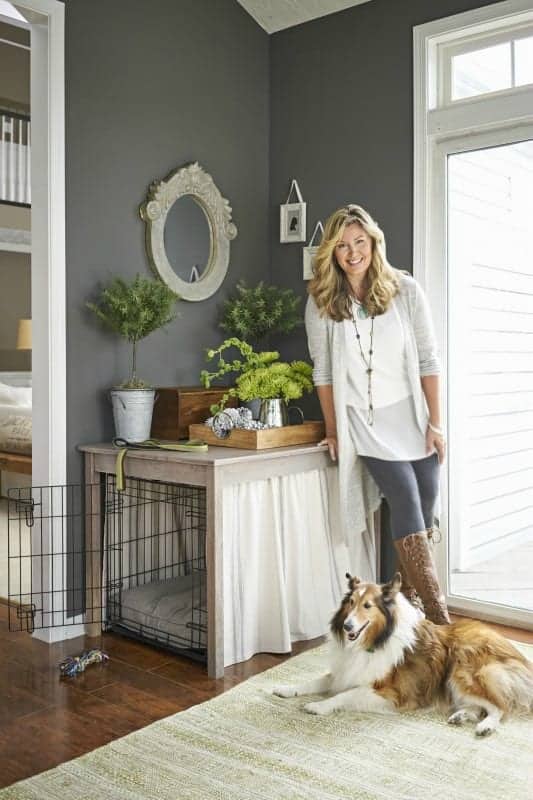 Welcome! I'm Jeanette, and I'm the self-taught DIYer behind Snazzy Little Things.
We love a simple, clean aesthetic in our home. Our style teeters on the edge of farmhouse, but we enjoy making our own art, adding touches of vintage decor, French accents…and we will always make room for an industrial vibe in all of our spaces. 
When Mark and I were married we combined our two houses into one. Once we settled, we were overwhelmed with crazy amounts of "stuff" –it took us awhile to purge the excess and figure out our style. That journey unfolds here on the blog. We're now hooked on having a clutter-free, easy to maintain home. With our industrial-French-farmhouse vision in mind, we customized our builders-grade home on an extreme budget. If we can't find furniture or decor that we like in stores – we repurpose flea market finds or make our own in our woodshop! (Many of our designs are now available in our new, online store). 
I experiment with all decor styles, but decorating "feels right" when it reflects the unique personalities in our household.
I named my blog "Snazzy Little Things" after a phrase my grandpa used to say when he was in the throes of refinishing antiques and furniture. And now, we found ourselves doing the same thing. 🙂
My thoughts on decorating?
Know when to stop!!
It saves you money and is the key to a simple but beautiful interior!
If you're new here, feel free to take a home tour, visit our home improvement gallery, say "hi" on Facebook, or sign up for VIP access to free printables. 
 I've had the honor of writing for Better Homes & Gardens and have had my work featured in numerous publications. If you'd like to know where I purchased an item you see on this website, visit the "Shop My Home" page where I provide links to purchase similar items so that you may duplicate the same look in your own home!
By becoming a subscriber – you can choose to receive daily (or weekly) updates on our most recent home renovations. I also offer private access to my free art printables library — yes, that's free art that you can frame in your own home! Our newsletters give you more of a private "behind the scenes" glimpse of our real life. Whenever we're tackling a project, you'll be the first to know with updates delivered to your inbox.
Readers' Favorite Room Makeovers
Readers' Favorite Posts:
I'd be honored to have you join me on our DIY journey! Sign up below to receive regular updates delivered to your inbox.