Free Printable "Coffee is always a good Idea"
Apparently, "National Coffee Day" was six weeks ago. I feel so silly that I missed this, even though it might be a another silly, made-up holiday.
Not to be confused with — "I missed my coffee".  That's a very different context. NEVER, would I miss my morning coffee.
My morning meanderings through my Instagram feed brings me to a few very fun places on the web, so I simply HAD to share this Instagram account. Please take a look at Sociality Barbie – it's a hipster Barbie account, and will totally bring a smile to your face and put in perspective all the "perfection" we are witnessing on our feeds these days. Sadly, she's quitting Instagram.  Apparently, Darbie, the creator of Socality Barbie, made her point, and I couldn't agree with her more.
I'd like to quote Darbie's most recent post,
"Hey guys, my name is Darby Cisneros and I am the creator of SocalityBarbie. I just wanted to introduce myself and thank all of you for enjoying this account. I started SB as a way to poke fun at all the Instagram trends that I thought were ridiculous. Never in 1 million years did I think it would receive the amount of attention that it did but because of that it has open the door to a lot of great discussions like: how we choose to present ourselves online, the insane lengths many of us go to create the perfect Instagram life, and calling into question our authenticity and motives. It's been a blast running this account but I believe SB's work here is done. I will be leaving this account open for a while for people still want to look through and enjoy it. Again, thank you for following along. If anyone has any questions or just want to say hi feel free to email me at [email protected]"   
Why being authentic is scary for bloggers
I'll be the first to admit that I don't quite understand the trend towards documenting a "perfect life" on Instagram. The inauthenticity of this, in my opinion, is just as dangerous as airbrushed models on the cover of magazines. It's unachievable, and while I know some Instagrammers are "nailing it" — I am not, and probably won't. I'm sure you're wondering why so many bloggers are doing this? It's a very real trend that's even being taught at blogger conferences. It's been suggested that bloggers to keep our kids and "people" out of the photos — unless it represents the "brand" that you're creating as an Instagrammer. If your goal is to become published, or followed, the truth is?  People want to see pretty things, and not that pile of shoes and coats at the front door after school.
It's especially disconcerting having young kids (as early as 5th grade in our school district) that are putting pressure on each other to have Instagram accounts and to only showcase the perfect side of their lives.
Did you know that this was even a "thing"?  I can't quite wrap my mind around it.
So, now, back to coffee.  Evidently I'm slightly obsessessed…my Instagram feed has a few references to it.
And this….
Really, it's evidence that my World Market coffee cup obsession is becoming a bit of a problem. #thestruggleisreal
To commemorate my less-than-perfect life, here is a free printable, showcasing my mediocre Photoshop skills. (Yep! Still in that learning curve!) I hope you enjoy!
All of my printables are free for subscribers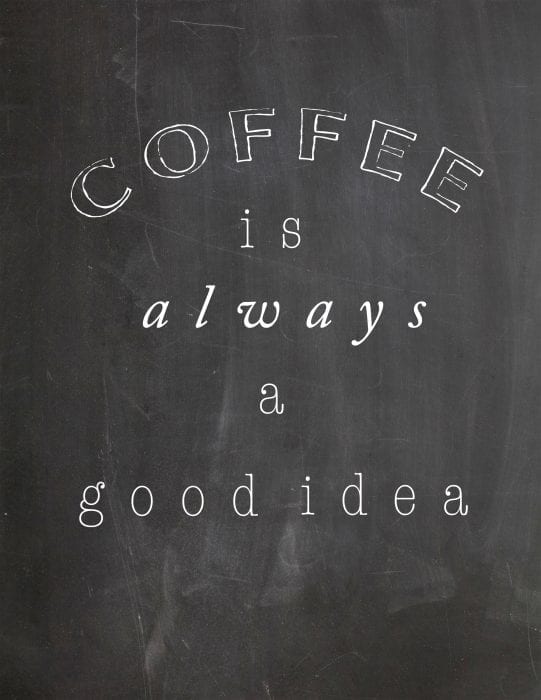 Cheers!