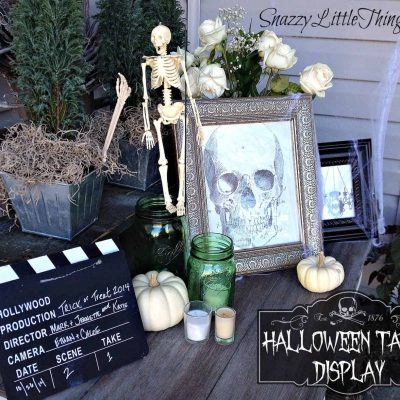 October 27, 2014 By Jeanette 1 Comment
Today I'll share how I pulled off my Halloween decorating in just a few hours simply by keeping a small "stash" of decor on hand every year. Most of this can be reused for upcoming holidays as well. To see all of my seasonal decorating ideas, feel free to visit my archives. I really get into Halloween and all holiday for my kids' sake, I love making memories for them. Once I learned that our entire family would be together this weekend (Mark's girls were in town), I was thankful for my small but effective Halloween inventory. Evidently, I'm the neighborhood mom that "goes overboard" at Halloween. I take no offense to that and I wear that badge proudly. Why not? I say...parents are allowed to have fun, too. The Front Porch: Front porch trick-or-treat vignette. Tip #1:  Use Printables from The Graphics Fairy I was prepared to only decorate the front porch this year since I was running out of time. Time crunch or not, I love visiting Karen at The Graphics Fairy. She offers a … More...
More Recent Posts…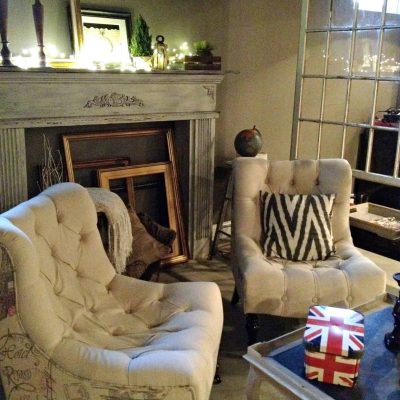 October 23, 2014 By Jeanette Leave a Comment
Ok, so. We're excited to revisit the basement again. Remember–this is Mr. Snazzy's space where he has free reign to do his own thing, and I'm only gently steering some of the outcomes, isn't that so nice of me? I put together a slideshow so you can see our progress. We still have a lot […]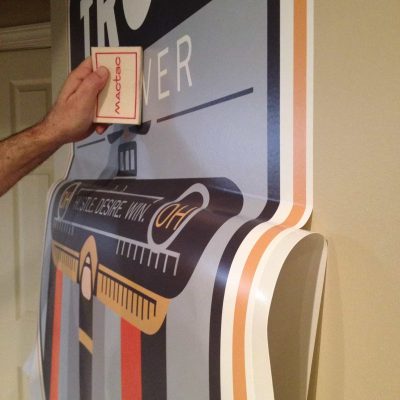 October 19, 2014 By Jeanette 1 Comment
If  you'd like a quote for your own vinyl wall art, just email us! We are slightly fanatical about our music. I mean, I love music–but my husband is a truly. Obsessed. Audiophile. When I say "obsessed" I mean, he's insufferable. And will play music (sometimes the same song) for a month until everyone […]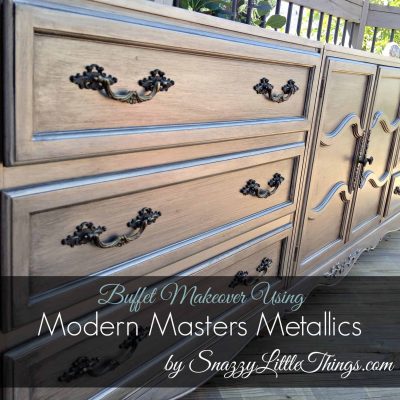 October 16, 2014 By Jeanette 1 Comment
This post is sponsored by Modern Masters, I received paint and supplies from the Metallic Paint Collection in Warm Silver. In the store where I sell my upcycled furniture creations, customers have been enjoying a variety of bold color palettes with specialty finishes. Turquoise and red seem to be the predominant color choice, with […]
October 16, 2014 By Jeanette 1 Comment
Tile printing is an essential ingredient behind many of my DIY projects at home.  You will see me reference this in my Ballard Designs Monogram Art, an image transfer on my T.J. Maxx table, my enlarged horse art, and you can also use it for the free Halloween silhouette downloads. What are the Reasons I […]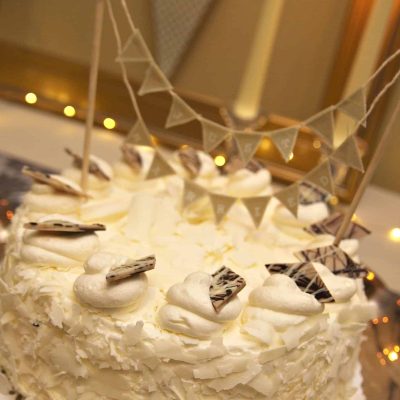 October 13, 2014 By Jeanette 1 Comment
What better way to say "thank you" to friends and family than with a great meal at your special event. Our wedding theme evolved into "vintage–with a twist of ragtime", so I found ways to add vintage touches throughout my venue– even in the food presentation. Vonderhaar's Catering honored my theme and made it all […]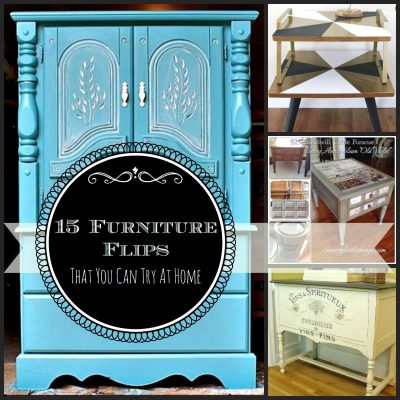 October 10, 2014 By Jeanette 4 Comments
The easiest and least expensive transformation is a furniture transformation. As I sit through another game of Catchphrase or Uno, my mental Rolodex is assessing what furniture remains in my house that I want to paint (or strip). Admittedly I love painting furniture, it's such an easy way to breathe new life into an item […]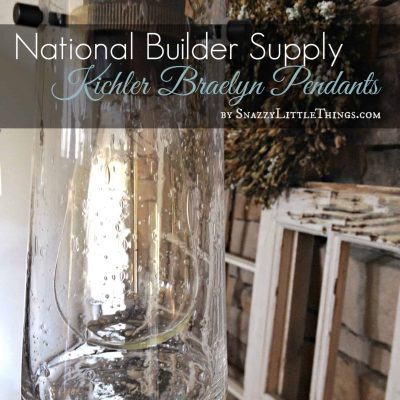 October 10, 2014 By Jeanette 1 Comment
This post is sponsored by National Builder Supply and my opinions are my own. I was compensated with product from Kichler Lighting.   Above: My new Kichler Braelyn Pendants, from National Builder Supply. We LOVE them! I would have never guessed that ten years after building my beloved home that I would be so nitpicky over it's […]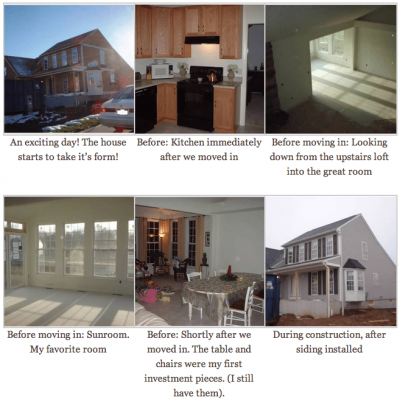 October 9, 2014 By Jeanette Leave a Comment
Let me start by posting some pictures of my house in 2005. Now when I say that my house was "a white gymnasium" you'll understand. See how empty it was? And look at the little girl in pink wearing the Bob the Builder hardhat. That little girl, her brother and this blank canvas were […]
More Recent Posts -->
Seasonal DIY Projects That YOU Can Do!
Our year of improving our home…on an extreme budget!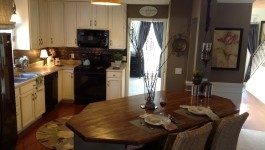 November 19, 2012 By Jeanette 4 Comments
See entire kitchen transformation on HGTV.com's "Rate My Space"! Total island remodel project cost = $470 Before I post my own tutorial, I recommend you take a look at This Old House Butcher Block Countertop Installation for a great step-by-step instructional. Why reinvent the wheel, right? Always on an extreme budget, I seriously wanted to […]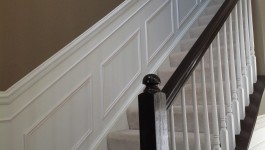 March 17, 2013 By Jeanette 15 Comments
Total Cost: $500 or less (cost of materials for the entire foyer and it wrapped around hallway)–we did the stairs later Time Involved: One weekend (with the right tools and a good tutorial) Tools needed: Chop saw / A Level / A pencil / caulk / primer / Paint — and an occasional nap! Recommended […]
April 27, 2012 By Jeanette 1 Comment
I had a beautiful, unused stencil with a script version of the French sonnet, "Springtime in Paris" (it was originally intended for my sunroom curtains, little did I know I would soon DIY my first stenciled backsplash). I changed my mind on the curtains and I decided I didn't want visitors to be distracted by the writing.    At the […]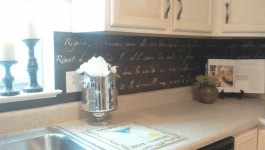 November 17, 2012 By Jeanette 1 Comment
This project was featured on the Royal Design Studio website. This is my voluntary review of their stencils. I was not compensated with product. All opinions expressed are my own. I had a beautiful, unused stencil with a script version of the French sonnet, "Springtime in Paris" (it was originally intended for my sunroom curtains, little did I know […]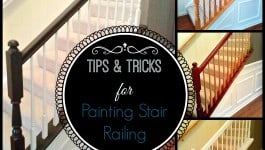 November 6, 2012 By Jeanette 14 Comments
In this post you will witness my neurosis with color and getting it exactly right. During my recent stair railing makeover, I tried to step outside of my normal comfort zone and "warm up" my color scheme by bringing out the reds in my flooring. My house is an open loft style and the railing […]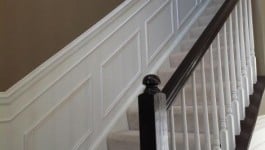 November 5, 2012 By Jeanette 2 Comments
Once my foyer had white walls, white vinyl floors, no molding or trim, no wainscoting, no curtains…and was a blinding sea of builders' grade materials. This is the result of our remodeling efforts since 2012. Click links to witness each tutorial: painted black door, painted balusters and railings, new faux wainscoting, frieze molding at the […]
Our Home Improvement DIY Archive